8 steps of the selection process for hiring employees
The employee selection process is the series of steps followed by a hiring team to gather necessary information for making a hiring decision. It includes stages like screening calls, in-person interviews, background checks, and job offers. This guide provides essential insights to help you develop an efficient selection process for your organization.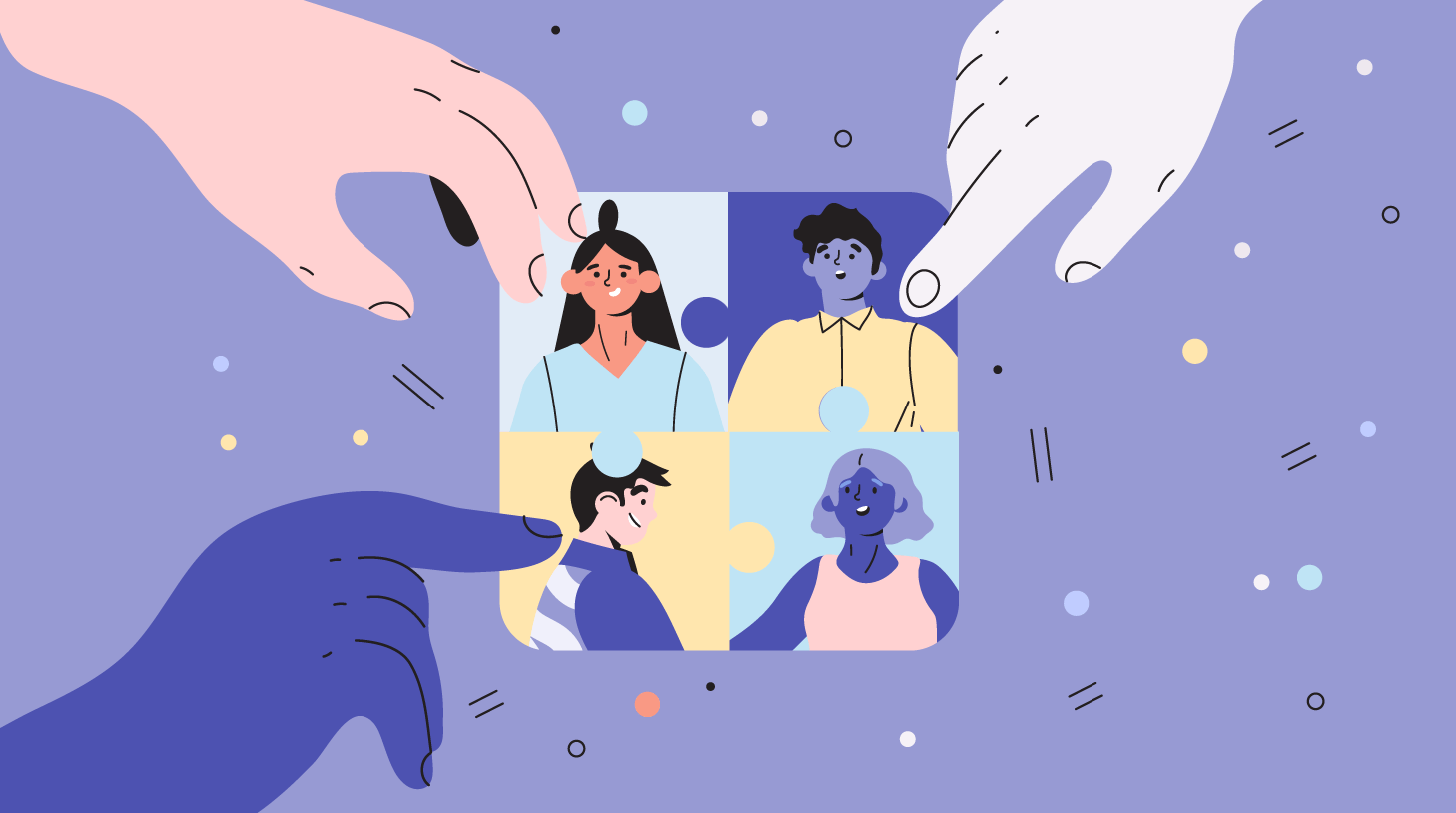 Let's face it: finding and selecting a candidate for a job isn't as cut and dried as it may initially seem. You don't just look up and down the list of candidates and say, "Hmm, that person will do just fine."
Instead, you have to go through numerous steps to get to the final stage of the employee selection process, right from building a hiring plan, drafting a job announcement, conducting interviews, running background checks, and sending the final offer letter, among many other steps along the way.
If you're like any employer, HR representative or recruiter, you probably don't have the time to get into the nitty-gritty details of the selection process. Whether you want to hire an intern for your company, fill positions in your rapidly growing startup, build out your sales team, or grow your employee base by tenfold, there's something here to meet your needs: a quick step-by-step guide to follow for your recruitment and selection process so you can get that new star candidate on your team.
Here are eight steps in the selection process for hiring employees and how to best go through each — if you're interested in specific employee selection process steps, click on the table of contents below:
1. Application
The application phase in the selection process is sometimes seen as passive from the hiring team side – you just wait for candidates to respond to your job ad. However, applications can and should be selection tools, helping you sort candidates as qualified or unqualified.
How can you do this? There are two options to get started: qualifying questions and gamification.
Qualifying questions
If you're using software to build your application forms, using qualifying questions at the beginning of your selection process should be easy. You can add two or three questions relevant to the position. The candidates must answer these questions in order to apply. For example:
Briefly describe your experience with Excel.
What's the difference between content marketing and journalism?
Can you legally work in the UK?
Some of these questions could require simple yes/no answers with the wrong answer automatically disqualifying a candidate – this is something that can also easily be done via recruitment software. Of course, automatic disqualification should be reserved only for absolute must-have skills. For example, if you're looking for a senior designer, a disqualifying question could be "Do you have 5+ years of design experience?"
Help candidates complete your applications
Of course, you want candidates who start completing your forms to actually go all the way and submit their application. Yet, so many candidates abandon applications because it takes too long to complete them or they're too complicated. To avoid this, here are a few things you can do to streamline this part of the selection process:
Keep qualifying questions to a minimum and make sure they don't require complex or long answers.
Try applying to one of your open roles; that's how you'll be able to spot glitches, hurdles or lengthy applications.
Test your application forms' (and careers page's) mobile version. Many people apply via mobile so it needs to work well.
To see whether there's an issue with your application forms, you could also track your application abandonment rate. Ideally, you'd like it to be close to 0%, so the higher that number is, the more improvements your applications need.
Gamification
Gamifying your recruitment process isn't a new trend, but with the progress of technology, you can now use gamification tools more effectively in the selection process. Especially in the application phase, consider asking less-experienced candidates and those transitioning from different backgrounds to play online or offline games.
The reasoning behind this is that candidates who are recent graduates, or have made a career change, won't have much relevant experience to showcase in their resumes — despite being possibly the right fit for a job. This can be a problem when you're trying to evaluate them based on their application. By using gamified assessment methods in the that stage, you can shortlist promising people and your hiring team will have better chances of interviewing only a few truly qualified candidates.
This also gives you an opportunity to diversify your applicant pool when you find the majority of applicants that meet your required background come from a narrow subset or demographic.
There are many options to insert gamification in your selection process; for example, an online service like benchmark.games or coding challenges, like Workable's integrated tool HackerRank, could be useful.
2. Resume screening
Now that you have wrapped up the application phase of the employee selection process, you have a collection of resumes or CVs to sift through and filter those deemed suitable for a screening call. What you'll need to do now is go through resumes one by one, whether manually or software-assisted, and identify prime candidates.
This is one of the most traditional employee selection methods to move candidates to the next step by identifying and disqualifying those who don't quite fit what you're looking for.
There may be hundreds – in some cases, thousands – of applicants for a single job. There are numerous ways to filter resumes:
Background
This is a practical side of the selection process; you're looking for the background that qualifies a candidate for the position you want to fill. You'll want to know if they have the academic knowledge or professional expertise – or both – to perform a job well.
For instance:
If you're looking to fill an accounting position, someone with an accounting degree yet with little to no practical work experience might be suitable for a junior-level position.
If you're looking for a bartender, someone who has already worked at several reputable pubs or restaurants in your area may be a good fit.
Or, if you're looking to fill an editorial manager position, you want to know they have the academic expertise that proves their advanced ability to think, edit, and write for school assignments, coupled with a number of years in a high-intensity media environment requiring decision-making on the fly.
You want to be careful not to stick to these parameters too rigidly; many qualified candidates may not have the traditional background for this position. Learn about how non-traditional candidates can bring as much to the table as their traditional counterparts.
Resume layout
Even something as simple as the layout of a candidate's resume can be an indicator of how qualified they are for a position. The skill of organizing and presenting information in a clear and concise way is on full display here.
Consider the following examples of how a resume's layout can offer a quick demonstration of a candidate's skill set:
If you're looking to fill a creative position – such as graphics or web design – the resume layout can be a powerful indicator of how well they can design.
If you're looking to fill a sales position, the manner in which they present a resume can show you how they might be able to catch your client's eye with important, relevant information to convert them into buyers.
If you're looking for a marketing copywriter, the resume shows their ability to describe things in a tight, concise and engaging manner.
Here are some original ways a resume can be presented.
On the flip side, you're also looking for resume red flags that a candidate may not be what they present themselves to be. For instance, a resume can include obvious copy-and-pasted boilerplate text, mismatched dates, typos, embellishments or even clear fiction (such as a school that doesn't turn up in a Google search).
Cover letter
Similarly to the resume, a candidate's cover letter gives you an idea of who they are and what they bring to the role. You're looking for tightly and smartly written language that clearly describes what they can bring to the position. Does the candidate:
Describe their skills and background in a relevant way to the position being applied for?
Show their knowledge of your company and its goals, and how they can contribute?
Write in a professional, error-free manner that reflects their ability to communicate via email and other channels?
Intangibles
It may initially seem corny to list one's hobbies and personal interests in a resume, but even those can be great indicators of the kind of person applying for the role. For instance:
"Running" indicates they're a healthy person and disciplined enough to train for 10Ks or marathons on a regular basis.
"Volunteering" shows they're interested in the bigger picture (i.e. your company's mission and vision) and can have the empathy that would make them a great team member.
"Chess" indicates an ability to process complex information in a logical/logarithmic way, an invaluable skill for a developer position
Unconscious bias
As through every step of the employee selection procedures, you want to keep your unconscious bias in check. Harvard's Project Implicit is a great tool to help you realize where your unconscious biases lie and how strong they are. Maintain that awareness as you sift through resumes.
For example, during the selection process, watch out for potential biases including someone's name, gender, race, age, class, and even academic background – for instance, just because someone got their MBA from a local college rather than from Harvard doesn't necessarily make them less worthy of a candidate or their MBA degree less impressive.
If you are like many employers and recruiters, you're also actively pursuing a D&I initiative. If you're looking to build a gender-balanced team in a sector dominated by one gender, check out these five steps in which you can do it successfully.
This stage of the employee selection process often involves multiple parties in the hiring team, including the HR representative, the hiring manager, the recruiter, and sometimes even the direct report. Learn more about how you can work together as a team within the same platform, including adding comments, scores, and other data to each application.
If this feels like a time-consuming affair, you're probably right. There are numerous AI tools within Workable's software that enable you to speed up this stage of the selection process.
3. Screening call
The screening call, or phone screen, is among the initial hiring stages where recruiters shortlist applicants. The purpose of this call is to establish whether the candidate is truly interested in the job and (at least) minimally qualified to do it successfully. This way, only the best applicants will go to the next, stricter (and more expensive) hiring stages, like assessments and in-person interviews, saving your team time and money.
Schedule a phone screen
The email you'll send to candidates to schedule a screening call is important; that's because it may very well be your very first communication with that candidate. So this is your chance of setting the tone of your relationship with that candidate and, who knows, future employee.
In this case, you need to be straightforward and positive, giving out a professional outlook. Thank the candidate for applying to your open role and ask them if they'd like to speak with you so you can get to know them and give them details about the job. Keep it short and sweet.
Here's our template to get you started – make sure to customize it to fit your company's voice.
Prepare well beforehand
Without being able to see candidates face to face and connect with them or assess their body language, and with the added issues of occasional bad signal or background noise, you might find screening calls difficult to navigate. The key is to prepare thoroughly: know exactly what you're looking for and what you want to learn about each candidate, as well as what information you'd like to convey, before you begin with the selection process.
Write down your requirements. You probably already know the basic qualifications you're looking for, so make a list of basic ones you'd like to check during the screening call. These might include "must be able to start work within the month" or "they should want to relocate." It might be useful to give some thought on what you can be flexible on – for example, would you be able to convert a full-time job to part-time or agree to flexible hours?
Read candidate resumes. This is important for two reasons: you'll show candidates that you're serious about their application, and you'll be able to spot discrepancies you can ask about. For example, if candidates have a huge gap in their employment record, you might ask why that was.
Make sure you can answer basic questions. Candidates will be evaluating your company throughout the recruitment process, just like you'll be evaluating them. To persuade a good candidate to complete and assessment or come in for an interview, you should pitch the position and your company effectively. Do your homework about the role and refresh your knowledge of the company's mission.
Select the right questions
The questions you'll ask should tell you whether the candidate is suitable and interested in the role. So make sure you address both those points during the screening call (without going into too much detail in terms of skills – reserve these questions for later hiring stages.) Here are a few example questions:
When could you start if you were offered the job?
Would you be comfortable with 50% travel?
How much money would you like to earn in this position?
What did you find most interesting in the job description?
What interests you about our company?
Tell me about this two-year gap in your resume
Why do you want to leave your current position?
Ask questions and listen carefully to the candidate. Determine whether their attitude suits your company and whether their answers are satisfying. Watch out for answers that may not sound genuine or contradictions with their resume or application.
4. Assessment test
Once you've screened candidates and sorted them out into "promising", "maybe", and "disqualified" groups, you want to look at the surviving candidates and further assess their ability to do the job you're looking to fill. These assessments can take place in a multitude of forms in the selection process:
An in-person audition for an acting position, a sales job where you request the candidate to pitch you a product, or a kitchen position where you ask them to cook something for you on the spot.
A written or online test to test for aptitude, personality, intelligence, etc.
A practical skills test to determine a candidate's typing speed, data entry capabilities, memory, etc.
It should be noted that personality- and culture-based assessment tests are often debated as to their applicability in determining the success of a candidate in a certain job – not everyone agrees that a Myers-Brigg assessment test is a good thing, for instance.
However, practical skills assessments are a powerful tool to determine whether a candidate is indeed able to do a job well as they've claimed in previous stages of the employee selection process.
Check out our top 10 assessment tools for different focal areas, including judgment, aptitude and coding skills. Also, learn about Workable's own assessment tools and integrations to best optimize this stage, as well as a selection of "how-tos" for assessing a candidate's skill sets for different common positions within a company. Assessments can also be gamified, as above.
Navigate the assessment stage effectively
Timing is a consideration. You want to give candidates enough time to complete the assessment – for instance, give them 3-5 business days to complete a short test. Stay close to realistic goals that you might expect of them if they were working in your company; don't ask them to complete a complex project in a 24-hour span, but don't give them 20 days either.
Communication is key. Explain clearly to candidates the scope and purpose of the assessment, so they understand fully why you're doing it. You don't want them thinking you're asking free work of them.
In many cases in this phase of the selection process, you aren't just looking at a candidate's ability to do the task at hand; you're also looking at the way they communicate themselves leading up to, during, and after the assessment. You'll also want to look at the way they approach the assessment, especially when it comes to creative projects such as in development and design which often require some collaboration and planning.
A follow-up interview – separate from other interviews – dedicated to this particular assessment can shed valuable insight on how candidates worked on the project and their takeaways and learnings from it.
It's important to note the many variables associated with an assessment. It's not necessarily enough that a candidate is able to perform the task with flying colors or seemingly unlimited creativity. You're looking at all the ways in which they've gone into it; perhaps a junior developer has not completed a technical test perfectly but demonstrated great intangibles in the "good" questions they've asked of you or in their receptiveness to feedback and a willingness to grow and learn.
Or, perhaps a senior designer didn't do exactly what was asked of them, but "bent the rules" a little bit and turned out an even better product in the end; and what's more, they talked to you about their idea before going ahead and doing it.
5. In-person interviewing
You're now deep in the selection process, having screened candidates, evaluated their skills, assessed their abilities, and created a shortlist of the most qualified people. It's finally time to meet in person with those promising candidates and determine who's going to be your next hire.
A good interview will help you make better hiring decisions, as you will objectively evaluate and compare candidates' potential. But there's more to do than the actual interview. You need to prepare yourself and the entire hiring team to make sure you ask all the right questions. More specifically, you should prepare:
A list of job-related questions that assess how well candidates can manage regular job duties. You can ask a mix of:
Cultural fit questions that will help you pick these candidates who are more likely to thrive in your work environment. For example, you could ask:
Once you have your set of interview questions ready (and double-checked that you're not asking anything illegal), you can invite candidates to your offices – or schedule a video call if you're hiring remotely. Here are a few tips to help you schedule interview with candidates more effectively:
Schedule interviews at least two or three business days in advance. Surely, if you've found the perfect candidate or if you're in a rush to close an open role, you want to speed up the process. But, calling candidates to ask them to meet on the same or next day could send the wrong message and make you look desperate. Besides, candidates might be working elsewhere, so they need to adjust their schedule. They also need some time to prepare themselves for the interview (e.g. do some research on your company, take a closer look at their assignment, etc.)
Provide candidates all necessary information. This includes:

the exact day and time of the interview, taking into consideration different time zones if you're interviewing remote candidates
the address of your offices along with directions on how to get there (or, instructions on how to log in to a video platform, in case of a video interview)
the names and roles of the interviewers
the scope of the interview (e.g. "We'll go over your assignment" or "You'll meet with the CEO")
the estimated duration of the interview
Add any other details that candidates might find useful, such as what they need to bring with them (e.g. their ID for security reasons or their portfolio) or where they can park their car. You can use a scheduling interview email template to save time; you will only need to adjust the names and dates every time you invite a candidate to your offices but the main information will stay the same.
Offer candidates a few alternative days for the interview. Busy schedules and multiple interviews and interviewers can make the interview scheduling process very complicated. To save time and avoid back-and-forth emails or double-bookings, let candidates pick the most convenient day and time. You could either share via email your availability (highlighting your preferred three or four time slots) or share your entire calendar through a self-scheduling tool.
Before the day of the interview, make sure that all interviewers are well-prepared. For members of your hiring team with little or no experience in recruiting, consider running a mock interview; this way, they'll feel more comfortable when they actually meet with the candidates.
Here's a checklist that will help you conduct more effective interviews during the selection process:
Stick to the interview questions you have prepared; small talk with candidates or questions that are irrelevant to the job could result in biased hiring decisions.
Ask all candidates the same set of questions in a structured way; this way, it'll be easier to compare their answers and select the most qualified ones.
Be prepared to answer questions from candidates, too; they'll probably want to learn more about the team, the company goals and the employee benefits.
Review candidates' profile (e.g. resume, assignment, previous communication) before you meet them; you'll refresh your memory and won't ask things they've already mentioned.
Provide interview feedback to your hiring team as soon as the interview finishes; the best hiring decisions rely on collaboration.
Keep in mind that a good interview will not only help you spot deal breakers, it will also impact the overall candidate experience. Naturally, you won't hire every candidate you interview. But, if you come to interviews prepared, ask job-related questions and are respectful to candidates, even the ones you reject will leave with a positive impression about your company.
Want to learn more about how to organize and improve your interview process? Read our detailed guide here.
6. Background checks
Background checks reassure you that your finalists are reliable and don't pose risks to your company. For example, employers may conduct pre-employment checks to make sure candidates have told the truth in their resumes or don't currently do illicit drugs. In fact, there are several types of background checks including:
Criminal records
Credit reports
Driving records
Verification reports (e.g. identity, education, work history, social security number, national insurance number, etc.)
Drug tests
These checks are most useful in the selection process when there's high risk involved in employing someone unsuitable in a particular job. For example, you probably wouldn't want a convicted sex offender working at a nursing home or someone with bad credit handling your company's finances; current drug users would be a huge safety risk as machine operators and professional drivers with extensive drunk driving records would probably not make the best hires. And so on.
So in these cases, conducting a pre-employment test would be very important (you could do background checks in other instances too, but there might not be a necessity to do so). If you're thinking of conducting background checks, be sure to:
a. Consider legal aspects of background checks
First, some background checks are mandated by law in certain industries or roles depending on location. For example, in some jurisdictions, working in substance abuse facilities or daycare centers requires passing a criminal record check. So make sure you know the applicable regulations to order background checks as necessary.
Also, pre-employment checks are themselves regulated by law. For example, in the U.S., you need to comply with the guidelines set by the Equal Employment Opportunity Commission (EEOC) and the Fair Credit Reporting Act (FCRA). The UK has its own set of guidelines regarding background checks. Local laws in your area may also require a candidate to have an offer in hand before you can ask permission for a background check.
b. Choose a reputable and reliable background check provider
There are generally two options for conducting background checks: the full-service provider and online DIY websites. DIY websites let you do your own investigations and are cheaper, but many may not be compliant with local laws and using them to research candidates may pose legal risks.
Full-service providers, on the other hand, are usually compliant (though you should always ask for proof that they are) and can undertake the full investigation on your behalf. Look for providers and evaluate them based on compliance, costs, turnaround time and types of checks they offer.
If you're using recruiting software like Workable, you'll be able to access background checks straight from the system via an integrated provider, thus saving time.
c. Navigate discussions with candidates appropriately
The law in many places mandates that you ask candidates' permission before you conduct checks in an employee selection process. So, you need to tell them that you're thinking of looking into their past. Afterwards, you also have to inform candidates of your intention to reject them (adverse action notification) to give them time to rebut a false report. Candidates will inevitably have their own concerns and questions on the pre-employment screening. They may distrust your intentions, see this as an invasion on their personal information or believe you're looking for reasons to reject them.
Be honest about what background checks are for. If they're mandated by law, say so. If it's your company's policy for certain roles, be sure to explain how you'll handle results: for example, let this candidate know that they're one of your finalists (perhaps the only finalist) and you just need to reinforce your decision to hire them.
After you've ordered the test, it's good to keep in touch with candidates for as long as you're waiting for results (which can be several weeks).
For more tips on how to handle potentially awkward conversations about background checks in the selection process, see our 8 useful tips.
d. Interpret results correctly
There are a number of background check red flags you can find after you get the results of a test. Some might justify an immediate disqualification, such as if you learn that a candidate for a role as an accountant has been convicted of fraud or embezzlement.
But other results might not be as serious. For example, one candidate might have lied about where they went to school. You might decide that lying is enough to disqualify them, but that's not necessarily the case. In these instances, it might be useful to have an open conversation with a candidate and see if they regret lying, or if they had a reason to do so. The report might even be inaccurate, so it will be fair to hear the candidate's side of the story.
With that in mind, it's important to understand that employment background checks should be used as one of many employee selection tools – they alone shouldn't make the hiring decision for you. Background screening shouldn't be used as a way to disqualify someone or reduce the number of applicants for a position. Checks are meant to reinforce a hiring decision and ensure candidates who have been selected for a job are suitable.
7. Reference checks
In the final stages of the selection process, you might want to get some references for your best candidates. This way, you'll get feedback about their performance from people they've actually worked with in the past, such as former managers, former colleagues or business partners and clients.
You could ask candidates to provide contact details from former employers and coworkers. Or, you can reach out directly to people you know they used to work with. In any case, when requesting references for a candidate, it's best to initially send an email to introduce yourself and explain why you want this information. This way, you can schedule a call where you'll discuss in more detail.
During reference checks, you will:
Confirm what candidates have already told you (e.g about time of employment and previous job responsibilities)
Learn how candidates use their skills on the job
Discover potential weaknesses or lack of practical experience
Understand how candidates behave in the work environment (e.g. if they're punctual, if they receive feedback well, etc.)
To obtain objective and relevant information, you need to ask targeted questions. Here are a few sample questions to ask when getting references for candidates:
When did [Candidate_name] work at your company and what was their job title?
What were [Candidate_name's] main responsibilities?
Could you mention one or two group projects [Candidate_name] was involved in? What was their role and how did they collaborate with their colleagues?
Do you think [Candidate_name] could take on a more senior role? Why or why not?
Given the opportunity, would you rehire [Candidate_name]?
While getting references, keep an eye out for red flags. For example, it's not a good sign when you notice discrepancies between what the candidate mentioned during the interviews and what their former employer told you. You should also consider any negative feedback you get that shows that candidates aren't as skilled or as reliable as they seem.
Once you've taken everything you learned in the selection process into account, from your own candidate evaluation to background and reference checks, you're ready to make your hiring decision.
8. Decision and job offer
Congratulations! After a series of well-organized selection processes for recruiting new employees, you've finally found your perfect hire. Now it's time to let them know you're offering them a position at your company. The job offer process is a critical one; done right, you'll soon welcome your new employee in the office. But, if you miss something, you might lose a great candidate and have to start the hiring process all over again.
Here are some tips that will help you streamline the job offer approval process:
Discuss employment terms early in the selection process. Salary, bonuses and working hours are all potential dealbreakers, so it's best to learn whether you agree with candidates on those factors before you offer them a job.
Make an informal verbal offer. It'll cost you time if you wait to craft a formal job offer letter before you inform candidates. You can first call them to give them the good news and get a hint as to whether they're going to accept or reject your offer. Be sure to give the candidate the opportunity to "think on it" so they don't feel pressured to give an answer right away.
Use a job offer letter template. Instead of writing a new job offer letter from scratch every time you're offering a job, use an existing template and add only what's different (e.g. candidate's name, job title, salary, etc.)
Keep HR, Finance and the CEO in the loop. A job offer process usually requires filling out paperwork, getting approvals and completing other prep work before you welcome a new hire in your offices.
If you're using Workable, you can simplify the offer letter approval process by keeping all necessary data in one place and automating parts of the process.
When a candidate accepts the job offer a hiring cycle ends successfully.
Now what? It's time to start preparing your new employee's arrival. You can send them a welcome email to get them excited and plan their first day for a smooth onboarding. Before that, though, don't forget to inform rejected candidates that they didn't get the job; not only are they potential employees for another position down the road, but also a positive candidate experience will work miracles for your employer brand.
Frequently asked questions
Who is in charge of the hiring process?

In some organizations, the HR department will be in charge of the hiring process. In others, it may be a talent search committee that selects candidates for interviews and chooses their new hires. In small businesses, the hiring manager may also be the supervisor of the new hire.
How can I streamline the hiring process?

There are a few strategies to speed up the hiring process, such as using an offer letter template instead of creating one from scratch or informing candidates that you want to hire them through an informal verbal offer. Be sure that you also discuss terms of employment while interviewing, so the candidate has time to review them early on.
Why are background checks important during the hiring process?

Hiring the wrong person is costly and frustrating. Background checks can save you from hiring any dangerous or unsavory individuals, which is for the company's benefit as much as it is for the employees. Avoiding bad hires will help ensure that everything runs smoothly in the workplace.