3 steps to painless EEOC compliance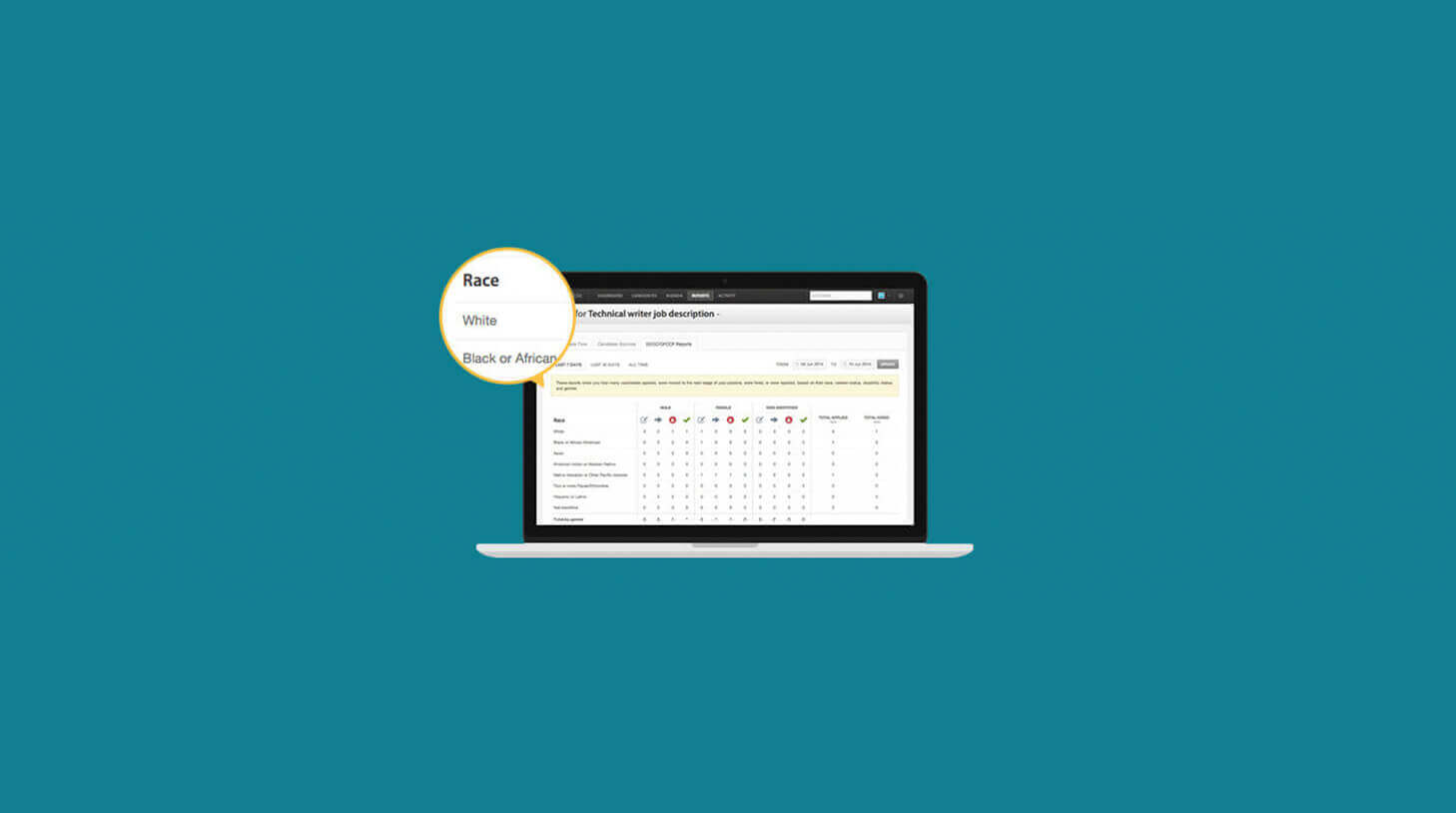 Born out of the Civil Rights Act of 1964, the sentiment fuelling these regulations is clear. But, with some job openings attracting hundreds of applicants, ensuring EEO compliance can be complex and overwhelming. Keeping track of key data using a spreadsheet is possible, but not ideal. A spreadsheet doesn't guarantee accuracy, efficiency or actionable insights.
Automating the data collection, tracking and reporting process, Workable's 'EEO/OFCCP Survey & Reporting' feature keeps you fully compliant – no spreadsheets required.
But what exactly are the EEO applicant tracking requirements and how can Workable support and streamline your capacity to meet them?
Equal Opportunity 101 and EEO compliance
Title VII of the Civil Rights Act 1964 – one of the laws covered by Equal Opportunity 101 – is the backbone of employment rights. It means that, as an Equal Opportunity Employer, you agree not to discriminate against any employee or candidate based on their race, color, religion, national origin, sex (including pregnancy), physical or mental disability, or age (40 or older).
The EEOC
An agency of the US Government, the Equal Employment Opportunity Commission (EEOC) enforces federal employment discrimination laws. Its main tasks include tracking hiring data and fielding complaints from employees about possible unlawful discrimination.
Any privately-owned company, state agency, labor union or joint apprenticeship committee with 15 or more employees who have worked for them for at least 20 calendar weeks, has to comply with the EEOC laws. Employment agencies and recruiting companies are covered by the EEOC rules independently of their number of employees or whether they receive payments or not.
The OFCCP
Part of the US Department of Labor, the Office of Federal Contract Compliance Programs (OFCCP) ensures that employers doing business with the Federal Government comply with laws and regulations requiring nondiscrimination.
OFCCP regulations prohibit federal contractors and subcontractors with contracts exceeding $10,000 from discriminating in employment decisions based on race, color, religion, sex and national origin. It also requires them to make outreach efforts to hire and promote qualified individuals with disabilities, as well as Vietnam era and other covered veterans.
EEOC and OFCCP legislation does not only apply to the hiring process, but also to firing, promotions, harassment, training, wages and benefits.
EEOC compliance requirements
The purpose of the EEOC and the OFCCP may sound simple, but their joint mission creates a number of different requirements:
the development of a written affirmative action plan
the creation of an internal audit and reporting system
the posting of several notices of non-discrimination and employees' rights
the filing of an annual EEO-1 report
The EEO-1 report
Probably the most daunting of all EEOC compliance reports and tasks, the EEO-1 report is a compliance survey. It requires certain companies to provide a record of their employment data categorized by ethnicity, race, gender, EEO-1 job category and designated salary bands.
The EEO-1 report is submitted both to the EEOC and the OFCCP and must be filed by:
employers with Federal Government contracts of $50,000 or more and 50 or more employees
employers who do not have a Federal Government contract but have 100 or more employees
Automating EEOC compliance
All companies need to be able to evidence EEO/OFCCP compliance when required, which means being consistent about tracking, storing and analyzing recruitment data. Automating this process saves time and ensures accuracy.
Here's where Workable's 'EEO/OFCCP Survey & Reporting' feature comes in:
Step 1. Collect voluntary applicant EEOC data
Enable the 'EEO/OFCCP Survey & Reporting' feature in your Workable account to start automating the collection of EEO data to meet applicant tracking requirements.
To do this, just go to 'Recruiting preferences', scroll down to the EEOC section and turn the 'EEO survey' on. If you're an employer with a Federal Government contract you should then also enable the 'OFCCP survey'.
Once activated, every candidate will be asked to complete a voluntary form immediately after submitting an application. If they skip the survey, Workable will send them a reminder email with a link.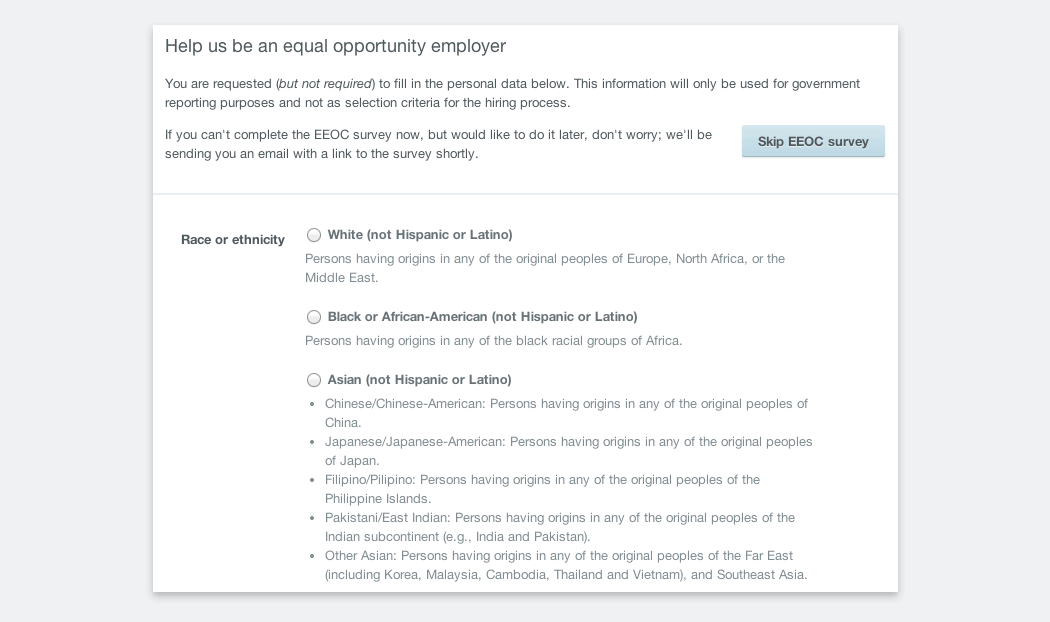 An equal opportunities disclaimer will also be published on your careers site. You can customize this if you want to. Contact our support team with your personalized version and we'll update it.
Step 2. Capture disqualification reasons
EEOC/OFCCP regulations require employers to record a reason for every non-selection of a candidate. By activating the 'EEO/OFCCP Survey & Reporting' feature, you'll be prompted to do this whenever you disqualify a candidate. Just select an option from the drop-down list or enter your own.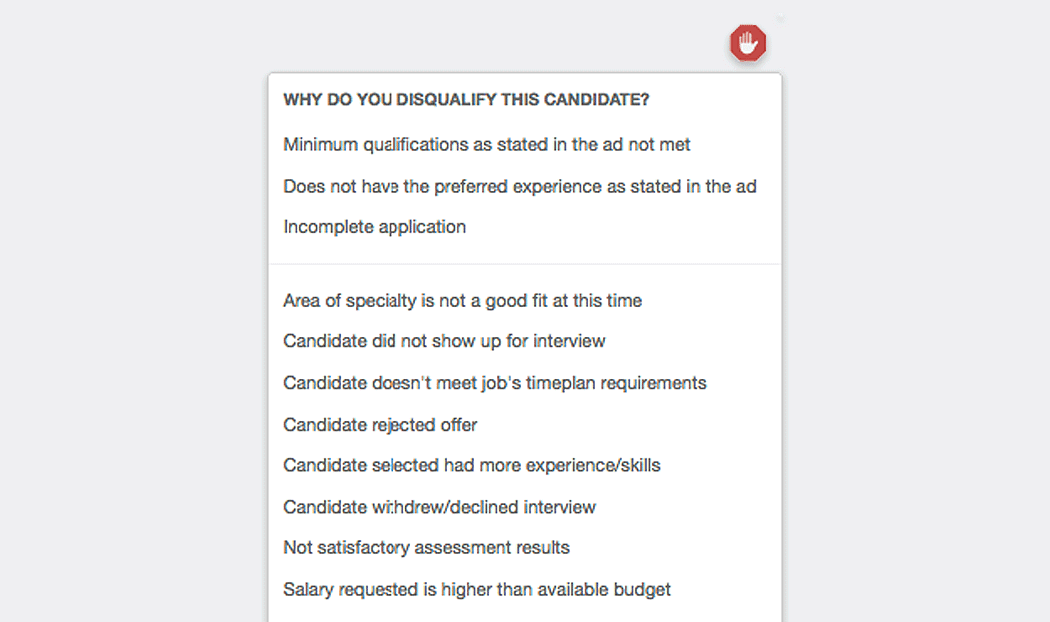 The drop-down list automatically adjusts to match each stage of your hiring pipeline. But we've also gone one step further…
When applicants fail to meet one or more of the minimum qualifications you've pre-set for each position, they'll be automatically disqualified and assigned a reason by the system. Which means you can focus your efforts where they really matter – on evaluating candidates who do meet the criteria.
Step 3. Produce the right EEOC compliance reports without hassle
Check your Equal Employment Opportunity data anytime via the 'Reports' tab. With a single click, you can export your data in a .csv format (useful when generating your EEO-1 report). You can also export a detailed log of all the EEO/OFCCP surveys candidates have completed for each of your positions.
Further Reading:
Using Workable's Applicant Tracking System for EEO compliance
Using an Applicant Tracking System to automate EEO compliance saves time and promotes the security and accuracy of your data. It also improves the quality and consistency of your overall hiring process. With this taken care of, you can focus efforts where they really add value; using the data to assess and inform your company's long-term hiring approach.
Not using Workable yet? Sign up for a demo and see how it will work for your organization.