How to become a successful recruiter
Becoming a successful recruiter involves more than just screening and hiring. It requires a deep understanding of job roles, effective communication with hiring managers, and the ability to write clear job descriptions. They need to be efficient in sourcing and screening resumes, and adept at conducting interviews.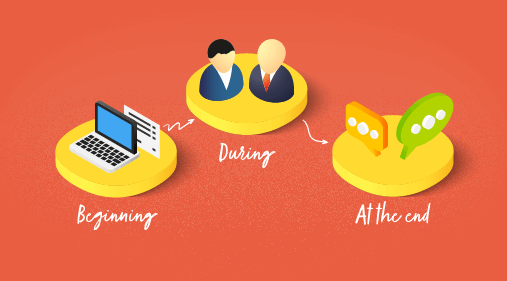 Dreaming of becoming a top recruiter? This guide teaches you how to be a successful recruiter, with details on recruiters' top skills and responsibilities at each step of the hiring process, plus advice on how to improve in each.
Screen, interview, hire and repeat. That could be the shortest job description for a recruiter. But a glimpse at a recruiter's typical agenda shows that their day-to-day tasks are not as simple as you might think.
Here are recruiters' top responsibilities, along with advice on how to be a successful recruiter:
What do recruiters do?
Meet with the hiring manager
Intake meetings with hiring managers kick off a smooth hiring process. For an effective recruiter-hiring manager collaboration, make sure you:
Write job descriptions
A clear job description will attract qualified candidates and reduce the number of non-qualified applicants. To write a good job description:
Publish job ads
Once your job description is ready, you will need to upload your ad to job boards and your careers page. To do this, make sure you:
Source passive candidates
Proactive candidate sourcing brings you in front of potential hires who mightn't be actively looking for a new job opportunity. It can also help you reduce your overall cost and time to hire. Here are some sourcing tips:
Screen resumes and applications
Resume screening can be time-consuming, especially if you receive many applications for a role. Here's how to improve your efficiency with this task:
Ask for referrals
Employee referrals help you hire faster and better. Here's how to make the most out of your referral system:
Interview candidates
Interviews are at the core of recruiting. They help you understand if candidates who are good on paper are also qualified for your open roles. To improve your interviewing skills:
Prepare and send job offer letters
When the hiring manager and the CEO have made a hiring decision, it's time to let the candidate know. Here's how:
Contact rejected candidates
A rejection email or call mightn't be a pleasant task, but it will go a long way towards leaving a good impression on candidates you might want to consider for future roles. A few pointers to help you reject candidates with grace:
Help onboard new hires
Although the hiring manager and human resources usually do the heavy lifting of onboarding, you can help them transition smoothly from candidate to employee. Here's how:
Review recruiting metrics
Recruiting KPIs, like time to hire and source of hire, can reveal areas of improvement:
Build talent pipelines
Good relationships with past and potential candidates may help you fill future job openings. Here's how to build talent pipelines for your hiring needs:
Frequently asked questions
What qualifications do you need to be a recruiter?

To become a successful recruiter, you should have the right attitude and skillset. A degree would help, but so do many other essential qualities for this role, like aggressiveness or being persuasive when needed!
Do recruiters make good money?

In the US, corporate recruiters have an average salary of $52K. The range increases significantly for executive-level positions with a base pay rate of $93k. Though some make less or more depending on experience and industry trends.
Is recruitment a good career path?

The recruitment industry is a great place to get paid for your time. You can earn big bucks instantly, and you'll have plenty of opportunities if that excites you!