Grow your talent pool and future-proof hiring
In today's most influential hiring markets unemployment is consistently low and competition for top talent - particularly in the tech world - consistently high.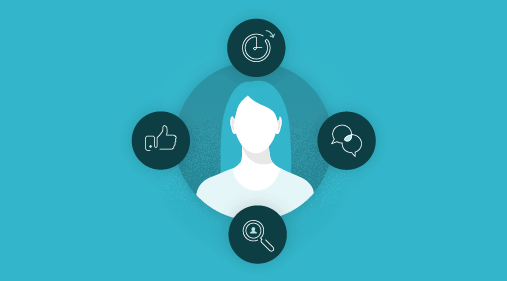 With 74% of employees satisfied in their role but still open to a job move, tapping into the rich passive candidate market as well as targeting active job seekers is key. It's not always enough to advertise a job and wait for the applications to arrive. Recruiters need to plan for future hiring needs by building relationships with prospects and acting fast to secure talent when the time is right.
Designed with the active hiring process in mind, a traditional ATS alone struggles to meet the challenges presented by this shift in the hiring landscape.
It's a familiar scenario; you're recruiting for a specific post and come across a quality candidate. They're not right for that particular role, but could be perfect for a future position. You don't want to lose sight of them, but if you can't match them with an open position in your ATS, what options do you have?
Introducing Workable's Talent Pool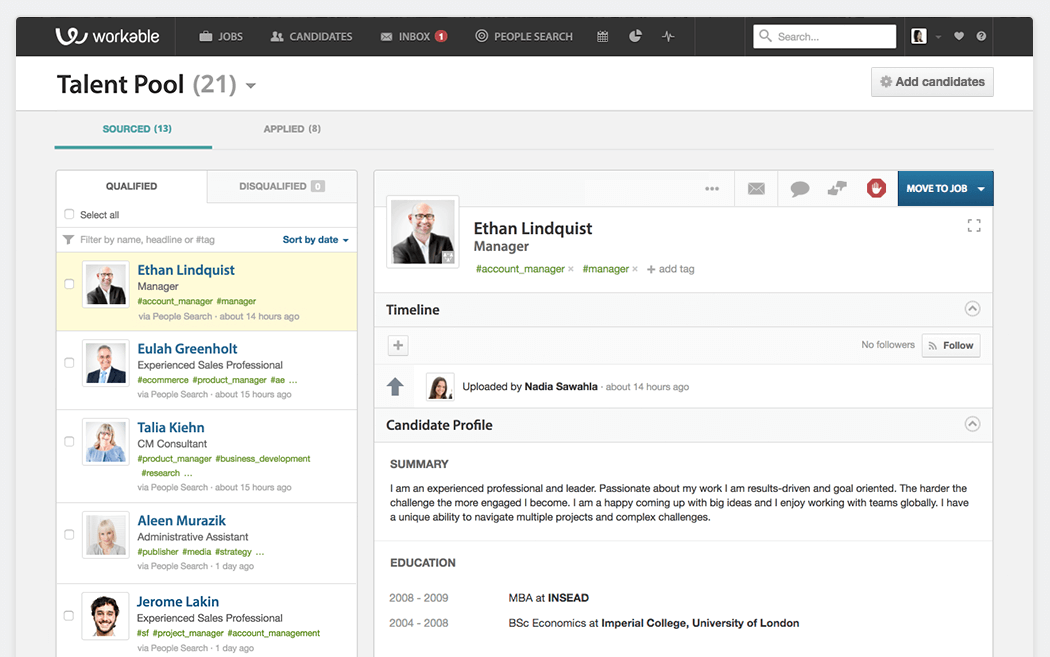 Workable's Talent Pool completes the 360 degree hiring circle; closing the gap between a potentially great future candidate and an active hire.
From someone you met at a conference to a stand-out developer you've spotted on GitHub, add candidates into your Talent Pool without the need to associate them with a particular job.
Talent Pool also makes it easy to harness speculative applications and referrals. Accept speculative applications directly via your careers site or forward resumes and referrals from your personal email. Workable will automatically scan the details to create a candidate profile in the Talent Pool. Initiate conversations and keep track of the communication outside the confines of a specific role.
Cultivate rich communities
To build up varied pools of talent you need to look outside of your immediate network. Talent Pool works in partnership with People Search, Workable's powerful candidate-sourcing functionality to do just that.
From the main dashboard, use People Search to scan millions of online profiles and trusted data sources. Apply keywords and target location to match the criteria for roles you need to fill. If you find a great candidate for a future role, save their profile to your Talent Pool instead of a specific job. Add tags to organize and segment by specialisms, skills and location. Start building up a rich, living bank of talent, which you can track and nurture for future use.
Fully integrated into Workable's ATS, Talent Pool is designed to work seamlessly with Workable's sourcing tools. But you can also add profiles and build your pool by:
directly uploading a resume

sending an email to your account's mailbox and attaching a resume

using the 'Add Candidate' widget to enter details manually

advertising for speculative applications through your careers site
Harness your employer brand
If you're attracting potential talent to your site through a strong employer brand, don't lose out on a good prospect just because there isn't a role advertised matching their skill-set. Enable speculative applications in your account and receive resumes straight to your Talent Pool. When you're next hiring, search the pool for prospects and reach out to talent with an active interest.
Grow meaningful relationships
In a competitive hiring landscape, nurturing prospects with timely, personalized outreach can mean the difference between securing a great hire and losing out. 80% of candidates choose one job over another based on the quality and length of the relationship formed during the process.
Using Talent Pool it's easy to reach out, start a conversation, and build a meaningful relationship over time.
Make initial contact with a prospect by sending an email directly from their profile in your pool

Personalize outreach and make memorable connections using background information sourced through

People Search

Based on a candidate's response, set reminders to get back in contact at key stages using the 'snooze' option

Use comments and notes on the candidate profile to continue the conversation; key into significant milestones such as a return from Maternity Leave, a conference speech, or the launch of a major project
Having nurtured your prospect, when a position opens up that matches their skill-set move them from your pool directly into the pipeline for the job. Fully integrated with Workable's ATS, the transition is streamlined and simple.
Keep your pool alive
Collaborative at its core, Talent Pool provides full transparency across your hiring team. Share comments and feedback, evaluate candidates, and send emails to prospects knowing that everything will be visible across the team on the candidate's timeline.
With everyone up-to-date, members can share responsibility when needed and keep the conversation with prospects alive without risking an overlap or duplication of contact.
Fill jobs faster
Combined with a powerful sourcing tool to scout for prospects, Talent Pool adds CRM functionality to your hiring strategy. Prepare for the future, work towards a reduced time to hire, and fill jobs faster with the best talent around.
Not using Workable yet? Sign up for a demo and see how it will work for your organization.