How to schedule job interviews efficiently: a guide for recruiters and hiring managers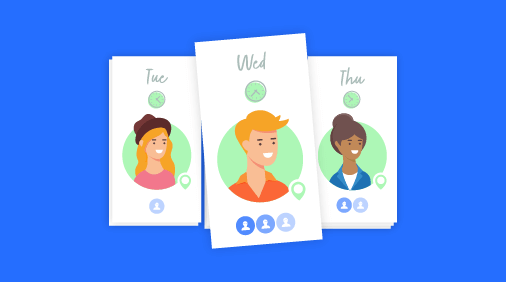 Scheduling interviews efficiently saves you time and promotes positive experiences for both candidates and hiring teams. Here are a few ways recruiters and hiring managers can schedule job interviews more efficiently:
Coordinate with hiring teams early on
To reduce the time you spend on administrative tasks during your hiring process, coordinate well beforehand. Arrange a quick meeting with your hiring team to discuss how to schedule interviews before you start receiving applications. For example, you could ask your hiring team to:
If you are tracking your recruiting yield ratios and time-to-hire, you can estimate how many interviews you need to conduct and when. Ask hiring teams to keep this information in mind, so they can plan ahead.
Minimize the number of emails you exchange with candidates
To promote good candidate experiences and avoid answering an avalanche of clarifying questions, include all necessary information in your initial email to candidates. Use this checklist to guide you:
| | |
| --- | --- |
| I state my email's purpose and my company's name in the subject line (e.g. "Invitation to interview at Workable.") | x |
| I mention which role I'm scheduling interviews for at the beginning of my email. | x |
| I give candidates a specific date and time for their interview or 2-3 time slots to choose from. | x |
| I include interviewers' names and roles. | x |
| I give candidates details about their interview (e.g. interview format and length.) | x |
| I include the full address of our office (street, number, floor, office) and have attached a map or screenshot. | x |
| I indicate our company's dress code. | x |
| I let candidates know who they should ask for at our front desk. | x |
| I let candidates know what they should bring with them (e.g. portfolio, ID.) | x |
Email templates can help you ensure that your email is complete. Use a customizable template to invite candidates to interviews.
Learn more: Best way to schedule an interview time with multiple candidates and interviewers
Invest in an Applicant Tracking System (ATS)
Some ATSs have calendar integrations to schedule and organize meetings. Workable integrates with popular providers like Google and Office 365. Through Workable, you can check hiring teams' availability, book rooms and send invitations to candidates, members of your hiring team and external attendees. Follow these steps to schedule interviews quickly through Workable and send all necessary information to candidates: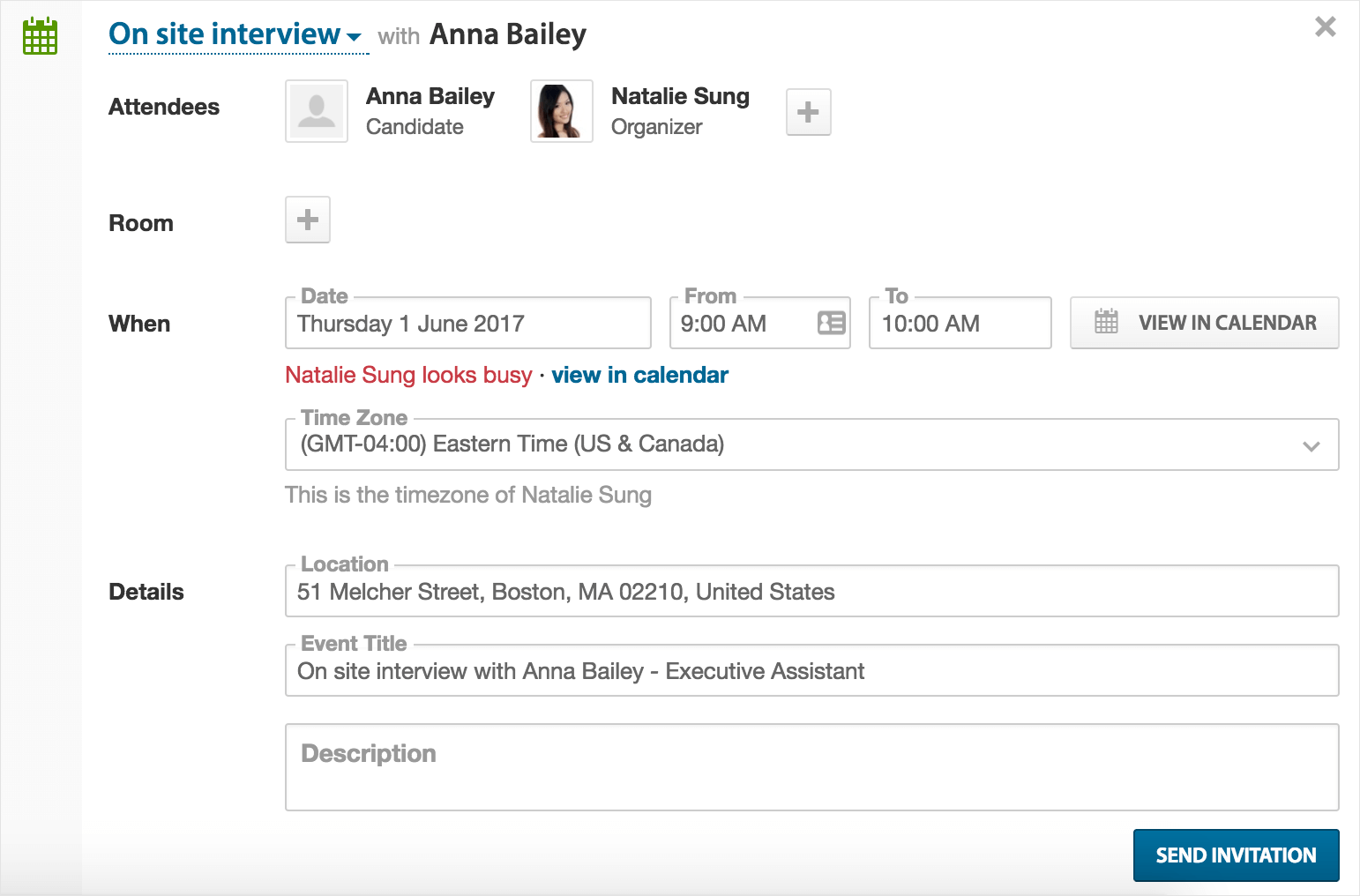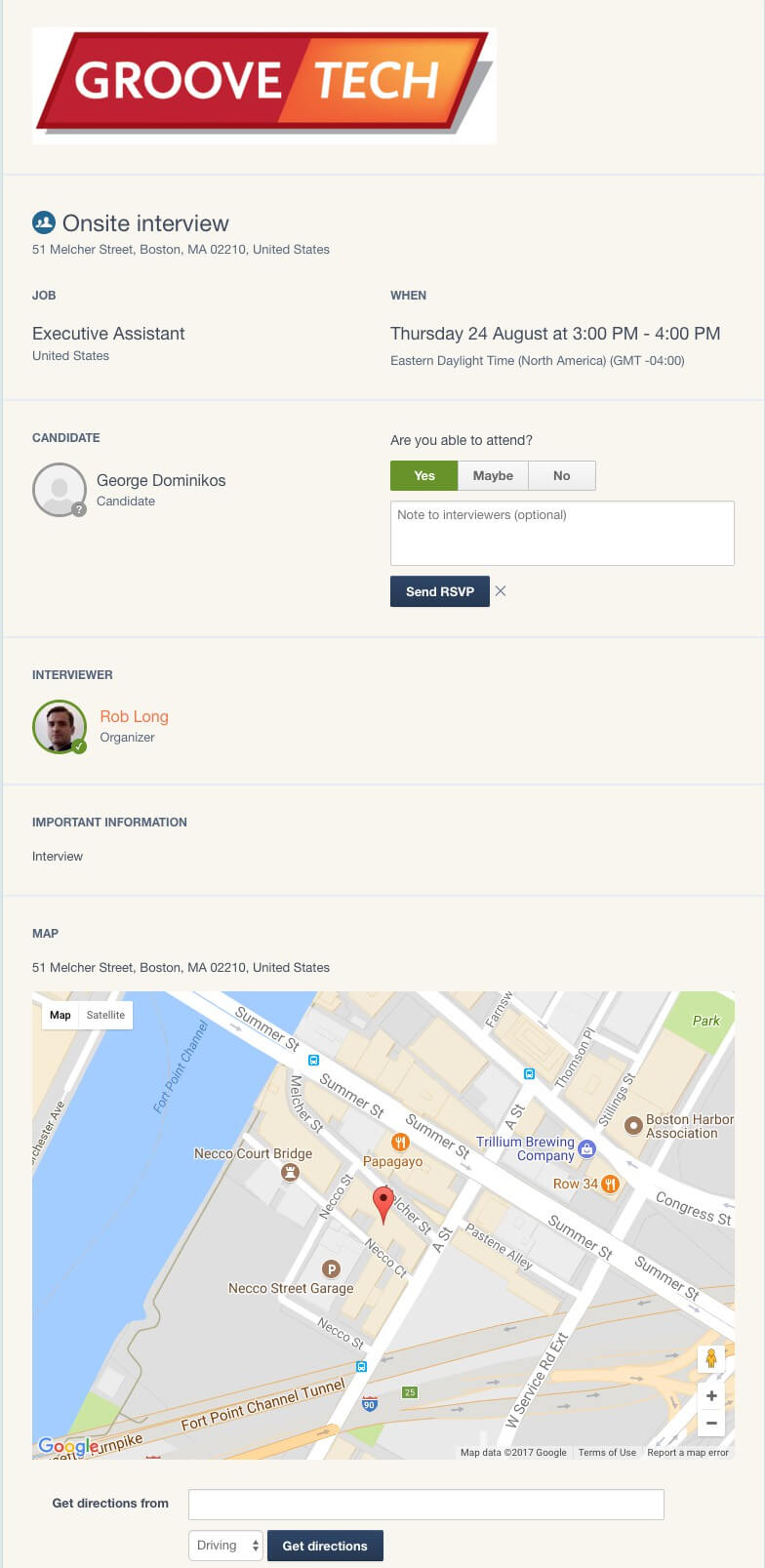 After you've scheduled your interviews, Workable organizes them in your Agenda – a recruiting calendar that lets you see your team's scheduled events. The Agenda's view (available both on desktop and mobile) shows details for each event along with a link to interview scorecards that interviewers have created:

Your ATS can make scheduling interviews a breeze. Even when you need to exchange emails with candidates to answer questions or settle on convenient times for interviews, your ATS will keep those emails organized in one place. That way, you have full visibility into your communication with candidates and your teams' interview schedules.