8 job offer letter templates for every circumstance with extra tips
Job offer letter templates are pre-designed formats that provide a structure for creating official job offers. They typically include essential details such as position, salary, start date, and benefits. These templates help streamline the process of creating and sending job offers to new employees.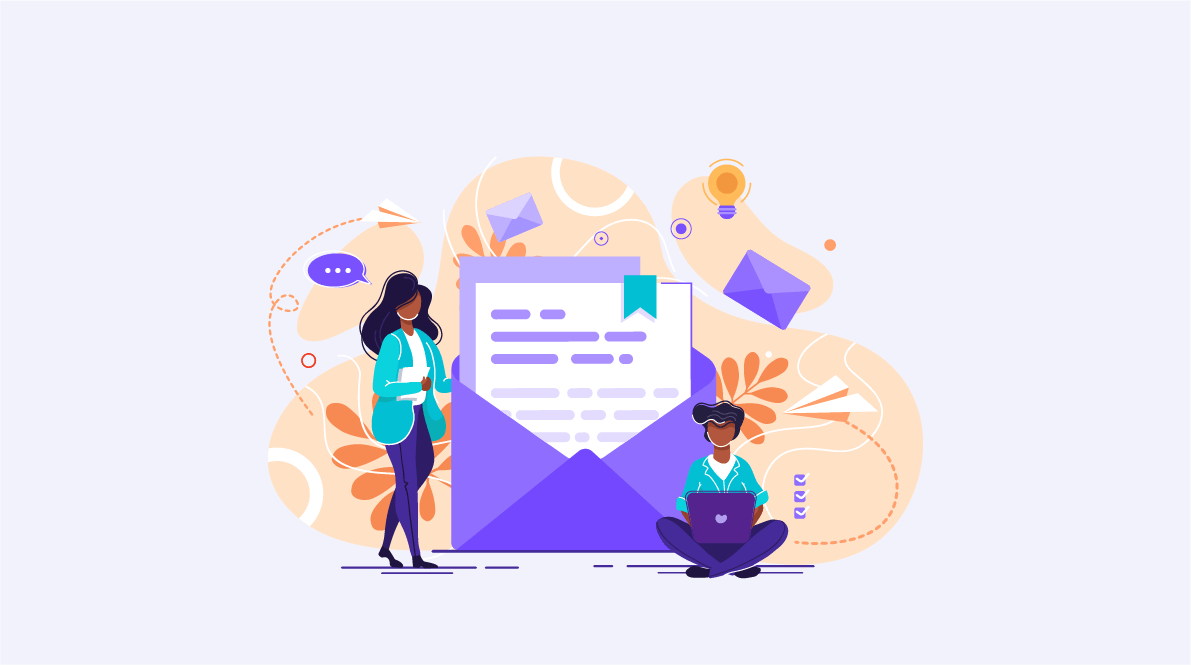 Finding the perfect hire isn't easy. Most of the time you have to review a lot of resumes and see many candidates before you make a decision. And after all this effort, it's time to send your job offer letter – and you realize this is equally important to any other hiring stage since you have to make your job offer stand out to bring the best candidate on board.
What is a Job Offer?
When a hiring team finds the right candidate, it usually contacts them in order to announce its decision and make a job offer. When the job offer is verbal, the hiring manager calls the selected candidate and lets them know they are offering them the position. Depending on the company's policy and hiring process, the candidate will also receive the offer via email or in writing. A job offer to a candidate, whether it is made via phone or email, must be followed by a formal job offer letter where the details of the offer of employment are confirmed.
What is included in a job offer?
A job offer letter from employer to employee should include:
Job title

Job description

Starting date

Work schedule

Reporting structure

Salary (Compensation Bonus or Commission)

Paid time off

Privacy policies

Termination conditions
Depending on each situation, there are different job offer letters a company or a hiring manager can use. To help you send a job offer letter that will suit your needs, we collected eight sample job offer letter templates.
8 job offer letter examples for any case:
1. General job offer template
If you want a simple job offer letter sample, then this template is for you. This is a job offer email template you can use when you have found your perfect candidate and want to officially offer them a position. Feel free to customize it in order to include as many details as you think your candidate will want to know before making up their mind.
The general job offer template can be found here.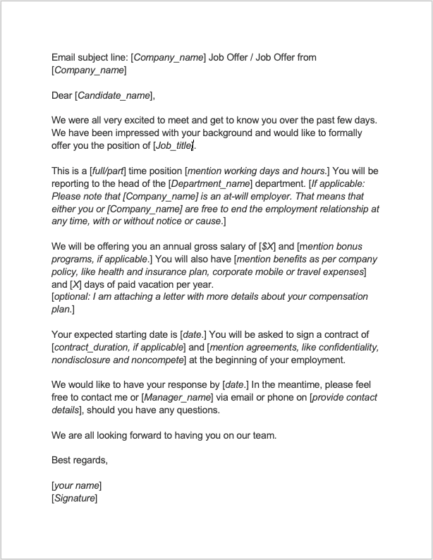 2. Formal job offer template
This formal job offer letter sample can be used when a company is offering a full-time position to the best candidate. The formal offer of employment includes a sample job offer email along with a formal job offer attachment that covers the most important terms of employment.
The formal job offer template can be found here.
3. Informal job offer template
This job offer letter example enables your candidate to acknowledge your offer via email, and is just as official, but not as comprehensive as our formal offer letter format.
An email offer letter tends to be less formal and covers the most basic aspects of the job offer before sending a full offer letter. An offer letter email can include salary, an outline of benefits, and immediate next steps. Feel free to use this template when authoring a job offer email for any position.
The informal job offer letter can be found here.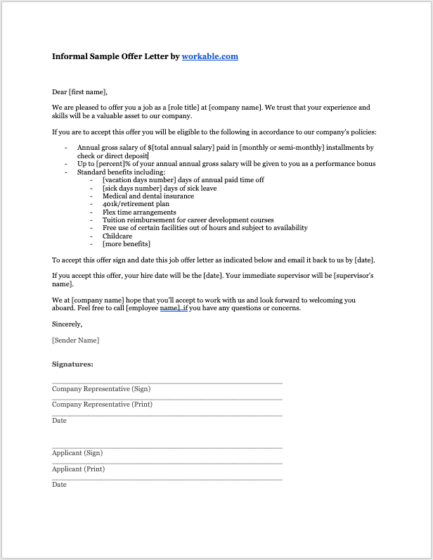 4. Part-time to Full-time job offer template
Have you decided to change a part-time employee to full-time? Use this job offer template and modify it to suit your needs. Before you send a job offer, make sure to ask employees if they'd like to take on a full-time position. Then, send them a job offer email or letter detailing the new position.
The part-time to full-time offer letter template can be found here.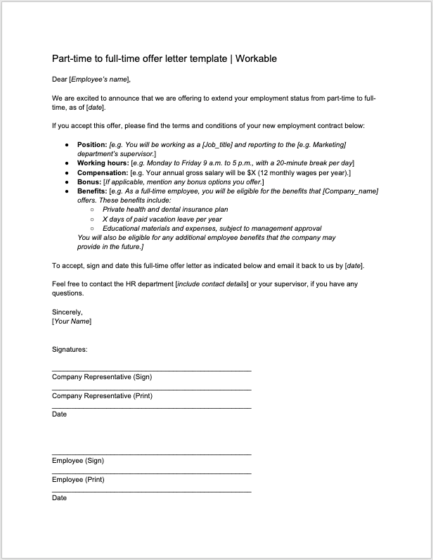 5. Internal job offer template
Sometimes it is common for companies to offer a new job opening to a current employee. Although this is an existing employee, the company still has to send an internal job offer to them in order to make this internal promotion official. This email should follow a discussion and verbal agreement between the employee and their current manager to ensure the promotion aligns with the employee's career goals.
The sample job offer letter template for internal promotion can be found here.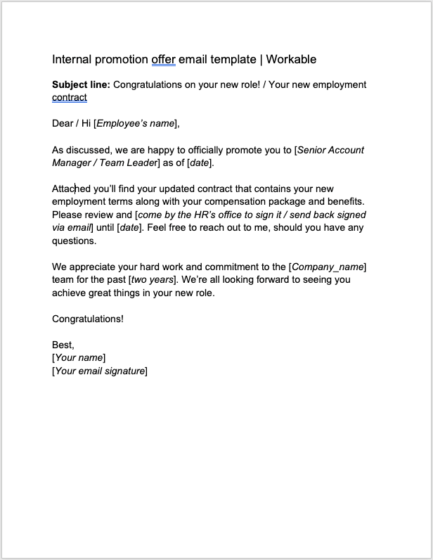 6. Sales job offer template
Hiring salespeople? What better than sending a sales-customized job offer. This offer letter template for sales candidates contains placeholders where you can fill in your company's data and you can also tweak the tone and modify employment terms.
The sales job offer template can be found here.
7. Developers job offer template
If you hiring a developer, use this template that includes tips on how to optimize your developer job offer letters, a sample job offer email and a sample formal job offer letter for developers. You can also customize employment terms or include a personalized message to your potential hire.
The developers job offer template can be found here.
8. The Workable job offer template
This is our very own job offer template. We use it for every formal job offer we send to selected candidates (aka Workablers!)
The Workable job offer letter email can be found here.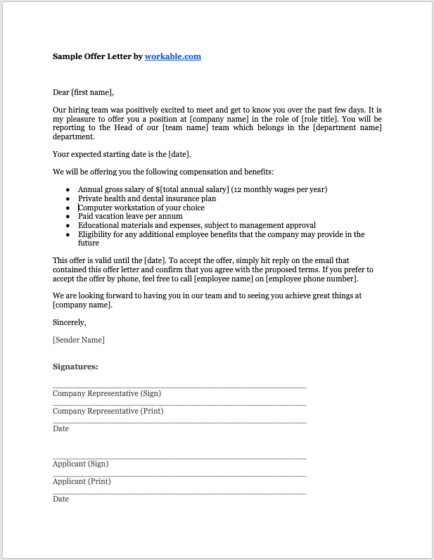 Tips for making a job offer to candidate
Making a job offer to a candidate seems simple at first glance: you create the offer letter, ask management to approve and send it to candidates. However, each of these steps requires time, effort and a good deal of coordination and care.
A few tips that will help you optimize your job offer process are:
Cover important job details before you start hiring

Make a job offer over the phone first

Use effective

offer letter templates

Speed up the

job offer approval process via recruiting software
For more details, read our complete guide with tips for making a job offer.
Further reading: How to write a standout job offer email
How you can measure and improve your job offer acceptance rate
What is offer acceptance rate?
Definition: An offer acceptance rate shows the percentage of candidates who accepted a formal job offer.

The job offer acceptance is a useful recruitment metric. A low rate (i.e. <40%) shows that something might be wrong with your talent acquisition strategies. On the other hand, a high acceptance rate (i.e. >90%) can indicate that there's a good match between your company's requirements and selected candidates' expectations. Generally, a high offer to acceptance ratio is a combined result of good communication, reasonable and competitive offers, and good candidate experience.
So, it is important to send a very good job offer, but also receive an acceptance letter. Learn more about the acceptance rate and how to improve it in our comprehensive article.
Feel free to use a free job offer letter template from our list above, modifying it as you want to make it fit your needs and requirements.
More:
Frequently asked questions
What is an offer letter?

An offer letter is a formal document that outlines the terms and conditions of employment offered to a candidate who has been selected for a job position.
Is an offer letter legally binding?

Yes, an offer letter can be legally binding if it includes essential details such as job title, salary, start date, and any other terms and conditions agreed upon by both parties.
When should an offer letter be sent?

An offer letter should be sent after the candidate has successfully completed the interview process and a hiring decision has been made.
What should be included in an offer letter?

An offer letter should include important details such as the job title, compensation package, start date, work schedule, benefits, and any specific conditions or requirements.
Can an offer letter be negotiated?

Yes, an offer letter can be negotiated. Candidates can discuss certain aspects of the offer, such as salary or benefits, with the hiring company to reach a mutually satisfactory agreement.