Fast-track your job offer process with Workable's recruiting software
In the current market, it takes on average three interviews and up to six weeks to reach the offer stage.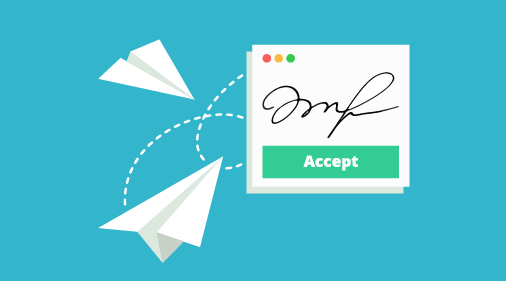 With so much already invested, losing your top candidate at the very last stage in the hiring process comes at a price. Aside from missing out on your preferred hire, rejected offers also translate into higher costs and a prolonged time to fill.
Research shows that a third of all candidates who declined a job offer did so because they'd already accepted an offer somewhere else. So speed matters.
Accuracy and attention to detail also matter. Offer letters are formal documents, which carry financial and legal obligations. They should be clear and comprehensive in terms of content. Making a mistake or an omission could damage your relationship with your prospective employee and your company reputation. By standardizing your job offer process and your format—using templates for each job rather than producing them ad-hoc—you can ensure the right information is included in every job offer.
Get offers out faster
Workable's Offer Letters and Offer Approvals feature is designed to keep your Offer Acceptance Rate (OAR) healthy. It streamlines and automates key stages in the process, making it quicker to write, approve and send your offer. It also includes e-signatures, making it easier for candidates to accept, and your hiring team to keep track of the details.
Here's how:
A library of offer letter templates
With our new Offer feature it's easy to build up a library of templates for every role. Upload your own template or use one provided. All you need to do is decide on the unique information you want to include in each offer. Choose from a list of variables, such as start date or salary, to customize every document automatically. These are displayed as placeholder text, and will be automatically replaced with the appropriate data per candidate. Once saved, your templates are available for key members of the hiring team to use for successful candidates in the future.
Live status tracking on a candidate's profile makes it simple for the hiring team to follow the progress from offer to acceptance. By glancing at the timeline see the current status of an offer (pending approval, sent, accepted, declined) and receive automatic notifications when the status changes. With real-time updates you can react quickly if an offer's declined; review your original offer, submit it for approval and send a counter offer.
E-signatures
Integrated e-signatures make it simple for candidates to accept—all it takes is two clicks. As well as saving valuable time (reducing back-and-forth emails) it also makes for a stronger candidate experience. Once signed, a copy of the document is available on the candidate's timeline. You can also choose to include a company e-signature on your offer document.
Optimized for mobile
Chances are your preferred candidate is also someone else's ideal hire and likely to receive multiple offers. Using our Offer feature candidates can read and sign your offer document from any device (desktop or mobile). So wherever they are when you send your letter (in the office or on the train) they can accept quickly and easily.
Automated offer letter approval workflow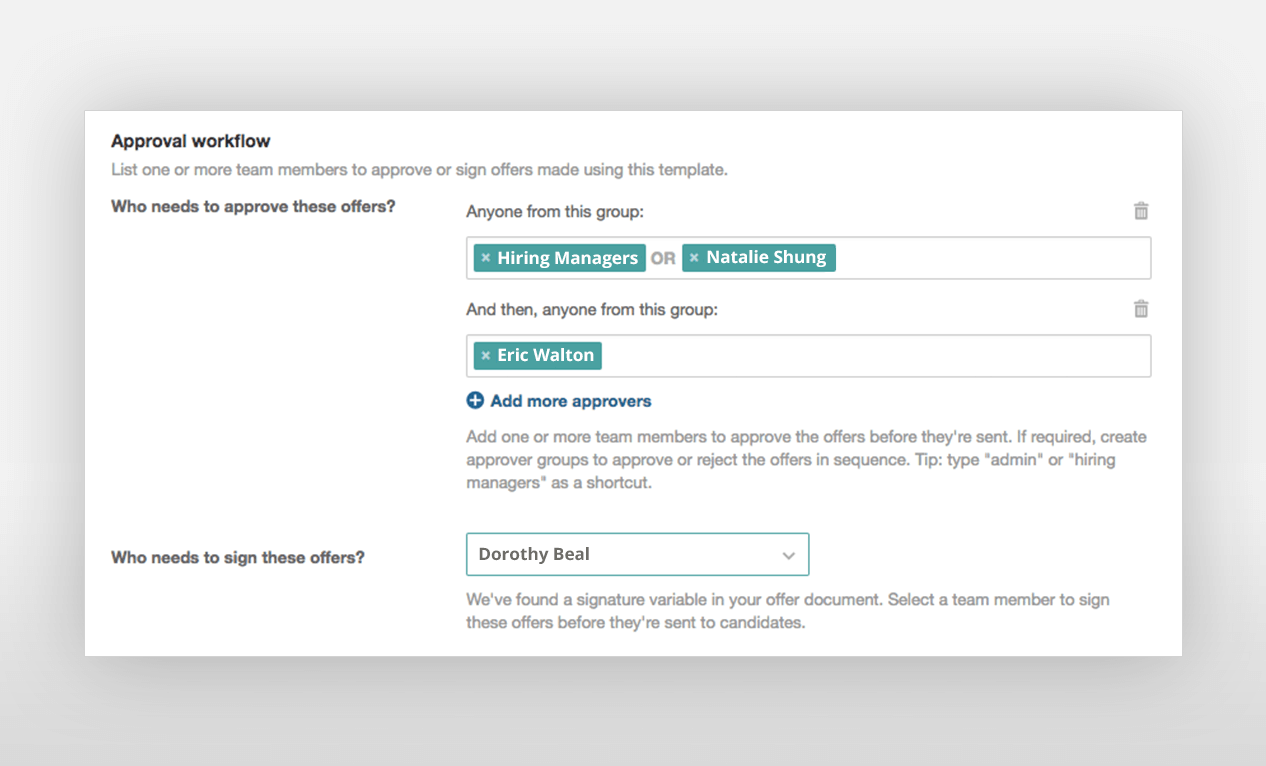 When you're juggling multiple offers for different hiring managers getting fast approval is a challenge. Workable's Offer Approval feature is designed to support larger companies with complex workflows. By automating the job offer approval process it shortens the time it takes to get an offer to a candidate. Just create an approval workflow for each template and add the people you need to sign-off each offer. Approval requests will then be sent automatically to each approver. This means hiring teams are free to focus on other tasks while the approval process runs its course.
Restricted access rights
For large organizations, there's the option to save templates so that only people associated with specific departments and locations have access rights to the content. Thus increasing levels of privacy and control.
Get the content right
Offer letters set the tone for the ongoing relationship between your company and your future employee. As an official document, a good offer needs to tick a number of different boxes. From showcasing your company's brand and culture to accurately reflecting all the relevant job details, getting the content right is key if you're to move quickly and seal the deal.
Having a library of offer document templates ready to go means that anyone in your hiring team can make an offer confident that all the right information has been included. And because the format is standardized, your hiring team's approach will be consistent across all of your job offerings.
When you're ready to make an offer just select the correct template for the job. Then add in the details unique to each offer (for example, the salary offered). Every offer letter comes with a pre-drafted covering email, which your hiring managers can edit to further personalize their approach.
Building a positive candidate experience
Directly linked to recruiting performance, the candidate experience you provide can mean the difference between an offer being accepted or declined.
By managing the entire job offer process within your recruiting software, candidates will receive seamless and timely communication from the moment they apply to the day they start their new job with you. This represents a big tick when it comes to building a positive candidate experience. And enhancements designed to speed up the job offer process (e-signatures, mobile optimization) show you're serious about securing their talent and want to make it as easy as possible for them to accept. Another tick in the box.
Get started
If you're already using Workable find out more about how to use our Offer Letter and Approvals feature.
Not using Workable yet? Sign up for a demo and see how this new feature and others will work for your organization.