How to post job listings on the 'Google for Jobs' search engine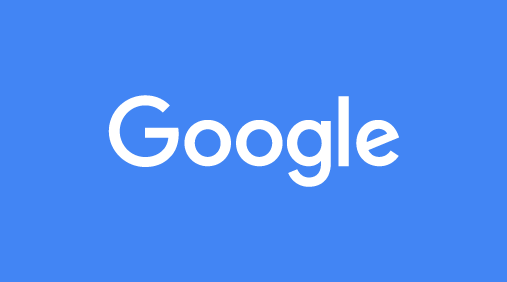 Google for Jobs is one of Google's first dives into the recruiting space. This job search tool boosts the exposure of your job listings to help you attract more relevant candidates to your roles.
Here's how to get your jobs to show up on Google for Jobs search engine:
What is Google for Jobs?
Aimed at making the job search easier for candidates, Google for Jobs is an enhanced search feature that aggregates listings from job boards and careers sites and displays them prominently in Google Search. It's currently launched in various regions (including the U.S. and the U.K.) and Google keeps expanding this feature's reach.
Can I post jobs directly on Google?
No. Google for Jobs collects, organizes and displays job listings from various job boards and careers pages without any additional action required from you. This means that job seekers can view open jobs with a quick Google search. And employers expand their outreach to a larger audience. Here's how Google for Jobs works:
How to use Google for Jobs
Now when you search for jobs using the Google job search tool, you'll view job openings in a dedicated space at the top of the search results, like this:
You can also use the Google job search engine to search for jobs using various filters, such as category, city, date posted and company type: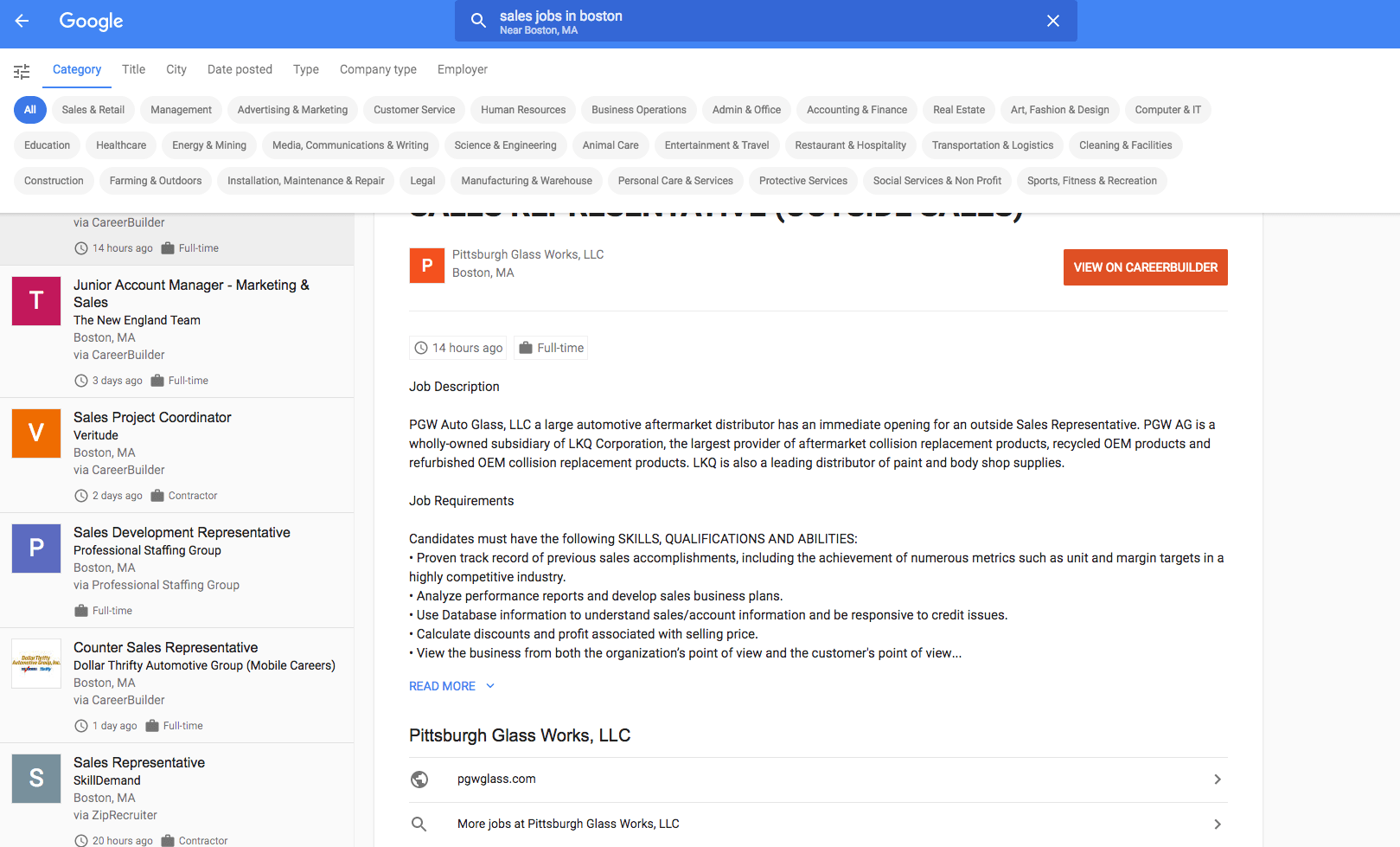 Potential candidates can click through to access job descriptions and apply to roles right from Google for Jobs. They can also share listings and learn more about your company and employer brand through the search results.
This enhanced search is designed to improve the recruitment process for job-seekers and employers alike because it:
Displays job listings in a prominent location within Google Search results: Your logo, reviews, ratings and job details will be included in search results.
Drives more motivated applicants through filters like job title and location: These search engine filters will help you attract applicants who are looking for your type of job.
Increases exposure to your listings: Google for Jobs makes it easier for applicants to find your listings and apply to your open roles.
Learn more about Google's applicant tracking system, Google Hire, and how it compares to Workable.
How to get your jobs on Google for Jobs
While you cannot directly post jobs to Google, there are two ways to list jobs on Google for Jobs: by using a third-party job site or by integrating directly with Google.
Using a third-party job site
Google for Jobs is not a job board – it's an enhanced search tool – so there's no way to actually post jobs on Google for Jobs. Instead, it scrapes and features job postings that are already published.
So, if you've posted your listings on job boards that have integrated with the Google job search engine already – you're done. Your listings are now eligible to show up in Google for Jobs. Here's an example of some Workable jobs that were published on LinkedIn. (LinkedIn has integrated its job posting content with Google for Jobs.) These listing appear prominently in Google search results: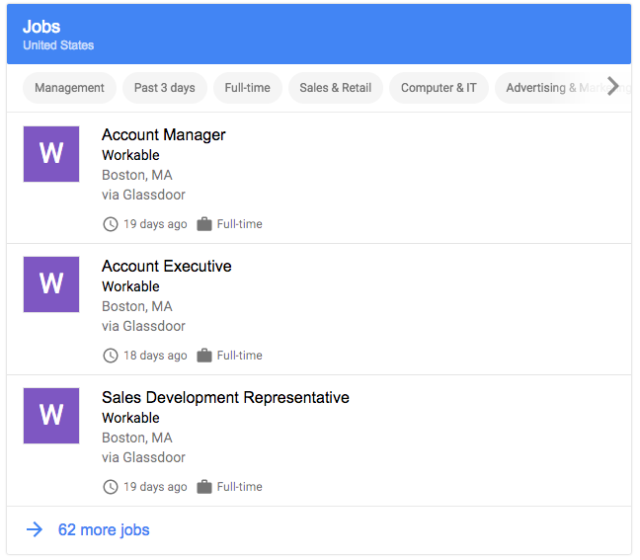 Related: What's the best day to advertise job openings?
Using job sites that integrate with Google for Jobs
Here's a list of job boards, recruiting sites and companies that have integrated with Google for Jobs. New jobs posted on these platforms are eligible to appear in Google for Jobs. (Google notes that this is not an exhaustive list of providers, and is subject to change at any time:)
Integrate directly with Google
There's another way to get your job listings to show up on Google for Jobs: by directly integrating with Google. If you have a website where your job postings are published (e.g. a careers page), and you can edit the HTML of your job postings, this is the most reliable method to ensure Google indexes your postings.
This method may require help from your development team. Google outlines how to do this in a technical guide available here.
Follow these steps to integrate directly with Google:
As a general rule of thumb, optimize your job descriptions for search engines to rank higher in search results. Here are some SEO techniques to improve the Google rankings of your job listings:
Use relevant keywords and phrases that pertain to your job description and job title.
Avoid jargon, and write clear job titles that candidates are likely to be searching for.
Create a visual experience with photos and videos.
Write brief job ads that include bulleted lists.
Tip: Six job posting guidelines to follow for job board approval
More resources for posting jobs:
Frequently asked questions
What should I post as a recruiter?
Posts about the positive things that your company and employees do for the local or global community make for great social recruiting content. Share stories about your employees' participation in charitable events to show candidates that your organization has a great culture.
What do you say when posting a job?
It can be tough to write a great job posting, but make sure you are concise and summarize the role for candidates. Be sure to talk directly to the job seeker rather than saying "the incumbent" or "the right candidate." This will make the job ad feel more personal and encourage your potential candidates to actually envision themselves performing the job.
How do you make a job description sound fun?
Be honest and bring some life into your descriptions to make them engaging. It's a good idea to be a little fun and show the uniqueness of the company or advertised position. Before posting your job online, be sure to read its description and ask yourself if this is a position you would apply for.