How to post a job on Nexxt (formerly Beyond)
Beyond was one of the earliest job boards on the recruiting market. After recently rebranding itself as Nexxt, this job board has gone from offering simple job posting functions to providing a full recruitment marketing solution.
In this post, we guide you on how to purchase recruiting plans, manage your account and post a job on Nexxt (formerly Beyond.) Here are the contents of our guide so you can click on sections you are most interested in:
What Nexxt offers
Nexxt is a premium job board and recruitment platform that boasts a huge network of niche job posting sites. Employers can advertise jobs on career sites like SalesHeads and HealthcareJobsite, diversity sites like DiversityWorkers and local job boards like PhillyJobs. Plus, Nexxt helps you reach global candidates through international partner sites (e.g. IrishJobs.ie and Jobs.bg.)
Nexxt's searchable candidate database has more than 40 million candidate portfolios. This database supports Boolean search so you can find candidates who meet your requirements more easily.
And, Nexxt offers recruitment marketing solutions to help you reach candidates who are a good match for each of your jobs. These features include promoting your jobs and brand through candidate retargeting and text & email campaigns.
Nexxt's pricing overview
Nexxt's pricing is mainly based on how many jobs you plan to post. This table shows the current prices and features of Nexxt's job posting plans:
Single job posting
Subscription Plans
FlexxPlan
Post only one job, one time.

Purchase a single job posting by paying a one-time fee of $299.

Post as many jobs as you want by using job slots in the following plans:

Talent Pro: One job slot at $199/month.
Recruiter: Five job slots at $299/month.
Recruiter Premium: 10 job slots at $499/month.

Nexxt's Recruiter and Recruiter Premium plans also provide access to Nexxt's candidate database.

Advertise all your jobs for one flat price.

A three-month-trial is available for companies that want to post more than 11 jobs.
Explore Nexxt's Subscription Plans
Nexxt's subscription plans each offer a certain number of job slots per month. For example, if you have five job slots available, you can post any number of jobs as long as you always have five or fewer jobs posted at the same time. On this Subscription Plans page, you can see the pricing of each plan.

There will also be a breakdown of what each plan includes underneath the pricing boxes. Identify the most appropriate plan and click "Buy Now." If you're not sure which plan is best for you, choose one that most closely matches your needs. You won't need to provide your billing information just yet, so you can create your account and pick a plan later.
In the next screen, add your work email and a password and click "Continue."
Nexxt will ask you for some basic information about you and your company:
After you complete this form, you will be asked to confirm your subscription plan (monthly or annual) and provide billing information. In our screenshot, you can see a summary of what Nexxt's Recruiter plan offers including:
Five job slots per month to post your jobs.
Ability to search and view up to 150 candidates in Nexxt's database, the "Talent Network."
Promoting your jobs via SmartMatch alerts, which show your job ads to candidates who have searched or applied to similar jobs.
If you are sure that this plan meets your needs, fill out all required fields and click on "Complete Purchase" at the bottom of that page. When you purchase your plan, you will be able to post your first job as we describe in our "Create new job posting" section.
If you need some more time to select a plan, you can skip this step for now and navigate your account.
Get a free quote for Nexxt's FlexxPlan
If you would like to know more about the FlexxPlan, go to Nexxt's 3-month trial page. This trial is available for companies that plan to post more than 11 jobs. Fill out this contact form, so Nexxt's representatives can contact you with pricing information and help you set up your trial: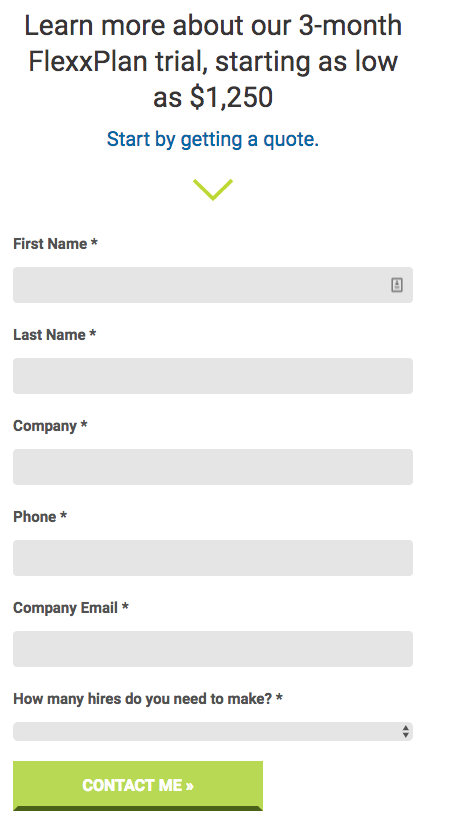 If you have other questions about Nexxt's services, go to this page to fill out Nexxt's contact form. Answer Nexxt's question about your recruiting needs by selecting your option from the dropdown menu. Click "Get Started" and complete the contact form that appears.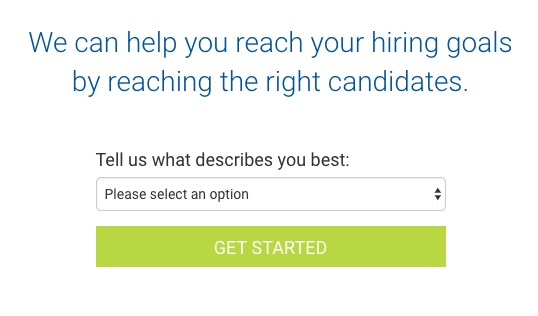 Nexxt's recruitment experts will get in touch with you within one business day.
Navigate your account
If you already have an account by following our previous steps, log in. Your home page gives you a recap of your posted jobs and applicants. You can also explore various tabs at the top of this page.
You can click on:
"Manage Account." Go to this option if you want to purchase, upgrade or downgrade your pricing plans.
Your username. Hover over the arrow next to your name at the top right of this page. You can do various tasks like update your contact or company information, change your login credentials or add team members to your company's account.
"Resources." This tab directs you to Nexxt's customer training center, FAQs and other content.
"Candidate Search." Go to this tab to access Nexxt's candidate database which includes millions of active and passive candidate profiles. You need to purchase a subscription plan before you can use this service.
"Jobs." Click this tab to post and manage your jobs. Before you post a job, Nexxt requires you to choose your subscription plan.
Post a job on Nexxt
Sign in to your Nexxt account and hover over the "Jobs" tab at the top. You will see a menu with various options:
Select:
"Create New Posting" to post your job.
"My job postings" to view, edit and deactivate your active jobs.
"Team job postings" to view and edit job postings your team has posted.
"My Applicants" to see who has applied to each of your job postings.
"Reporting" to view analytics on your job postings.
Click on "Create New Posting" and you will be directed to Nexxt's job posting page: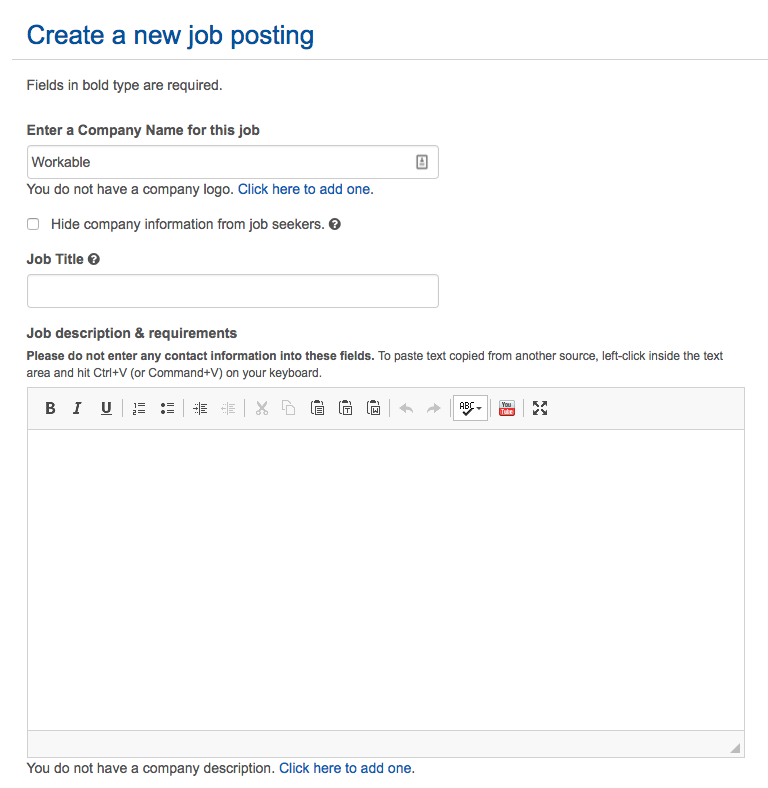 Add job descriptions, locations and requirements (e.g. minimum education level.) Keep in mind that your job ad goes through automated quality control. To ensure your job ad will be approved, you should:
Have not included any contact information in your job description.
Have entered a valid U.S. city, state and zip code or valid international location in all appropriate fields.
At the bottom of this page, choose whether you want to direct applicants to your careers page or let them apply directly via Nexxt:

You can also set up Job Match Alerts, which notify you via email when candidates who may fit this role join Nexxt's network.
After you have completed all fields, click on "Create Job." Review your job ad to see how it will appear to candidates.
Click "Confirm New Job Post." If you haven't already purchased a subscription plan, you will see this screen: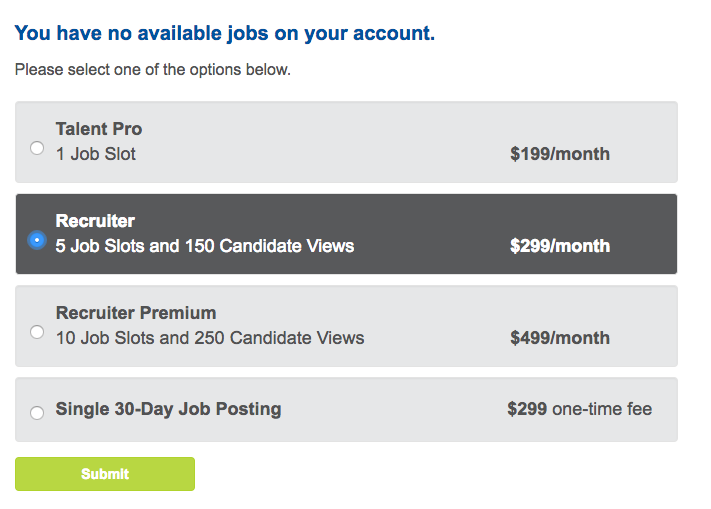 Select a subscription plan or a single job posting to post your job for 30 days. Click submit and confirm your purchase on the next page, where you can also choose an annual plan instead of monthly:
Provide your billing information and you are ready to post your job ad. If you want to maximize your job ad's exposure and discover great candidates, ask Nexxt's recruitment media experts at (866) 694-5627 to help you build your own advertising and targeting campaigns.
More resources for posting jobs: