The most important skills recruiters need and how to cultivate them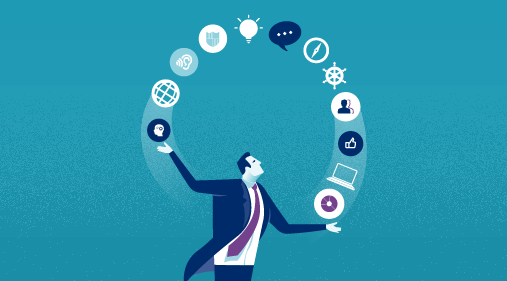 Beyond writing good job descriptions, evaluating candidates and sourcing potential hires, great recruiters cultivate a set of soft skills that help them succeed.
Here's a list of the most important recruiting skills and how to develop them:
Strategic skills recruiters need
Critical thinking
Through social media, professional networks and sourcing tools, recruiters have access to a wealth of information about candidates' profiles. The challenge is to filter this information and use it to assess only job-related data. Recruiters who are critical thinkers manage biases when screening candidates. Here are some ways to employ critical thinking skills in recruiting:
Big-picture thinking
Beyond filling current job openings, recruiters who think about the big picture use Talent Acquisition and Talent Management strategies to make their jobs more efficient. To develop your big-picture thinking skills in recruiting, identify where each new hire will fit within your organization and advise managers on how to structure their teams. Here are other ways to use big-picture thinking skills in the workplace:
Data-based decision-making
Recruiting metrics indicate what works in your hiring process and what might need improvement. Learn how to interpret important KPIs (like time to fill and time to hire) and turn them into doable actions. Here are some data-driven actions you might take:
Readjust your HR department budget to spend more on the most effective recruiting channels.
Speed up your screening processes by crafting better job descriptions that will attract more qualified candidates.
Technology and social media
From Applicant Tracking Systems to calendar management tools, technology can increase your productivity. Research and implement HR tools that will help you complete your daily tasks more effectively. Also, being active on social media can boost your reputation as a recruiter. Here are ways to use recruiting technology and social media:
Set notifications in your ATS to contact candidates at optimal times and with relevant information (e.g. when you know they'll finish school and start looking for a job.)
Share tips on social media that candidates will find useful about your hiring process, like how to prepare for a job interview.
People skills recruiters need
Relationship-building
Being able to form trusting relationships will give you an edge as a recruiter. Here are ways for recruiters to focus on building genuine relationships:
Listening
By practicing your listening skills, you'll be able to understand what your hiring managers or clients are really looking for. Also, you'll be more likely to find candidates whose career goals match your organization's needs. Here's how to be a better listener:
Keep an open mind during interviews to identify candidates who'll both be able to perform tasks required for the role and will thrive in your company culture.
Meet with hiring managers to discuss requirements for new positions to ensure you're on the same page.
Conduct more effective interviews by reading candidates' body language.
Reliability
Reliability is an asset. Hiring managers count on you to make data-driven decisions. Similarly, past candidates are more likely to consider future opportunities from you if you take the time to provide interview feedback after rejecting them. Here are ways to become a more reliable recruiter:
Give hiring managers recruitment status updates (e.g. how many candidates you screened and how many you scheduled interviews with.)
Provide detailed candidate feedback to the entire hiring team with specifics on why you decided to reject or approve candidates.
Inform candidates about hiring timeframes so that they know when to expect to hear back from you.
Managing expectations
In recruiting, hiring managers might expect the world from candidates. Alternatively, potential hires might seek more than the role can offer. Learning how to manage expectations will help you keep all parties satisfied. Here are some ways to manage expectations in recruiting:
Level with hiring managers who have unrealistic expectations by focusing on hiring for skills, not talent.
Treat candidates as customers by being clear about what the position entails early in the process (e.g. salary, location and benefits)
Balance ambitious hiring goals against realistic industry benchmarks and your recruiting budget (e.g. set average time to hire targets by industry and budget.)
How recruiters can cultivate their skills
Document your goals
Set short-term and long-term goals to develop your career. Consider writing down your professional achievements and objectives on a quarterly or annual basis. In these periodic self-assessments, answer:
What projects/assignments did I complete in this quarter/year?
How did I improve my day-to-day productivity?
What new skills did I learn in this quarter/year?
To what extent did I achieve the goals I set for myself this quarter/year?
What new goals will I set for the next quarter/year?
Sync with co-workers, hiring managers and your external network
Gather feedback from people you frequently interact with on the job to discover areas of improvement:
Schedule regular meetings with your team members and hiring managers to brainstorm ways to improve your daily work.
Send candidate experience surveys both to rejected candidates and new hires.
Connect with HR community members (online on social media groups and offline during HR events) to seek professional advice and learn about hiring trends.
Take online courses
The benefit of online courses is that there are many options. You can choose topic and learning speed (e.g. self-paced) based on your needs. Consider non-HR disciplines to gain a fresh perspective on your regular tasks. For example:
Writing classes could help you craft better recruiting emails.
Negotiation and soft skills training may improve how your interact with candidates and hiring managers.
Courses on emotional intelligence could sharpen your interviewing techniques.