How to build a blind hiring program
To build a blind hiring program, start by removing all personal and demographic information from the hiring process. This includes names, race, gender, and even educational backgrounds. Use structured interviews and skills assessments to evaluate candidates. Implement tools like Blendoor and Gapjumpers to facilitate the process.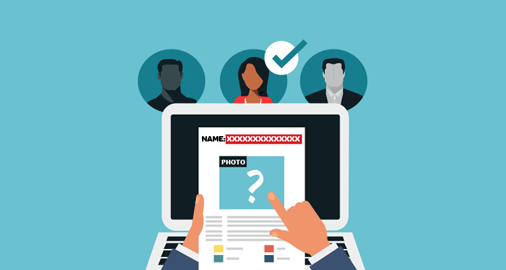 Blind hiring removes all personal and demographic information from the hiring process so hiring managers can assess candidates based on ability alone. Inspired by the success of blind auditions (think "The Voice"), blind hiring aims to produce a more diverse workforce, less clouded by unconscious bias.
Some industries have reputations for in-group hiring (often of the 'pale, male and stale' variety.) Blind hiring can help companies hire for talent and skill, not just for cultural similarity. The results of blind hiring are relatively untested. However, in the 1970s, the Boston Symphony Orchestra (BSO) instituted a blind audition process to combat their lack of gender diversity. Blind auditions increased the likelihood that a woman would be hired by between 25 and 46 percent. Over time, the effects of these blind hiring programs became clear: more and more women applied for the program, increasing the overall skill, talent and quality of the BSO's application pool (and, by extension, the quality of their music.)
Beginning a blind hiring process
Transitioning to blind hiring all at once can be a complicated task, and may have mixed results. However, there are elements of blind hiring that you can bring into your hiring process that will start to reduce hiring biases. Try these approaches to add a semi-blind approach to your hiring process:
Obscure gender, race or demographic information
If you're looking to mask gender or race, delete candidates' names from their resumes before sending them over to hiring managers. Names, particularly names that are commonly associated with a certain gender or race, can trigger unconscious biases that can hurt candidates and companies alike. If you choose to obscure candidates' names, consider deleting other identifying information too, like the names of women's or historically black colleges.
Related: How to source on job boards and resume databases
Don't consider college pedigree
It can be tempting to judge someone's qualifications based on their college degree. However, just because someone comes from a top-tier university doesn't mean that they are the best fit for your job. By obscuring the education portion of a candidate's resume, you can let their experience speak for itself. It's best to pair this strategy with a skills assessment or assignment. Listing experience on a resume is only a snapshot of what a candidate is actually capable of.
Disregard hobbies and interests
Hiring for 'fit' rather than skill can allow biases to seep through. According to a New York Times' analysis of blind hiring, the most common reasons for hiring someone were similar taste in hobbies, leisure activities, and other traits unrelated to job performance.
Taking interests and hobbies into account can create an insular workplace culture, without room for employees to come in with new experiences to improve your company. More importantly, if the hobbies and interests of your workplace are homogenous and primarily reflect a certain demographic, achieving diversity will become significantly harder. To combat this, obscure mentions of irrelevant interests or experience.
Avoid social media
Adding social media profiles to a candidate's application can often provide a fuller picture of what a candidate is like. You can see how they present themselves online through their Twitter, LinkedIn and Facebook profiles. However, these profiles can provide photos and other information that you might not need to know. If you're committed to blind hiring efforts, it's best to err on the safe side and avoid digging into social media profiles during pre-screening.
Related: 17 effective candidate sourcing tools
Use structured interviews
Though a face-to-face interview is hardly blind hiring, implementing a structured interview process can mimic some of the objectivity blind hiring offers. By asking the same predetermined questions to all candidates in the same order, interviewers can score and judge answers in a less biased and subjective eye way than they could with unstructured interviews.
Tools and resources to reduce hiring bias:
Blendoor is a mobile job matching app that obscures the names and photos of candidates in order to combat unconscious bias and facilitate diversity recruiting in tech companies.
Gapjumpers combats implicit hiring bias through 'blind auditions,' providing assessments and challenges that companies can use to evaluate candidates instead of a classic resume.
Textio is a web-based tool that checks job descriptions for words that indicate gender bias. Textio highlights problematic phrasing in a job posting and makes suggestions to help you attract diverse, qualified candidates.
The Gender Decoder for Job Ads is a single-serve web app that allows you to check your job descriptions and advertisements for linguistic gender biases.
Project Implicit is the work of psychologists at Harvard, the University of Virginia and the University of Washington. Their assessments, called Implicit Association Tests, attempt to identify and measure hidden biases.
Project Include, founded by tech leaders from Slack and Pinterest, gives chief executives recommendations and tools to improve diversity and create more inclusive work environments in the white male-dominated tech culture in Silicon Valley.
Related: Recruiting tools and techniques for modern HR teams
Frequently asked questions
What is blind hiring?

Blind hiring is a recruitment process that removes all personal and demographic information from the hiring process. This allows hiring managers to assess candidates based on their abilities alone, reducing the impact of unconscious bias and promoting a more diverse workforce.
What are the benefits of blind hiring?

Blind hiring can help companies hire for talent and skill, not just for cultural similarity. It can increase diversity and reduce biases in hiring. For example, the Boston Symphony Orchestra saw a significant increase in gender diversity after implementing blind auditions.
How can a company start implementing a blind hiring process?

Transitioning to blind hiring all at once can be complex. However, companies can start by obscuring gender, race, or demographic information, disregarding college pedigree, not considering hobbies and interests, and avoiding social media during pre-screening. Implementing a structured interview process can also help.
What tools and resources can help reduce hiring bias?

Tools like Blendoor, Gapjumpers, Textio, and the Gender Decoder for Job Ads can help reduce hiring bias. These tools offer features like obscuring candidate names and photos, providing assessments for blind auditions, checking job descriptions for gender bias, and more.
What are the potential downsides of blind hiring?

While blind hiring can reduce bias, it may not fully capture a candidate's fit within the company culture. Also, external factors like the names of colleges or social media profiles, which could provide valuable insights, are disregarded in this process.