How to hire salespeople
This guide is packed with advice, tools and tips on how to hire salespeople – including tactics for sourcing, attracting and assessing salespeople as they move through your hiring pipeline.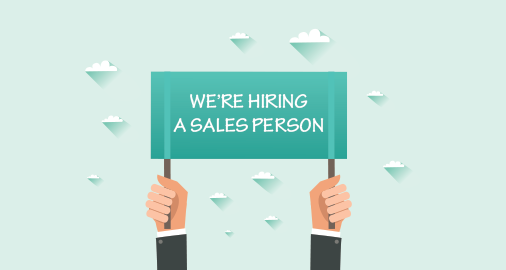 Salespeople are always in high demand. Companies that master the art of hiring the best among them have big opportunities for success. Here's some advice for how to hire salespeople who are great for your company:
How to source salespeople
Get referrals
Referred employees are often the best hires in any kind of job. Salespeople are no exception. Sales managers or directors with experience will probably know a lot of good candidates who they worked with previously. Team members in various departments might also have some promising connections.
Advertise in niche job boards
Although you can find great candidates in popular job boards like Indeed and Monster, you could also try job boards that specialize in sales talent. More targeted job ads through job boards like SalesHeads.com and SalesGravy.com can help you make your job openings visible to the right applicants.
Get creative
If you were a developer, you could occasionally stumble upon a "we're hiring" ad carefully hidden inside a website's code. Companies like Flickr have used this trick to attract coders. The same creative approach could be used for attracting salespeople. These ideas don't usually cost anything, so you can come up with a bunch of them and experiment.
Want more detailed advice on sourcing for all kinds of roles? Download our free sourcing guide.
How to attract salespeople
Approach them effectively
According to Glassdoor's 2014 sales professionals survey, reaching out to salespeople through social media is the most effective sales recruitment strategy. Sourcing through social media sites like LinkedIn, Twitter and Facebook can result in many candidate leads. Salespeople are also likely to respond well to cold-calling, since it's a part of their job. So, once you've found their contact details, you should send them an email or give them a call.
Post clear and attractive job descriptions
You can find guidelines for writing compelling job descriptions that apply to every position. But to attract a sales audience, there are a few extra things to consider:
Tone matters. Salespeople are usually energetic and action-oriented. Job descriptions that use lots of active verbs and describe a variety of responsibilities in an enthusiastic manner are likely to catch a salesperson's eye.
Say what's important. According to Glassdoor's study, career growth and company culture are very important to salespeople. Give them details about the position's career path and introduce your company culture in your job description.
Related: How to post a job on Glassdoor
Be transparent. Job ads that don't mention a company's name, location and other important details are likely to fall short of candidates' expectations. Be honest and tell them what they need to know.
If you're wondering where to start, you could take a look at sales job description templates for various sales positions like sales executives, sales coordinators and account managers.
Communicate honestly about the position
If candidates were attracted by a transparent job description, they expect the same transparency in every interaction with your company. They want to hear about the positive and negative aspects of a position. For example, salespeople (especially if they're millennials) are likely to want training opportunities. If training isn't an option, it's best to tell candidates ahead of time. Otherwise, you might not be able to retain the people you hire.
How to evaluate salespeople
Look for important qualities
A proven sales track record might be a good place to start for experienced positions. But, it shouldn't be the only thing that matters. Qualities may differ according to position. For example, you'll probably want sales managers with leadership skills and deep market knowledge. But requirements might be different for sales representatives. They don't need experience as long as they're equipped with a strong will and competitive nature. Here are a few general qualities all salespeople should possess:
Coachability
Strong motivation
Competitive nature
Organizational skills
Rejection tolerance
Communication skills
Aptitude in building rapport
Ability to grasp customer requirements
Ability to work independently and take initiatives
Add a sales assessment to your hiring process
Resume screening and interviews are the main pillars of any hiring process. Unfortunately, they can't predict quality of hire on their own. Combining them with tests and assessments is a good way to add more objectivity to the process.
For salespeople, there are many assessments to choose from. For example, the TriMetrix sales assessment test can be useful for hiring and coaching sales teams. Other similar options include the Objective Management Group (OMG) assessment, salesassessment.com and the Profiles Sales Assessment.
More: How to assess sales representatives
Ask effective interview questions
Structured interviews can be more valid and reliable than unstructured interviews. You can ask and score interview questions that correspond with important qualities you're looking for. Salespeople should be able to communicate well and be pleasant and enthusiastic. Experienced professionals are likely to have interesting answers to behavioral questions. If you're hiring for sales managers or directors, it might be a good idea to ask them who would be the first person they'd hire for their team. Professionals who have developed their teams effectively in the past will have a couple of names ready.
You could also include a sales simulation in your interviews. Give candidates a product or object and ask them to sell it to you. This approach might be useful if you want to assess potential. If candidates show they can think on their feet and come up with the right questions to ask, then they'll probably be successful on your team.
Find out if they really want the job
It's important that salespeople believe in their company and the products or services they sell. Otherwise, their enthusiasm will slowly wane. Pay attention to their demeanor during their interview. They should appear interested and engaged. Do they seem to grasp the purpose of your product or services?
Candidates should also ask smart questions. Do they want to know more about your competitors, sales strategies and future plans? Those are the people who'll be more committed to achieving high results.