Best executive job sites
The top executive job sites include AllExecutiveJobs, Exec-appointments.com, ExecThread, and ExecuNet. These platforms cater to senior-level professionals, offering various services from job postings to access to a resume database, and even career coaching. They are effective tools for attracting and hiring C-suite, executive-level, and VP roles.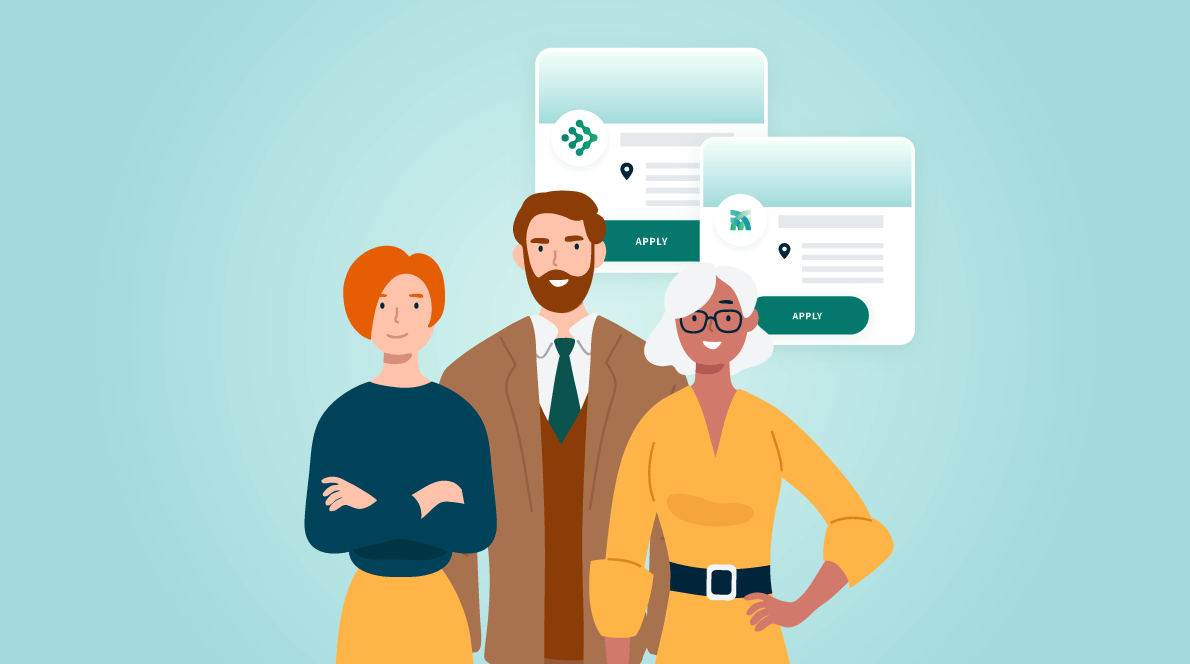 "CEO needed. Previous experience building a social media platform in a dorm is a plus."
Now there's a job ad you don't often see on job boards. But this doesn't mean that job boards aren't effective when it comes to hiring C-suite executives; as long as you know which job sites to pick and how to craft your job ad with the right requirements.
Here's a list of the 10 best executive job sites where you can advertise your C-level open roles:
Disclaimer: The prices listed below refer to executive job boards' pricing packages as of August 2019. Each site may change their pricing at any point, so before you decide where to post your job ads, make sure to check the sites for any updates to pricing.
If you're hiring senior-level professionals in the UK or elsewhere in Europe, this executive job board is worth checking out. You can post executive jobs for free simply by registering on the site. The site also offers paid advertising options, access to a resume database and premium services to help you maximize your outreach to top talent.
Partner of the popular publication site, Financial Times, this job board offers various pricing packages for your job ads. You can buy a simple job posting for £500 (your ad will be live for 2 weeks) or choose a plan that will allow you to advertise multiple open roles at a discount.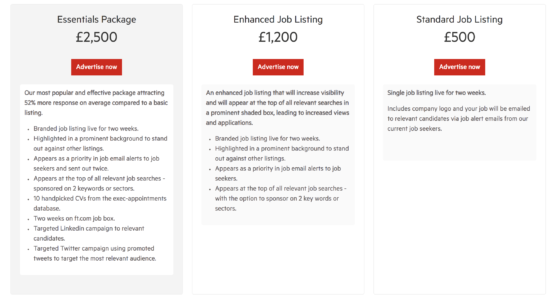 This site helps candidates in their executive job search as they can browse open positions from director level and above. You can post your job ads for free, but if you prefer not to disclose your company details, you can choose between two performance-based advertising plans: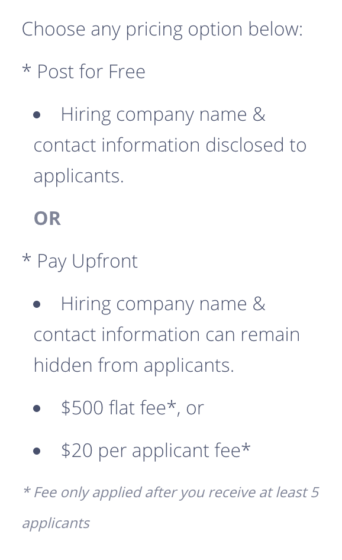 This is among the best executive job search sites: candidates can benefit from various services, such as career coaching, resume writing and interview preparation, while also reading useful career tips and market trends. Employers can choose the plan that best fits their hiring needs – whether they want to simply advertise their open roles or get access to the candidate database, too.

Here's a breakdown of the candidates you'll find on the site by seniority level and industry: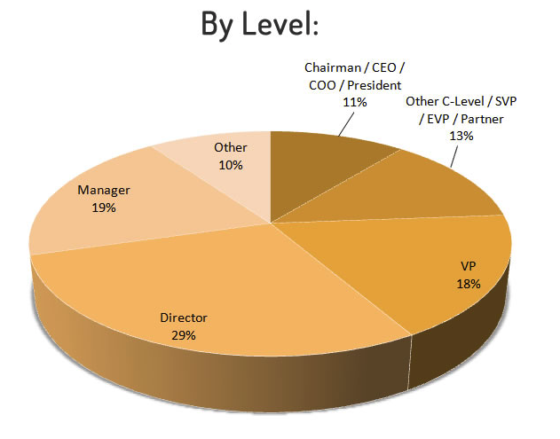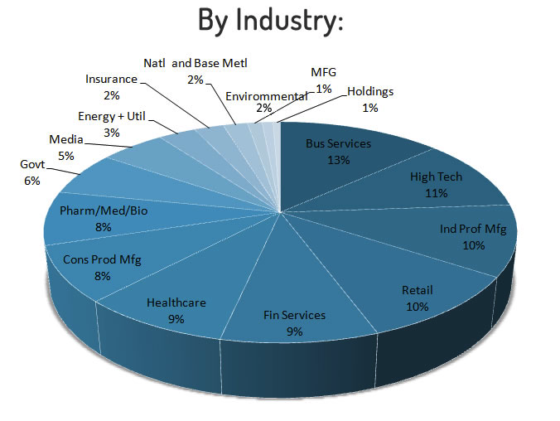 Looking for more candidate sources? Book a demo now to learn how Workable can help you attract executive-level candidates and reduce your overall time to hire.
For £250 (+ VAT), you can post one job ad for a month in this UK-based executive job site. Alternatively, you can pay £500 (+ VAT) for a featured job ad. There are also pricing packages that give you access to the site's candidate base.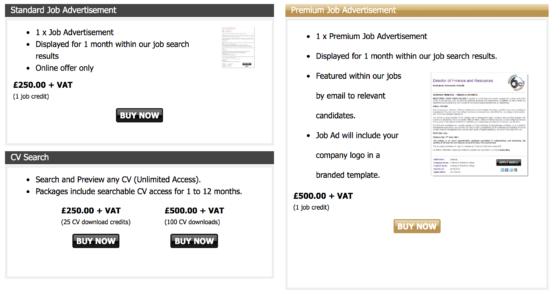 This is the US branch of Experteer, but there are local executive job boards for other countries, too, including France, Germany, Spain and Italy. The site offers hiring solutions for both headhunters and companies. Those include direct search of senior-level candidates through the website's database, advertising of open roles though postings and email and access to benchmark data.
This is a division of the popular job site CareerBuilder. Candidates can browse executive-level job opportunities, post their resume, and set automated job alerts. Employers can advertise their open roles for manager, director, VP, and other executive positions across the US.
The online version of the British newspaper The Daily Telegraph has a section dedicated to job opportunities. This is a good place to advertise your open roles and attract senior-level candidates. Here are the pricing packages offered by the site: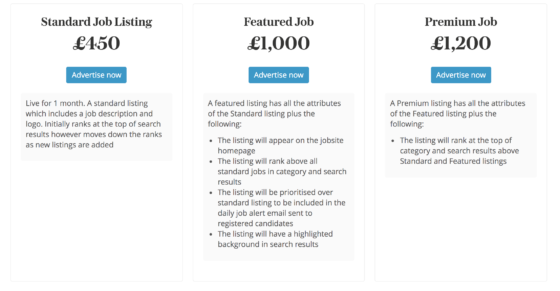 This site needs no introduction; it's the place to be when you're looking to advertise your jobs and when you want to proactively source candidates. This is particularly helpful when it comes to C-level professionals because they don't always want to openly express they're looking for new job opportunities. Your conversations with candidates can remain confidential through LinkedIn by targeting members with specific skill sets and experience, instead of relying only on posting public job ads. You can also grow your network and reach out directly to people who meet your hiring criteria.
This site can connect you with executive-level candidates from various areas of expertise, such as accounting and finance, HR, IT, legal, manufacturing, marketing and sales. There's also an option to reach out to ex-military candidates seeking a transition into civilian employment.
Mix your sources
Beyond those niche executive job sites, it's always useful to combine different candidate sources. For example, you can post your job ads on large, well-known job boards, such as Indeed, Monster and Glassdoor, and make sure to clarify the seniority of the role to attract the right candidates. Also, don't forget to leverage your networks; great executive candidates often come from referrals.
Now that you've got an idea of how to find executives and which are the best executive job sites, it's time to start writing your job ads. To help you out, we compiled a list of C-suite job description templates that you can customize to your needs:
Other useful resources:
Frequently asked questions
How do you recruit executives?

Networking is the key to getting ahead in your career. Find someone who knows or can recommend a few executives that would suit what you're looking for, and then use those connections wisely.
What are C-level jobs?

The C-suite is a term used to describe high-ranking executive titles in an organization. The letter 'C' stands for Chief, as it applies to both CEO and COO positions within a company.
How do executive recruiters find candidates?

The first step in finding a great candidate is knowing what you're looking for. Executive search firms start by mapping out their target companies and industries, then narrow down the list of potential leaders to go after through geographic regions or fields like technology innovation to find the best candidates.