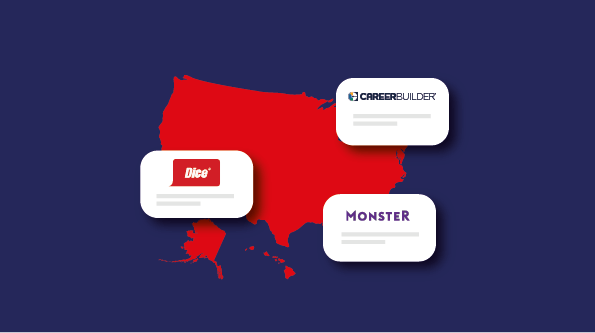 The United States is home to hundreds of job boards, both local and international, free and paid. But, out of the massive number of job sites in the USA, which ones are the best places to advertise to? In other words, where could you more confidently invest a chunk of your recruitment budget or resources to attract great candidates?
To help you find the best job sites for your needs, we pulled together the top job sites in the USA into a handy list to make your job easier. A healthy recruiting mix involves advertising in various places, so use our list of job sites in the USA to choose the ones that work for your industry and open roles.
We'll be reviewing:
10 best job boards in the USA
Careerbuilder
CareerBuilder is a large global job board that boasts almost 125 million candidate profiles in its database. Careerbuilder currently has three pricing plans that you can purchase both monthly and annually. The price mainly depends on the number of job ads you'd like to post. You can also pay per job without purchasing a plan if you have a temporary hiring need.
Glassdoor
Glassdoor is both a popular job board and a powerful employer branding tool. You can use this site to post job ads, build out an attractive company profile and reply to reviews left by your former job candidates or former and existing employees. Here's how to post jobs on Glassdoor and boost your employer brand.
Indeed
Consistently ranked as one of the best job posting sites worldwide, Indeed is a wise investment for employers. The site attracts millions of candidates each month and its parent company, Recruit Holdings, has recently acquired smaller job boards (and large ones like Glassdoor and SimplyHired) to expand its network. This means your job ads are very likely to reach the right candidates. Indeed offers both paid and free job advertising options. Learn how to get your job ad on Indeed.
Job2Careers
Job2Careers is a job site visited by millions of job seekers. It's powered by Talroo, a complete talent attraction solution for employers. By using Talroo, your job ad appears on Job2Careers and other job boards or niche sites, and gets in front of the right audiences via Talroo's technology.
Monster
If you ask someone which they think the best job site in the USA is, there's a very good chance they'd reply with "Monster". This job board is vastly popular and has three pricing plans to cover your hiring needs. It can also distribute your job ads to newspapers and partner job sites in the USA such as Military.com to help you target the right audience. Here's how to post a job ad on Monster.
Nexxt
You might know it by its former name "Beyond", but recently revamped Nexxt remains one of the best job boards. This job board might have one of the largest networks of partner job sites in the USA, such as diversity job boards (e.g. DiversityWorkers.com), local job boards (e.g. Bostonjobsite.com) and international job boards (e.g. StepStone). Here's how to post jobs on Nexxt.
Resume-library
This Boston-based job site offers a large resume database and job-posting functions. With Resume-library.com, you can search among millions of resumes to find the best candidates in all states and sectors, and you can also post a job ad and get matching resumes. If you're hiring in the UK, too, check out this job board's sister site, CV-Library.
Snagajob
Snagajob is a large international job board specializing in hourly work. It includes job ads from various industries including hospitality and retail. Snagajob matches you with qualified applicants out of its 90-million-candidate network, so you can better chances of finding the right hire. Here's how to post a job on Snagajob.
US.jobs
When it comes to job sites in the USA, we can't ignore US.jobs. By posting job ads in this job board, you can reach candidates through a network of 25,000 niche job sites (e.g. Boston.jobs, Manager.jobs, Manufacturing.jobs). You can also use their services to claim the domain name "yourcompany.jobs". Here's more information on posting on .Jobs.
ZipRecruiter
With ZipRecruiter, you can post jobs and see them distributed across an additional of 100+ job recruiting websites with one click. ZipRecruiter also scans its database of 16 million candidate profiles to find people with relevant job titles, skills, or experience who would be qualified for your open jobs, and proactively sends them notifications to apply. This helps you get better applicants in a shorter time. Here's more on ZipRecruiter.
LinkedIn
Although LinkedIn is more commonly known as a professional social networking site, it's also a valuable resource for recruiters due to its expansive reach. LinkedIn Recruiter can help you connect with experienced candidates in a wide range of industries in a more efficient and strategic way. Here's more on LinkedIn Recruiter.
Niche job boards for recruiters seeking specialized talent
Niche (or "specialized") job posting sites can bring you closer to more qualified candidates for specific types of jobs. Among these niche job boards are some of the best job sites in the USA (plus some popular community sites with a job posting functionality, such as Stack Overflow). Choose among them whenever you want to strengthen your candidate pool for a particular role.
Tech job sites:
Design job sites:
Sales job sites:
Veteran job sites:
If you like this list of job sites in USA, check out our ultimate list of job boards and the top free job posting sites.
Frequently asked questions
Which is the best job portal in the USA?

The best job search websites include: Indeed, LinkedIn, Glassdoor, Google for Jobs, CareerBuilder, and Monster. Each job portal has their own features that attract different types of candidates depending on your industry and needs.
How do I find recruitment candidates?

There are some steps that can help recruiters find job candidates easier and faster. First, know your ideal candidate and speak to them when posting on job portals. Once you find a good candidate, be sure to engage them and follow up after each contact to ensure you build a relationship with potential candidates before an interview.
What should a recruiter post on LinkedIn?

Use your LinkedIn page to the fullest by using your summary to list your goals, passions, accomplishments, and your mission as a recruiter. In other words, tell people why they should connect with you and why you're special, and talk about the organization(s) that you represent.