Applicant tracking system: Everything you need to know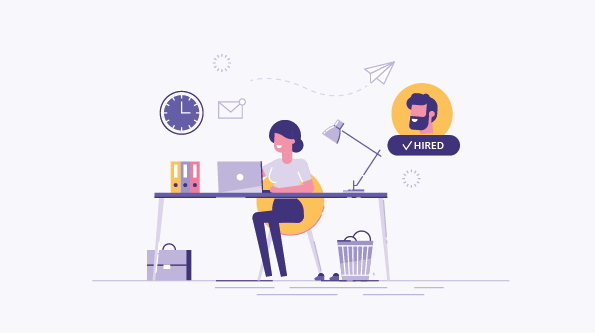 An Applicant Tracking System is an indispensable part of any efficient recruitment process. ATS systems automate many administrative tasks to save you time and prevent confusion within hiring teams.
If you're thinking of investing in an applicant tracking system, or finding a new one that meets your growing hiring needs, check out our guide – it includes everything you need to know about this type of software.
After reading this guide, you'll know:
What is an applicant tracking system and how it helps you hire
How to choose the best applicant tracking systems for your business
How to make a strong business case to management and finance
What is ATS?
'ATS' stands for 'applicant tracking system'; it's software that helps you manage your hiring process and keep candidate information in a digital form. You can have all candidate resumes, cover letters and profiles grouped together, and keep track of all hiring-related actions (e.g. candidate emails, scheduling calls or giving feedback on candidate interview performance). You could also export useful recruitment reports.
This applicant tracking system definition makes it clear that an ATS is a powerful tool in the hands of recruiters and hiring teams.
Similar terms
ATS is the most common name for different types of recruitment software. Not all ATS systems are created equally though. Some systems are basic and sleek, while others are more robust and can drastically improve your hiring process. The term 'ATS' oversimplifies the function of the more powerful platforms.
That's why hiring solutions can sometimes be called 'talent acquisition software,' 'recruitment software' or 'hiring platforms' instead of 'ATS.' Candidate Relationship Management (CRM) is a function of these platforms that aims to build meaningful relationships with candidates (often via automating parts of your communication with past and current candidates).
How does the applicant tracking system work?
The ATS acts as a centralized location where most of your hiring actions happen. You can post jobs to multiple job boards and view job applications directly from the system. You can also search for profiles in your talent pool, evaluate candidates and schedule interviews. Some applicant tracking systems help employers by making it easier to find more qualified candidates and by having various integrations with other systems.
More specifically, what are the benefits of an applicant tracking system?
Using an ATS streamlines your hiring and helps you be more efficient and legally compliant (e.g. by adhering to GDPR regulations). It can also help small teams do the same work as larger teams.
How? Imagine all the pain points in your hiring process for a moment.
Without a good platform, you might have noticed inconsistencies with candidate tracking or misalignments of hiring team members, especially if you're using spreadsheets and email. You might have struggled to find those great candidates and build a rich talent pool. You might also have relied on external recruiters too much. The whole hiring process, from posting jobs to scheduling interviews to sending offers, might be slower and tougher than it needs to be.
Life after implementing a hiring platform can be much easier.
A good ATS:
Automates administrative parts of the hiring process (such as sending bulk rejection emails, scheduling interviews, approving job offers).
Makes it easier for recruiters and hiring team members to exchange feedback and keep track of the process.
Helps you find qualified candidates via job posting or sourcing.
Promotes good candidate experience (for example, by giving you the tools to build effective application forms and career pages and shorten the time candidates spend on submitting their application).
Helps you maintain a searchable candidate database.
Generates recruitment reports on various key metrics (like time to hire).
Helps you easily export/import and migrate data easily.
A good ATS doesn't:
Evaluate candidates for you – humans are (or at least, should be) ultimately responsible for moving candidates through the hiring process.
Disqualify candidates automatically – unless you set up qualifying questions in application forms.
Find discrepancies in your hiring process – you need to interpret reports yourself.
Dictate your hiring process – a good ATS gives you a framework to build an efficient hiring process, but can easily adapt to your needs.
Create even more administrative burden than it takes away – a good deal of actions have to be automated or be done at the click of a button.
The best applicant tracking system features
To realize all the benefits that we mentioned above, your ATS should help you with essential areas of hiring:
Finding candidates
The best platforms help you find qualified candidates. They might do this through having a selection of free and paid job boards available so you can post jobs via the system. Or they might have built-in ways to help you find candidates based on skills and experience you're searching for (while respecting people's privacy and adhering to data protection laws). Helping you set up a referral program is also a big plus for recruiting software.
Employer branding
From visiting your careers page to reading your job descriptions to submitting applications, candidates' interactions with your brand form their opinion about your company as an employer. The best platforms offer easy ways to build informative and attractive careers pages, craft effective job ads and easy-to-complete application forms.
Read more: What is employer branding?
Scheduling and emails
The best systems make it easier for you to schedule calls and interviews and exchange emails with candidates. For example, when you schedule interviews, do the events integrate seamlessly with everyone's calendar? Are there any built-in email templates or the ability to send mass emails (such as rejection)?
Candidate evaluation
If there's one critical stage in the hiring process, that's the evaluation stage. Objective and effective methods can help you discover the best among your candidates, and a great platform will give you access to those methods. For example, does the platform include interview kits and scorecards? Does it integrate with assessment providers?
Collaboration
Hiring isn't a lonely process. Involving team members in resume screening, interviewing or other hiring stages can help you hire better. A system should make it easy for teams to leave comments, see each other's evaluations and discuss the status of the hiring process.
Intuitive interface
Hiring your next team member is exciting and your recruiting platform shouldn't take the fun out of it. A robust, easy-to-use, intuitive interface can encourage your hiring teams to actually use the ATS. This makes sure that the resources you've invested in the system bring value.
Integrations
Recruiting software usually integrates with other platforms (Gmail, HRIS, evaluation tools, video interviewing platforms, etc.) to improve your hiring methods and efficiency. For example, if your recruiting system integrates with your HR software, you can easily import the hired candidates into your employee database.
Mobile app
Many hiring managers spend time away from their desks, in meetings, visits to customers or other work. They should be able to handle their candidate's and evaluations on the go. Rachel Bates, Workable SVP of Sales and Marketing, hired over 20 people with the Workable mobile app.
Great support and implementation
Imagine having an issue with your ATS and not being able to reach customer support. Or, having to spend months to get up and running with your system without any help from the vendor. These don't bode well for the success of the system. Good recruiting software offer fast and reliable customer support and help.
Reporting suite
Recruiters may care about time to hire, while management may care about hiring goals. Good talent acquisition software can quickly provide both metrics and many more.
Talent pool
Sometimes, the right candidate comes to you at the wrong time. Maybe they're not currently available or you don't have an open position that perfectly matches their skills or aspirations. But, you definitely want to speak to them in the future. Does your ATS help you build talent pools and nurture ongoing, meaningful relationships with those candidates? Look for applicant tracking software functionality that lets you tag, search and filter your candidate database, make notes, and set reminders for future action or contact.
Security and compliance
There are several security-related and legal requirements that pertain to HR and recruiting. One good example is the General Data Protection Regulation (GDPR) that places several restrictions on how you handle candidate data. The best platforms facilitate compliance so be sure to ask vendors how they ensure data security, confidentiality and legality.
When it comes to specific features that make all this possible, there are two things to keep in mind:
Features should work well. If your ATS's Gmail Calendar integration malfunctions often, then it can do more harm than good.
Different features may solve the same problems. A specific platform can solve your pain points in different ways than other platforms do. So, when you're evaluating different systems, keep an open mind. Ask the vendor how their system solves a particular problem instead of asking if they have a specific feature.
What is the best applicant tracking system?
There's no universal answer to this question. Each organization has different needs. A platform that suits one company doesn't necessarily suit another.
What's important is for you to have an idea of your company's pain points and see how each ATS can help you solve them. This information will help you determine what platform works best for you. And, after you've found a platform that meets your needs, you can use that information to make a solid business case to finance and management.
To help you get a head start, we've created a list of the 12 best applicant tracking systems in the market to help inform your decision.
Is there any free applicant tracking system?
There probably are, but they won't have the advantages of paid platforms. Hiring the right people is essential to your business success and, to do it right, you need the help of well-made technology – which usually comes at a price. Still, if you take into account all the scary costs associated with hiring, and how much of those a good platform can help you avoid, the applicant tracking system cost is far lower than you think in the long run. For example, one Workable user lowered their cost per hire by 54% after implementing Workable.
Some platforms, though, offer a free trial for a certain period of time. That way, you can test the software first-hand and see how it meets your needs.
How to find top applicant tracking systems and make the business case
That's something which Samantha Thompson, Workable's Senior Sales Enablement Specialist, spends a lot of her time doing: finding great software and creating strong business cases. She says that the process she follows can be used for platforms of any kind, including talent acquisition platforms. Here are the steps she recommends:
Prepare and plan. Be sure to know what the process for submitting business cases is and what the general requirements are (including a ballpark for the budget).
Identify business goals and pain points by reflecting on your team. Think about how much time of resources your team or department spends on tasks that can be automated or streamlined with the right technology.
Research and combine the power of software review websites with your network's feedback. Compile reviews and feedback to find the best platform or to make a strong case for the platform you've found. In this stage, it's useful to send out an RFP template (request for proposal) to ask vendors for information on their product and services. Here's how to draft an effective RFP.
Evaluate your shortlist and distill your findings. If you have a list of software, reach out to the vendors, ask for demos or free trials, get an idea for pricing and make notes. Create a pro-con sheet to compare software side by side.
See the full guide for more information on each step. And for those tight on time, here's a quick checklist to the same.