Top 5 recruiting email examples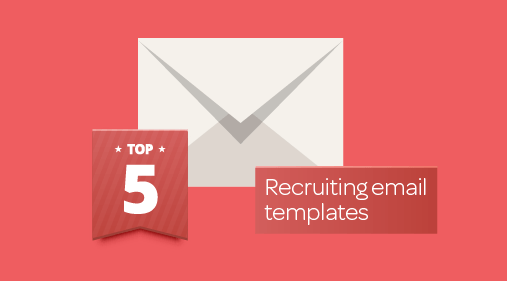 Email templates can be huge time-savers for recruiters, if they're used right. They not only provide a basis for you to build an effective email, but they also help you ensure positive candidate experience. The way you communicate with candidates via emails is a reflection of your company's culture, so sending the right email or an email that has the right amount of personalization contributes in a good candidate experience and possibly positive company reviews on sites like Glassdoor.
To help you build the right email, we created a recruiting email templates library with more than 50 free templates you can easily use and adjust depending on the occasion.
Top 5 ready-to-use free recruiting email examples:
Application acknowledgment email
Prompt communication during all hiring stages is the foundation of a positive candidate experience. Ιnform job candidates you received their job application for your open roles using this application acknowledgment email template. A "thank you for your application" email lets candidates know that their resume didn't get lost and shows an organized hiring process.
Key points to include in the acknowledgment email:
Thank candidates for taking the time to apply for a role at your company.

Remind them of the exact job they applied for.

Mention the status of their application and next steps (e.g. "The hiring manager/ recruiting team is currently reviewing all applications.")

If possible, give candidates a timeframe of when to expect hearing back from you.
Customize and use our free application acknowledgment email here.
Candidate rejection email
Rejecting candidates is never easy, but rejection emails should be a no-brainer. If you're wondering about whether you should send a rejection email, it's important to keep in mind that ignoring a rejected candidate could negatively impact your employer brand and affect candidate experience. Use this rejection email sample to build and maintain a relationship with your applicants.
Explaining why you're rejecting candidates shows candidates that you appreciate the time and effort they took to apply to your job. If they were skilled but lacked experience, they might consider applying again in the future. Or, if they applied late in your application cycle, or were more suitable for another position, you could reach out to them when there's another opening. If your candidate was in the final stages of your hiring process, you could suggest connecting on social media (like LinkedIn) to stay in touch. But, if you know that you won't reconsider a candidate in the future, it's best to be honest and avoid alluding to future opportunities. Even if you're rejecting a candidate outright, adding a short personal note (like 'good luck with your X project' or 'best of luck with your future endeavors') will leave a good impression.
See our free candidate rejection email template here.
Scheduling an interview email
Scheduling interviews is one of the most time-consuming parts of a recruiter's job. We have a number of different sample recruiting emails you can use to invite candidates to an interview.
Choosing a formal or more casual style depends on your company culture. For example, you can use 'Hi' followed by the candidate's first name to signal a more relaxed, informal work environment.
Communicate clearly in your subject line that you're sending an interview invitation to encourage your candidates to open your email as soon as possible. Your message should detail all the necessary information to set up the interview, including:
The name of the position you're interviewing for (if your candidate is applying to lots of jobs, they mightn't be keeping track of different job titles)

When and where you would like the interview to take place (you may want to offer 2 or 3 scheduling options or state that you're flexible and include your office address)

Who will

interview the candidate

.
Also, let your candidates know if they need to bring anything with them (like an ID or resume.) It's also nice to let them know approximately how long you expect their interview to last and any other details about your structured interview process.
Use our free template for scheduling an interview email.
Job offer email template
Our job offer template includes a sample job offer email along with a formal job offer attachment to send to candidates. It covers the most important employment terms, including:
Position details (title, working schedule)

Compensation

Bonus or commission

Privacy policies

Termination conditions
Use this sample job offer letter template when formally offering a full-time position to your best candidate.
Phone interview invitation email
This is a phone interview email template to use during your hiring process. After the evaluation of your candidates' resumes, you can conduct screening calls to help you choose candidates for the second interview phase.
When writing this email, make sure your subject line clearly communicates that you're sending a phone interview invitation, otherwise candidates may not open your message. Keep your message brief. Mention the position you're interviewing for and the timeframe for the interview. You may also use the same template for a video or Skype interview. You can customize this phone interview email template to give a more casual or formal tone, depending on your company culture. You can confirm the interview using our phone interview confirmation template.
Edit and customize the free phone interview invitation email template here.
Looking for more email templates? Send ideas to [email protected]!