Job advertising on social media with Workable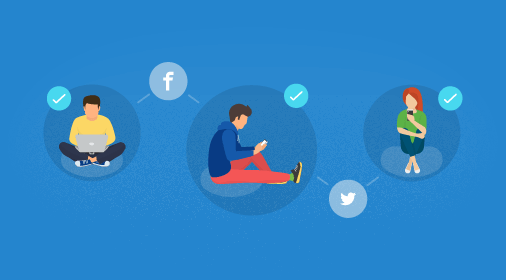 Social media platforms, along with traditional job boards, serve as effective recruitment channels. By sharing or advertising your open jobs on social media, you increase the chances of finding qualified candidates faster. That's because social media job posting helps you:
1. Post or share your job ads for free
Update your Facebook status, post a simple tweet or share your job ads via LinkedIn to quickly inform your followers about your job openings, at no cost. Unlike job boards, social networks are built for sharing content. People can easily share social media posts with their friends. This way, you dramatically increase your reach to potential candidates with very little effort.
2. Post a targeted ad on certain networks
Boost your job's visibility and attract more targeted candidates with paid job ads on LinkedIn and Facebook. Some benefits of paying to advertise your jobs on these networks include advanced results tracking (clicks and views) and targeting – for example, on Facebook and LinkedIn use paid ads to attract people who've got the skills and background for your roles. Control the cost of your paid job ads with flat fees and pay per click advertising campaigns.
3. Engage passive candidates
Passive candidates are people who are not actively looking for new jobs, but are open to hearing about interesting job opportunities. Since they're less likely to visit job boards and careers pages, social networks help increase your job ad visibility among these candidates. Also, your hiring team and coworkers can easily share job posts on their own social profiles and attract people who don't search for new jobs through traditional recruiting channels.
4. Build an attractive employer brand
Social media allows you to get creative with your job ads to catch candidates' attention. You don't have to post a formal job description. Showcase your unique company culture with pictures or videos of your workspace and personalized messages from current employees and hiring managers. This way, candidates will get a better idea of what it's like to work with you.
What are the most effective social media networks for posting job ads?
Post your job ads to the most popular social networks to attract potential candidates. It's best not to limit yourself to one network; use multiple channels to reach different audiences. Here are the social networks where job seekers look for opportunities:
Posting paid ads on LinkedIn and Facebook
LinkedIn: People share their career histories, build their personal brands and network with other professionals on LinkedIn. So, naturally, this is an optimal place to post paid ads to attract candidates with the skills for your role.
Facebook: Being the largest social network worldwide, Facebook helps you connect with potential candidates and reach your desired audience with targeted job ads.
Sharing job ads for free on social networks
Why use Workable when advertising jobs on social media?
If you're using Workable as your recruiting software, that's where you spend most of your time: You write job descriptions, post your ads on job boards and manage candidate profiles as applications arrive. It makes sense to share your openings to social media at the same time, as part of your job posting process.
But, having to log in and out from different social media accounts is time-consuming. Workable helps with this by integrating with the most popular social networks. Post news of your latest job opportunities directly to your social media pages straight from your Workable account.
Here's how:
Posting job ads on Facebook
Facebook can turn into an effective recruiting channel as it encompasses a large number of potential candidates. People use Facebook in different ways, so we offer different options for social media job advertising, through Workable:
Share them on your own timeline: The job ad will appear on your Facebook feed and you can choose whether the post will be public or visible to all friends, close friends or a new subset of your choosing.
Share them on a friend's timeline: If you already know someone who could be interested in the position post your job ad directly to their page. This option is also useful if that person has a following of people who could be interested.
Share in a group: If you're part of a professional Facebook group relevant to your job opening, post your ad there to catch members' attention.
Share on a page you manage: Share your job ad on your company Facebook page to reach your most engaged followers. If you manage more than one Facebook page you'll see the option to choose the correct one from a dropdown menu.
Share via private message: To discuss a job opportunity privately, share the job ad link in a direct message.
Looking to get your job advertisement in front of the right candidates? Request a free demo to learn how to post to all of the top job boards and manage the full hiring process.
You can also publish jobs automatically by adding a free Jobs Tab on your Facebook page: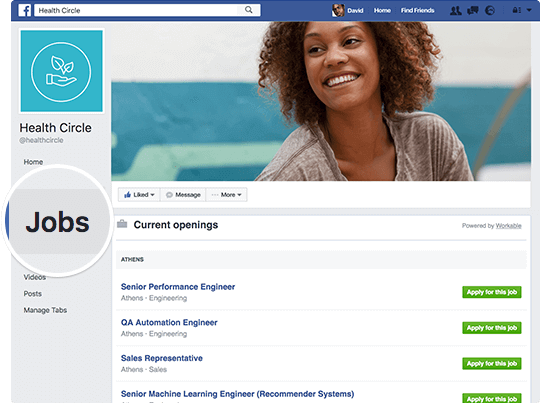 Sharing job ads on LinkedIn
It's easy to buy a LinkedIn job post directly through Workable, whether you have a LinkedIn Recruiter account or not. There are also job sharing options – available with every Workable plan – once you've integrated your LinkedIn account with Workable:
1. Share a job posting as a status update
Create a status update, posted directly to your LinkedIn profile or company LinkedIn careers page. Anyone who views your profile will see the open jobs you've posted. You can choose between:
A simple, automatically-created post. For a quick update, use the pre-written job summary and select whether the post will be public or shared with your connections only. An image with the slogan "We are hiring!" and your text will be directly posted to your LinkedIn feed.
A customized message. If you have more time, edit the job summary to highlight specific duties or benefits. You could also personalize your message and mention someone specifically with an @ tag to catch their attention.
2. Share a job with connections via LinkedIn InMail
Sharing a LinkedIn job posting via LinkedIn InMail works just like sending a standard email. Add as many names as you need and then edit the subject line and the body of the email. To speed up the process, Workable will auto-suggest the subject line and email text, but this is fast to personalize.
Posting job ads on Twitter
To match Twitter's character limit, Workable helps you keep tweets brief and to the point. Share your job opening on Twitter along with a link so that interested candidates can read your full job description and apply through your careers page.
Posting job ads on Google+
Share jobs as posts on your Google+ page. Before posting your ad, you'll have the option to edit the text and add any extra details you'd like to share.
Tracking the source of your best candidates
Workable tracks your source of hire, making it easy to identify which is the most successful social or professional network for different types of role. Keep track of this over time to make sure your social media recruiting strategy remains effective.
Get the full view of every candidate
Social media is a valuable way for candidates to find you, but these networks are also good sources of candidates. Some of your best hires may currently be active on social and professional networks like GitHub, Reddit, Medium, Behance and Dribbble. If you're actively looking to source these qualified candidates online, People Search can save you valuable time. As Workable's integrated sourcing tool, it scans millions of social and professional profiles to help identify qualified candidates.
Related reading: