Workable launches three new integrations through the LinkedIn Preferred Partner Program
Workable recognizes the importance of providing hiring teams with the tools they need to create a frictionless process for applicants and passive candidates. With this in mind, we're excited to announce three new integrations with LinkedIn.
Combined, they save time, improve internal collaboration and create a seamless sourcing and application process. They also remove the need to toggle between the two platforms that you use the most.
We'll talk through each integration here, but as always, if you're already using Workable, let us know if you need help.
1) LinkedIn Recruiter System Connect (RSC)
As part of LinkedIn's Preferred Partner Program, this integration brings a host of advantages to Workable:
Accurate, up-to-date candidate data
If a candidate or prospect updates their profile on LinkedIn, it's now reflected immediately inside Workable. See when the situation has changed for prospects in your Talent Pool or recruiting pipelines and reach out with a timely email.
Effortless collaboration
Your entire hiring team now has more access to candidate information – regardless of which tools they use.
Inside Workable, you'll be able to:
Import limited LinkedIn profile data to create and refresh records
See your InMail conversations and notes from LinkedIn Recruiter
View applicant's LinkedIn profile via live LinkedIn profile widget, which appears next to your candidate data
Inside LinkedIn Recruiter, you'll be able to:
Identify previous applicants and the disposition reasons

Filter and prioritize past candidates who applied and were uploaded to Workable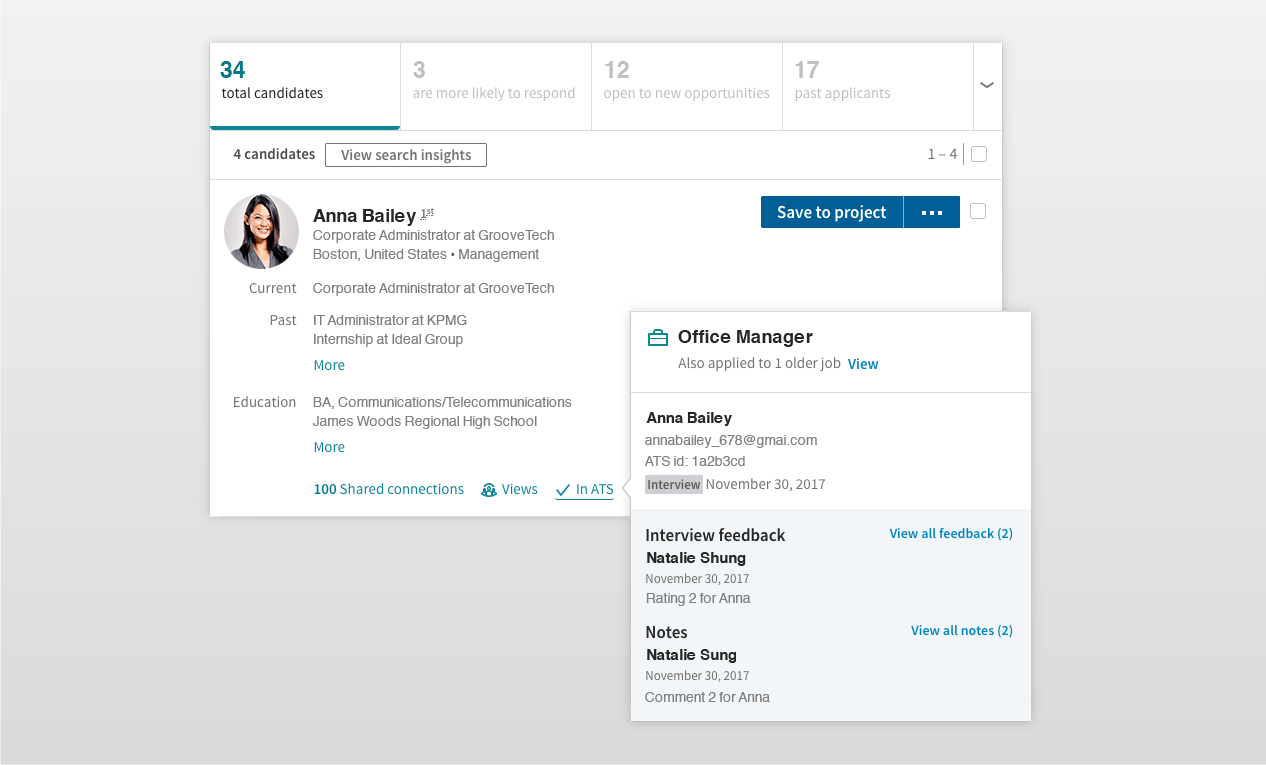 An improved candidate experience
With everyone on the hiring team up-to-date, communication with candidates improves. Nothing is lost just because someone is out of the office or on vacation. Everyone remains up to speed, and can communicate from the place that suits them best, whether that's LinkedIn or Workable on the desktop or mobile.
2) Apply with LinkedIn
Apply with LinkedIn makes it fast and easy for candidates to apply to open positions on your careers site. It improves applicant conversion by enabling candidates to start an application using their LinkedIn profile data.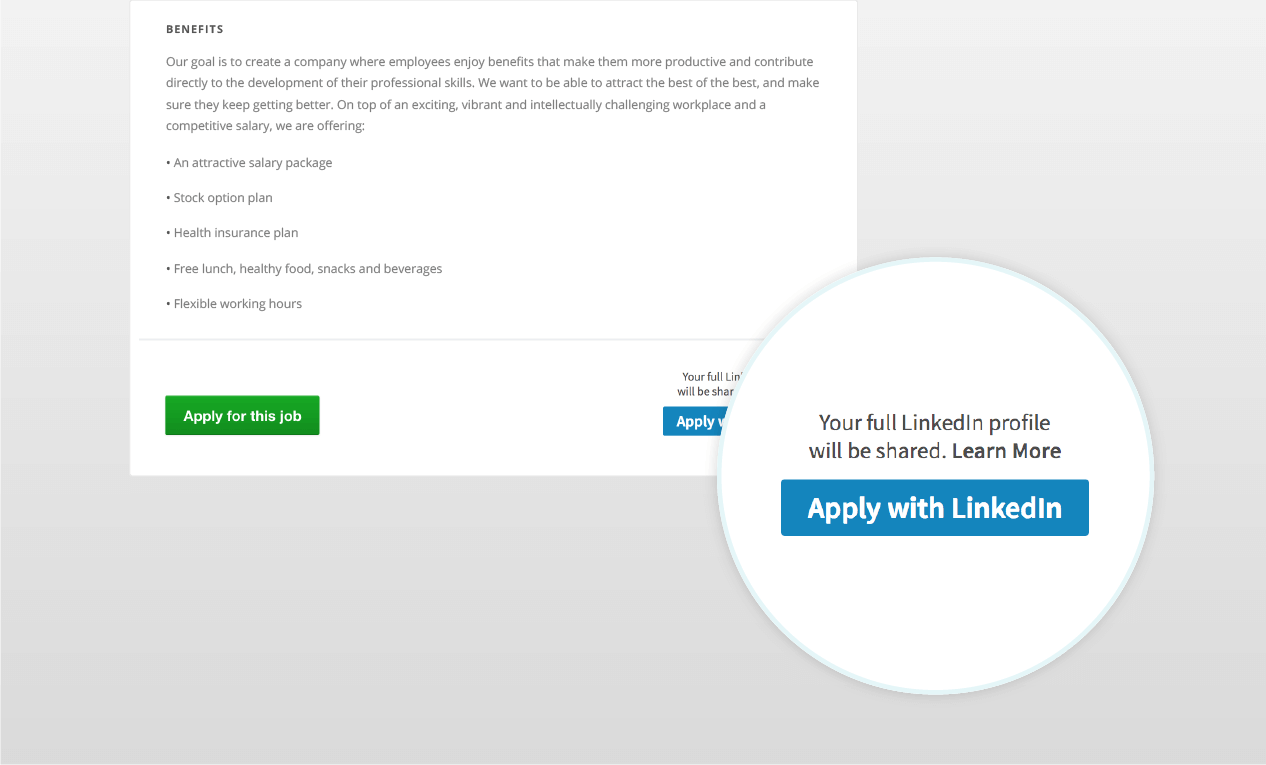 When complete, their details are gathered as a candidate profile in Workable. Should the application remain incomplete, the potential candidate will be surfaced as an 'Apply Starter' in Recruiter.
LinkedIn Apply Starters
75% of people abandon job applications for all sorts of reasons. LinkedIn Apply Starters makes it simple for a candidate to share their LinkedIn profile before completing the application – just in case something comes up. What's more, you can build your candidate database with candidates who have shown that they are interested in your company.
It's known that reaching out to these candidates is 2x more likely get a response than the average candidate.
3) Easy Apply
Finally, in the spirit of improving candidate experience we've also integrated with LinkedIn Easy Apply. This enables the increasing number of mobile job seekers to search for jobs and complete their application using their LinkedIn profile.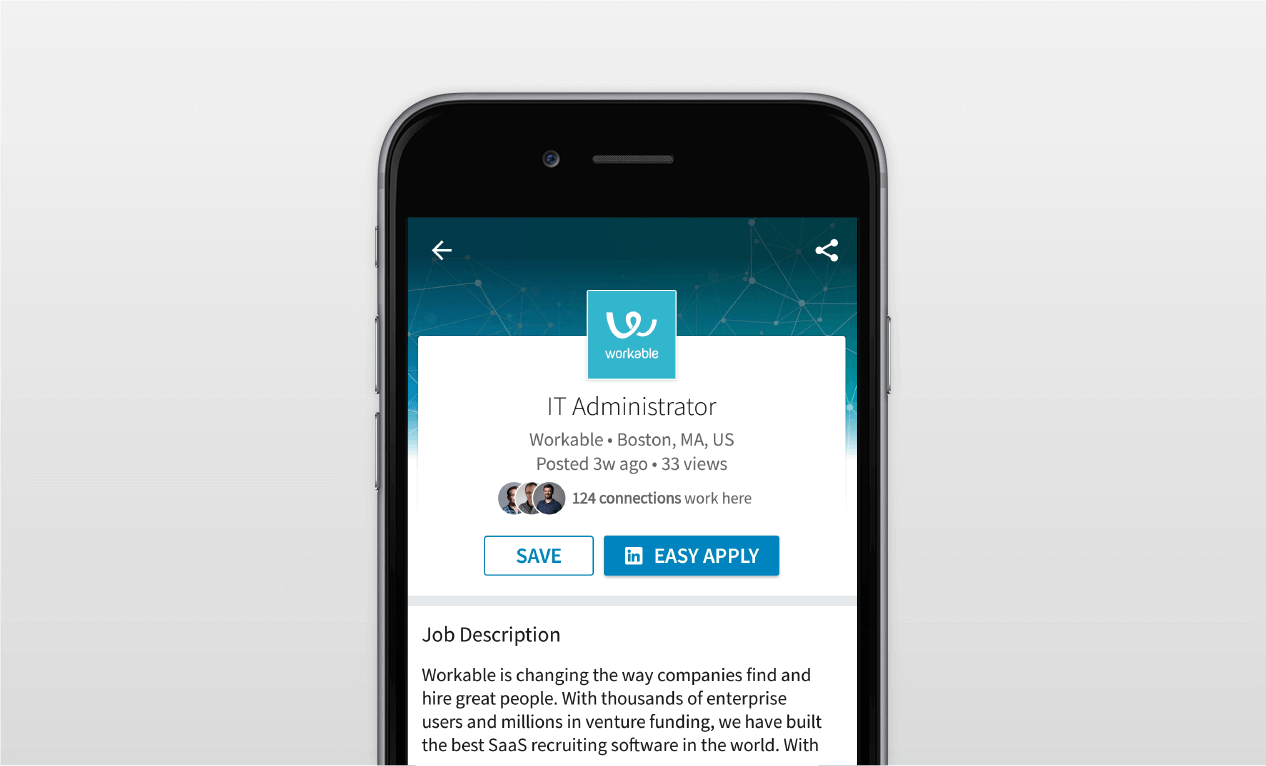 LinkedIn Easy Apply adds an apply button directly to your job ad on LinkedIn. The key benefits are:
2x more applicants per job
A reduction in the number of candidates that drop off on mobile
Preparing for the new year
Consider this an early gift for the holidays. We're excited about launching this, especially now. New year provides a fresh new start for many, and chance to rethink their situation. People search for jobs, switch jobs, and are more open to new opportunities. Take some time to explore these features and get ready for a very busy new year!
…And if you're not using Workable yet, schedule a demo to see these features in action.