Why EEO statements fall short
An Equal Opportunity Employer (EEO) statement reflects a company's commitment to diversity and equal opportunity. However, it's only meaningful if it truly represents the company's practices. It should extend beyond just hiring, to other employment practices like compensation and promotion decisions.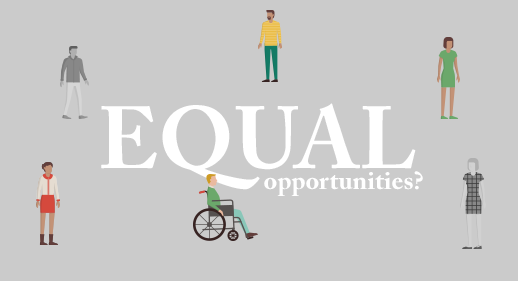 Equal opportunity employer (or EEO) statements are generally considered a 'best practice.' They voice employers' commitment to equal opportunity and diversity. Their role seems simple. But it isn't. That's because EEO statements are only meaningful if they reflect the truth.
For some employers, equal opportunity commitment begins and ends with equal opportunity statements. They display mandatory "EEO is the Law" posters, add short statements to their job listings or write full-blown equal opportunity policies. Unfortunately, these combined efforts don't necessarily translate into equal opportunity.
A group of researchers conducted a series of studies to investigate how EEO policy statements impact companies' hiring practices. The researchers explored the consequences of candidates masking parts of their identity by deleting racial clues, such as minority scholarships, or traditional names, from their resumes (aka, 'resume whitening'):
Study 1 surveyed non-white university students regarding 'resume whitening.' They found that one-third had 'whitened' their resumes, while the rest knew someone else who had. Participants stated that one of the reasons for whitening was to avoid discrimination.
Study 2 found that applicants were less likely to 'whiten' their resumes when applying to job ads with EEO statements. So, the study suggested that EEO statements make minorities more comfortable.
Study 3 tested how important 'resume whitening' was for companies. They included two employer groups: those with a pro-diversity statement and those without. They sent 'whitened' and 'un-whitened' resumes to both groups and waited for callbacks. Both employer groups seemed to favor candidates with 'whitened' resumes – 'whitened' candidates were twice as likely to receive callbacks.
So, equal opportunity employer statements don't seem to make a difference when it comes to hiring discrimination. If anything, they could make discrimination worse at the initial hiring stages. Because they encourage applicants to disclose their race, which makes it easier for companies to screen out non-white applicants.
Further Reading: What is EEO?
EEO statements are the tip of the iceberg
So, do the results of these studies suggest that employers shouldn't post EEO statements? Probably not. If you're a federal contractor or subcontractor, you don't have that choice. The Equal Employment Opportunity Commission (EEOC) mandates that you include the sentence: "[Company name] is an equal opportunity employer" along with a statement of non-discriminatory practices in every job ad. But, even if you're not bound by law, assuring applicants that you're committed to equal opportunity is a good thing.
If it's true.
Being truthful in your EEO statement is key. Sometimes biases are unconscious and hidden. Diversity programs and training might not work as expected. And good intentions are often inadequate.
Your EEO policy should express a reality in your company: that equal opportunity runs deep. It should be particularly true for your hiring practices and it should also be true for your other employment practices, like compensation and promotion decisions.
The language you use in job ads should also be consistent with your EEO statement. For example, if the rest of your job ad contains words that attract male applicants, EEO statements might lose some of their effectiveness. Same goes for ads using words that may exclude protected groups. For example, it's best to avoid words like 'young' or 'clean-shaven.'
Here's how you can make your hiring process more deserving of an EEO statement:
1. Know the law
It's important to know legal provisions like which interview questions are illegal and what accommodations employers should make for people with disabilities. Read about the EEOC's expectations and consult a lawyer when needed.
2. Use neutral (or slightly feminine) language
This extends to all internal or external communication. But job ads are especially important since they give applicants a peek into your company. If you use words that tools like Textio identify as masculine, you're likely to drive away great female applicants. Women already avoid applying to positions they're not 100% qualified for. It'd be best to attract them by using words that point to collaboration rather than aggressiveness. And you probably don't have to worry about driving away men. More feminine language is unlikely to deter men from applying to your jobs. Note that feminine language doesn't mean that you can explicitly say you're seeking female applicants, though (e.g. "we're looking for a female software engineer"). That's discriminatory under EEO laws. Same goes for all language that shows illegal preference for a particular group.
3. Build a blind hiring program
There are a few bling hiring techniques that can pay off. The simplest is to conceal information that identifies women or minorities (e.g. names, photos, minority scholarships). Applicant tracking systems often have functions that can help obscure candidates' identities. There are also other kinds of platforms that can help, like Gapjumpers and Blendoor.
4. Use structured interviews
Structured interviews may not be completely free of bias. But, they're more objective than unstructured interviews. Using this format can help keep your hiring decisions job-related.
5. Realize biases
You can't fight something which you don't know is there. Bias and prejudice are common, but people don't easily accept that their judgment isn't objective. You could discover biases with the help of interview scorecards. By discussing your opinions and notes with your team, you can identify your own biases or help others understand theirs. You can also take tests like the Harvard Implicit Association test. It can help you see if you have any unconscious preferences for race, gender or other characteristics.
EEO statements can win the hearts of applicants
Applicants seem to view equal opportunity employer statements favorably. So, equal opportunity employers have a chance to make a unique statement and attract better applicants.
The length of EEO statements can vary. Some employers opt for a short, formal acknowledgement:
"We're an equal opportunity employer. All applicants will be considered for employment without attention to race, color, religion, sex, sexual orientation, gender identity, national origin, veteran or disability status."
While this may be enough under the law, it seems like a missed opportunity. A longer, more diversity-friendly statement might make a better impression. For example, Dell uses this statement in its job ads:
"Dell is an Equal Opportunity Employer and Prohibits Discrimination and Harassment of Any Kind: Dell is committed to the principle of equal employment opportunity for all employees and to providing employees with a work environment free of discrimination and harassment. All employment decisions at Dell are based on business needs, job requirements and individual qualifications, without regard to race, color, religion or belief, […], family or parental status, or any other status protected by the laws or regulations in the locations where we operate. Dell will not tolerate discrimination or harassment based on any of these characteristics. Dell encourages applicants of all ages."
This statement is longer but has two important additions. First, it mentions workplace harassment. This is a big concern for most women and minorities. Stating that Dell won't tolerate any kind of harassment sends a clear message that they value diversity. It gives applicants a clue for Dell's culture. It also mentions business needs and qualifications. Dell lets candidates know that it makes decisions based on things that matter.
Another good example is the EEO statements of Emory University of Atlanta, Georgia. The university has several versions of its statement (short, medium and long) that its people can use in many circumstances. For job postings, its EEO policies contain important information:
"Emory University complies with Executive Order 11246, as amended, Section 503 of the Rehabilitation Act of 1973, the Vietnam Era Veteran's Readjustment Assistance Act, and applicable executive orders, federal and state regulations […] Emory University is committed to achieving a diverse workforce through application of its affirmative action, equal opportunity and nondiscrimination policy in all aspects of employment including recruitment, hiring, promotions, transfers, discipline, terminations, wage and salary administration, benefits, and training."
Emory also has an actionable addition for applicants with disabilities, encouraging them to contact the university if they need reasonable accommodations. Their statement shows that they don't just talk the talk on equal opportunity.
It's also good practice to include an informal EEO statement on your careers page. Some candidates will go there directly. And passive candidates might consult your website when trying to decide if your sourcing emails are worth replying to. Mentioning equal opportunity where it's visible to everyone projects a positive image. For example, Workable's career page features this snippet: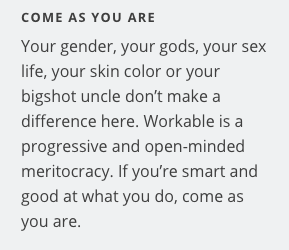 Equal opportunity employer statements shouldn't be a mere formality. Employers who are consciously working towards equal opportunity and diversity should be proud to announce it.
Frequently asked questions
What does an EEO statement look like?

An EEO statement typically includes a commitment to providing jobs for all types and sizes, without discrimination based on race, color, religion, sexual orientation, gender identity, national origin, or veteran status.
What is an equal opportunity statement?

An Equal Opportunity Employer (EEO) statement is a short paragraph that conveys a business's commitment to diversity and inclusion.
Who needs an EEO statement?

All employers must post EEO statements as per federal regulations. These laws protect your right to work in a safe environment and prohibit discrimination based on race, color, or religion.
How can an EEO statement be more effective?

An EEO statement should reflect the reality in the company, including hiring practices, compensation, and promotion decisions. It should also be consistent with the language used in job ads.
What is the impact of EEO statements on applicants?

Applicants view EEO statements favorably. Therefore, employers who are consciously working towards equal opportunity and diversity can use these statements to attract better applicants.