Diversity in the workplace: how to use Workable to boost D&I
Multiple studies show that D&I in the workplace brings business and financial gains. At the same time, there's a moral aspect to building diverse teams. Through them, companies reflect their community's different cultures, genders, ages and races. The role of diverse teams in an organization's success is indisputable. Yet, the practical ways to build them are still not clearly defined.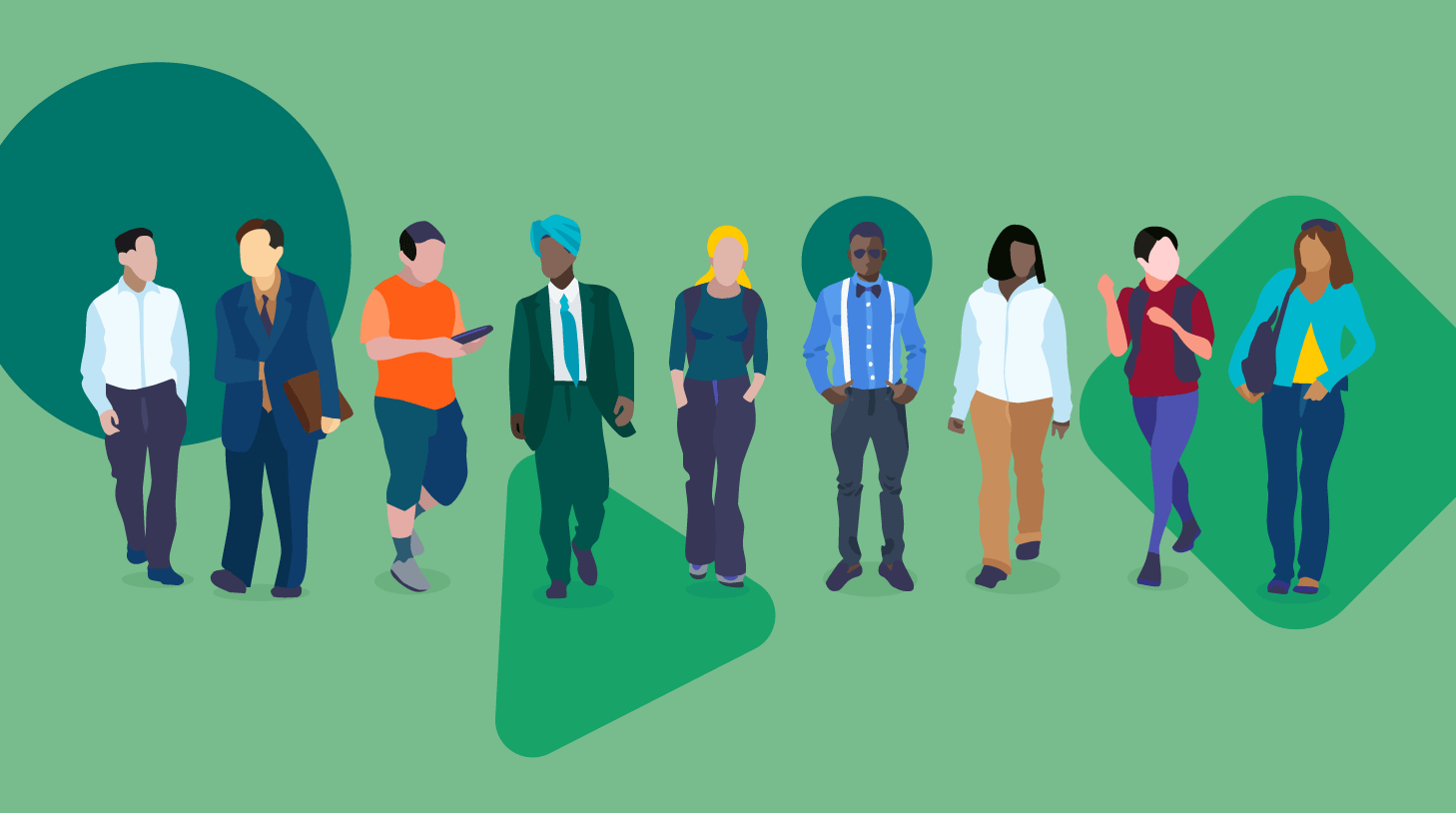 It all starts with the people you bring to your company. We can't talk about diversity if we only hire homogenous team members. As a recruiting software, we at Workable want to support recruiters and hiring managers in their efforts to boost D&I in their organizations. That's why every new feature we build and every improvement we make is designed with equal employment opportunity in mind.
You won't see a list of diversity-specific features, though. And that's on purpose. We believe that D&I is neither a couple of boxes that you just tick, nor a quota that you want to reach. It requires a holistic approach, re-thinking and updating your processes, and adopting practices that contribute to an inclusive workplace. We do offer features that will help you comply with anti-discriminatory laws (e.g. EEO/OFCCP regulations), but we're mostly focused on delivering solutions that will help you interact with candidates and hire employees bias-free.
Let's explore how you can increase diversity at each step of the hiring process using Workable.
1. Advertising your jobs: How to attract diverse candidates
When you want to increase diversity within your company, your first priority should be to diversify your outreach when you're promoting your job openings. If you're constantly posting jobs and looking for candidates in the same places, you'll likely come across people with the same background. But researching and trying out new candidate sources can be time-consuming.
Here's how Workable can automate and speed up your job advertising process to maximize your outreach:
Post to multiple sites and social networks
Instead of creating accounts and logging in to different sites in an effort to increase your candidate sources, you can do all that within the platform with just a few clicks. Pick the free and premium job boards where you want to advertise your open roles, add social media to your advertising mix, and we'll automatically publish your job ads. This way, we help you get your job opportunities in front of a broader audience without wasting any valuable time.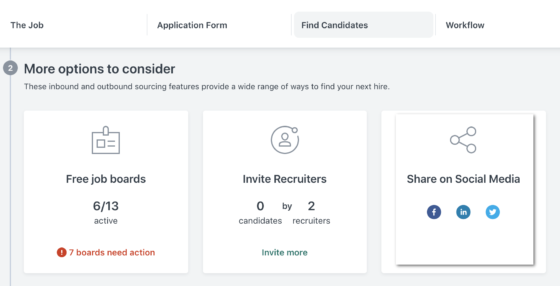 Find potential candidates where they are
While job boards are the go-to place for job seekers, it's worth casting a wider net. You can reach out to people with the right skills in the places where they spend a lot of their time daily: Facebook, Instagram, and LinkedIn of course.
Customize one of our inclusive job descriptions
We may not always realize it, but even one word can make a difference in a job ad. Would a boomer apply for a job that highlights the company's youthful environment? Or, what would a female candidate think if she saw a job ad for a salesman? We've built more than 700 job description templates for a wide range of industries and business functions, paying attention to using gender-neutral and inclusive language. You can directly upload and edit those templates when you create your job ad inside Workable: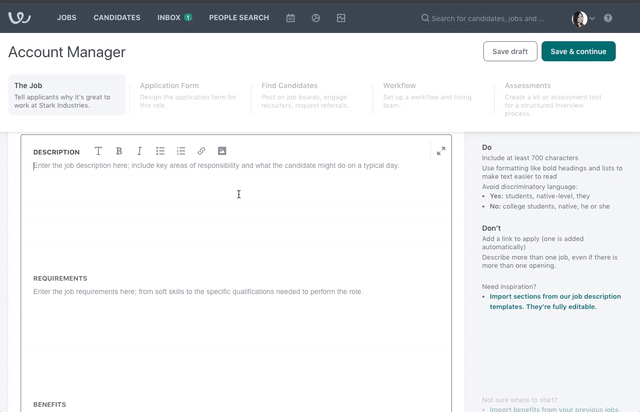 2. Screening applicants: How to remove biases
Once you've advertised your jobs, you'll start receiving applications. At this stage, it's important to make sure you evaluate resumes, application forms and portfolios using strictly job-related criteria. It's common to be influenced by non-relevant factors, so here are two ways that can help you stay on track:
Turn off social media profile pictures
While Workable gives you the option to gather information candidates have shared online in order to build a robust profile, you also have the option to disable their profile pictures. If you think that you or other hiring team members might get distracted by candidates' pictures and miss out on important skills, you can turn this feature off.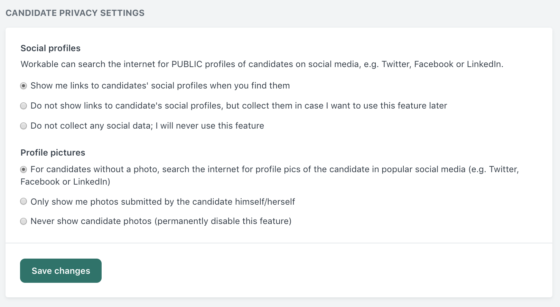 Screen candidates consistently with video interviews
First impressions are powerful. You can instantly like or dislike a candidate as you walk them to the meeting room or during small talk before the interview. What if you could go straight to the interview, though? Picture this: you can send all candidates for the same role a set of questions, which they'll answer by recording themselves. This way, you only receive their answers to job-related questions, you can avoid the potentially bias-inducing small talk, and can compare candidates without showing unduly favoring one over the other.
3. Making your hiring decision: How to evaluate candidates objectively
You're now in a good place. You've enriched your candidate sources to ensure you reach a diverse audience, you've screened applicants with job-related criteria and you're ready to interview and hire your next star. You have a good base, but the challenge is that they're multiple people involved at this stage, for example, a hiring manager or senior executives. How can you tell if they are also free of biases?
You probably can't. And maybe you don't have the time – or even the power – to train them on D&I practices. What you can do instead, is build a hiring process that eliminates biases:
Ask all candidates the same interview questions
More or less, hiring managers will ask similar questions to learn whether candidates are qualified for a role. However, because interviewers are human and questions may go off in tangents at times, it's easier to stay consistent when questions are prepared in advance. In Workable, you can build interview kits to evaluate skills and include as many questions as you want. The result is a structured interview process, where interviewers ask all candidates the same questions in the same order and use a scorecard to evaluate answers.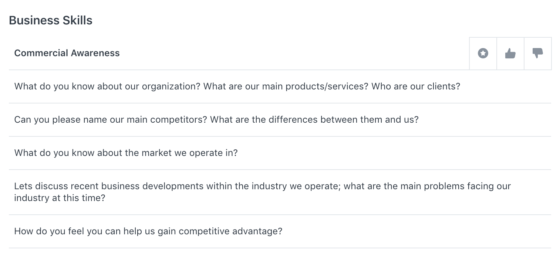 Share your interview feedback impartially
We all get influenced by other people's opinions, but hiring decisions should be well-rounded, not biased. This means that interviewers should be able to openly call attention to any red flags they spotted in candidates, regardless of what others in the team think. To allow for objective evaluations when there are multiple interviewers in the same hiring stage, each interviewer will be able to see feedback and comments from the rest of the hiring team only after they've already submitted their own evaluation. This way, they're encouraged to share their honest opinion without being subconsciously influenced by the reviews of other hiring team members.
Technology alone is not enough
Diversity and inclusion go beyond software, of course. Technology can help, but it's the people who make the hiring decisions and it's the people who are responsible for embracing different traits in the workplace. So, the onus is on people who are involved in hiring and team management to let go of biases or, at least, to be aware of them.
There's no tool that can enforce diversity. Perhaps your recruiting software prompts you to justify your feedback after you interview a candidate, but it won't stop you from commenting; "I really liked this candidate". Likewise, you might get a shortlist of 49 candidates who come from underrepresented groups and still hire the one who looks and thinks most like you.
Technology is not a cure; it can only support your D&I efforts. If you rely only on tech to boost your company's diversity, you risk being short-sighted or, worse, see the opposite results. For example, if a software helps you gather candidate data to uncover areas for improvement, you could raise legal issues. Candidates might be worried about how you're going to use this information, even if your intentions are good.
If you are experimenting (or considering to experiment) with masking candidates' personal details, such as their name, race and school, don't rest assured that you will indeed pick diverse candidates. Research shows that this is not always the case. Likewise, an overreliance on technology can lead to adverse results in your hiring process. D&I practices should be addressed throughout all your procedures, not just at the beginning of your hiring process.
At the end of the day, diversity is not in the numbers. To build a truly diverse and inclusive work environment, you need to be an advocate for differences, you need to embrace people as they are and you need to actively look for a variety of skills inside your company. Diverse candidates will want to work with you, not because you claim to be an equal opportunity employer, but because you are one. And there's no shortcut to becoming one.