Onboarding: the new hire checklist
Onboarding is a crucial process that helps new hires transition smoothly into their roles. It involves pre-start welcome activities, setting up workstations, coordinating with staff, assigning tasks, and providing mentors. For remote employees, customized strategies that use technology to deliver structured content and promote engagement are essential.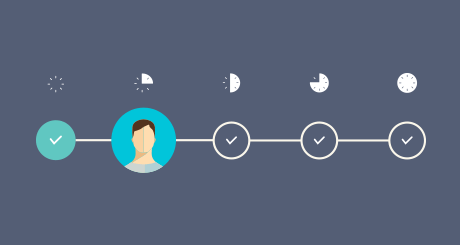 The onboarding process is the first step in building an effective relationship with a new hire. And first impressions count. Despite the time invested by candidate and company during the hiring process, one in five new employees leave their job within 45 days. In most cases, this is avoidable. A well-designed onboarding process, starting with a new hire checklist, reduces wasteful turnover and sets up incoming employees to succeed.
New hires want meaningful communication with the company. Coming through the door they're looking for "organized, relevant and well-timed content," according to a 2014 BambooHR survey. They also want to feel useful fast and see a company fully prepared for their arrival.
What is onboarding and why is it important? A new hire onboarding checklist is vital in ensuring you don't miss anything. It will help you prepare for the new hire's arrival and support them as they settle into a new environment. Part of this onboarding new hire checklist can be sent to the new hire in advance serving as an outline for their first day activities.
Meanwhile: in a world where remote work is becoming a norm, it's also important to fine-tune your remote onboarding strategy. This remote onboarding FAQ guide will answer many of your questions. This comprehensive step-by-step guide on how to build a new employee onboarding process will help you as well – and learn from real-life employers why a standardized remote onboarding process is crucial for success.
The following steps can be used as a guide to building your new hire checklist:
1. Welcome the new hire before the first day
Onboarding doesn't start when an employee first sets foot in the office. After they accept your offer, they need to be aware of the basics before their first day (where to go, whom to ask for, dress code etc.) and feel they're expected eagerly. Send them a welcome letter as an HR department and as a supervisor.
2. Send an onboarding package
You'll want every new hire to know the company's mission, culture and policies. But burying them in paperwork on the first day isn't the way to go. If you have a detailed and impressive employee handbook like Disqus culture book, you want to give the new employee enough time to study it. Send them an "onboarding package" including the handbook, mission statement and any other important documents. A good idea would be to send welcoming items such as a T-shirt with the company logo (Workable does).
3. Set up the new hire's environment
Having a new hire wait around while their workstation is set up isn't a good use of your time or theirs. Sitting in a cramped space for lack of better options is equally unpleasant. Prepare the new hire's desk near their team with all equipment necessary well in advance. Aim for some bonus points by decorating it and placing a welcome card from all staff on it. Their digital environment should also be prepared with ready-to-use corporate e-mails, passwords, software licences etc.
4. Coordinate with other staff
A number of people need to know about the new hire's arrival; reception, first and foremost, so awkward situations can be avoided. You can announce the start date to the team or department and advise them on how to welcome their new colleague. Payroll and personnel should update their database early on. Remember also that many new hires prefer their supervisor to take them through all or part of the onboarding process so they can start building a working relationship.
5. Start the day
So, the start date has arrived. The new hire was welcomed warmly and directed to their desk where they were left to familiarize with their surroundings and try out their equipment. Signing some paperwork can't be avoided but try to keep it to a bare minimum. So far so good but don't leave them alone for too long. Schedule breakfast or coffee break and introduce them to their team and other staff. If they are in a leadership position, it'd be a good idea to briefly present their qualifications and experience to their subordinates.
6. Discuss the position
This is a very important part of onboarding. New hires site "different work than expected" as one of their top reasons for leaving. Make sure you explain the job description thoroughly and answer all questions about the role. Don't forget to ask the new hire about their own goals and expectations.
7. Discuss the company
New employees will hopefully have reviewed your policies already. Give them a brief summary of important points and answer any questions. Talk about perks and benefits explaining the procedures and their own responsibilities. Present the organizational chart and indicate who to ask for what (e.g. the office manager for office supplies). Giving them access to a directory with names and photos of the staff can be a great help.
8. Company walkthrough
Showing new hires around the company is a great way to promote a feeling of familiarity. Don't just show them spaces, tell them how to use office equipment, how to lock/unlock doors and where to go for lunch. It's important they know the premises and move freely among the many offices, desks and corridors.
9. Lunch
Lunchtime is an important point in the new hire's first day. Don't leave them to eat on their own! Schedule lunch with the team at a specific time and help them become better acquainted.
10. Assign them a simple task
Almost three quarters of new hires believe on-the-job training is the most important reason to stay in a new job. Assigning them some work from day one will ease them into their duties and will create an opportunity for meaningful feedback and coaching. Don't limit this on their first day, be ready to mentor them continuously.
11. Let them stay in the shadows
Arranging for a new hire to shadow other staff can be done during the course of the first couple of weeks. It serves a dual purpose. First, they'll find it easier to socialize with their colleagues as they'll get to know them better one on one. Second, it will give them hands-on experience in how the company operates and what the expectations of each position are. Shadowing the team especially may give them insight on how their supervisor leads their subordinates.
12. Assign a "buddy"
New employees will have questions on their first day. Having a specific person to go to is a great help for a new hire. Choose the most suitable person for this, someone who has been in the company some time, with a pleasant personality and reliable enough to dedicate the time needed to their "mentee".
13. Create an extended roadmap
No matter how well it starts, the onboarding process is usually short-lived. One in six new hires leave within the first week but you aren't safe from new hire turnover even after six months. The first 45 days especially are considered an important milestone. Set clear goals for the first months and arrange for systematic coaching. Communicate the roadmap to the employee so they will know what to expect. Don't neglect to sit down with them and discuss their progress frequently.
Remember to provide the new hire with a checklist for their first days. Steps 5 to 13 can be adjusted to address the new employee and give them details about what they will be doing and with whom. Give them the means to come onboard prepared and excited.
Onboarding a new intern? This intern onboarding checklist will get you started.
Frequently asked questions
What are the key components of an effective onboarding process?

An effective onboarding process encompasses before-the-start welcome activities, setting up workstations in advance, coordinating with staff members, assigning immediate tasks and mentors for guidance.
How do I ensure smooth assimilation into company culture?

Introduce them to colleagues during breaks or lunchtime gatherings, involve them in team events or shadowing exercises focused not only around work but also socializing aspects.
Why is preparing a workstation important prior to arrival?

Having a workstation properly prepared demonstrates organization and indicates that the company values their time while fostering feelings of welcoming energy.
What is the role of continuous coaching in the new hire's journey?

Continuous coaching establishes open communication channels between team members crucial for learning processes enabling feedback and support as they settle into their roles.
How do I make remote employees feel connected during onboarding?

Remote workers need customized remote onboarding strategies focusing on structured content delivery using technology platforms that keeps them well informed and involved within engaging social experiences alongside retaining accessibilities easy even away from headquarters.