Onboarding remote employees: A standardized process for the win
According to TalentLMS, a learning development software company, only 27% of employees were onboarded via online delivery prior to COVID-19.
But remote onboarding is no longer an unusual part of the job. It may become more the norm than the exception – according to Workable's survey, 71.1% say remote work and distributed teams will be a major paradigm shift going forward.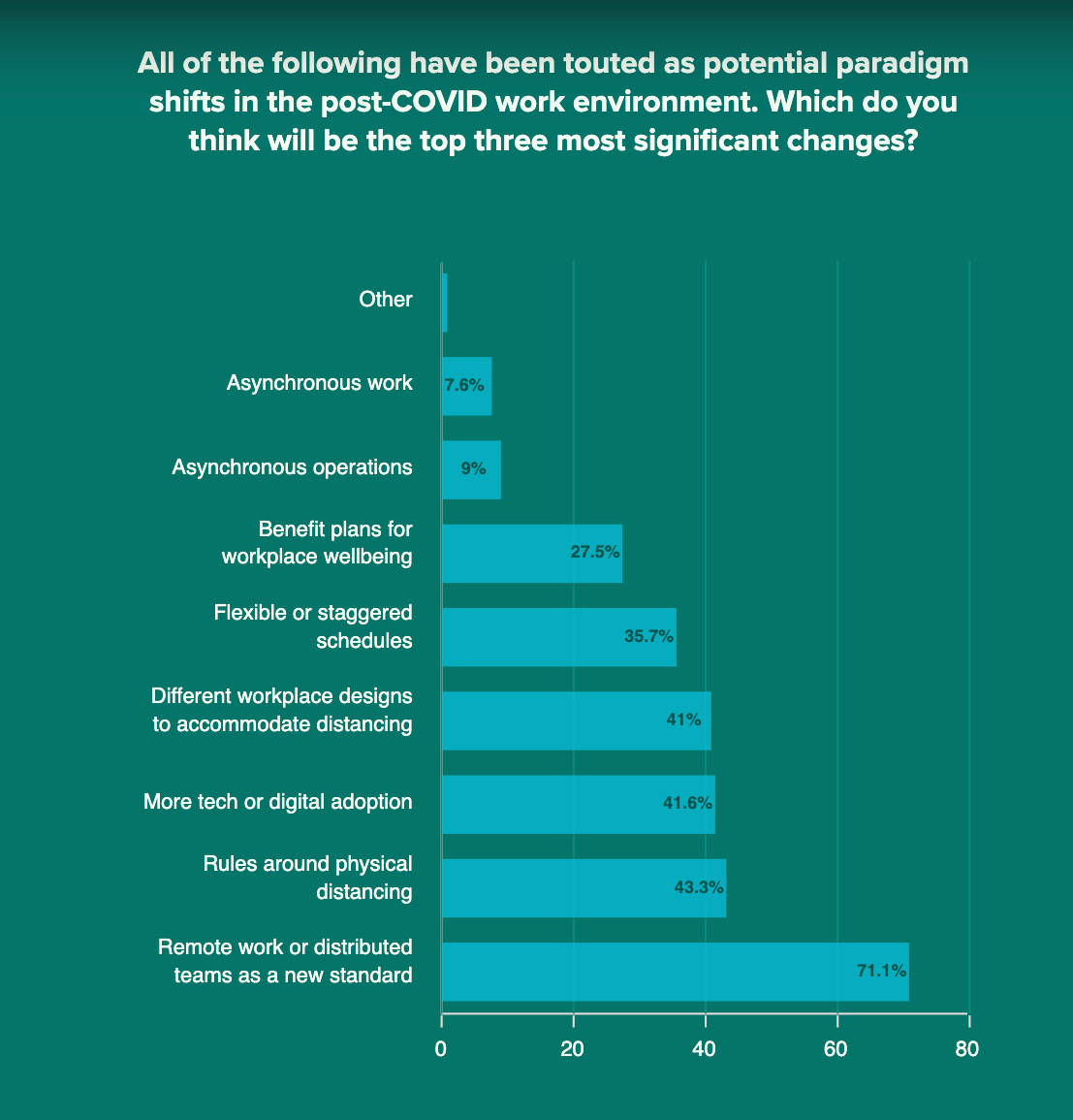 It's also a welcome shift; in the TalentLMS study, 77% of employees say they would accept a job even without a physical visit to their employer's office, while 73% say they'd accept a job even without meeting any of their new colleagues in person.
If remote is accepted both by employer and employee – the focus then moves to onboarding remote employees. And an effective remote onboarding process is essential if you want your new hires – and your business altogether – to be set for success.
Related: 9 remote onboarding FAQs to level up your process
New jobs are stressful – and can be costly
Onboarding is not only important for business performance – it's a concern for new hires as well. Starting a new job is a stressful experience. The tips for new employees range from finding support to not being afraid to ask for help – but how do you do that if you can't even see your work environment or even know who you're working with? Fast Company recommends designing familiar schedules outside of work and sticking to a regular work routine. Great, but even our non-work activities are severely disrupted by COVID-19. This just adds to the existing challenges of a regular work routine in a remote environment.
If you don't solve or at least alleviate those stresses in a new hire, the costs to business are clear, both factoring into the cost per hire:
Increased employee turnover
A clumsy onboarding experience can make new hires feel frustrated and lose faith in you as an employer. Culture Amp's Joshua Bach told us at an event last year: "10% of people [leave] within the first six months of starting a new job. And many people decide if they're going to leave a job within the first six weeks." So, it's crucial to make that strong first impression as an employer.
Those are important numbers considering that the costs of employee turnover can be a real eye-opener.
Increased time to ramp
When it takes longer for a new hire to know how to do their job properly, be it in utilizing new technologies or fitting into the existing workflow, it causes delays and even breakdowns in operations and processes. You want your new hires operating at full productivity as quickly as possible – and onboarding is a huge factor in that.
A good onboarding process can increase new hire productivity by 70% and employee retention by 82% according to Sapling, an onboarding/offboarding platform. The numbers speak for themselves, including at the bottom line.
People like predictability
Structure. Systems. Clarity. Uniformity. Organization. People trust people – and employers – who are organized ahead of time. If a new hire comes into your company and experiences a clear, well-thought-out process for onboarding remote employees, that's a powerful first impression, showing them that your company cares about them and that you've got their back.
There's a reason why process standardization is a heavily emphasized necessity in the survival and sustainability of a company: it's because it works. When you have a clear blueprint that everyone can follow to a T, the benefits are numerous:
It reduces costly errors and breakdowns in process.
It ensures higher-quality and quicker execution.
It enables scalable training when you need to fill numerous positions at once.
It helps you identify specific areas for change and improvement – and act on them.
Inna Shevchenko, the CMO at iGMS, a short-term rental management SaaS company headquartered in North Vancouver, Canada, says that the most important lesson she's learned after five years of hiring, training and managing employees remotely is to have a well-established process to follow.
After 12 years in the marketing biz during which she managed and trained remote teams, Inna finds that remote onboarding really isn't all that different from 'normal' onboarding – the core components are the same.
"Creating a well-crafted process and structure, preparing detailed training documentation, and hiring the right person are the secrets to success."
Business executive Erik Rivera of Thrive Talk, a telehealth platform focusing on mental health, emphasizes the importance of setting up a system beforehand, to increase clarity and reduce cost.
"A premade onboarding process followed by assessment tests helps ensure that employees know the essentials before working. Since the process is entirely automated, it lessens the expenses of the company because it eliminates the need to hire onboarding specialists."
SuperAwesome's Nick Yockney highlighted structure as one of his four go-to strategies in successful remote onboarding.
"We have a very, very structured way that anyone joining SuperAwesome comes into the business." Nick said. "We call it a 30/60/90. And when someone comes in, they will have a list of tasks that they need to do for their first 30 days, and they will be specific to the role that they're doing, but there's also a core foundation of exactly what they do."
Meanwhile, this comprehensive, step-by-step guide on how to build a new employee onboarding process will give you the framework to build on.
On board with us now?
Let's start with four top tips for standardizing your onboarding process for remote employees:
1. Start with existing templates and tools
Not having an onboarding foundation already in place is a big mistake, says Max Harland, CEO of Dentaly, one of the world's largest online dental health resources.
"The biggest challenge in remote onboarding is starting from scratch without any robust plans to start," Max says, pointing to unreliability in the process and cost creep as potential issues. "You might end up creating a structure that is not suitable for remote onboarding and spend resources aimlessly without getting any results."
Max recommends procuring an existing remote onboarding template from a colleague or investing in a reliable onboarding tool to more quickly set you up for success.
Following up on Max's point – it's better to have something in place and build on that. You can customize to your unique needs as they reveal themselves, and identify areas for improvement. Premade onboarding tools such as Rippling or Click Boarding can help you get a head start with your online onboarding until you're ready to refine the process.
Also, here's a remote onboarding checklist template you can use.
2. Line up your training materials – and diversify the format
The second point of advice from Inna at iGMS, that of having detailed training documentation to share with the new hire, is also crucial to a standardized process for onboarding remote employees.
"Documenting the processes, steps, training, and related materials make it easier both for the trainer and the new hire."
She recommends having training materials with easy-to-follow instructions enriched with visuals, creating how-to videos, and recording online training sessions for future reference. And, she adds, it's better to be short, legible, and to the point.
"In the end, all these materials help build an internal knowledge base and make the process of onboarding smoother."
Greg Hayes, the CEO/Founder of Branch Furniture, a venture-backed office furniture startup in New York City, also likes to have starting guides for new employees including all the information they need to know about their department, past and ongoing initiatives, and goals to aim for in their first week and first month.
"These guides help give them practical, tangible to-dos so that they can get active on day one," Greg says.
As above, use templates to get started, and build from there. Be informative and make sure everything's covered – more so than in a normal onboarding, even. These training materials give new employees a treasure trove of resources they can tap into if they're feeling uneasy about asking colleagues for tips or guidance.
Keep the resources diversified. A folder with 25 wordy documents is boring – include videos, audio, infographics, and other forms of media. Make it interesting and digestible.
3. Have a handbook ready – packed with information
Similarly to #2 is an employee handbook. It's the ultimate go-to guide for everything you want the new hire to know about your company. It can include:
Mission, visions, values, positioning statement, corporate social responsibility statement
Organizational chart
Guidelines for work and code of conduct
Benefits, perks, trainings, programs, incentives, bonuses, etc.
Performance reviews
Important dates for reviews, holidays, annual functions, etc.
All policies as they relate to employment (i.e. parental leave, time off, sabbaticals, etc.)
There's a lot more that goes into an employee handbook, of course.
Husam Machlovi has seen a lot of success in having a detailed handbook. He's the founder of digital studio With Pulp, which operates fully remotely out of New York state. His company has served notable clients such as AMC Networks and World Wrestling Entertainment, and he's found a lot of success hiring remotely.
"Something that's really helped is sharing the company culture very early on. From the hiring process into day one." says Husam. "We took a page out of Valve (the game development company) book and designed a fun and casual employee handbook. The goal was to share more about the history of our company, how we work and to inspire new employees."
Like Husam, Greg has found a larger business benefit to having a 'user's manual' for onboarding remote employees.
"It's forced us to consider more than we normally would, as everything now must be written down and contextualized in critical detail."
Think of it as an all-inclusive guide to working at your company and an opportunity to show off your company culture. Create an employee handbook using this tutorial. And you'll want to check out GitLab's comprehensive employee handbook which is available for the public to look at. If printed, it would be 7,100+ pages!
4. Have a pre-set schedule – and stick to it
You also want to have a schedule in place for the new hire. Preload a calendar with meetings, training sessions, inaugurations, introductions, 1-1s, and anything else for the new hire so they're already busy from day one.
CEO Neal Taparia of Solitaired, a new NYC-based company that ties classic games to brain training, speaks to the value of a detailed, well-planned onboarding schedule.
"You don't want new employees twiddling their thumbs [during] their first week of work. That's an awful first impression," says Neal. "Our HR leader with their manager schedules out almost every hour of their day in their first week to make sure they have a productive first week. It sets the precedent that we are serious and thoughtful."
Tara Lilien, the Chief Talent Officer at Peppercomm, a communications agency located in NYC, San Francisco, and London, transferred her team to a fully remote environment in early March. It was a steep learning curve, but she and her team worked hard to determine the right touchpoints for new remote employees.
"Video introductions, a very solid orientation week 1 schedule, and a 'buddy' program allowed us to ensure that we were setting up our new hires for success even if they were remote," she says, admitting that it was easier to have met new hires in person prior to March before getting to know them via video communication.
That being said, she's pragmatic about the remote onboarding process:
"We acknowledged early that there would be a longer ramp up period to get to know the agency, our clients and our culture and spent time checking in with our new hires to see how they were doing at the 30-60-90 day period."
In addition to the aforementioned onboarding softwares, use these calendar tools to organize a schedule in advance of the new hire's first day.
Success can be standardized
Templates, software, training materials, an employee handbook, a set schedule. It's really not that different from a normal onboarding process, as Inna says.
But there are some important differences – you're utilizing tech more often, you're arming your new hires with the needed tools and information to be able to work autonomously in their new remote job. And, in a remote environment where spontaneous meetings are nearly impossible to come by, you're laying out a schedule so that those meetings still happen.
Now that you have a system that can familiarize the new hire with the essential components of the job, you need to think about the more nuanced parts of onboarding remote employees: building connections with colleagues, familiarizing the new hire with the company culture, and helping them feel like part of the organization. Yes, they're the new kid on the block, but if you follow a standardized plan, they won't feel like it for long.