Cost-per-hire metrics, demystified
Calculating cost per hire involves summing all internal and external recruitment expenses and dividing by the total number of hires in a given period. This metric is crucial for understanding the efficiency of hiring processes and informing budgeting decisions.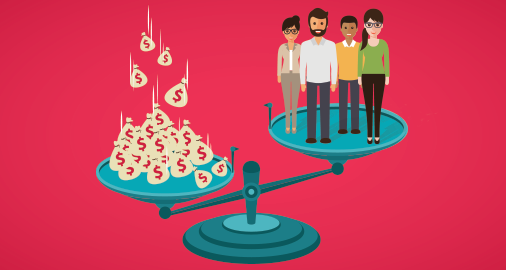 Cost-per-hire (CPH) is one of the most intriguing recruiting metrics. It's simple to understand, but can be time-consuming to calculate. It's vital to some, but opaque to others. In this article, we explore its workings and try to determine its value.
The way companies calculated cost-per-hire varied until HR leaders created a standard formula in 2012. The Society of Human Resource Management (SHRM) and the American National Standards Institute (ANSI) were both involved.
Their cost-per-hire formula is quite simple:

Costs and number of hires both refer to a certain measurement period (e.g. monthly or annually).
Internal costs
Internal costs refer to "internal staff, capital and organizational costs of the recruitment function." These costs include, but are not limited to:
Note that internal costs can include resource allocation from one team to another for recruitment purposes, even if money stays in the company.
Including hiring managers' salary costs isn't necessary and might make calculations difficult. Include only if you have a specific reason.
External costs
External costs refer to any "expense that is incurred to external vendors or individuals during the course of recruiting." These costs include, but are not limited to:
Cost-per-hire calcuations don't include any costs after employees are hired, e.g. training costs.
Total number of hires
Total number of hires might be measured differently across companies. But, generally, companies could include all internal or external hires, both full-time and part-time, who:
Went through a hiring process lead by a hiring manager
Were on payroll as temporary staff and promoted into a full-time position
Have fixed term contracts of more than a year and are on the company's payroll
Calculations could exclude:
External workers (consultants, contractors etc.)
Internal transfers
New employees from mergers or acquisitions
Employees who are on a third party's payroll
Cost-per-hire comparable (CPHC)
CPHC is another type of cost-per-hire. It has the same formula, but uses different sets of data. It includes every cost that's relatively common among companies. For example, it includes job board fees but excludes immigration expenses.
Recruiting cost rate (RCR)
SHRM and ANSI define this additional cost-per-hire metric. The RCR formula is:

You may include total annual compensation before new hires complete their first year. In this case, total annual compensation will be the amount you agreed upon through the employee's employment contract.
For example, imagine you spend $10,000 while recruiting for a position. If the new hire's compensation is $60,000 then RCR=(10,000/60,000)*100%=16%. This means that for every dollar your new hire makes, you've spent 16 cents to secure them. Obviously the lower the ratio, the better for your company. Any HR team would be happy to secure higher-paid, senior-level employees with lower recruitment costs.
This metric can be more useful than CPH. This is because it takes into account market conditions and other external factors that can impact compensation levels.
If you need information about data collection and segmentation, you can take a look at the SHRM/ANSI standard guide.
Does cost per hire work?
Companies that use this metric consistently, have its one great advantage in mind. Tracking internal and external costs helps talent acquisition teams create budgets and adhere to them. It's easy to spend where you don't need to, if you don't consistently quantify your recruiting expenses.
But, there are disadvantages in measuring the cost of hiring an employee. Author Dr. John Sullivan, who specializes in talent management, has long opposed its use, calling it an "evil" metric. He cites many reasonable arguments like the fact that it distracts from strategic recruiting and quality of hire.
Spending with quality in mind, instead of costs, makes sense. The best people might be expensive or take longer to acquire, but they're a guarantee for long term success. For example, if you saw that this year's cost-per-hire has tripled from last year, it wouldn't necessarily be a bad thing. You might have hired better (and more highly paid) recruiters, advertised in paid (instead of free) job boards, or invested in an Applicant Tracking System (ATS). All of which can result in better hires, despite their cost.
Another problem with the cost-per-hire metric is that it needs complementary metrics to be useful. For example, there's some value in knowing that, in 2015, the average cost per hire by US industries was $4000. But, is that a little or a lot? Should companies try to reduce their spend? To draw an actionable conclusion, you'd need to have other information too, like time to fill or industry benchmark data. Cost-of-hire is a start, but you need much more to gain insight on efficiency.
Read FAQs and answers about recruiting costs and budgeting
Why is cost per hire important for companies?
Calculating cost-per-hire isn't that difficult once companies learn how to do it. Tracking costs is something they're doing anyway. Giving extra care to small or hidden expenses, whether internal or external, will enhance visibility in recruitment.
It's important to note that cost-per-hire is only one piece in a puzzle of metrics. It's useful, but not on its own. Companies should choose the metrics that work best for them and try to see the big picture. The only way to do this is to avoid obsessing over a single metric. Don't let high cost-per-hire scare you. It could indicate that your recruitment processes are sophisticated and effective.
Frequently asked questions
What is the formula for cost per hire?

The cost per hire is the average amount you have spent on new hires in a given period. This can be calculated by adding up both external and internal labor for all of them, dividing that number against how many people were hired at any one time or sequentially throughout those periods (then multiplying it with 100).
What is the significance of the cost per hire?

The cost-per-hire is a crucial measure for evaluating the effectiveness and efficiency of your hiring process. Tracking all these costs allows you detailed information about what it takes for each new employee, which will help in making future decisions on who should be hired or fired more effectively!
How do you calculate the cost per hire metric in the workplace?

The average cost per hire is the total amount you spend on recruitment annually divided by how many hires we made in that time period.