Remote employee engagement: a new world of work
This is the sixth in a series of excerpts from our New World of Work survey report which was published in August 2020. More than 350 respondents filled out the 30-question survey, resulting in numerous compelling insights both for business and recruitment interests. Here, we learn about remote employee engagement and how businesses plan to maintain it.
In this chapter, we address the following questions:
What are the biggest problems in remote work?
How can businesses overcome remote employee engagement issues?
How can businesses attract candidates in this new world of work?
Understandably, the current climate marked significant upheaval in many forms – economic, health (mental and physical), social, political, and many others. The shift to remote work is just one of those new developments, but a significant one nonetheless. Everyone's affected – including in the workplace.
Working in a new remote work environment
When asked what they think will be significant challenges in a remote-first environment, 73.2% of respondents highlighted individual employee engagement and motivation. Team-building and morale (54.7%) are next, followed by team collaboration and logistics (41.1%).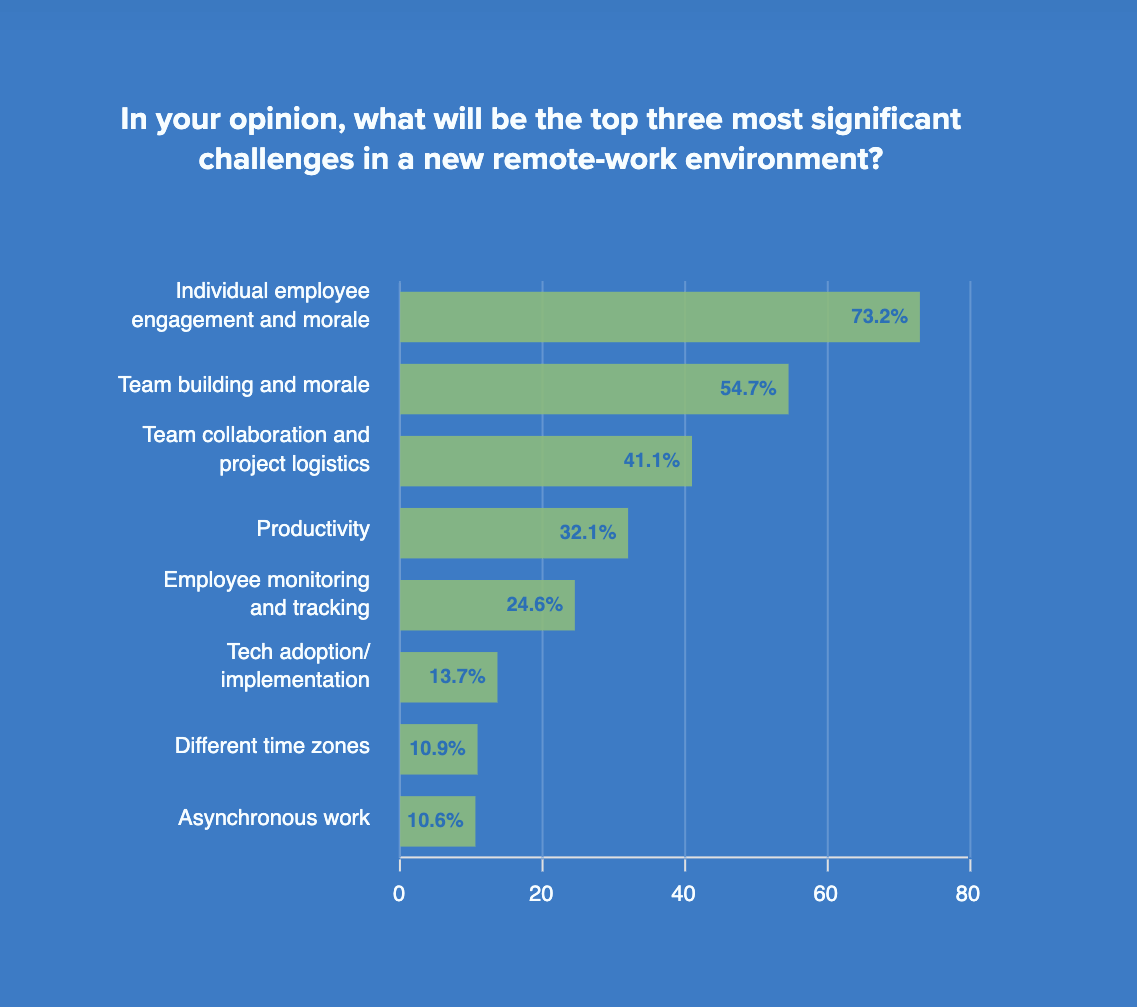 What makes remote employee engagement a major concern? Is it that our respondents are worried that if employees cannot physically see each other at work, can't have lunch together, or work together in the same space, they'll start tuning out? Maybe.
In a follow-up question, we asked about the top focal points to ensure remote employee engagement. The responses are predominantly focused on communications and getting synced, with 54.5% of respondents planning more team meetings (virtually) and 52.8% planning to incorporate more communications technologies (chat, video, etc.).
About a third (33.7%) said they plan regular all-hands from top management as one of their top three major focal points going forward. Just 27.8% said they plan remote-work trainings and seminars.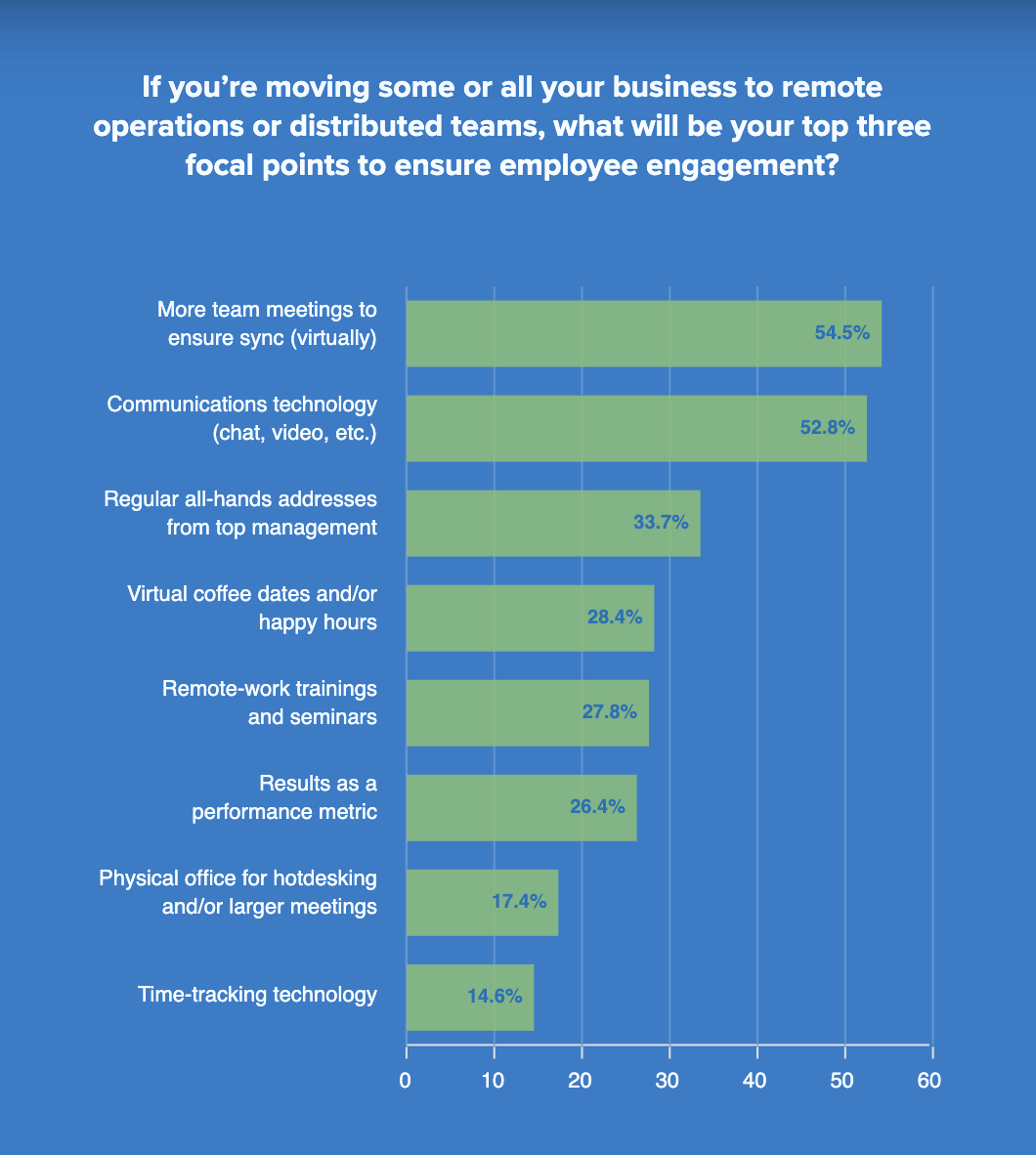 It's striking that given the overall worries about working remotely, there's less emphasis placed on upskilling and retraining employees for remote work than there is on connectivity and synchronous work in that same environment.
So, we broke down survey responses to see if there was a difference between remote-work challenges for senior-level management and for those in entry/mid-level positions. Concerns around team collaboration and team building were relatively similar, but we found that productivity is a much bigger concern for senior-level executives (a 15.3-point difference). Individual employee engagement is a greater issue for those in entry/mid-level roles (a 14.5-point difference).
This makes sense. The bottom line (and therefore, productivity) is what keeps senior-level management up at night. Individual employees and managers, on the other hand, are perhaps more concerned about staying motivated in a new, unfamiliar work world. Given that work is often collaborative, it does make sense that increased virtual communications are highlighted as ways to maintain remote employee engagement.
But now that we're operating in a socially, politically, and economically volatile landscape, there's more emphasis on engagement than remote-work performance.
A perceived shift in engagement
Employee disengagement is a dominant concern in a post-COVID world for many in our survey – with a full 54.8% including it in their list of top challenges going forward. New logistics (i.e. staggered schedules, virtual meetings, etc.) comes in at a distant second (32.3%).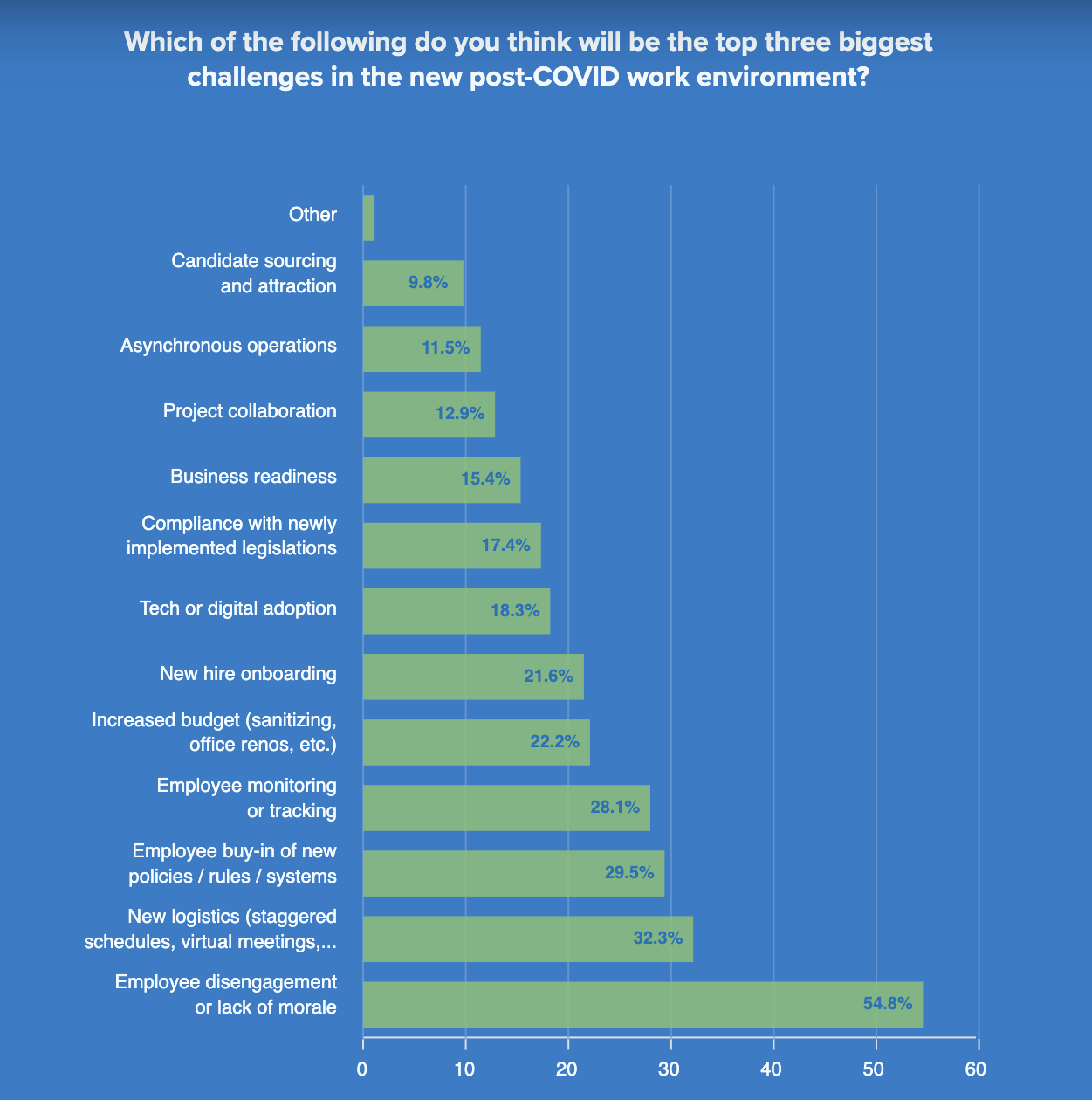 Respondents who picked "Other" listed lower budgets for financial stability, maintaining company culture, and employee mental health as additional challenges.
We then asked respondents what they felt would become more important or less important in terms of candidate attraction going into the new world of work. They predicted that remote work, flexibility, and work-life balance (81.8%) will become more important in the eyes of candidates than before COVID-19, closely followed job security (79.8%)
Just a third of respondents thought compensation (33.3%) and career opportunity (34.6%) would become more important going forward – although it bears noting that compensation and career opportunity are traditionally high in value, possibly making "more important" a moot point.
Also: these are the opinions of employers and professionals. If one were to ask candidates themselves, the numbers may differ.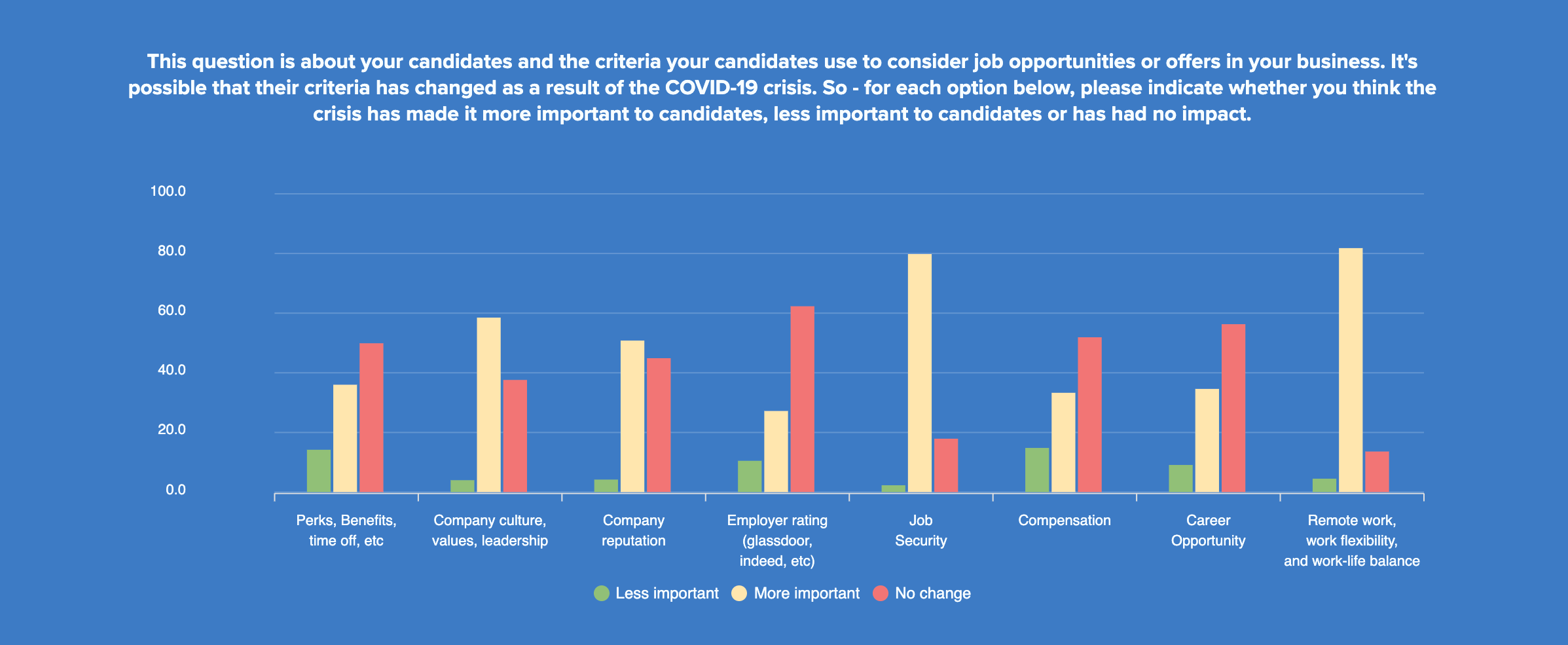 A potential insight is that candidates – and employees – will be more concerned about their physical and mental health now more than previously. The ability to determine one's own hours and workspace is a huge benefit for many in that regard, and can improve remote employee engagement. It's worth conducting an employee engagement survey to find out what's at stake in your own business.
"There will be more focus on the person rather than on what the person produces. Companies will start asking why people do what they do before asking them to just do their job." – Survey respondent
The uncertain economic climate also means job security is predicted to be a huge, huge deal for candidates. Most of our respondents are aware of this going forward – and they'll need to include assurance of job security in their communications with candidates to attract them.
Want to learn more? Navigate to: