Remote work technology: the road ahead is digital
This is the fifth in a series of excerpts from our New World of Work survey report which was published in August 2020. More than 350 respondents filled out the 30-question survey, resulting in numerous compelling insights both for business and recruitment interests. Here, we learn about how businesses managed to forge ahead in a suddenly remote work world.
In this chapter, we address the following questions:
What are businesses planning for the remote work future?
How important is technology in remote work?
Digital transformation is a long-time buzzword that now means the digitization of information, industries, organizations, and operations. And if remote work is the biggest paradigm shift prompted by COVID-19, remote work technology is the vehicle to make that a smoother transition.
Technology – the great enabler
When we asked respondents what made them able to move to a remote workflow without disruption, more than two thirds (68%) reported it was because they already had the technology for remote workers to do so.
"… industries and businesses are going to adapt to using digital platforms to deliver their work and product. People are adjusting to social distancing and embracing the technology to meet people and make their daily earnings." – Survey respondent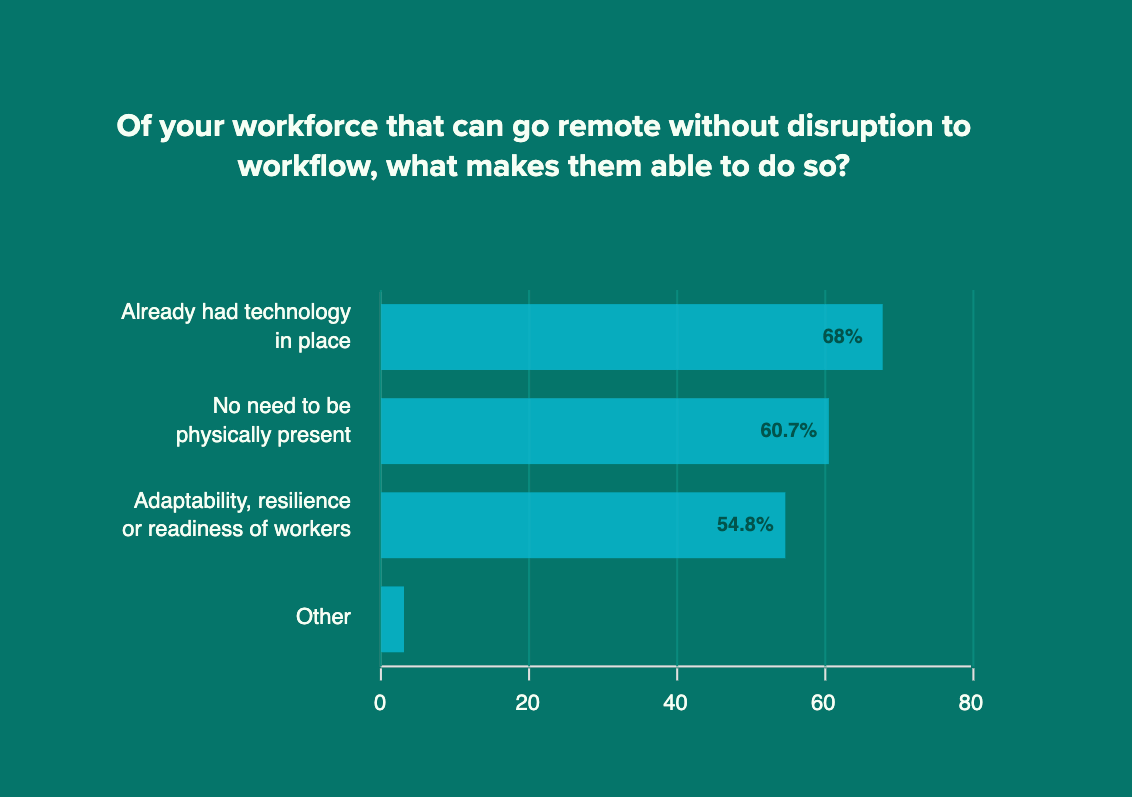 Of those planning to remote operations or distributed teams, nearly half plan to introduce or increase digital capabilities in that transition – in short, more technology for remote work.
Those in senior-level management prioritized tech adoption in the post-COVID work environment, much more so than those at entry/mid-level. Perhaps executives see tech adoption as a company-wide, internal digital transformation while entry/mid-level employees see it primarily as technology for remote work day-to-day.
"COVID-19 has shown … that weak link [in] being penny wise but pound foolish when it comes to technology adoption. During the shutdown, those who spent on technology were able to be 'business as usual' where workforce worked 100% remotely." – Survey respondent
Those in entry/mid-level employee positions are more concerned about the readiness of their business than those in senior-level management. Also, several custom entries from our respondents indicate the lack of senior-level buy-in.
Some of these differences may indicate potential issues around employee engagement.
"The world of work will be focusing on new technology to make work efficient and boost collaboration in virtual ways, [and] more adaptive to remote working style. The expenses for office rental & travelling will be cut as well, [and] more creative ways in employee engagement events." – Survey respondent
Want to learn more? Navigate to: