Your remote new hire onboarding plan: Build those connections
Eric Jones, the CEO of Couture Candy, a fashion e-commerce business operating out of Las Vegas, brushes off the so-called challenges of the remote onboarding process. He says a full half of his remotely onboarded colleagues are succeeding hugely in their new work and that number's rising as he refines his new hire onboarding plan.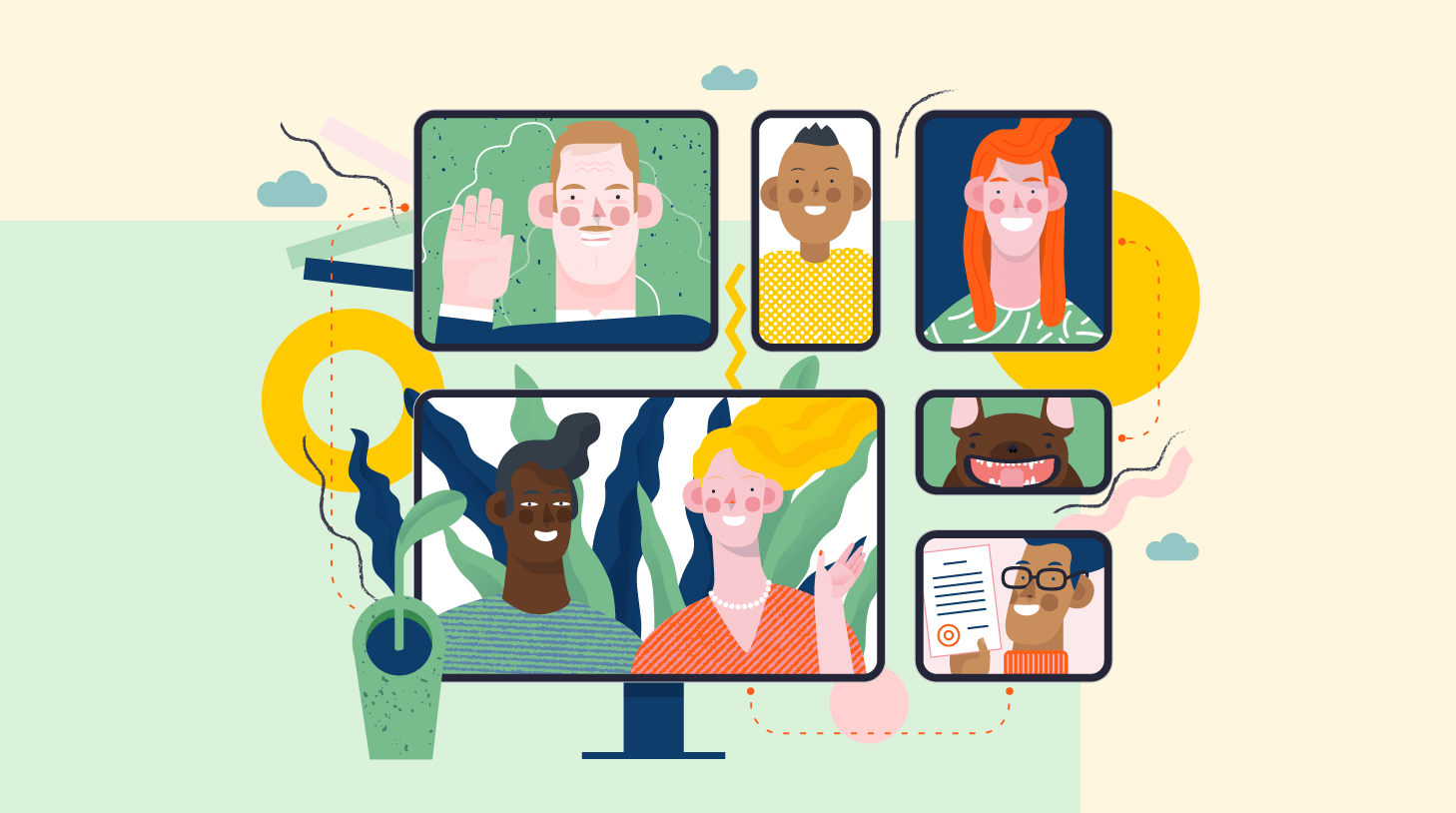 That's not to say the challenges aren't there.
Onboarding remote employees – in many cases, without having ever met them in person – is no easy task. In Workable's New World of Work survey, 37.4% cited remote onboarding and training as major issues when hiring in the midst of the COVID-19 crisis, while 49.7% said candidate onboarding would be problematic in recruiting in the post-COVID work world.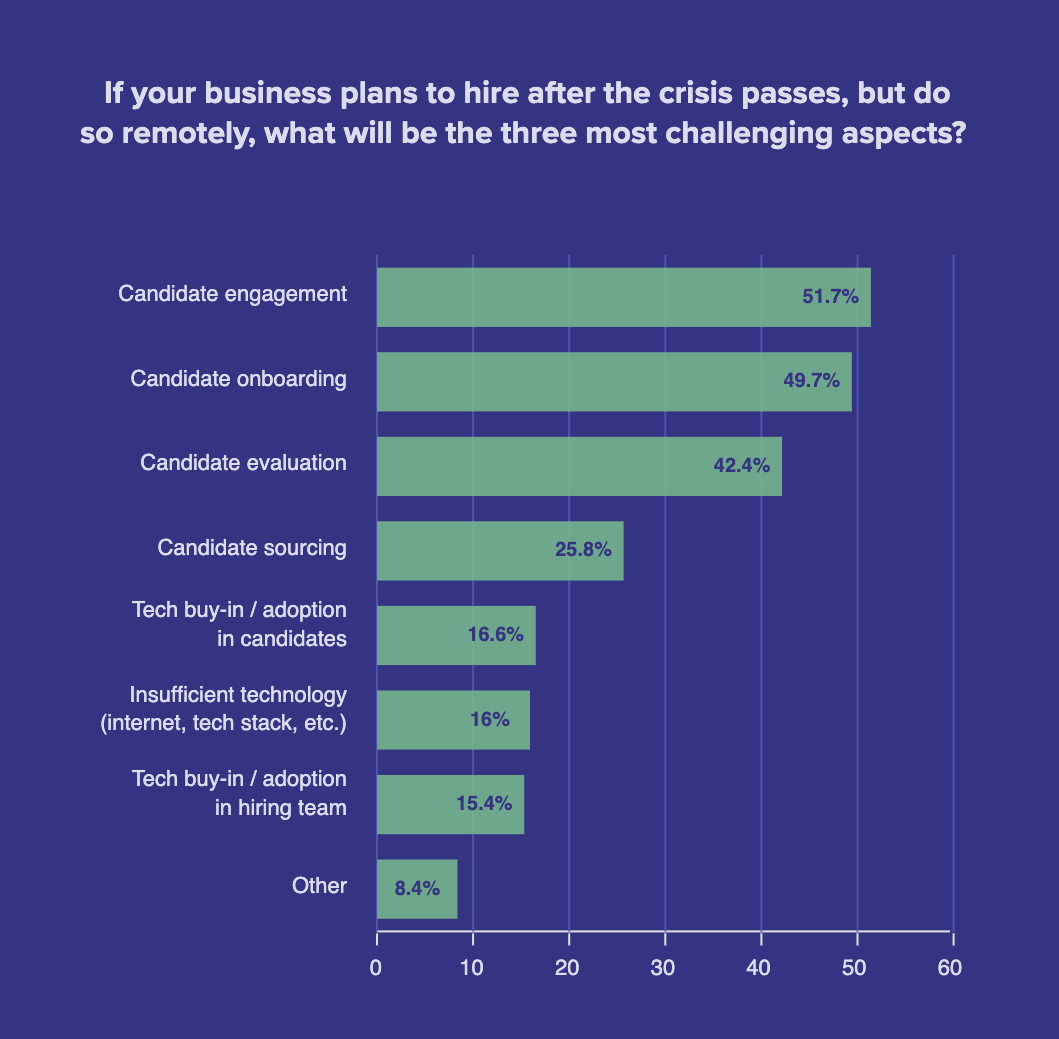 But Eric isn't one to be discouraged by those numbers.
"Regular meetings and discussions on Zoom, Hangouts, and Google Duo have helped us in overcoming all the challenges," he says.
He adds that there are business benefits as well.
"There's been a reduction in costs because no infrastructure is required in the workplace. Team members are arranging it at their distant locations themselves."
That'll be a welcome reassurance to the 26.4% of budget-conscious senior-level executives in the above-mentioned survey who said new hire onboarding would be one of the main overall challenges in the new world of work.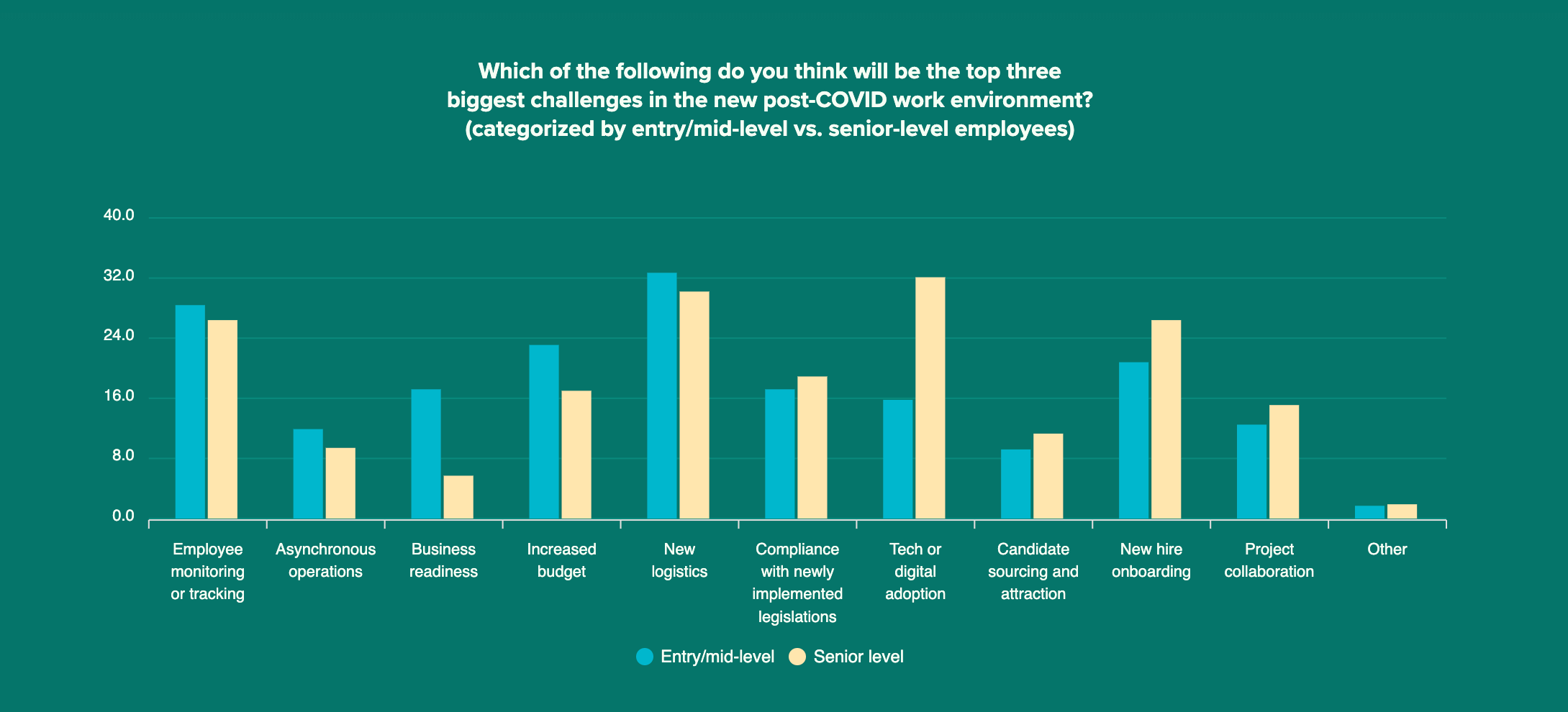 Camaraderie makes the team merry
Eric is just one of the dozens of business owners and managers who responded to our query for tips and tricks on remote onboarding. One lesson was clear from many: while a standardized process is especially important in successful remote onboarding, there's a lot more to it than that.
Companies thrive on teamsmanship and camaraderie, so you want to build those strong connections from the first day forward if you want the new hire to be set for success.
That's easier when it's done face-to-face, as those connections are built via introductions, meetings, and team exercises in a shared physical space. But strengthening work culture and bonding between colleagues is tougher virtually.
"Remote onboarding has been a big challenge because with this we're not able to introduce the new team members to the culture and environment of the organization," Eric says.
So, how do you get started on building connections in a remote work world, particularly when onboarding? It's not easy, but if you follow these best practices from those we heard from, you'll be able to build those important connections between your new hire and their new colleagues.
Here are four best practices for you to stay ahead of the new trends in remote employee engagement.
1. Be even more hands-on
It's easy enough for new hires to spontaneously chat with others when in the same physical workspace, but it's not easy when that new hire is sitting invisibly in front of their computer. They can't look around and chat with their desk neighbors or take a tour of the office and introduce themselves to people. That can severely impact new hire engagement from day one.
This puts the onus on you to be even more hands-on than you would in a normal onboarding process. This applies not only to HR but to colleagues and managers as well, says Neal Taparia of Solitaired.
"You have to be very hands-on to ensure successful onboarding," says Neal, the CEO of this new NYC-based company that ties classic games to brain training. "New employees are [more] hesitant to speak up via online channels than they are in person to get an understanding of everything. They don't want to ask too many questions over Slack, and ask for additional Zoom calls."
He adds that you also need to check in regularly to ensure that a new hire is headed in the right direction and is on track throughout your new hire onboarding plan.
Involve the hiring manager
The value of inclusive leadership is especially crucial for new hire engagement when working remotely, Neal emphasizes.
"It's easy for managers to forget to check in on new employees that have started remotely. [At Solitaired], we train our managers on what successful remote onboarding means. Specifically, we have a rule where managers should be checking in at least 10 times through the week to make sure everything is going in the right direction."
Husam Machlovi is the founder of digital studio With Pulp, which operates fully remotely out of New York state. His company has served notables such as AMC Networks and World Wrestling Entertainment. He also advocates for the active participation of hiring managers in the new hire's engagement.
"The most effective remote onboarding tool for us is simply to check in with each other," says Husam. "I like to check in with new hires and ask them how I can support in any way, how things are going, do they have any questions? My goal is to create a space where people feel safe to ask questions."
Grant Aldrich, CEO/founder of the Los Angeles-based online learning site Online Degree, says the manager or CEO is responsible for making sure everyone feels connected throughout the company, keeping new employee engagement high at this crucial time.
"This goes beyond checking in and extends to starting conversations and asking questions in your communication channels," he adds.
Michael Alexis, the owner of New York-based Teambuilding, a virtual team cohesion service, emphasizes the importance of active participation by all parties included – both the newly hired and the ones doing the hiring and onboarding.
"Following documents and watching videos alone is boring," says Michael. "It's important to us that these early days and weeks for a new team member are as engaging as possible."
Make yourself available – and ensure the new hire knows it
Dan Bailey of WikiLawn, an online lawn and garden care resource center which lists services all across the United States, notes that it does take more time to onboard someone remotely, as he simply cannot sit next to the new hire and walk them through all the steps of their job. But it's still important that he and his colleagues are available to the new hire for anything they may need on the spot.
Not only do his teams record videos with instructions and prepare documents to be more detailed, but also set response time as a critical measurement. In fact, he applies customer support standards to ensuring his new hires get what they need quickly.
"We've found that new hires often have many questions that can go unanswered for an hour or more if someone isn't assigned to being available to help them, so that is one way we've improved how we manage onboarding," Dan explains.
"At least one other teammate is available during working hours by messenger, email, and phone so the new hire doesn't have to waste time and become frustrated waiting on a reply."
2. Make the employee feel welcome
Austin Heerwagen of Koda Digital, a medical marketing agency operating out of Carrollton, Texas, admits that disconnection was an issue when operating remotely, especially with new hires coming on board.
"Our biggest pain point initially was gaining buy-in from new employees. There is no tour around the office, parking space, elevator ride, or birthday parties – employees can feel like they are a replaceable cog in a machine."
That makes it even more critical to make your new hire feel welcome and connected.
Caitlin Byrnes can speak firsthand to the value of this. When she was hired as VP at Peppercomm, a public relations firm in NYC, she found that her new company had a great new hire onboarding plan in place, but some things stood out above and beyond HR obligations particularly in a remote work environment.
"For instance, team members carved out time for virtual coffee with me, and gave me a positive 'shout-out' in my first all-hands meeting," Caitlin says.
"These personal touchpoints made me feel more comfortable working with a team I'd never met in person. Even more importantly, it helped me understand who I could go with questions when I couldn't just pop around the corner."
Line up meetings with everyone
Shayne Sherman, the CEO of TechLoris, a computer service in Brookline, Massachusetts, highlights that importance in the absence of water cooler conversations and "quick drops by one's desk".
"We made sure to make company intros and offer the chance to say a few words at the latest company all-hands meeting. From there, the new hire's manager would schedule a remote lunch or after-work drinks, via Zoom, to get to know each other and open the chat up to be a bit more informal."
Greg Hayes, CEO and co-founder of venture-backed office furniture startup Branch in NYC, makes sure the new hire is properly and formally acquainted with their full team right away.
"We ensure that each new team member has a lengthy 1:1 video chat with everybody on our team, to ensure they better understand everyone personally and what their scope of work entails. We also plan a happy hour around each new member's arrival to welcome them in."
Tara Lilien, the Chief Talent Officer at Peppercomm, takes it one step further.
"I think giving the new hire an opportunity to lead a meeting, facilitate a staff learning event or shadow a client meeting or call are all great on-the-job moments that will allow for stronger and quicker integration into the team."
Send them a welcome package
Austin at Koda Digital likes to make sure the new employee receives a gift basket containing company swag and attire, business cards, and gift cards for restaurants near them. He'll even make sure to include personal gifts based on interview discovery.
"For example, one employee really liked sloths, so we sent her a desk-buddy sloth to let her know that we care about her too – not just her work. In addition, on the employee's first day, we send out UberEats gift cards to everyone and have a 'catered' nice-to-meet-you lunch."
Kick things off with a friendly, informative email before their first day, setting the tone going forward.
3. Don't assume everyone knows your tech, because they don't
When you're working in a company that utilizes a lot of technologies and has fully jumped on board the digital transformation train, it's easy to fall into the trap of assuming that everyone knows your tech stack. Don't do that, says Neal at Solitaired.
"Some of us use Google Apps and Microsoft apps so regularly, we assume everyone knows these systems as well as we do. This is definitely not the case."
He learned this the hard way, too. One time, he hired an employee that had never used the Google productivity suite and they were too embarrassed to admit that. That made onboarding an especially painful process.
Doesn't matter who's at fault for it – it's a negative first experience for the new hire that starts things off on the wrong foot.
Get them acquainted with tech quickly
Get ahead of the problem, Neal recommends. "Take an intake survey beforehand. If someone does not know about Google apps, we ask them to read up on it beforehand, and give them a tutorial on their first and second day of work."
Amy McWaters, the CEO of Gifts Australia, a souvenir e-commerce company in Sydney, Australia, also finds that tech adoption remains an issue in the remote new hire onboarding plan. Late logons, lost connections, and struggles with tech integrations continue to be a pain point for her company. She recommends taking care of things even before the first day of onboarding or training – effectively preventing a problem before it even occurs.
"Work under the assumption that tech issues will arise, if not on your end, then on the trainees' end," Amy says. "Give installation instructions at least three days out."
Gargi Rajan, general manager of human resources at Mercer / Mettl, an HR technology company operating just outside of New Delhi, India, likes to get several birds with one stone: hackathons. The benefits are multiple: it helps onboarding in a remote manner, gets new hires quickly acquainted with their new colleagues, and puts everyone on a level playing field bonded by a common interest. Tech adoption is a huge, huge bonus.
"Since everyone understands the challenges at hand," Gargi explains, "they all come together to accept the technological tools and processes as partners in working smoothly and seamlessly."
But don't be fazed if you do run into some issues with tech adoption among your existing and new employees. It may seem daunting on the surface, but with a silver lining underneath.
"Every aspect has its limitations," Eric at Couture Candy says. "Maybe we wouldn't have known the creativity required in businesses if tech adoption was quick and easy."
4. Make it a two-way street
Even as an employer who knows your company inside and out, you can't assume to know everything that the new hire needs. So, establish a two-way street – solicit feedback from your new employees and refine your new hire onboarding plan based on what they've shared with you.
Neal at Solitaired is quick to that point, having new employees fill out a daily survey about their onboarding during their first week on the job.
"It became a forum where they could clear up any confusion, and for us to get them back on the right track. It's simple and effective."
At Branch, Greg encourages new employees to be "hungry learners" and not to be afraid to ask any questions.
Listen, learn, and improve
Phil Strazzulla, the CEO at the online review site Select Software Reviews, doubles down on collecting feedback from your new colleagues, acknowledging that it is new ground for many companies.
"Ask your new hires for feedback on the [new hire onboarding plan], what worked and what didn't. Get your HR team as well as your managers together to go over the results and make changes to address them."
Jitesh Patil, SEO and content specialist at project management software company Toggl Plan in Tallinn, Estonia, also advocates for this measure of successful remote onboarding – and himself works remotely from Maharashtra, India.
"We request regular feedback from new joinees — end of week 1, end week 2, end of the first month, and so on."
This series of sample questions for your new hire can help you collect valuable feedback on your remote new hire onboarding plan.
Set up an open Q&A channel
Michael at Teambuilding takes a unique approach to the two-way street in his company's remote onboarding strategy.
"One way we've made the onboarding process more engaging is using employee journaling. For each new hire, we create a private channel in Slack where they can share their thoughts and ideas," Michael explains.
"For example, it might be a note like, 'I'm a little confused at who these people are', and then we can chime in with info about team members or organizational structure. The journal also introduces fresh eyes to our systems to help improve. For example, 'I noticed that XYZ is inefficient, and in previous roles I've done it this way that was more efficient'."
It can also be a morale booster for those doing the actual onboarding, he adds.
"[We] are happy to receive feedback like 'never felt so welcome in any of my jobs before' or 'everyone is so welcoming here'".
Maximize the connectivity
Nuances are often lost in the remote work world. You can overcome that by getting everyone as involved as possible, ensuring the new hire feels part of the team from day one, staying on top of any potential tech hiccups, and establishing open two-way communication channels. That will set your new hires for success as early in the game as possible.
It also helps your existing employees get better acquainted with each other – including their individual styles and working habits – and fosters a more cohesive team environment, even in a world where few people have actually met but still work together on a daily basis.
And this doesn't need to be a chore, either, says Eric at Couture Candy.
"Remote onboarding is fun if you enjoy it," he says with a smile.
Want to read more? Check out our tutorial on reducing new hire turnover in your company.