Survey: Upskilling and reskilling in 2020
A McKinsey global survey in February 2020 found that nine in 10 executives and managers are either already facing skills gaps in their organizations or expect gaps to develop within the next five years.
What's more, one-third of them say their companies aren't even able to cope with workplace disruptions from technological and market changes.
Albeit pre-COVID, the spirit of that survey still stands. Skills gaps exist, and they continue to exist (here's how to conduct a skills gap analysis in your own organization). If you're reading this, it's likely a challenge in your own company as work environments become more volatile. This calls for greater utility and adaptability in its players. Add to that a shift to a remote-first environment – the suddenness of which means a very steep learning curve in a very, very short time.
For recruiters and HR managers, hiring, onboarding, and yes, training have all shifted to Hangouts and Zoom. Many of our own customers have come to us highlighting this as a major challenge.
So, whether there's an existing skills gap or a newly surfacing one due to the new working environment, there's one way to close that chasm: through upskilling and reskilling programs.
So, we joined forces with upskilling and reskilling experts TalentLMS and with Training Journal magazine to look at the current picture of upskilling and reskilling.
The survey's key findings include:
42% of companies stepped up their upskilling and reskilling efforts after the coronavirus outbreak.
42% of employees have pursued training on their own after the coronavirus outbreak.
68% of companies invest in upskilling and reskilling training to handle changes within the organization and 65% to train employees on new technologies.
20% of employees received their training solely online compared with 11% doing it entirely offline. 69.5% of employees received a combination of online and offline training.
Communication/collaboration (57%), Leadership (54%), Proactive thinking (50%), and Agility/Adaptability/Ability to Pivot (45%) were cited by employers as the most important soft skills lacking in their employees.
Companies believe that employees are lacking communication/collaboration, leadership, and proactive thinking skills.
91% of companies and 81% of employees say upskilling and reskilling training has boosted productivity at work.
First, we asked companies whether they have ever provided their employees with reskilling or upskilling training – 92% of respondents say they, in fact, have.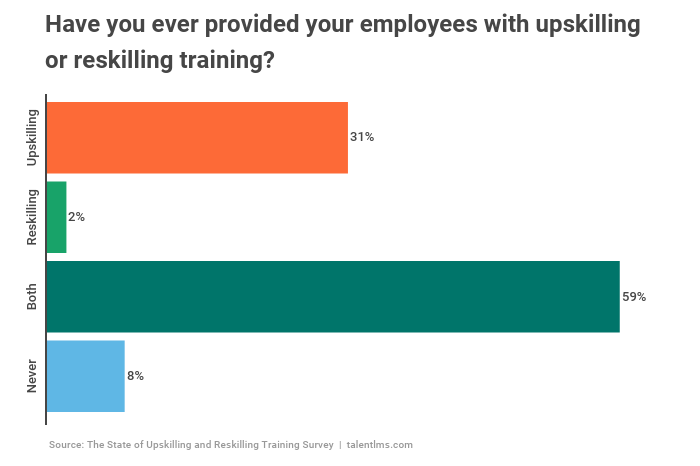 When we rolled out the survey, the COVID-19 crisis had already started to impact the workplace. Questions around COVID-19 were then included.
Training in the COVID-19 crisis
During the crisis, 43% of employers took the opportunity to build on skill sets: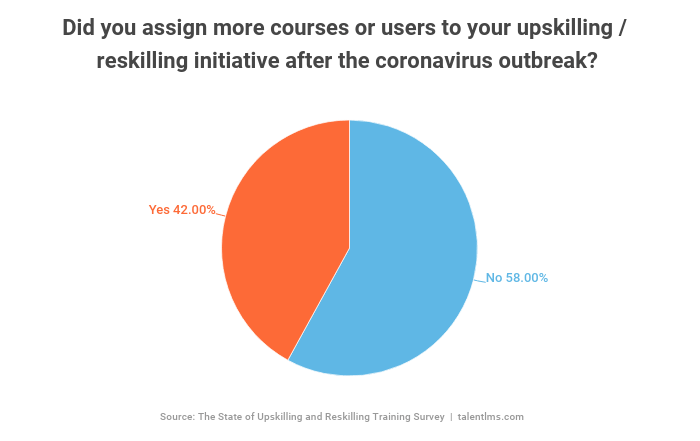 "In this rapidly disruptive period, employers recognized the need to equip their workforce with new skills – quickly – to maintain productivity," says Keith MacKenzie, Workable's Content Strategy Manager.
"For example, the shift to remote work for many companies has led to an urgent need for new soft skills such as the ability to work independently and asynchronously," Keith adds. "Recruiters and HR managers normally accustomed to in-person hiring, onboarding and training are suddenly needing to develop skills to continue to do all of this, online, in a virtual environment."
Eleftheria Papatheodorou, Customer Support and Training Director at TalentLMS, highlighted the value of online training:
"In this collective time, companies across industries, no matter their size or needs, moved their training online to keep going," Eleftheria says. "Not all companies indeed assigned more courses after the coronavirus outbreak, but they definitely will in the future since all their existing offline training is, for the most part, officially online. We're entering a period where online training is not another solution but the only way to go. Employers like it, employees love it, and it gets you geared up for the unexpected. So what could go wrong?"
However, not all employee expectations were met – 42% of employees said they pursued outside training in addition to their employer's existing program.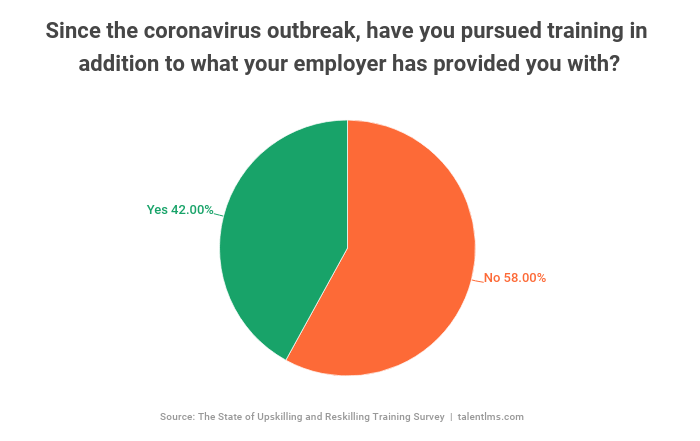 More than a quarter (27%) of employees said they received no upskilling or reskilling training from their employers, and 65% of those pursued training on their own. This shows a clear desire for employees to build themselves up – making upskilling and reskilling programs a powerful tool in a company's candidate attraction strategy.
So, not only are recruiters, HR and hiring managers looking to develop their skills in a new virtual world of hiring and onboarding, they're having to develop those skills online. Which brings us to:
Training delivery
A blend of offline and online learning was cited by 69% of employers when asked how they deliver training. However, with a virtual working environment becoming more commonplace in the new world of work, a shift to a more online-friendly training program is likely.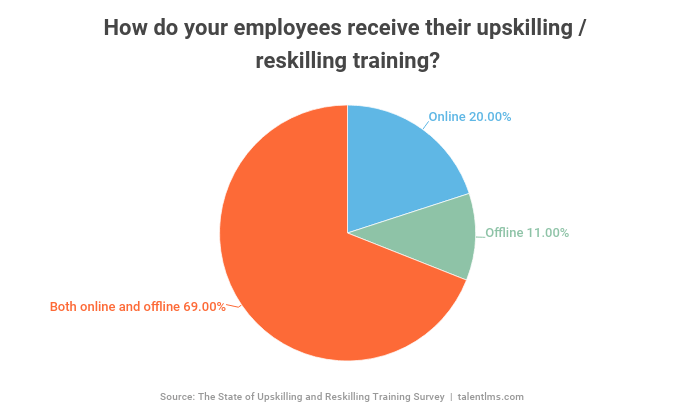 Six in 10 employees also preferred online as opposed to offline training as well. This number likely becomes higher when working in a remote-first environment and employees are reluctant to physically attend training sessions in a group setting.
Soft skills valued higher up the ladder
The survey found that the value of soft skills increased with seniority within the company, with just 40% citing soft skills as the most important for entry-level compared with 81% for executive-level. With hard skills, the numbers skew the opposite way.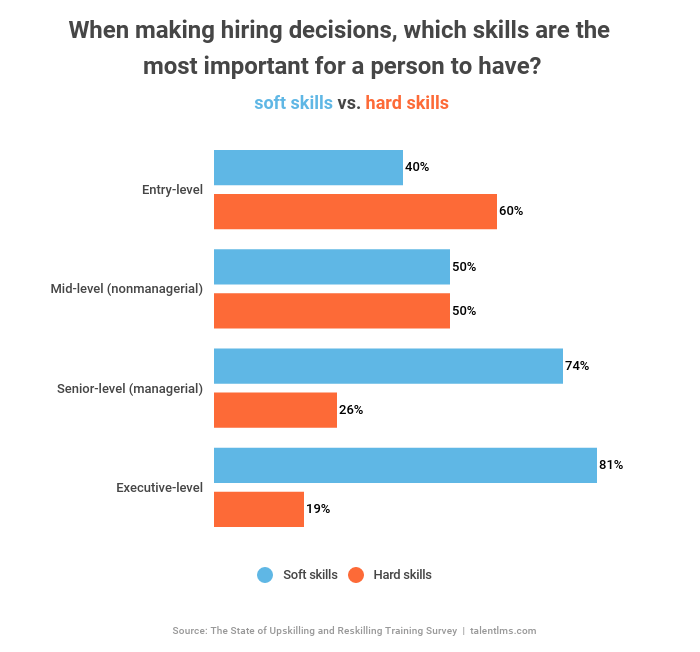 What soft skills are coveted, then? The ability to communicate effectively with others, to lead, to think proactively, and to be agile and pivot quickly were cited as major soft skills lacking in employees – with the last one a valuable skill particularly when working in a rapidly shifting work environment during the COVID-19 crisis:
So is it worth the time and effort to build up your staff? Well, three out of four of employers said upskilling and reskilling were a huge boost to company productivity, and 58% saying it benefited their employee retention.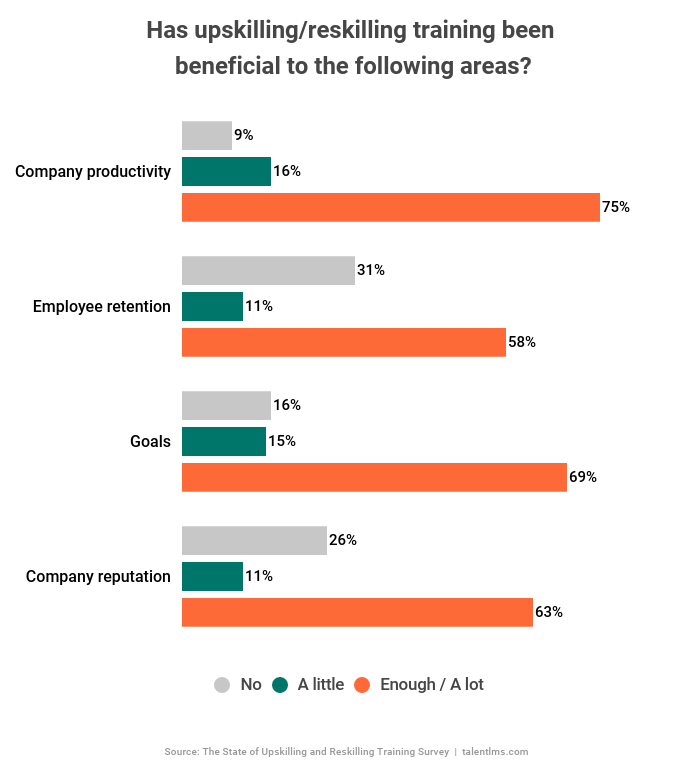 Not only do you want to retain your employees (the costs of not doing so can be an eye-opener), you can double down on the benefit of a program by highlighting this as a perk in your job descriptions. The survey found that 74% of those employees who haven't received any upskilling and reskilling training would prefer to work for a company that offers upskilling or reskilling opportunities.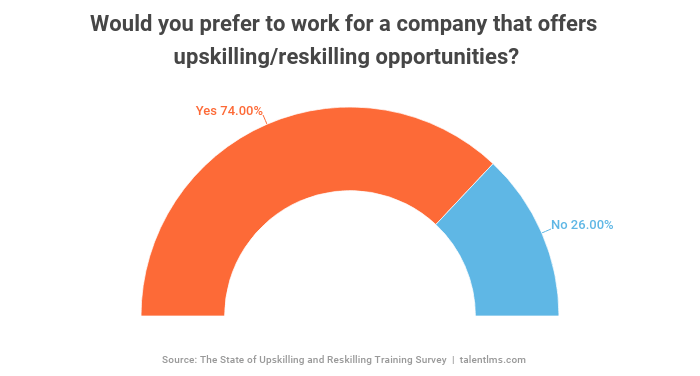 In closing, the business case is clear – an upskilling and reskilling program can have a positive impact on your organization's bottom line in the following ways:
Higher employee engagement and retention
Greater productivity
More attractive employer brand
And, of course, strengthening your incoming and existing employees with new and valuable skills will help close that glaring skills gap highlighted by McKinsey.
End note: Check out a more in-depth analysis of the survey results from Aris Apostolopoulos at TalentLMS, who also contributed to this article.
How we did it
TalentLMS, Training Journal, and Workable surveyed 282 training and hiring managers, C-level executives, and decision-makers in various companies to see why they decided to reskill or upskill their workforce and how beneficial it's been to business. Then, we reached out to 400 full-time employees in the US between the ages of 18 and 54+ to ask them about their employers' upskilling and reskilling training initiatives.