A return to normalcy: When will work go back to business as usual?
This is the last in a series of excerpts from our New World of Work survey report which was published in August 2020. More than 350 respondents filled out the 30-question survey, resulting in numerous compelling insights both for business and recruitment interests. Here, we learn about when businesses expected to return to "normal" and share our conclusion on the survey findings.
In this chapter, we address the following questions:
When do businesses expect their operations to return to "normal" after COVID-19?
When do businesses expect their industry to return to "normal" after COVID-19?
The COVID-19 crisis is unpredictable and volatile, making the future hard to plan for. However, our respondents do have to make projections on a return to normalcy so they're not operating fully in a vacuum in the new world of work.
Post-COVID world
So when do we return to normalcy or at least return to some semblance of stability? We asked that question as it applies to business operations and to the overall industry.
"I have been amazed at how well our team have adapted to working from home. We have all acknowledged that we miss the team interaction, but I really feel we've got to know each other more, we've had daily calls since the lockdown, which has helped our split-site company. I think it will take time to accept the new normal, but we will get there. … I hope that we take all the learnings we've acquired during this lockdown and bring these forward. Our air is clearer, our seas are cleaner, we recognise the importance of being connected after being so isolated for so long, we appreciate the small exercise time we've had outdoors. The world will be different, but so much potential to be better too." – Survey respondent
There was no clear consensus on when there would be a return to normalcy – only that 4-6 months was the most popular answer for both own business operations and for industry. The differences between "business return" and "industry return" were quite marked in the 0-3 month category, with 21.9% of businesses saying they'd return to "normal" within three months compared with 13.5% saying their industry would return to "normal" in the same time frame.
The opposite was true for a return to normalcy within 1-2 years – with just under 10% of respondents seeing their business returning, compared with 16.9% for their industry returning.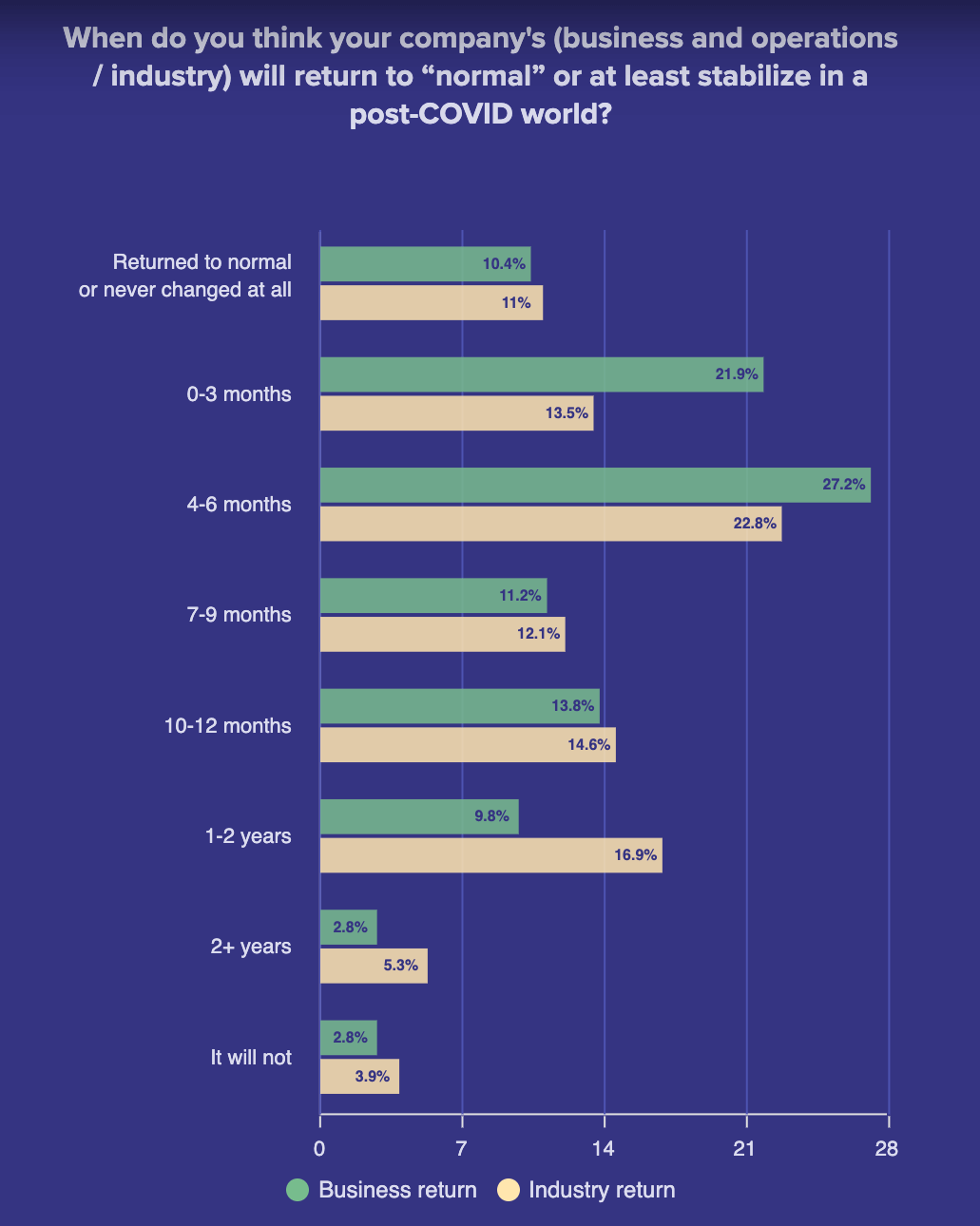 When we dissect the "business return to normal" responses by senior-level positions versus entry/mid-level positions, senior-level workers projected a longer road to recovery than their entry/mid-level counterparts. They were also more likely to say their business had already gone back to normal or hadn't been affected in any way.
But it's interesting to note that nearly twice as many senior-level as entry/mid-level employees think their business has already returned to normalcy.
Overall, a very small percentage of respondents across the board think it won't return to normalcy or take longer than two years to do so. The short interpretation of this is that most respondents do think there's an end date to the COVID-19 crisis and its impact on business and industry. It's just a matter of when.
"In our industry, it will never return to before COVID-19. We will need to change our focus to marketing to consumers within our own country, province or within driving distance. The visitors from around the world will be minimal." – Survey respondent

"This time shall pass. Social distancing will end. We will all be back to being regular humans again." – Survey respondent
Conclusion
Our initial goal in the survey was to identify when businesses thought they would return to normalcy after COVID-19 – in short, when the future workplace would arrive. That part of the survey, however, resulted in the most inconclusive findings.
What we learned, instead, is that remote work is clearly the way forward, digitization of processes is the way to enable that shift, and employee engagement is – understandably – a mounting concern in the future workplace.
Also, most of our respondents either have the tech tools to operate in a remote world of work, or are at least aware of or plan to introduce more tools to support that new work environment. The basic know-how of work has not changed; recruiters and hiring teams, for instance, still know how to source, evaluate, hire, and onboard candidates – but they aren't fully versed on how to do all that in a remote environment.
Finally, the emphasis on the solutions of more meetings, more "coffee dates", and all-hands to maintain employee engagement in a virtual work world as opposed to new trainings for a new world echoes Einstein's famous quote: "We cannot solve our problems with the same thinking we used when we created them."
The remote world of work is here to stay, and there's a clear willingness to adapt to that new world – at least in the adoption of new technology. But in order to really succeed in this new world of work, we need to loosen up on the traditional operational practices, and start thinking about different solutions and practices so we continue to set ourselves for success. In short: the new world of work requires a new way of thinking.
Want to learn more? Navigate to: