How to build your employer brand online and offline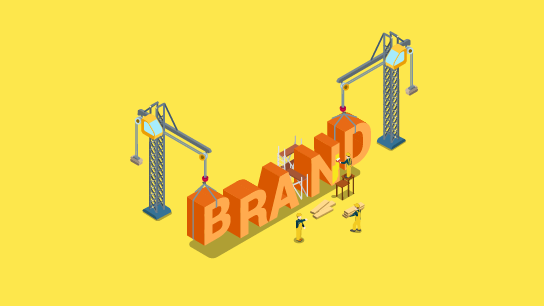 Employer branding is not about advertising that you're a good employer. It's about being one. Companies with strong employer brands recruit good employees faster and retain them in the long-run.
Here are some strategies for building your employer brand, with examples from companies that do it well:
How to build your employer brand online
Respond to online reviews
You can't control what people say about you online, but you can control how you respond. Use the feedback you receive from Glassdoor or your own candidate experience survey to construct your employer brand. If, for example, past candidates share negative interview experiences, you may consider training your hiring managers on interview techniques.
Even if they're harsh, respond to negative reviews with grace. Tell candidates and employees about how you're trying to improve to show your brand's empathy. Address their comments with empathy. In this employer branding example, the management team at Zillow, an online real estate database company, replies to all their Glassdoor reviews: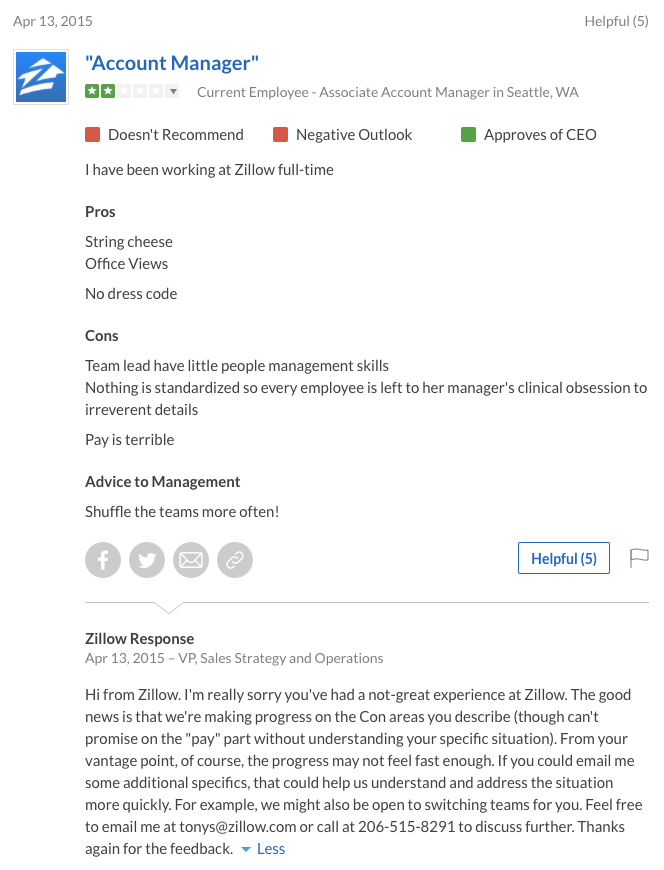 Related: How to post a job on Glassdoor
Be authentic on social media
When it comes to your social media strategy, be yourself. People can tell if you're faking it, and they'll likely be discouraged from applying for your open roles. Use social media to showcase your employer brand, share office moments and give employees a voice.
You may choose to be active on one or more social networks, depending on your culture and messaging. For example, you could post your jobs on Facebook. Or, you could capture company events moment-by-moment with Snapchat. Warby Parker uses a mix of social networks to advertise their glasses and share their culture. The company knows that showing what it's like to work at Warby Parker (by using the hashtag #teamwarby) will attract potential hires.
Here's what a Warby Parker weekly meeting looks like:
And here's how employees spend their 3 p.m. breaks:
Spotlight your employees
Employees serve as ambassadors for your employer brand. Use employee testimonials to add a human element to your careers page. Testimonials should feel genuine. Most candidates want to know what their potential future coworkers like about their jobs.
Consider shooting videos of employees at work, while also providing an office tour. Or, get your hiring manager on Twitter to chat with candidates and share interview preparation advice. Sodexo, the French food services and facilities management company, recognizes employees on their Facebook and Twitter accounts through sharing employees' stories, accomplishments and career tips.
"Forty-seven percent of candidates have used the company's social platforms to prepare for a position," says Arie Ball, the company's former VP of Talent Acquisition.
Are you a thoughtful leader like Cathy? Or passionate like Chris? Take this QUIZ to find out! https://t.co/FA0w8jcGTQ pic.twitter.com/wmZ1GhH2Zw

— Sodexo USA Careers (@SodexoCareers) May 8, 2017
How to build your employer brand offline
Appraise and reward employees
Research shows that you can increase employee engagement and retention by recognizing employees. To recognize employees' hard work, you have to measure their performance effectively (and often).
Transform your performance review process from an annual sit-down into frequent appraisals. Cargill, the American food producer and distributor firm, implemented an Everyday Performance Management process, which encourages daily discussions between managers and employees. According to LeighAnne Baker, the company's VP Human Resources, the shift to daily feedback increased employee engagement by 10 percent.

Design career paths
Plan training programs that will help employees develop their skills within your company. If promoting them is not an option, consider training employees on a new tool or offering them tickets to industry conferences. Less formal training techniques, like a subscription to a library or an e-learning course, could also develop employees' career paths.
Wegmans Food Markets does this well. The company ranked 2nd on the Fortune 100 Best Companies To Work For® list for 2017. The U.S. supermarket chain engages employees by investing in their careers through culinary and management training programs. Internal promotions are also a big part of Wegmans' recruiting strategy. As a result, Wegmans has a five percent voluntary turnover rate for full-time employees.
Offer meaningful employee perks
For Google-like companies, building an on-site gym is an easy way to attract and retain employees. But, inexpensive perks, if thoughtfully planned, can also motivate employees.
To avoid spending money on perks that your employees don't care about, ask them what they'd like to see. Poll them in internal surveys or informal discussions. Then list these perks, if you can offer them, in your job ads. Policies like flexible working hours and work from home will go a long way towards making employees happier. Holiday Extras, the UK company dedicated to making travel hassle-free, proves that employee perks and company events needn't be luxurious:
Eating pizza, drinking beer and watching #Googleio2017 with my awesome @hxlife team pic.twitter.com/t1aXhbubnr

— Mike Holloway (@pighoof) May 17, 2017
While one company's successful employer branding strategy mightn't work for another one, your employer brand is what differentiates you from competitors. Make sure it's unique, represents your values and attracts the people you want to work with.