How to scale up your hiring process: 13 features for rapidly growing companies
From rapidly growing startups to scalable enterprise organizations, Workable provides the tools, know-how and support companies need to meet their ambitious hiring goals.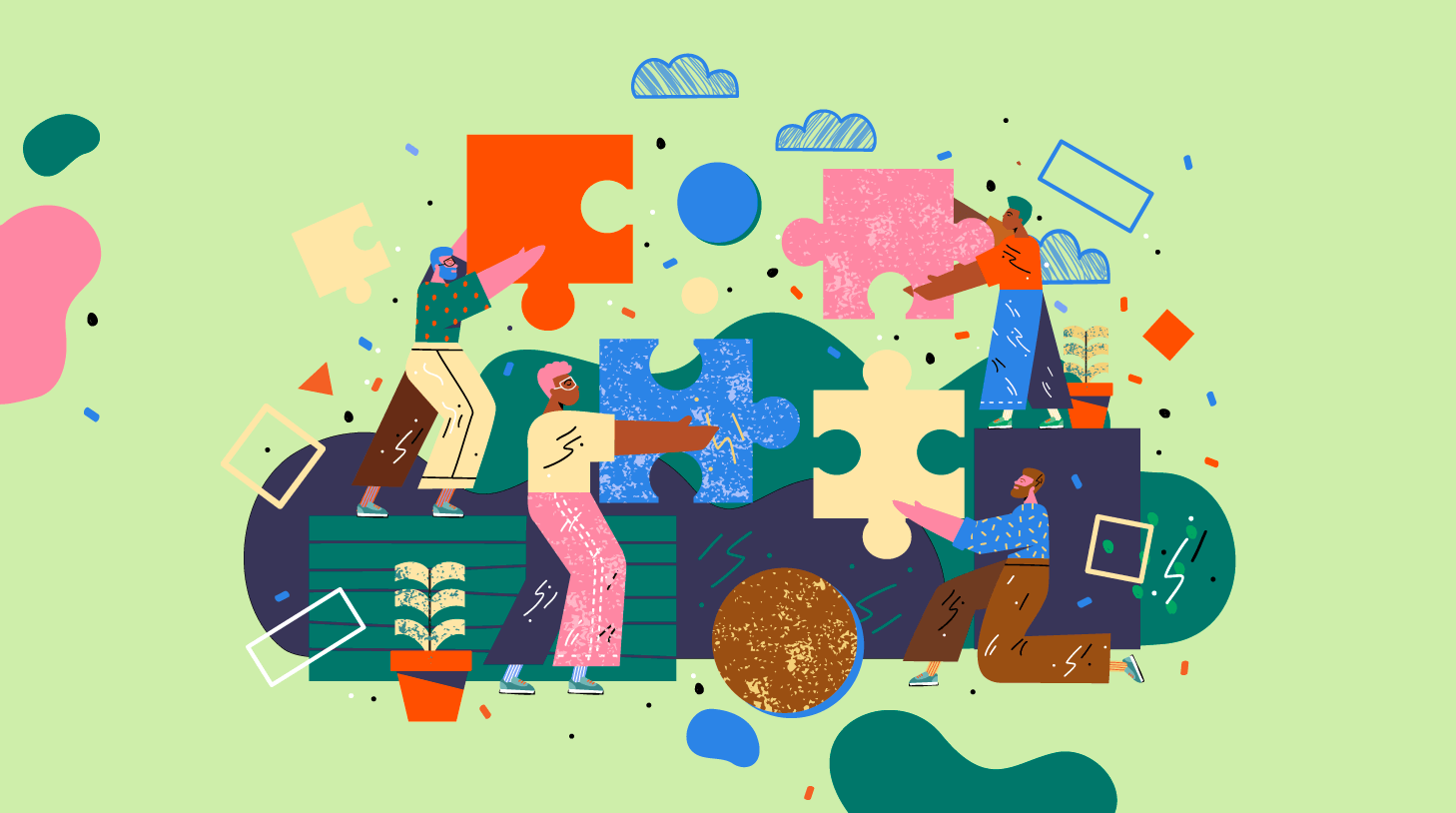 Whether you're growing from one to 100, or hiring 100 new employees, here are 13 essential Workable features to help you scale up your hiring to align with your overall business goals.
How to scale up your hiring: 13 features for rapidly growing companies
1. Hiring Plan
2. Department Hierarchy
3. Access rights and permissions
4. Integrations
5. Compliance
6. Interview self-scheduling
7. Automated actions
8. Bulk actions
9. One-way video interviews
10. Mobile app
11. Customer support
12. AI Recruiter
13. People Search
Maintain transparency, accountability and control
When you scale up your hiring in a company that's growing aggressively, that hiring process no longer involves just the recruiter or hiring manager. There are other stakeholders involved, including those at the executive level, department heads, finance managers, and others. Plus, the recruitment process grows in complexity as you're no longer hiring just to fill a seat.
For that, you need to have a recruitment system that maintains transparency to all interested parties, holds them accountable to their respective roles in the hiring process, and is controllable all in one place. The following features will enable you to have such a system in place.
Rapid growth requires a strategic hiring plan that's as dynamic as your company. You might be able to manage requisition approvals manually for one or two employees, but certainly not two hundred at a time. When you're hiring at high volume, you need an organized approach so you can prioritize requisitions properly, budget them accurately and maintain visibility at all times.
With Workable's Hiring Plan, you can track requisitions, manage approvals and review budgeting data, all in real time. Hiring managers create requisitions when they need to hire, and follow standard or custom approval workflows. As roles are opened and filled, your Hiring Performance report updates automatically, so you can track changes, make adjustments and forecast your hiring budget for the year.
As your organization evolves, so does your organizational structure. As teams change and expand, you need a system that makes it easy to adapt.
Enter Department Hierarchy. This centralized department management makes it for you to manage custom departments and hierarchical structure — meaning, as your company grows your hiring structure does, too.
Filter your careers page, dashboards and reports based on the departments you've set up and organize key features of the hiring process by department and location. Super admins control every aspect of department management and setup, so you can maintain strict control and organization as you scale up your hiring process.
When you grow from five to 500, the number of people involved in the hiring process expands exponentially. With more users and varying degrees of seniority, it becomes more difficult – and more essential – to protect sensitive data. Control who sees what, when with Workable's roles and permissions.
User roles define which hiring tasks team members should (and can) perform, and user permissions ensure they get just the right amount of access to get the job done.
Growing companies usually don't depend on just one system to get their hiring done. From SSO to background checks to HRIS and onboarding Workable connects with the tools you rely on.
With Workable you can transfer candidate data seamlessly and safely or connect to your business intelligence suite to access robust analytics and measure custom KPIs. Need to go custom? With Workable's open API and world-class Tech Solutions team, nothing is out of reach.
Check out Workable's extensive list of integrations.
5. Compliance
Managing compliance can get more complicated as your business grows. As you expand across countries and continents, so does the list of regulations and laws you must comply with.
Workable helps you navigate local, national and internal regulation – no matter where you're operating. Our suite of automated compliance features make it easy to manage and demonstrate compliance. Whether it's GDPR, CCPA or EEO – Workable has you covered with features like automated data deletion, candidate opt-out links, and anonymized candidate surveys and reports.
Save time, automate admin and hire at scale
When you're processing hundreds of applications for a single job opening, that's a lot to manage. That number grows exponentially when you're filling multiple positions at once and on a regular basis. The following features will help optimize the process in a scalable way, and avoid lengthy delays in the recruitment process.
It can take days to coordinate scheduling for just one candidate — imagine trying to do it for one hundred! At a rapidly scaling company it's downright impossible to schedule interviews the old-fashioned way — 100% admin and 0% value added.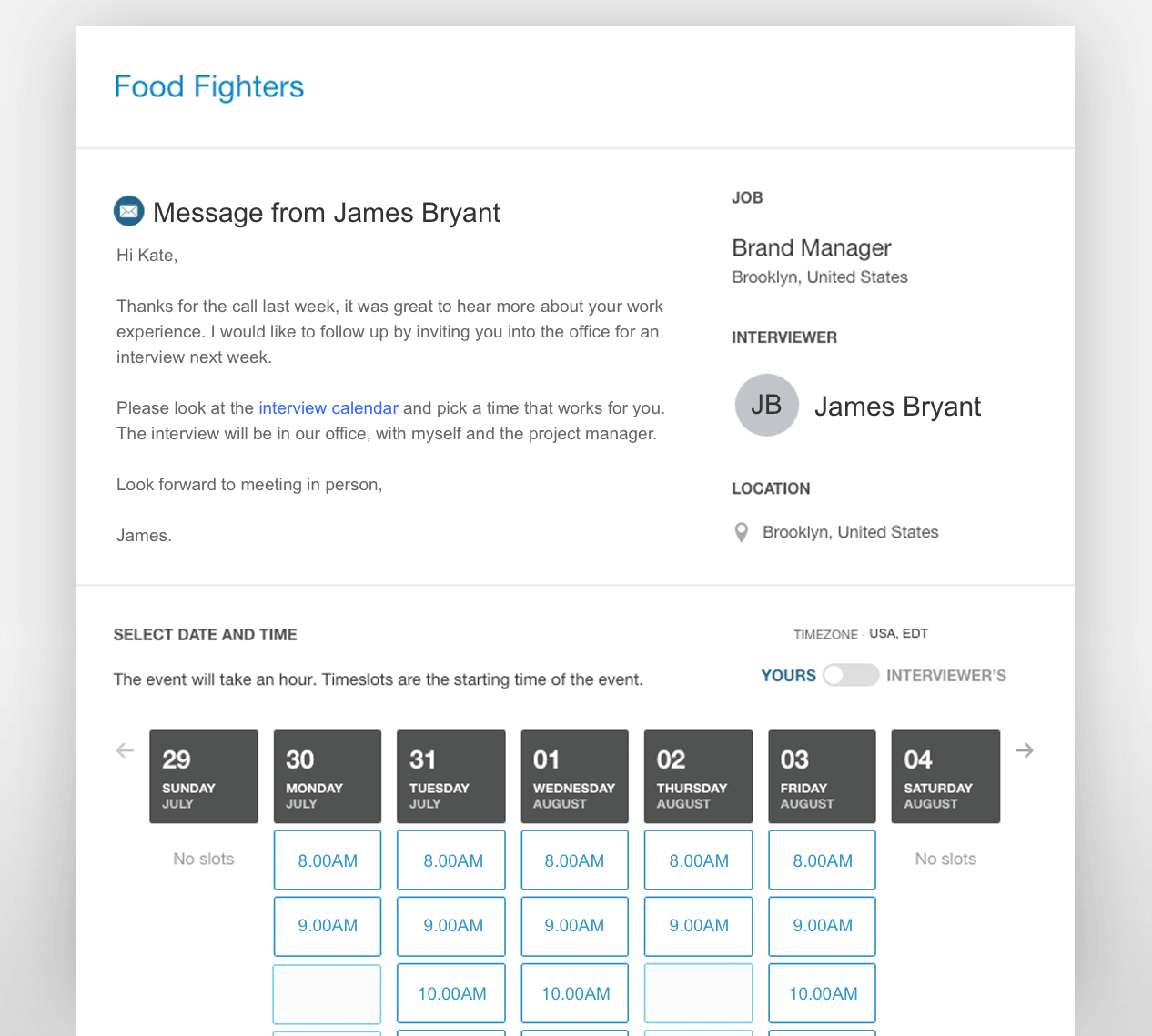 With Workable's self-scheduling option, you can eliminate the back-and-forth and book timely, convenient interviews with just a few clicks. In your initial outreach template, simply include the self-schedule link. The candidate can view the available slots on your calendar and book on the spot. All you have to do is show up!
Stuck doing the same old boring hiring tasks over and over again? They're not just tedious, they can also cost you serious time and effort when multiplied over hundreds of open positions. What seems like just two minutes can easily turn into two hours of admin work per day as candidates and open roles pile up.
With Workable's automated actions you can increase productivity and speed up time to hire by automating repetitive tasks, emails and invites. Develop custom email templates and create automations by job, department or hiring stage.
Whether you're sending an assessment test, self-schedule interview links or disqualification emails – Workable makes it easy to set up, cancel and edit automations.
At a rapidly scaling company, you're likely dealing with hundreds or thousands of candidates. Taking basic actions like sending emails or disqualifying applicants, can take ages if you're forced to do it one-by-one.
Luckily, Workable's bulk actions make it easy to take action with just a few simple clicks. In Workable, you can use templates with bulk emails to email sourced candidates or send mass rejection emails to disqualified applicants.
Simply open the hiring stage, select the candidates you'd like to email and click 'send bulk emails' from the bulk actions menu. Workable even has built-in duplicate detection to prevent candidates from receiving emails twice.
When you're scaling up, you need your time-to-hire to go way down. You need tools that will help you screen at scale, and more easily identify qualified candidates. Enter, Video Interviews. Video Interviews reduce the time you need to spend communicating, scheduling and carrying out the screening process.
Workable's one-way video interviews are built with the candidate in mind – there's no messy tech, no downloads and no leaving the application form. It's all built into the Workable platform, which also makes it easier for the hiring team to collaborate and compare feedback. And since hiring teams can review responses and provide feedback at any time, from any device, you'll identify your best candidates faster, too.
Engage the entire hiring team
Hiring may be in your day job, but it's not always in the day job of the hiring manager or executive. Nevertheless, to do your job well, you need their active participation. The following two features will help you make their part in the process easier – which in turn makes it easy to do your own job even at scale.
The hardest part of hiring at scale can be getting hiring managers on board and engaged. The mobile app makes it easy for hiring managers to stay connected, no matter where they are.
The mobile app acts as your personal assistant giving you an overview of upcoming events, overdue tasks and all the helpful context you need. You can screen, communicate, evaluate and even hire, all from your phone.
Learn how a Workable sales executive hired 20 salespeople in three months using her smartphone, despite a packed schedule.
11. Customer support
When you're at a high growth company, you can't get hung up on a tech question. You need real answers from real people, real fast. Workable's global support team has you covered, no matter what timezone you're in.
An agent is never more than a simple call, chat or email away. And, with a 95% customer satisfaction rating, you could say we specialize in solving problems.
Fill your (rapidly growing!) talent pipeline
Finally – talent shortages and niche roles often pose a challenge to recruiters who need to attract the best and brightest candidates to your company. This feature will help you.
When you've been tapped to help your company double in size by scaling up your hiring, the best place to start is with a healthy talent pipeline. But instantly filling your pipeline with a host of diverse, qualified applicants is easier said than done.
Until now. With Workable's unique sourcing toolkit you won't need external recruiters or additional sourcing software to get a leg up in the talent market. With AI Recruiter you can take sourcing into your own hands. Get a list of the top 50 passive candidates for every job in your account, instantly. Add them all into the sourced stage with one click.
Already know what skills you're looking for? Leverage the power of the internet in an instant. Be as specific or as general as you like while running a full boolean search based on experience, keywords, location, education, etc. You'll get matching passive candidates with their best contact info.
Learn how an insurance startup tripled their employee base in 2.5 years, hiring for difficult-to-fill niche roles using People Search.