I'm too busy to hire – my mobile ATS is my only solace
My professional success depends on hiring the right people at the right time. But I constantly feel like I have no time at all. This hiring-time-paradox plagued me throughout my career. Then I realized I could hire people on my phone using a mobile applicant tracking system (ATS) app. It's been a total game changer for me.
I'm still busy, but I have successfully hired 20 salespeople on my phone in the last 3 months.
How we used mobile recruiting:

For me, using a mobile ATS app to hire employees offers the same benefits as Twitter does for news. I would never be able to find the time to sit down and devote an entire half an hour to watching the news every evening, like my parents do. But by checking Twitter during short breaks throughout the day, I can keep updated on the news in a natural way.
Mobile recruiting apps offer the same benefit for hiring. A mobile ATS allows me to repackage recruiting as an on-the-go task, instead of an all-consuming one. As a hiring manager, hiring isn't a one-track-task for me, like it can be for full-time recruiters. I can't devote chunks of desk-time to logging into a web-based applicant tracking system to move candidates through my hiring pipeline. (My schedule simply doesn't allow me to.) But, I can find the time to weigh in on the hiring process on my mobile app, during short breaks throughout the day.
Why mobile hiring works for executives:
Using a mobile ATS is the only way I can fit hiring into my schedule. By the very nature of my role as a VP of Sales, my calendar is always booked. Like many other executives, my schedule is travel-heavy and desk-light.
With a mobile-friendly recruiting app on my phone, I can be micro-efficient by carving small chunks of hiring time into my booked-up day. I: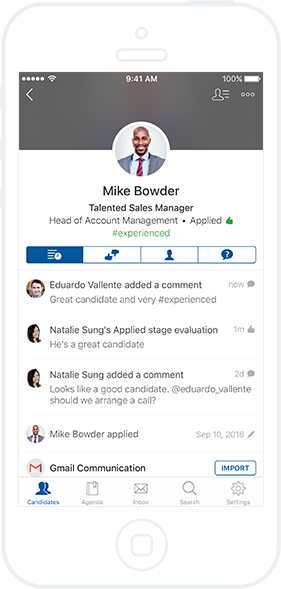 Look at resumes when I'm commuting on the train and move candidates to the next stage of the hiring process with a swipe
Auto-dial into candidate screening calls during breaks at a conference, or while I'm waiting for a flight
Multi-task during the natural lulls in meetings by checking my notifications and weighing in on time-sensitive decisions to close candidates faster
Refresh my memory of a candidate's background, without having to print out their resume, right before an in-person interview
Keep track of my team's input on my hiring decisions with relevant hashtags, notifications and rating systems
Click a simple 'thumbs up' or 'thumbs down' to assess candidates, instead of emailing feedback to my team
Sync all my feedback, messages and actions with my team's desktop version of our ATS
Mobile recruiting works for me because it's all about taking actions, not about deliberating with my recruiting team over long email chains or in-person meetings.
With an iPhone or Android app, I can call candidates directly from the app, I can see my interview schedule at a glance, I get smart notifications and I don't have to wait for a free chunk of time to speed up the hiring process: I can do it on the go. As a busy executive with an ever-growing team, that's the only way I'll be able to hire the right people.
The app you need
to recruit from anywhere
Workable is all-in-one recruiting software for desktop and mobile.
Sign up for a free account and try the app free for 15 days.