Pre-recorded video interviews: 4 best practices for success
Pre-recorded video interviews offer numerous benefits for both employers and candidates, including time-saving, uniformity in the process, and the ability to share interviews with the team. For candidates, it provides a less stressful environment and flexibility in scheduling.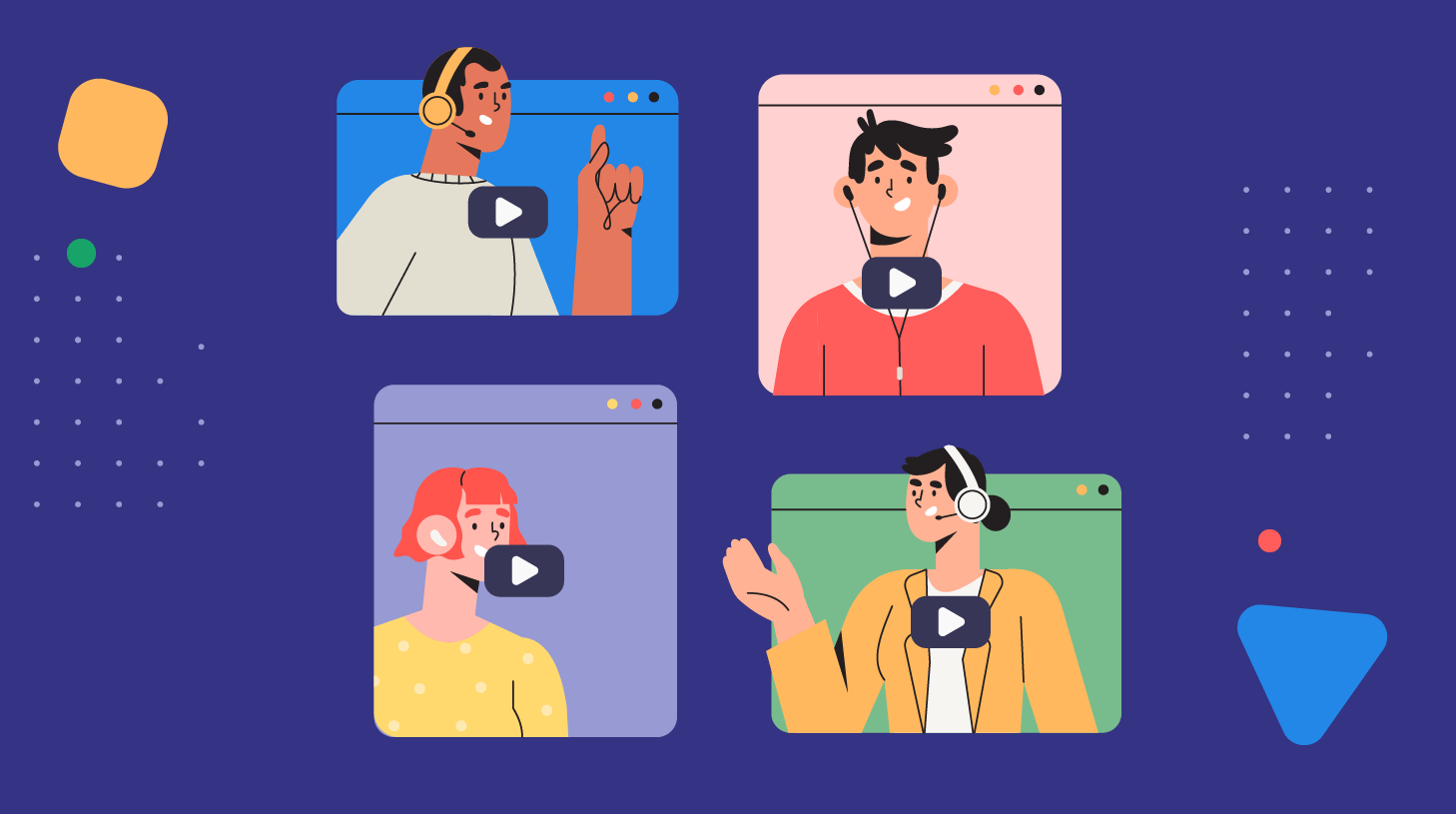 Even just one year ago, if someone told you that pre-recorded video interviews could give your company a significant advantage, would you have believed them? It's not just a tool in your recruitment toolbox – it's much more than that, if you utilize it smartly with a marketing approach.
Let's go back to the beginning:
Video interviews are booming
Video interviews – even pre-recorded video interviews – are now a standard element in the overall recruitment process, and will continue to be so post-pandemic. According to Workable's New World of Work study, 56.5% of businesses plan to make remote permanent for at least some of their workforce going forward. Only 6.2% of businesses plan to do nothing in general.
This means even more digitization of the recruitment process, and one aspect of that is video interview technology.
Even before COVID-19 introduced itself to our world, video interviews were used by 70% of the employers in the list of Talent Board's Candidate Experience award winners. Time to hire is now shorter as a result of pre-recorded video interviews, and it's cheaper too in terms of travel and time commitments both for the candidate and the recruiter.
The benefits of pre-recorded video interviews
The benefits of pre-recorded video interviews for employers and candidates are multifold. It's a fantastic tool for evaluating candidates at a deeper level, especially for remote jobs in roles that directly engage with customers and prospects.
Recruiters can now enjoy the following benefits of video interviews:
Gain better insight into soft skills and "personality" of the candidate
Assess ability to work remotely – as video is a core component of remote work
Save time by not having to coordinate interviews or screening calls – especially across different time zones
Establish a more uniform process – making for a more equitable experience
Share pre-recorded interviews with your team – in a traditional interview, only those physically present would be able to provide feedback
There are benefits for the candidate experience as well:
Candidates have the opportunity to present themselves more naturally than in a stressful 30-minute live interview – depending on the role, of course
Candidates can prepare for and complete video interviews at their convenience
Candidates are no longer expected to travel or commute for that first interaction with the company
Candidates can pause their interviews and pick up where they left off
To convince the budget holders in your team of the value of pre-recorded video interview tech, there are significant benefits to the bottom line as well:
Shorten your time to hire by eliminating a step in the selection process and combining the screening and interview stages. When 66% of candidates move on after two weeks of not hearing from an employer, shortening the time to hire becomes crucial in reducing the risk of losing top candidates – especially in high-volume hiring periods.
Reduce the hours invested in the hiring process. The number of work hours invested in communicating, scheduling, and carrying out the screening process can be costly, so reducing that means you can do more recruiting with less resource commitment. And with self-scheduling options, you're eliminating time-consuming back-and-forth communication to find a time that's right for both of you.
Lower your cost per hire by improving the quality of your hires, saving your money in the future through lower employee turnover and higher engagement. Also, with fewer work hours invested by the hiring team, the recruitment process becomes more optimized and you're doing more with less.
Budget holders aren't as interested in the day-to-day process – they're more impressed with risk reduction and lower costs. So emphasize the above when presenting your case to those stakeholders.
There's another impact, a negative one if you don't implement it properly: your employer brand. Candidates have often griped that pre-recorded video interviews are just further automation of the recruitment process and can hurt the candidate experience. It sends a signal to candidates that they're no longer humans – they're just nuts and bolts in a larger machine. Not a good look for you or your brand.
However, it doesn't need to be this way. Here are four tried-and-true ways that you can use pre-recorded video interviews to their greatest benefit and make a strong, positive impression on candidates.
Pre-recorded video interview best practices
Simply plugging video interviews into your current workflow won't be enough. If you do, that's where your employer brand will take a hit, because you are automating the process in the wrong way. To get around that, you want to personalize it as much as you can while at the same time utilizing video interviews to their fullest benefit as outlined above.
Here are four ways in which you can utilize video interviews to really boost your cred as an awesome employer:
1. Add an introductory video
Include a recording of yourself at the very beginning to help the candidate understand and appreciate the context in which you're conducting video interviews. In this recording, you can:
Introduce yourself as the recruiter or hiring manager
Talk about the role a little bit – and what you're looking for
Explain why you're doing video interviews instead of a live phone screening
Talk about how a candidate can best prepare for this step
Thank the candidate for taking part in this very important part of the process
Set expectations – for example, turnaround time, next steps, etc.
Use a friendly tone to put the candidate at ease
2. Tutor the candidate
Some candidates will not be 100% well-versed on pre-recorded video interviews. For some, it may be their very first time doing so. You can share a tutorial – such as this one – to help candidates prepare. You can share these tips as well:
Equipment that they'll need, and supported browsers
A demonstration or practice question if available
Find a quiet place free from distractions with a professional background
3. Include video questions
Instead of simply adding boilerplate questions to the video interview in writing and sending those on to the candidate, have the hiring manager record themselves asking the questions one by one.
This more personalized approach reassures candidates when they can see who they're responding to, and helps them prepare a solid, thoughtful answer. All the better for you to gain more insight into candidates.
4. Incorporate other elements via links
Pre-recorded video interviews do not necessarily have to be in a basic Q&A format. You can liven things up by adding elements in different formats, customizing fonts and styles, etc. Examples also include:
Embedding a YouTube video and asking the candidate to record their honest reaction to it
Including a PDF (i.e. a sales sheet, a product page, a piece of marketing collateral) and asking the candidate what they would do to improve on it
It's not about what you use – it's how you present it
When you think about Nike, it's not about the shoes. It's about Michael Jordan, "Just Do It", and other powerful messaging and positioning. Red Bull's similar – they're not just an energy drink company. They're about extreme sports and healthy, fun living.
If Nike just said, "Here's a pair of shoes", and if Red Bull said, "Folks, here's an energy drink", would you be so interested? Probably not.
Think about it in the same way when adding pre-recorded video interviews to your recruitment workflow. Candidates won't respond well if you just said, "Here's a video interview, get 'er done and get back to me!" But they'll respond if you add the extra stuff.
Personalize the video interview experience with introductory videos and pre-recorded questions, include tutorials to help the candidate present their best selves, and make it an all-around interesting and immersive experience for the candidate.
That's a part of recruitment marketing, and the resulting positive candidate experience can be great for your employer brand – and help you hire the very best talent for your team.
Want to learn more? Check out our other content on video interviews:
Frequently asked questions
What is a pre-recorded video interview?

Pre-recorded interviews are a great way to interview for jobs without the hassle of traveling. You'll be able to present yourself well and show off your skills in an efficient manner by watching videos.
How long should a pre-recorded video interview be?

To get the most accurate answers, you'll want to be in a quiet and comfortable space where it's easy for people who are answering questions on camera. Allow yourself 30 minutes or more per question, depending on how many questions there are.
What questions are asked in a pre-recorded interview?

The typical pre-recorded video interview questions like "What is your name? How do you learn quickly in new situations or environments where it might not be easy for someone else to get used to?"