Candidates don't like asynchronous video interviews: How can you fix that?
An asynchronous video interview (AVI), or one-way video interview, consists of written or recorded questions presented by a member of the hiring team to the candidate, who then follows up with a recorded video answer at a time and date of their choosing. These answers are then reviewed at a later time by the hiring team to establish candidacy for a job. This may be your answer when looking to optimize parts of the hiring process – but there's a catch: it may impact the candidate experience.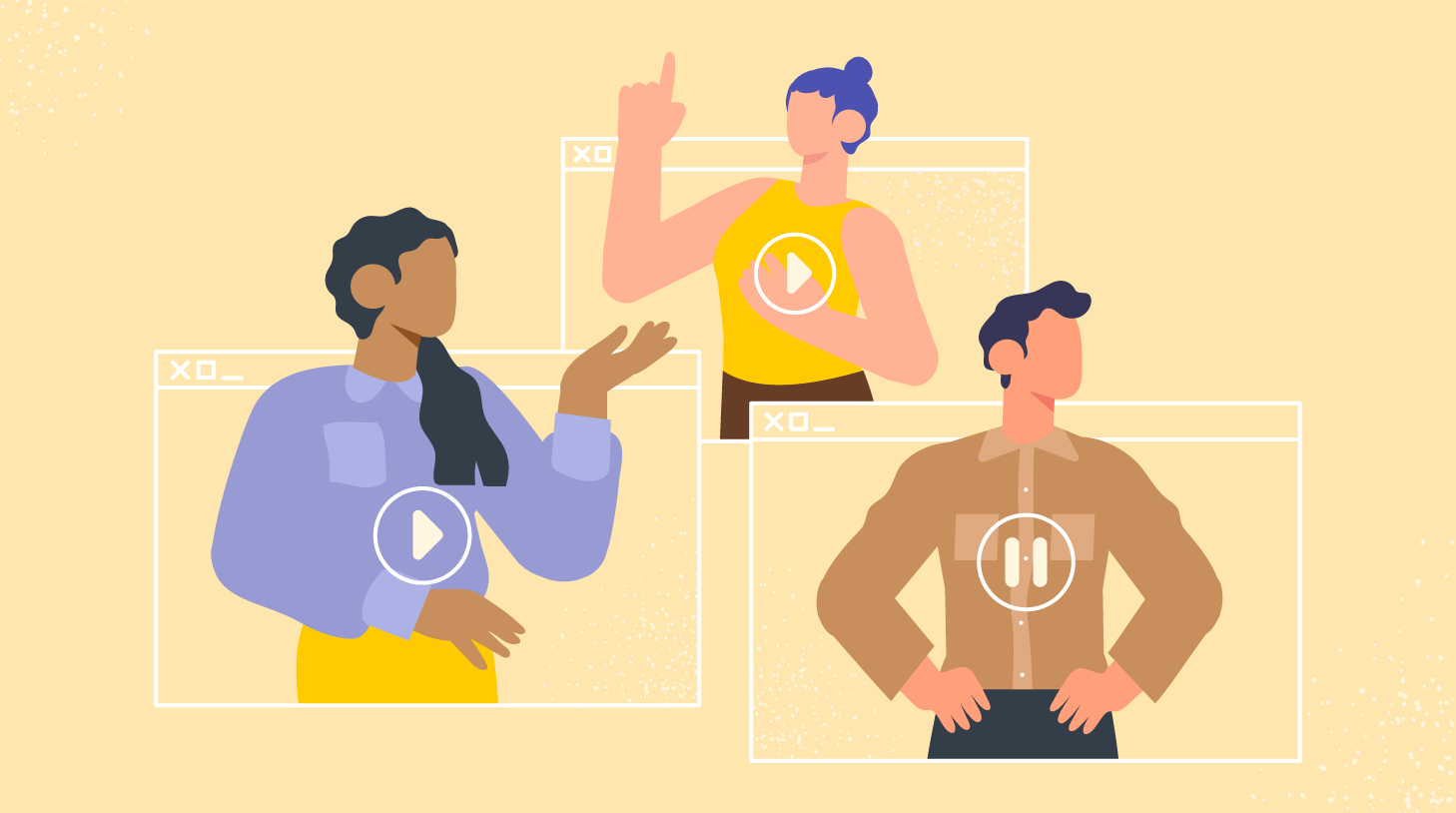 If you're a recruiter or hiring manager, you've probably had job postings that resulted in hundreds of applicants – a bewildering number that just makes your head spin. How do you get through all of that?
Workable's own data finds that in 2020 to date, there was an average of 94 total candidates for every single job – with 26 of those being moved to the "promising" stage. That's 26 candidates who need to be screened – 26 for each job opportunity that opens at your organization, which can become a lot of work, especially if you're scaling rapidly with multiple hires as a result of a new funding round or a new market penetration.
Great for your organization, but for you and the hiring team, that is a lot of work. You're spending many hours communicating with each and every candidate, lining them up against your ever-busy calendar for screening calls, dealing with delayed responses, back-and-forth communication, and ultimately the actual call with them.
This whole process is clunky and expensive in terms of hours taken from other duties. So how do you try and solve that? Technology and automation, of course. And there's one piece of technology out there that's growing in popularity: the asynchronous video interview – or AVI for short. You prepare the questions beforehand, send them out en masse to candidates, and within days, your inbox is filled with a clean set of responses that you and your hiring team can review on your own time. It's a match made in heaven, right?
The upside of asynchronous video interviews
First, let's look at the upside of AVIs. There are clear benefits, according to HR consultant Laura Handrick in New York City – they make it easier to identify the soft skills that can't otherwise be discovered via a standard screening process in a large candidate pool.
"For popular jobs, like COVID Compliance Officer in TV/Film, the number of applicants who believed they were qualified was overwhelming," says Laura, who currently works with Choosing Therapy, an online mental health therapy resource website. "To pare down the group of qualified applicants, it was important to discern their professionalism, demeanor and experience working with celebrities in a way that gave each candidate a fair shot at selling themselves for the job."
Jennifer Roquemore, co-founder of Resume Writing Services, was also looking for a solution to the cumbersome screening process.
"As a growing resume service, we are constantly trying to hire new resume writers to join our team," says Jennifer. "One of the main challenges we faced was finding a quick and efficient way of adequately screening all the applications we were getting from the various online job sites we were posting our openings on. In particular, we felt like we were doing a poor job at screening candidates because we were unable to evaluate their speaking ability and interview skills, which are quintessential assets to have as a resume writer."
She found that asynchronous video interviews helped hugely.
"To resolve this issue, we turned to one-way video interviewing which allowed us to see first hand the communication skills and general soft skills of the applicants who were applying to us. Using this method, we were able to make a far more informed decision as to whether the applicant was up to par with our standards and expectations, which made the hiring process a whole lot easier."
Ed Spicer, the CEO of Pest Strategies, a resource website for information and services on pest control, found AVI tech to be immensely useful as well, even from the candidate's perspective.
"While one-way video interviews aren't every applicant's cup of tea, people who are currently working at another job or have a busy schedule tend to love the freedom of being able to record at any time. […] If an applicant prefers to wait for a one-on-one phone or live video interview instead, we're happy to schedule for the next available time. This way, we can accommodate everyone."
Ed also finds more benefits down the road.
"Once the one-way video applicants get squared away, it becomes easier to schedule the reduced slate of remaining applicants who want a live interview. It's an efficient system and works well for us."
And now… the downside
What makes your work easier isn't necessarily easier for the candidate. Put yourself in the candidate's shoes for a moment: After many months of bleak job hunting during the economic downturn in the midst of a stay-at-home order by your local authorities, you get an email in your inbox! The people at XYZ company would like to learn more about you.
Excited, you click the link in the email, expecting to set up a call with a recruiter or hiring manager. Instead, the link takes you to a webpage asking you to record yourself responding to various questions.
That can be a tad discouraging. Check out these choice comments from a comment thread on Indeed:
"If you ever encounter the digital interview, you are going to laugh. Someone on the other end has a remote in hand and can 'interview surf' much like you channel surf the TV stations at home. Hope you are devilishly good looking and have an engaging personality or click … on to the next one. LOL!"
"I just want them to scan our foreheads now and get this over with. It reminds me of the old sci fi movie Gattaca where 100 years in the future, your station in life will be determined by a drop of blood."
Leading HR guru Liz Ryan offered her own perspective in a scathing tweet:
Q. I was scheduled for a video interview. I expected a Skype interview but no – it was a one-way video interview. I signed off. I don't want the job. What new insult is this?

A. Companies that use one-way video interviews don't deserve your talents. That's an easy goodbye!

— Liz Ryan (@humanworkplace) January 7, 2019
You may even lose out on top candidates in the process, as one person wrote to Liz:
"I declined to take the interview. I don't want to work for a company that would stick me in front of a piece of software and ask me to talk into my microphone. If they don't have time to talk with me live, they can hire somebody else."
In short, you're losing out on the best candidates in the market if you take what's sometimes viewed as an assembly-line approach to recruitment.
Daniel Carter has taken on AVIs to optimize the recruitment process for Zippy Electric, an all-in-one resource for electric riders. He, however, empathizes with candidates in the process.
"With the new VI technology, although it is much faster, there is also the problem of it being rather impersonal and rushed," Daniel says. "I guess I'm siding with the candidates here. The unwanted feeling of corporate slavery feels more prominent than ever especially when you take away the human aspect of things, especially from something as preliminary as a job interview."
The human disconnect
A study from the DeGroote School of Business at McMaster University in Ontario found a significant disconnect in video interviews that wasn't there in face-to-face interviews. Study author Willi Wiesner puts it aptly:
"Video conferencing places technological barriers between applicants and interviewers. Employers and applicants should work to reduce the barriers that arise through video conferencing and improve the interpersonal aspects of the interview process."
But if the big kids on the block (i.e. Google, Twitter, Apple, CVS, etc.) are using it, it may well be something you need to incorporate into your hiring process, and somehow overcome the challenges inherent.
5 tips to overcome the AVI stigma
So we picked up five valuable tips that can help you ensure a top-notch candidate experience – and preserve your employer brand and reputation in the process.
1. Show them you're on their side
First of all, your candidates are human. Simply throwing a video interview invitation into their inbox won't reassure them. You need to maintain a two-way communication stream in other ways, and explain how AVIs can benefit the candidate as much as it does you.
In Smooth Waters CEO and Founder Jacob Pinkham, whose company focuses on water sports and safety, thinks video technology in recruitment gives candidates a huge opportunity to present their best selves – and it never hurts to tell them that.
"A resume is often boring and personalities are difficult to shine through. Now, it is very easy for someone to record a short video to showcase not only their experience and skills, but their personality."
Daniel at Zippy Electrics takes the time to help candidates warm up with a few friendly set-up questions.
"What I've been doing is I've been trying to ask candidates casual and mundane questions before beginning the interview," Daniel says. "Usually, it's something about a specific show I'm watching or something about current events. Anything to let them know that I'm there with them."
It helps to include pre-recorded questions of your own in the interview, especially as the person who ultimately makes the hiring decision, says Jonathan Frey, the CMO of Cincinnati-headquartered Urban Bikes Direct, an online retailer for electric bikes, scooters and skateboards.
"To make the process as respectful and inviting as possible, I record my own video to introduce myself and ask my questions."
You can also share a quick tutorial for candidates on how they can excel in this part of the process.
This will show the candidate that you value them as people, and will go a long way in establishing your reputation as an employer.
2. Clarify the process
One of the big pushbacks against AVIs is that candidates feel they're just being thrown onto the assembly line without any insight into why this is happening or where they stand in the process. Help them feel more comfortable by walking them through this part of the evaluation – including details on what candidates can expect before, during, and after.
Jacob likes to explain to the candidate why he's turning to asynchronous video interviews in the hiring process in the first place.
*In the application process, I clearly define how the video is only to understand the candidate better, to give them the opportunity to truly represent themselves," says Jacob. "It doesn't end either with the video. I only request videos of those who I am planning to interview. In fact, it enables the interview to run smoother because I, in the interview, am able to adapt the flow of conversation to suit the candidate."
Laura at Choosing Therapy highlights the importance of clarifying the process as part of establishing a diverse, equitable and inclusive experience for the candidate:
"To give everyone a fair shot, it's crucial to provide instructions that are crystal-clear and leave no room for interpretation. That means we provide the job description. We provide the timeframe and expectations and we explain the criteria required to move to the next phase in the interview process. We try to prevent any confusion as we hope to recruit as diverse a work-team as possible and don't want to make our recruiting process a barrier to an otherwise top-notch candidate."
Candidates will be more motivated to participate in asynchronous video interviews when they know how it fits within the bigger picture.
3. Put your own work in
Sometimes asynchronous video interviews can be a boon in that they eliminate those irrelevant nuances that fuel hiring biases – for example, hitting it off because you like the same restaurants – and establish a more uniform screening process with a preset series of questions.
However, it can be a double-edged sword in that you can't clarify an answer or question with a follow-up comment. That means you have to put thought into creating a series of questions that will help the candidate feel motivated to share a thoughtful and inspiring answer.
Jennifer at Resume Writing Services learned this the hard way:
"One of the reasons we were initially getting awkward responses was because we were asking poorly worded questions. Once we were fully onboard with one-way video interviewing, we came up with more appropriate questions and laid out an interview process that was more accommodating and natural for the interviewer."
Think of it this way; the time you save in the screening process using one-way video interview technology can be invested in creating a stronger set of questions.
4. Make it a two-way street
As above, a common gripe about asynchronous video interviews is that it is a one-way experience. Candidates don't get to ask questions of the interviewer and they don't get an opportunity to inject some extracurricular aspects of themselves into it.
Jerry Han, the Chief Marketing Executive of PrizeRebel has a solution for that, suggesting that the interview can close out with an open-ended section to benefit the candidate:
"Add an optional section where candidates can express themselves and ask questions freely. In this set-up, one-way interviews become a two-way form of communication," says Jerry.
"Candidates can say things that are not limited to the given questions. Candidates can choose to add vital details they didn't get to answer because of the question selection. Consequently, they can also ask recruiters questions that show their keen interest in getting hired."
5. Customize the experience
While a standardized process is crucial to identifying top candidates for a position, that doesn't mean you can't customize the experience based on a set of criteria.
In fact, personalizing the experience goes a long way in making a more positive candidate experience, says Jonathan at Urban Bikes Direct. He likes to individually tailor his asynchronous video interviews based on a pre-interview.
"Whenever possible, I record multiple video introductions for different kinds of applicants. Then I ask applicants to take a fun, Buzzfeed-style quiz – something like 'Which Golden Girl Are You?' That way, I can serve up a custom one-way video interview designed just for the Betty Whites or Bea Arthurs out there, as the case may be."
Jonathan, who manages a fully distributed team out of his NYC office, also likes to have a little fun with the technology to help loosen up the candidate and get better responses:
"I recommend injecting the applicant's name into the video interview in an unexpected way. A tongue-in-cheek approach often gets a good response. For example, you can poke fun at the very nature of one-way video interviewing by leaving silent spots in your pre-recorded video where the applicant's name can be dubbed in by a robotic voice."
You're all in this together
One-way video interviews really aren't to blame for a candidate's negative perspective or experience. The responsibility falls on you, the recruiter and the hiring manager, in establishing a smooth, thoughtful process that shows value, empathy and appreciation for a candidate's own position in the world of job hunting. Put in the good work, and the good workers will follow.