Why you need a strategic hiring plan and how Workable can help
Let's say you're an HR professional and your company doesn't have a strategic hiring plan in place – you just work with emails. When a hiring manager wants to recruit a new team member, they'll send you via email the details of the new role: the profile of their ideal candidate, the salary (or salary range) and their desired start date. You'll forward this email to the CEO or the finance team, get their approval, and you're ready to publish the job ad.
This process works just fine if you're not scaling fast. Now imagine doing the same thing for five or 10 requisitions per week. It's not that easy, is it?
OK, so you realized that sharing this information only through email doesn't work and you decide to create a spreadsheet. You tried to avoid it for some time now, but, on second thought, how hard could it be to keep a spreadsheet of new requisitions? You'll create a hiring plan template, add a row for every new role and fill out the following data:
Date of a new job requisition
Date you officially opened that new role
Date you closed the hire
Salary of the new employee
Sounds simple, right? And it is, until a hiring manager wants to hire five people for the same role, or until you have to re-open a job because the candidate who had accepted the offer changes their mind at the last minute, or until you mistype a number and that messes up your entire spreadsheet. Or, worse, until your boss requests a report to see how much you actually spent on hiring at X department during a specific time period compared to your forecasts.
Getting this information from your spreadsheet is far from simple. It might not even be feasible as it depends heavily on what kind of data you decided to keep in the first place. For example, perhaps you maintain a list of all jobs, but have you categorized them by department? Or, what happens with jobs you filled internally? Do you keep a separate spreadsheet for those?
Why you should organize your hiring plan in one system
In high-volume hiring, you need a more organized approach so that you prioritize requisitions properly, budget them accurately and forecast future hiring needs. More specifically, when you build a strategic hiring plan in one centralized system, you can:
Track your hiring budget. This is probably the number-one benefit of having a strategic hiring plan. The finance team cares about how much the company is spending on recruiting over time. So, when you have all the necessary information in one place where you can give access to your colleagues from finance and your CEO, you will all make sure you're on the same page and in real time, as opposed to trying to coordinate through back-and-forth emails or to extract data from complicated spreadsheets.
Compare forecasts with actual results. You can't really tell how effective your hiring process is unless you've set goals. These goals are usually around money and time spent in different hiring stages. But you can't see numbers in isolation – you need to know, for example, if you over-budgeted your hiring costs for a specific department and which roles created this discrepancy.
Identify and fix bottlenecks. While you probably track the steps once you've started interviewing candidates (e.g. how long it takes to move candidates from first to second interview), you may be neglecting other bottlenecks. For example, when measuring your time to fill, do you take into account the time between the moment a hiring manager requests to open a new role and the moment the job ad for that role is published?
Keep your hiring process consistent. Any inconsistency at the beginning of the hiring process translates into an overall inconsistent recruitment strategy. For example, if you don't have a specific process in place for req approvals, you might end up offering different salaries to people who are doing the same job at your company.
Automate parts of the process. And focus on what's most important: finding that great talent that will help your company grow. When you waste time filling out spreadsheets and extracting data manually, you take precious time off of other more important (and more interesting) tasks, such as actively sourcing candidates, writing new, creative job ads and researching new assessment methods.
Plan for the future. Organizing your hiring is not only about what you're doing now; it's also – and perhaps more importantly – about planning for your company's future. Being able to accurately forecast how much you'll be spending on hiring in the next year is a huge game-changer as you schedule your overall business budget and growth.
Coordinate all stakeholders. Hiring is not a one-player game. You need at least a recruiter and/or an HR person, a decision maker and a senior manager to oversee the process. And you need to ensure that all of them are on the same page and that information isn't isolated in personal computers, private files or clogged inboxes. A centralized system will help you give the right people access to right information at the right time.
How does Workable Hiring Plan tick those boxes?
Hiring Plan is a premium tool in your Workable account that helps you manage your job requisitions and approvals. Every time a colleague needs to hire an employee, they can open a new requisition, fill out details about the role (such as salary and reason for hiring) and submit for approval. Then, all actions associated with this requisition will be tracked and all relevant information will be updated automatically. Let's see how the Workable Hiring Plan works in more detail:
Open a new requisition fast and hassle-free
For every new requisition, you'll need to fill some basic information, such as job title, location and department, that will help track, report on and manage your hiring plan accurately. If it makes sense for your company to track more details (for example, reason for hiring a new employee), you can include any extra fields you want in your requisition form.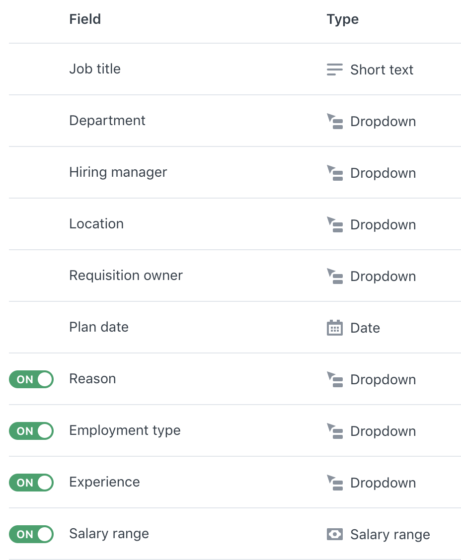 The most important part of a requisition is probably the approval and the Workable Hiring Plan is built in a way that automates this process. You can create one default workflow for approvals – or customize workflows for different locations and departments – that includes which team members need to approve a new role before it gets published. Then, every time you want to create a new requisition, the appropriate workflow will be automatically picked (e.g. the workflow that's associated with the department or location of the job) and the right people will get notified.
Here's what a custom approval workflow looks like:
Find all you need in one page: the Hiring Plan dashboard
Instead of having to search in different spreadsheets or read through your emails to find previous and current job requisitions, the Hiring Plan dashboard will give you a quick snapshot: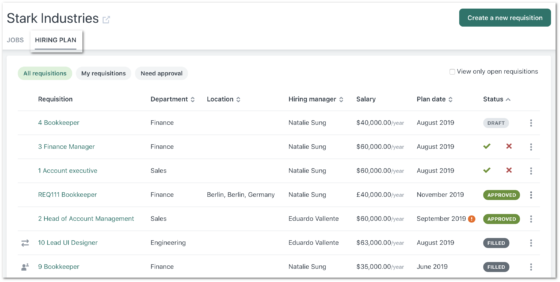 You can group requisitions by department, location or status and click on each one to act upon it. For example, you can see more details about the requisition and the job, make changes (e.g. adjust the salary in case the req was rejected) or clone it to open a requisition for the same role.
This view gives necessary information to all stakeholders:
Hiring managers can see whether their job requisitions have been approved or rejected, edit to reflect any changes for example in the salary, working hours, etc. and instantly clone a requisition when they want to hire multiple candidates for the same role.
Recruiters can see which roles have been approved so that they can start looking for candidates.
Finance team members or Department Heads can see budgeted requisitions, compare them with final offers and forecast hiring costs.
Send automated notifications to the right people
Miscommunication often delays the hiring process and the final decision – think of a hiring manager who forgets to update the rest of the team that the candidate has accepted the job offer but will start a week later than what was originally agreed, or a senior manager who rejects a job requisition because the salary is too high but doesn't inform the HR to make adjustments.
Automation can solve many of these problems and speed up the hiring process. In Workable Hiring Plan, team members will be automatically notified when they need to act upon a requisition. For example, they'll get a notification when it's their turn to review a requisition. Likewise, automate updates of real-time changes will make sure that everyone is in the loop – without you having to send additional emails or reminders.
Note that notifications can be sent through desktop and mobile, too.
Use data and reports to make strategic decisions
Looking at recruiting data and KPIs, you can draw useful results about your hiring process and your future hiring plans. But numbers alone won't help, particularly when your teams scale fast. To understand what's working and what could be improved, to compare results to forecasts and to plan your strategic hiring plan for the future, you need data organized in detailed and clear reports.
Here are some examples of information you'll get through the Workable Hiring Plan reports:
Budget forecasts for specific periods/departments, e.g. the sum of planned salaries for a department's requisitions
Planned budget (salaries) compared with actual spent (offered salaries)
Average time to fill a requisition – time between the day you open a requisition and the day the job is filled
Average start time – time between the day you open a requisition and the hired candidate's first day at work
Difference between planned start date and actual start date – how early or late candidates at a specific department start work compared to what you had originally planned
Using this kind of information, you'll better understand the flow and identify the bottlenecks of your hiring process, you'll spot discrepancies in your hiring budget, and optimize your future requisitions. To dive into more details, you can filter reports to view results by location and/or department.
For more information on the Workable Hiring Plan, browse our support section here. You can also contact our team or book a demo to get a first-hand view of how our Hiring Plan premium tool works.