Transform your requisition approval process with Workable Hiring Plan
Year end looming? One hiring budget and requisition plan to finalize for next year, but multiple spreadsheets and emails to consolidate before you do? Well, here's some seasonal cheer. And it comes neatly packaged in the form of Workable Hiring Plan.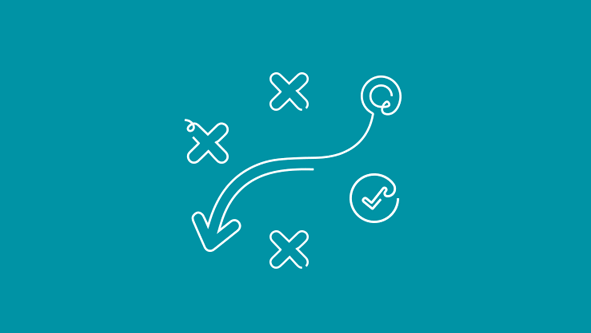 An add-on to our recruiting software, Workable Hiring Plan captures all requisitions, budgets and approvals in one place. Yes, you heard right. All requisitions. In. One. Place. And it brings departments and teams together through a centralized, auto-updating workplace everyone can access. The end result? One universal, measurable hiring plan, zero spreadsheets required.
One plan fits all
So, Workable Hiring Plan. Who is it good for? Absolutely everyone (who needs to be involved).
Managing requisitions requires input from different stakeholders across your organization. If you're growing at pace—with new departments emerging as you expand—there's often little time to formalize processes across all teams. (We know, we've been there!) Which is why it's so common for individual areas to track their own requisitions, sharing ad-hoc info through emails and spreadsheets. Fine at the time, maybe. But not so great when it comes to building a cohesive hiring plan or a future-proof planning process.
From finance teams, budget-holders and senior leaders to department heads, hiring managers and admins, Workable Hiring Plan aligns all of your stakeholders. It gives easy access to all the hiring data and requisition approval tools needed to wipe out individual planning docs. And, by making it easy for everyone to collaborate and engage in the process when they need to, you can keep your requisition process moving forward with pace.
Get fast approval of all requisitions
Behind most great hires, you'll often find a less-than-great requisition process lurking in the background. Managed manually, through emails, forms and spreadsheets, approval workflow is typically sluggish and prone to bottlenecks.
The answer? Automate, automate, automate! Create all your requisitions using Workable Hiring Plan, assign the right approvers and let our software do the rest.
Adding a new req is easy, with only a few key sections (such as job title or location) to fill in.
Want to add more detail? No problem. Choose from the optional fields provided or request your own. Information added here is shared with all approvers, which means the job description, goals and requirements are clear and transparent. And consensus is obtained from the start. Had your requisition rejected? Adjust the details (for example, salary range) and re-submit.
Setting up your workflow's another quick win. Use our standard template to assign the same approvers for every role. Or customize who approves what according to department or location (or both). As well as saving time, requisition approvals ensure the right people sign off on the right requisitions at the right time.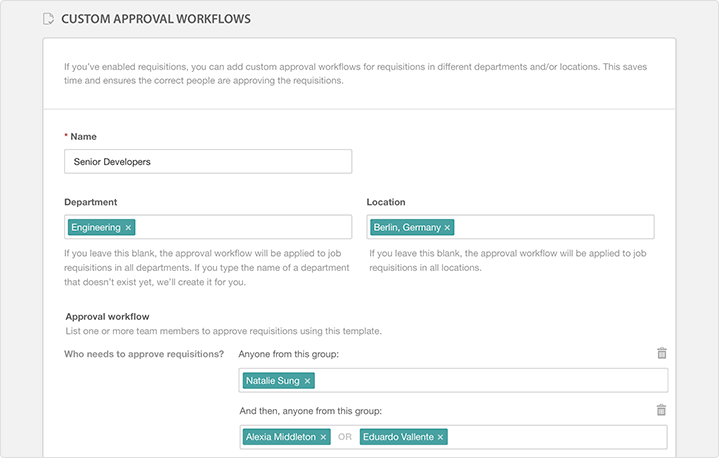 All of your stakeholders are automatically notified (through desktop or our mobile app) and empowered to act on-the-spot when action's required. With approvals pinned down, and a clear audit trail in place, you can act fast to advertise and hire great talent when you need it.
Track and adapt your plan
Budgets, timelines and team needs change. We know. And the best hiring plans are those that reflect this. With all of your requisitions in one place, and real-time data on hand, Workable Hiring Plan is a dynamic, single source of truth which empowers you to:
quickly see the status of each requisition,
track your planned start date against each requisition's approval status,
report accurately on time to fill, and
compare final offers with your budgeted requisitions.
If timelines or finances need updating, use live data to inform changes and get speedy approval from your stakeholders. Automated notifications keep everyone in the loop. So, if the final salary for a req is more than originally agreed, or the start date's later than you first planned, you can be confident the right people will know.
A powerful tool for longer-term requisition planning
With your current hiring plan on track, and notifications in place to flag any changes, why stop at this year's requisition strategy? Packed full of rich data, Workable Hiring Plan's also a powerful tool for longer-term planning.
Add requisitions for next year, as well as this year, and use the filter option to analyze data across all past, present and future plans. Report on your own metrics—including any custom fields you've added. And apply this year's learnings to next year's plan. Need to get senior leaders on board? Shareable reports filled with rich, custom data make it easy to engage key stakeholders in future strategy.
Want to find out more?
Workable Hiring Plan is available to buy as an annual add-on to our Enterprise and Pro packages. If you're already with us and want to find out how it could work for you, get in touch! If you're new to Workable, but big on requisition planning, we're here if you want to chat through your options or schedule a demo.