Workable's 2017 in review: all the feature updates you need to know
Data science and artificial intelligence are sweeping through the recruiting space with the promise of big changes to come. But for many, the reality of recruiting in 2017 remained the same. In February, we reported that Workable customers had posted over 400,000 jobs, generating 19 million candidates. The majority of these candidates had applied via the traditional routes – job boards and careers pages.
An easier way to post jobs

To make life easier for hiring teams, one of our first releases of 2017 was an improved job editor. This included a number of features, from auto-suggested job titles and locations to a library of over 400 editable job descriptions. With an expanding range of free and premium job boards to choose from, these updates helped to get faster job board approval and better attract the right talent. If you're still not taking advantage of the full scope of job boards available, it's worth finding out more about the benefits of posting to free job boards.
Later in the year we announced new question types for our customizable job application forms. Following that theme, we also introduced custom fields on the candidate profile, useful for professions where specific information (eg. pilot license number) must be kept on record. Customized per account, this is a premium feature available to organizations on a Workable Pro Plan.
In July, Workable become one of the first ATSs to optimize job postings for 'Google for Jobs'.
More integrations with recruiting tools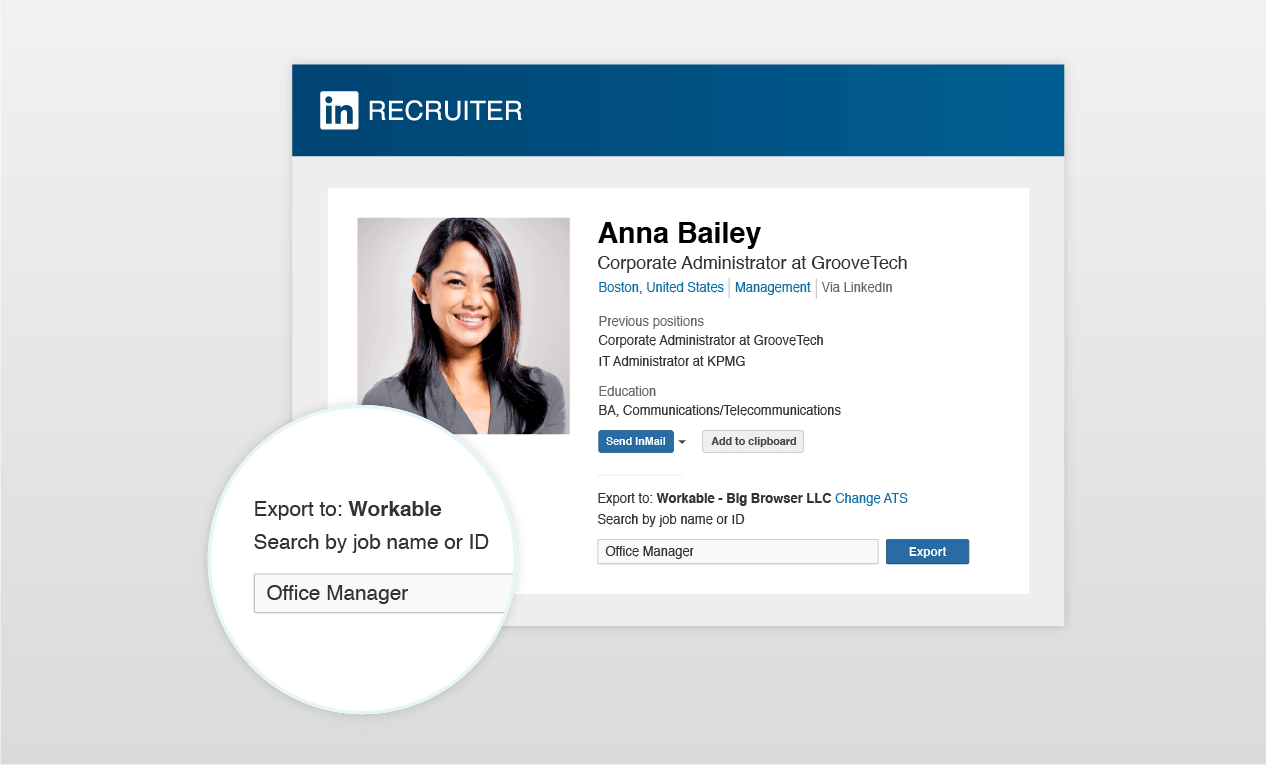 In April we launched our Developer Partner Program, which helped set the pace for our partnerships team. As all-in-one recruiting software, our aim is to streamline the hiring process. The Partner Program helps gather the many different specialist recruiting services available, and to make them accessible via Workable. This year alone, we've launched integrations with HRIS, onboarding platforms, sourcing tools, assessment tests, video interviewing platforms and more.
At the beginning of December we also announced news of deeper integrations with LinkedIn, as a LinkedIn Preferred Partner. But we're not done yet! Look out for more integrations in 2018.
Improved interview scheduling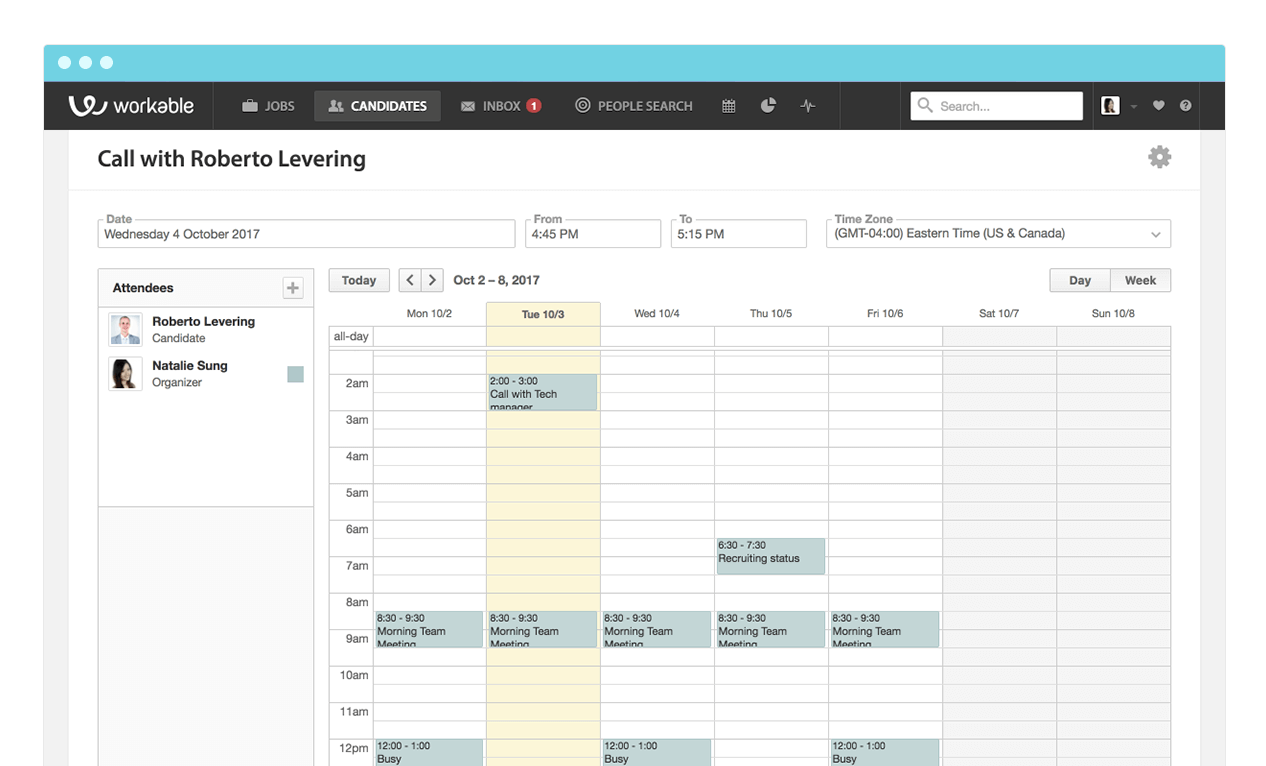 Interview scheduling is known to be a huge headache, so this is something we were eager to address.
After a beta testing with a fantastic group of Workable customers, our full integration with Google Calendar and Office 365 went live in the Autumn. You can now check team availability, send invites and book rooms via Workable. It's easy to preview your calendar directly inside Workable – remove weekends, if you're lucky enough not to work them – and focus on what matters. The feedback for this release made us even more sure that this was a good problem to solve. That said, we're not done yet – again, there is more planned for 2018.
Find the right candidates faster
This year we further developed People Search, our candidate sourcing tool. Previously a Chrome extension, it's now available directly from Workable. The search has been upgraded, so it's faster to find candidates based on skills, location, key words and more. If that's not enough, it also supports Boolean Search.
A single platform for recruiting, these latest updates make Workable faster than ever for posting a job, sourcing and evaluating candidates.
In October we launched the Talent Pool. This is a place for storing candidates who are under consideration for future positions. When you know a job is coming up, and you want to start building a relationship with potential candidates, save their profiles to the Talent Pool and reach out with a personalized email using data gathered from People Search.
A fully featured mobile ATS
Of all the recruiting software on the market, Workable is one of the few ATSs available as a native iOS and Android app. Development has continued at pace this year on both platforms, making Workable more effective than ever.
The difference between desktop and mobile in terms of features is narrowing all the time; it's easy to review profiles, schedule interviews with your hiring teams, communicate with candidates and complete an interview scorecard – all from your mobile device. In the spirit of 'eating our own dogfood' we interviewed Rachel, our VP Sales about how she built a team using Workable on her mobile. If you're trying to engage reluctant or busy hiring managers, we suggest mobile as an effective option. It's easy to use up 'dead time' between meetings or travelling and avoids the obligation to stay late in the office.
We'll be writing more about mobile in the new year, so stay tuned.
Recruiting templates and resources
Outside of the development work on the product itself, our team of specialist writers have been adding to our vast library of recruiting resources. Regular updates on our popular recruiting blog cover everything from workplace culture, recruiting best practices, tech, trends and more.
If you're curious, from over 400+ job description templates available, these five job descriptions were most used in 2017:
Catching up in 2018
Whether it was the Workable World Tour, SourceCon, HR Tech or one of the many other events we attended this year, we've enjoyed getting to you know you in person. If you missed us in 2017, sign up to the newsletter in the box below to find out where we'll be next. We're always happy to demonstrate the latest features in person to ensure you're getting the most from your account. Thanks to everyone for all your support this year – here's to happy holidays and a successful 2018!
As always, if you're not using Workable yet, but think 2018 could be the year for a new ATS, we're only too happy to schedule a demo.