5 steps to a better candidate experience in recruitment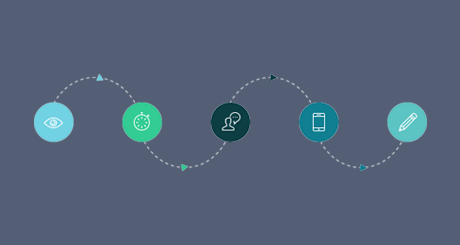 Today's job market is stacked in favor of the talented job seeker. Most of the people you want to hire are not actively looking for work. This, combined with the ongoing skills gap and the 7-year low in unemployment amounts to a major hiring crunch.
If you're a recruiter or hiring manager, it's in your best interest to start off on the right foot with candidates. Consider what it is like to apply for a job at your company. Put yourself in their shoes. What's the application process like? What impression are you making from the very first phone screening down to the rejection letter or offer letter? All of this is known collectively as "the candidate experience," and too often, it's not good.
The kind of people you want to hire are smart and demanding. Give them a good experience and they will see you favorably. Burn bridges and your candidates will pass on their negative impression of your company to their networks or post it publicly on sites like Glassdoor, Vault and CareerLeak. Keep in mind that researching a company's reputation has never been easier for job-seekers.
In a recent survey by Staffing.org, a third of all respondents chose not to apply to a company because it was too difficult to find information. Nearly half of all job candidates didn't apply to a company because they found the hiring process frustrating. Also, nearly half of job candidates were driven away by vague job descriptions.
Candidate experience in recruitment is a worthwhile area for small businesses and startups to focus their efforts. The online portion of candidate experience, such as the careers page and the job application process is often overlooked by larger, more established companies. Providing a quick and painless application process is an easy way to stand out and get more candidates. Here's five ways to do just that.
1. Make your jobs easy to find. One click from your home page to your careers page is enough. Put the link to your careers page in a place where job-seekers expect to find it, such as your navigation menu, and make the careers page itself easy to navigate. Ease of use can greatly improve candidate experience in recruitment. Here's a great example from MailJet.
2. Cut the time it takes to fill out forms. Nix any laborious and redundant fields, e.g. work history—which will already be on candidates' resumes—for a faster application process. An 11-page application form is an easy way to lose candidates. At Workable we've had quality candidates asking to work for us because they encountered Workable while applying for other jobs and liked the process so much they wanted to join our product team. One of our customers' candidates, Anjali, was so impressed with her candidate experience in recruitment that she wrote in: "It was fantastic and so fast and easy!"
Related: Frequently asked questions about candidate experience metrics
3. Get personal. Instead of asking candidates for redundant inputs, why not add a question that helps you with screening? Try asking for a short writing sample from writers, or a short code sample from programmers. Not only will this improve the candidate experience in recruitment, but the hiring manager's job as well.
4. Make it mobile-friendly. The numbers are loud and clear on this one. Nearly half of all job seekers will abandon a non-mobile application process. More than half of all emails are opened on mobile devices. And 70% of job seekers discover jobs with mobile job search apps. For a speedier mobile application process, try one-click apply buttons, limit your form to seven fields, and time it. The process should take no longer than 90 seconds.
5. Write a nice autoresponse. As a job seeker, have you ever wondered whether your application fell into a black hole? Not a great feeling. Ditch the bureaucratic tone and write a conversational autoresponse that assures candidates that you've received their application. With a bit of finesse, you may even get more out of autoresponse by using it as one more way to sell your company or ask for referrals.
Great hiring isn't just about putting bums in seats. Treat candidates as you would like to be treated yourself, online or offline. Every interaction you have with your candidates (job applications, phone screenings, on-site interviews, even rejection letters) is an opportunity to make a lasting impression and build your company's reputation as great place to work.
Learn how Bevi offers candidates a better hiring experience with Workable.