How to create a custom employment application to screen job applicants
One of the benefits of using recruiting software for job advertising is the huge increase in reach, without a huge increase in effort.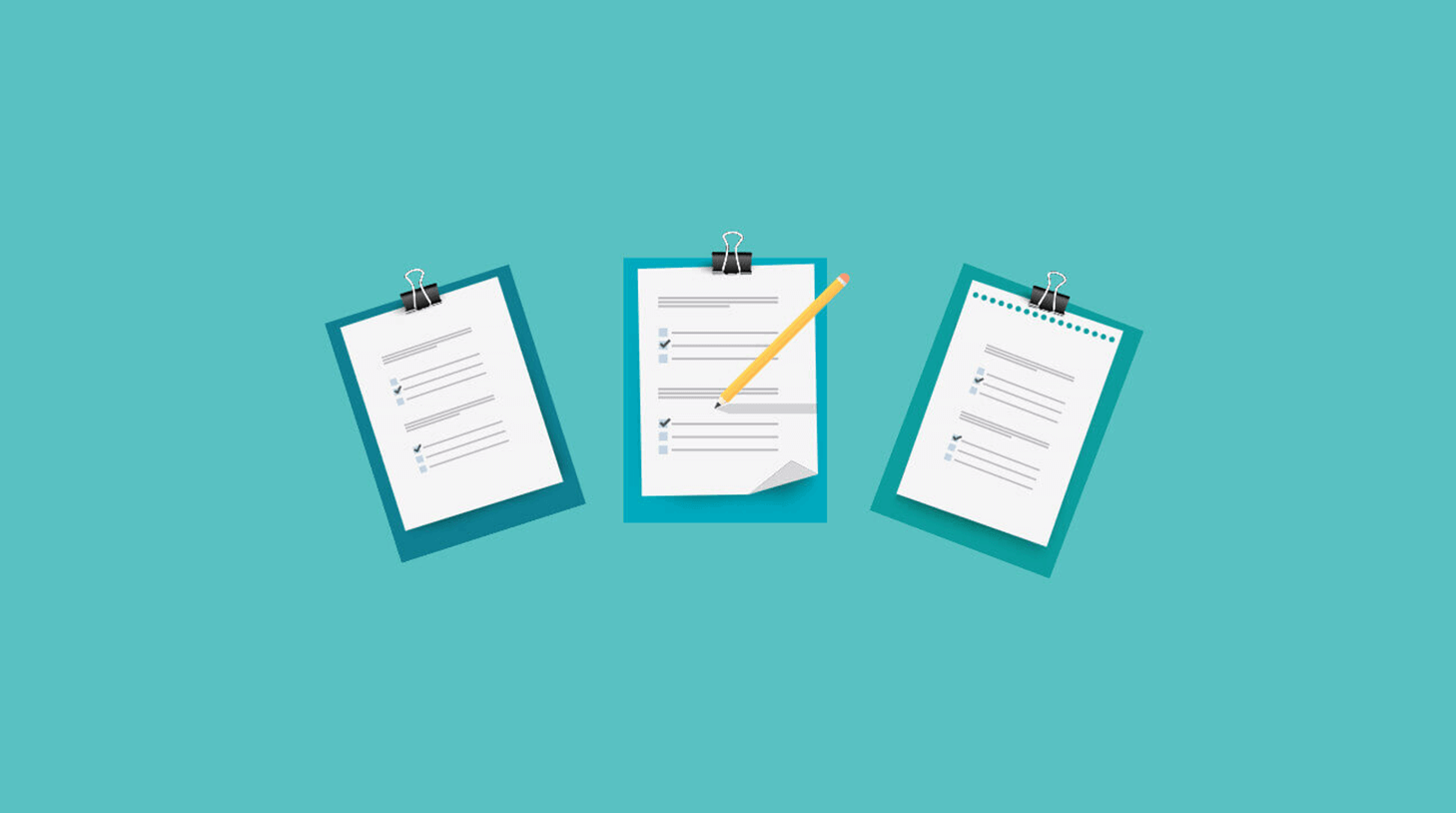 In just a few clicks you can advertise your job on multiple free job boards. Without much more effort you can select targeted, paid job boards based on location and specialism. The days of logging in and out of multiple job boards are long gone.
The upside of increased exposure is more candidates for every job. The downside is the time it takes to review candidates effectively. Even with resume parsing it can be hard to cut to the most relevant content. This is where a custom job application form can help.
Workable has always provided the option to create customized application forms. In our last Workable update, we made these even more affective with the addition of new question types. This means you have even more options to speed up your screening process.
In this post we'll provide a few pointers on job application formats, and explain the basics of how to create a job application form of your own.
The benefits of using an employment application form
For job advertisers, application forms have clear benefits. You can:
ask for relevant information that might not be listed on a traditional resume
compare candidates more objectively, based on every candidate's response to the same questions
sift high volumes of candidates faster, based on responses to the most important questions
get a quick understanding of a candidate's basic skills, including comprehension, spelling and a grammar
The slight increase in effort required to apply should also mean that you'll only hear from the most interested candidates.
Looking for ways to better screen candidates? Sign up for a 15-day free trial of Workable and start hiring better people, faster.
Things to avoid when creating an application for employment
Unnecessary questions
While the right application form will help screen candidates effectively, a huge list of questions, or questions which are already answered on a resume will waste both your time and the applicant's. Is a question essential? Set the response to mandatory. If it's a 'nice to have' set the answer to optional.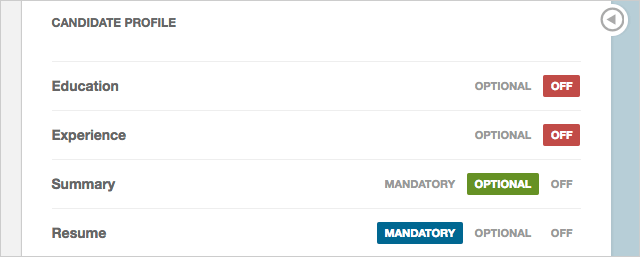 Make sure that every question you ask has an actionable outcome. Example: need someone to start immediately? Ask applicants to supply a preferred start date, or the length of their notice period.
Wordy answers
Remember that a high percentage of job seekers are browsing and applying via mobile. Workable optimizes job application forms for mobile by default, but consider the types of questions you're asking. Not only is a wordy response difficult to complete on mobile, but your hiring teams will struggle to read every answer when application numbers are high. Example: want to get a very quick idea of the candidate? Ask them to describe themselves in five words. You can ask more detailed questions at the phone screen or interview stage.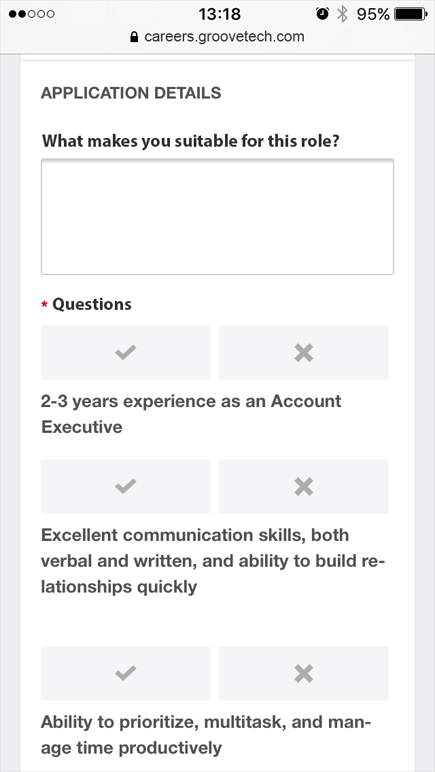 Discriminatory language
Check that the expected response to your questions are non-discriminatory. Reviewing application forms based on responses alone is a more objective process, but it's meaningless (and often illegal) if your questions are screening out a diverse range of applicants before you begin. Example: Years of Related Experience, not 'Date of Birth'.
What questions should you ask on a job application form?
The purpose of an application form is to create a viable shortlist. Ask concise, relevant questions, which will give a good indication of a candidate's basic suitability. You'll be able to delve deeper at the interview stage.
Take full advantage of the question types available inside Workable: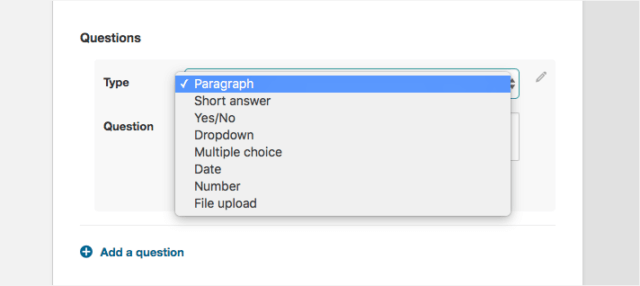 For example:
What attracted you to this position (short answer)
What date can you start? (Date question)
Are you willing to relocate? (Yes/No question)
Are you legally eligible to work in this country? (Yes/No question)
What is your current salary (Number question)
Which of the following software applications do you use regularly (Multiple choice / multiple selections)
Provide examples of your recent work (File upload question)
If your job requirements are specific, consider importing them from your job post into your application form as questions.

Workable also enables you to auto-disqualify candidates if the answer to a question is 'no'. If you apply this setting, you'll still have access to these candidates, but they will be accessed via the 'Disqualified' folder the 'Applied' stage of your recruiting pipeline.
If in doubt, test
After constructing your application form, ask members of your team, department or company to try it out. Are their results giving you what you need? Can you make what feels like a good first judgement from their responses? If not, keep making adjustments until it feels right.
Time invested in the set-up will be repaid with faster candidate screening. You can also keep the form you create as a job application form template to reuse on other jobs.
Ready to get started? Find out more about setting up your application form with Workable. Not using Workable yet? Get more details on candidate sourcing features.