Workable email templates for recruiters and hiring managers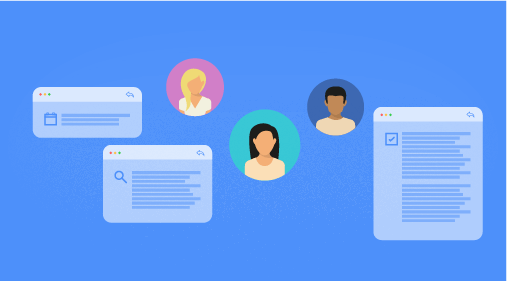 A task as simple as sending an email shapes the impression candidates get of your company. Poorly-structured, rushed recruiting emails to candidates indicate lack of organization. But, thoughtful rejection emails help you maintain good relationships with job applicants you turned down, keeping them as potential candidates for the future.
Here's why email communication with candidates matters and how to make sure your emails send the right message:
Benefits of effective email communication with candidates
Emails to candidates help:
Workable email templates for recruiters
When using Workable to communicate with candidates, you can choose from a library of email templates at every stage of the recruitment process. Workable helps:
Automate mass emails to candidates. Workable automates the process with bulk recruitment email templates. Rather than send the same email separately to X candidates, set up a bulk action, and personalize every email with "variables."
Variables are simple pieces of placeholder text which are replaced with real candidate data. For example, personalize emails with the candidate's name, the job title, interview date, your name and more.
Here's an example of an application rejection email template in Workable, with variables in blue: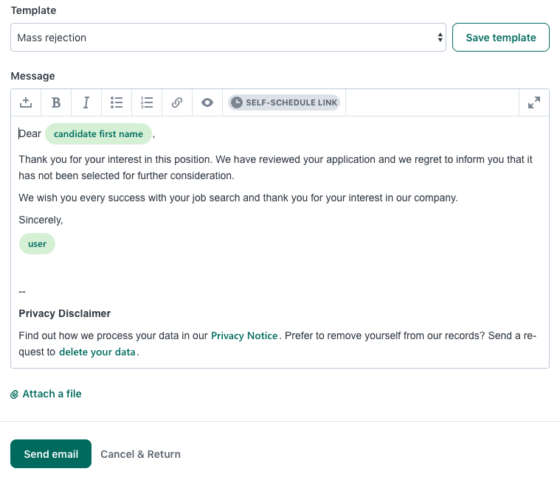 Email candidates directly from your Outlook or Gmail account. Workable's integrations with Office 365 Outlook and Gmail allow you to contact candidates without the need to switch from one account to another. All conversations will be synced into the candidate's profile. You can also import your existing communication with candidates into Workable to keep historical data in one place.
Reduce email writing time with sample templates. To speed up your hiring process, you can create your own email templates for every recruiting scenario. Or, use one of Workable's customizable templates you'll find in your account, including interview scheduling, job offer and candidate rejection emails.
Here's what an interview scheduling email template looks like: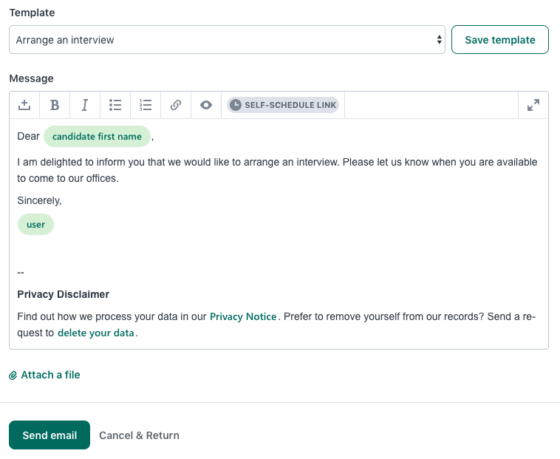 For extra help on what to say in emails to candidates, you can use templates from our email library. And, if you're looking for ways to personalize your communication and increase response rates, follow tips from our guide on cold emails.
How Workable helps avoid common recruiting email pains
When using Workable as your recruiting software, sending emails to candidates and your hiring team gets easier. Workable helps:
Keep candidate contact details organized. Don't waste time trying to find a candidate's email address. Workable keeps all the information in one place: the candidate profile. Whether you're on desktop or mobile, you can easily review candidates and get in touch with them directly from their profile. Contact details and previously sent emails are always available for fast review.
Never miss emails from candidates. An inbox pileup could result in ignoring important messages or spending hours to find an email sent some time ago. When a candidate replies to an email you've sent through Workable, you'll see a copy:

in your external email account, as it's easy to integrate Workable with Gmail, Office 365 Outlook and other email accounts
on the candidate's timeline, where you can review them with your colleagues without the need to search through old threads and email folders

Contact candidates on the go. Workable's mobile apps for iOS and Android enable you to read candidates' emails and respond at any time, from anywhere. Workable's mobile app helps you quickly jump to unread emails and actions that are awaiting a response. Also, there's no need to import contact details from another device; all the information you need is already in the candidate profile.
Streamline communication with your team members. By keeping track of communication on the candidate profile, Workable helps the whole hiring team avoid situations like:

A recruiter has to manually forward candidate replies to team members.
Two members of the hiring team accidentally contact the same candidate.
A candidate contacts a recruiter who's out of office and the rest of the team doesn't get informed.
All emails are saved in candidate's timeline so that members of the hiring team can view the entire communication at any time.
Should an email be particularly sensitive, it's easy to make it visible to hiring managers only. This option is ideal for discussing details like salary or benefits.
You can also include additional followers, when specific emails are relevant. Followers will receive a BCC copy of the email, which means that their address will not be shown to the candidate.
Helpful emails during the recruitment process
If you're stuck on where to start with an email, recruiters and hiring managers can use the following Workable email templates to:
These recruitment email templates are editable and easy to copy and paste to Workable. Save them as templates in your Workable account to make them readily available to everyone on your hiring team.
Not using Workable yet? Request a demo to learn how you can optimize your hiring efforts with our all-in-one recruitment software.
Related reading: