Job fair recruitment: A planning guide for employers
Job fair recruitment involves participating in events where employers and job seekers meet, allowing companies to connect with a large number of potential candidates in person. It's valuable as it provides a platform to showcase the company's brand, engage with candidates directly, and expedite the hiring process by conducting on-the-spot interviews.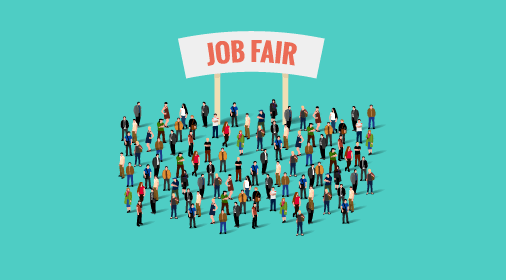 Job fairs are like speed dating for recruiting. At a set time and place, companies and job seekers meet and try to find out if they'll match. To make sure you promote yourself at a job fair and attract the most qualified candidates, take some time to plan your job fair recruitment strategy.
Here's our planning guide to help you get started:
Before participating in a job fair
To make the most out of a job fair, select the optimal event based on your hiring needs and plan your participation. Start by making some decisions:
1. Decide on your recruitment goal
Depending on your industry, current hiring needs and the type of candidate you'd like to recruit, choose or plan a job fair that will be worth your time, effort and money. For example:
Host an industry-specific job fair (e.g. tech or hospitality) to help boost your employer brand among candidates who are interested in your field.
If you're hiring for entry-level roles or offering paid internships, it's best to attend or host a college job fair or career day.
To connect with military candidates and family members, attend veterans job fairs.
2. Pick your team
Choose team members who'll best represent your company during this event. Consider:
Recruiters and HR staff. They network as part of their jobs. They're best positioned to initiate discussions with candidates, present your business in the best light and manage administrative tasks (e.g. gather resumes or contact details.) They can also help coordinate interviews.
Hiring managers. They can screen and interview candidates on-site. They can also describe the scope of responsibilities for any positions they're hiring for and answer questions from job seekers.
Other team members. Employees can provide an authentic account of what your work culture is like. If you're attending or hosting a job fair event at a college, consider bringing coworkers who are alumni. Students might find it easier to relate to them.
Once you've decided which event you want to participate in and who will attend, contact the event organizers. You will likely need to pay a participation fee and provide some information about your company and your job openings. Organizers might also ask for your logo so that they prepare your booth and include your company in advertisements for the event.
Looking for more ways to source candidates, online and offline? Download a free copy of our candidate sourcing ebook.
How to prepare for a job fair
Order marketing material
Coordinate with external or internal designers to make sure you create an attractive booth with banners and pictures of your company. Also, order:
Name tags for each of your team members
Brochures with information about your company
Business cards with recruiters' contact details
If you want to offer giveaways to attendees, opt for something that's out of the ordinary. Pens and stickers with your logo are nice, but won't help your company stand out. Instead, choose something that represents your company culture.
Here, at Workable we believe that hiring shouldn't be a pain for companies or candidates. So, we offer anti-stress coloring books to job fair attendees:
Prepare your questions
You will have limited time with each job seeker, so prepare your questions in advance. Here's what to ask:
Role-specific questions. These will help you learn if candidates have the minimum requirements for your open roles (e.g. "Do you have experience with X software?")
Questions about interests and career goals. Use these to learn if candidates would be compatible with your company in the long-run. (e.g. "What's your area of expertise and what would you like to learn more about?")
Questions about your company. These questions will help you identify candidates who are already familiar with your brand and are interested in joining your team (e.g. "What do you know about our company?")
Advertise the event
A few weeks before the job fair, put the word out that your company is hiring and participating in the event. Post details on your social media pages. Job seekers who are familiar with your brand or would like to learn about you will know which booth to visit.
Note that if you're participating in a closed event, like a college career day, you likely can't invite people. But, you can still advertise on social media to let attendees know where to look for you. Also, consider posting pictures while you're there, to build your brand.
During the job fair
On the day of the event, arrive at the venue early to set up your booth. If appropriate, bring laptops so that candidates can look at your website and get a better idea of your mission and products.
To make the most out of your participation in a job fair:
Speak to as many job seekers as possible. You'll increase the chances of finding qualified candidates.
Keep interviews within specific timeframes. Long queues will turn candidates off. Consider assigning someone on your job fair team the role of the interview coordinator to make sure conversations are structured and brief.
Write down notes during interviews. It's difficult to remember candidates after job fairs unless you take brief notes as you talk to them.
Gather candidates' resumes and contact details. You could also prompt them to apply for the job on your careers page, and ask them to mention that you met at the XYZ job fair.
Let candidates know of next steps. Inform qualified candidates when to expect hearing back from you (e.g. "We'll call you by the end of next week to schedule an in-person interview.") And tell candidates who're not a good match at the moment, that you'll contact them when there's a suitable open position.
Answer candidates' questions. Job seekers want to know about your company as much as you want to know about them. So make sure you provide them with interesting information (e.g. about your teams, open roles and future plans.)
After the job fair
Contact attendees
Job fairs are only the first step of your hiring process. So, don't leave qualified candidates waiting. The sooner you contact candidates, the more likely they'll remember you.
Contact job fair candidates to coordinate next steps. Those might include:
Completing a detailed application form
Participating in a screening call to discuss a position's details
Completing an assignment so you can assess their skills
Coming in for an interview at your offices
Measure results
Follow up with the event team to discuss overall impressions and high-potential candidates. Decide whether this job fair was beneficial to your recruiting efforts and talk about ways to improve your strategy for next time.
To better understand the benefit vs. cost of your job fair, it's helpful to measure key recruiting KPIs and compare them with other recruiting strategies. Ask questions like:
How many candidates did we source during the event?
How many of them were qualified?
How many did we interview in our company?
How many did we hire?
What was the overall time-to-hire?
Where do job fair events fall in our list of best sources of hire?
Frequently asked questions
What makes a great job fair?

A successful job fair requires detailed planning, creativity, and strategic execution. It's an opportunity to connect face-to-face with potential candidates, providing a more thorough understanding of their capabilities than online job postings.
What should employers include in a job fair?

Employers should bring company literature, job applications, and knowledgeable employees who can answer questions about the company and potential job openings. This helps engage with candidates effectively.
What are the most common questions to ask candidates at a job fair?

Common questions include personal and professional inquiries such as "Tell me about yourself," "How did you hear about this position?" and "What do you know about our company?" These help gauge the candidate's interest and suitability.
How can job fairs expedite the recruitment process?

Job fairs allow recruiters to meet and screen a large number of candidates in person in a short time. This can expedite the recruitment process by enabling on-the-spot interviews and immediate feedback.
How can job fairs enhance a company's brand?

Job fairs provide a platform to showcase a company's brand and culture. Interacting directly with potential candidates can help create a positive and lasting impression of the company.