How to measure diversity in your candidates using surveys
There's a growing call for clear action items and measurable data as diversity, equity, and inclusion becomes a staple element of overall corporate strategy. The first step is learning how to measure diversity in your recruitment process itself.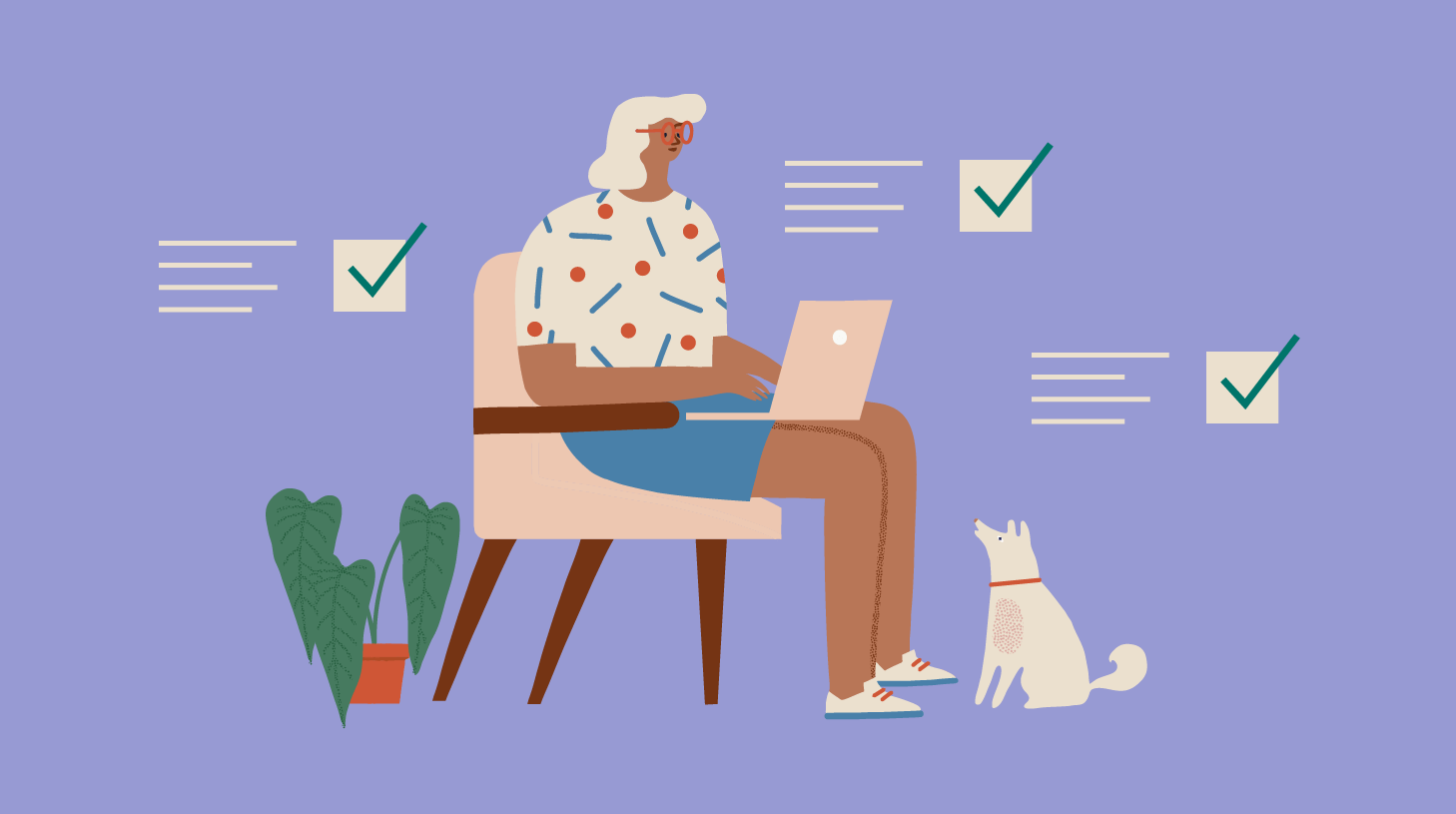 One tool that can help is anonymous candidate surveying, particularly at the start of the employee lifecycle. By surveying a candidate at the completion of their job application, you can anonymously collect data on their gender, race, ethnicity, background, and other characteristics.
With those metrics on hand, you now have a baseline of concrete numbers to start from, allowing you to track your DEI progress and establish clear goals.
Table of contents:
Multiverse Senior Diversity, Equity & Inclusion Manager Siobhan Randall ties this back to crucial business elements, including candidate attraction and employer branding:
When building a sustainable DEI strategy, Siobhan asks: "Is inclusion really embedded within our employee value proposition? Are people from underrepresented backgrounds going to want to work at the company?"
"How can we make ourselves look and feel like a place that anyone would want to work at, especially individuals from underrepresented backgrounds? We're definitely doing that reflection on our brand."
Siobhan continues, pointing out the real value of anonymously surveying your candidates as part of your overall employee engagement metrics:
"From the point of application, each stage of the recruitment process and then, once hired, we're looking at outcomes like progression and retention."
How to measure diversity: Best practices
We fully understand that surveying your candidates on personal characteristics can be socially and legally sensitive. Importantly, the information you're collecting is not related to specific jobs – nor should it be. It's only for the purpose of furthering your DEI strategy.
There are three best practices to think about here: candidate communication, survey standardization, and the language of the survey itself.
Communicate clearly
First, it's important to know how to measure diversity in a respectable, transparent and anonymous manner, and communicate that in such a way that puts your candidates at ease.
There are three aspects to include in your messaging to candidates:
State the purpose: Openly communicate the purpose of the survey, so the candidate understands why you're doing it.
Ensure anonymity: Clarify that the survey is strictly anonymous. The data you're collecting cannot be tied to individual candidates in any way.
Make it optional: Make the survey strictly optional, and clearly state that this will not affect the status of their job application – or the job itself – in any way.
A paragraph to include at the start of your survey might look like:
"Diversity, equity and inclusion (DEI) is a crucial and permanent part of our business strategy. To help us ensure a fully diverse, equitable and inclusive working environment, we invite you to fill out this voluntary survey so we can track and further our DEI efforts. The information shared here is strictly optional, and cannot and will not affect your job application in any way. It's also 100% anonymous, and is not linked to your name, identity, or application."
Establish standards and goals
Second, it's crucial to establish a standard across surveys so you have a reliable dataset for your own company's benefit.
Once you've established that standard on how to measure diversity in your candidates, you can now:
Compare numbers in each pipeline stage from the top of the recruitment funnel (i.e. initial job applications) through to the bottom of funnel (final candidate pool and final hires).
Look at advancement metrics and identify any inconsistencies in promotions and advancement based on different characteristics.
Identify gaps in benefits, perks, policies, and other elements of employment so that every employee has fair and equal access to all of the above, ensuring that everyone feels valued and included as a member of your organization.
Be thoughtful about survey language
If you're concerned or uncomfortable about what language you should (or shouldn't) be using in a survey, that's OK. You're not alone. You're essentially asking people about very personal elements of their identity, including and not limited to:
Gender
Sex
Sexual orientation
Race
Ethnicity
Religion
Disability
Socio-economic status
With all of this in mind, we now share tips and resources from experts on how to measure diversity with a thoughtful, inclusive and respectful survey. You can also freely copy our own candidate survey template here for your use.
How to measure diversity: Survey questions
Let's go through five major category groups, one by one:
1. Gender, sex, and sexual orientation questions
Gender, sex, and sexual orientation are not interchangeable terms or identities. They are three separate categories, and not to be conflated one with another, even if there are potential overlaps. Ask about each separately.
Gender
Due to the complex nature of gender, it's best to include as many terms as possible. Vanderbilt University's example is excellent: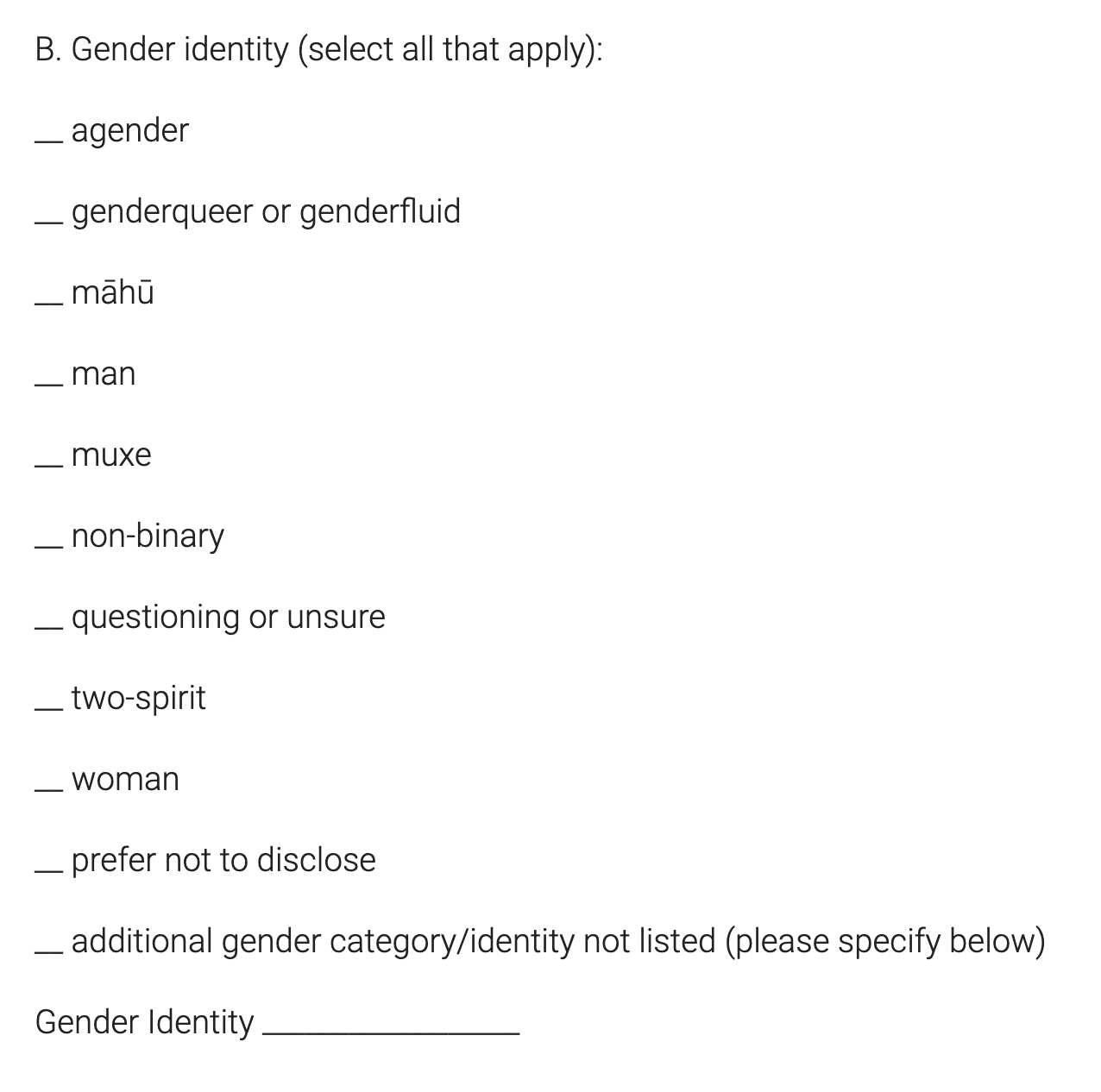 Vanderbilt also reminds us of the importance of asking for transgender identity as a separate question:
"Because a respondent's gender may align with more than one of the listed identities (for example, someone may identify as a transgender woman), it is recommended that you either ask whether a respondent identifies as transgender in a separate question or include both 'cisgender' and 'transgender' in the listed gender identity options."
Vanderbilt also shares this great list of definitions for your perusal.
Sex
When asking about someone's sex assigned at birth, the American University's Center for Diversity & Inclusion recommends using male, female, intersex, prefer not to say, and an option for the respondent to enter their own response: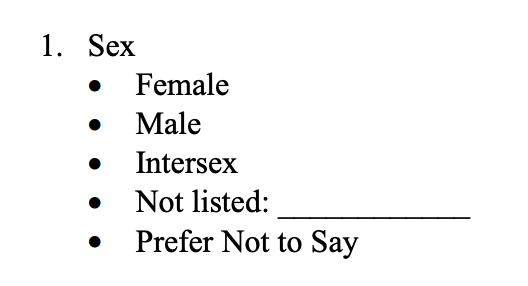 Sexual orientation
When asking about sexual orientation, you should again offer a full list of options. The Consortium of Higher Education LGBT Resource Professionals has recommended best practices on what to ask in a college application that you can also use in your own survey: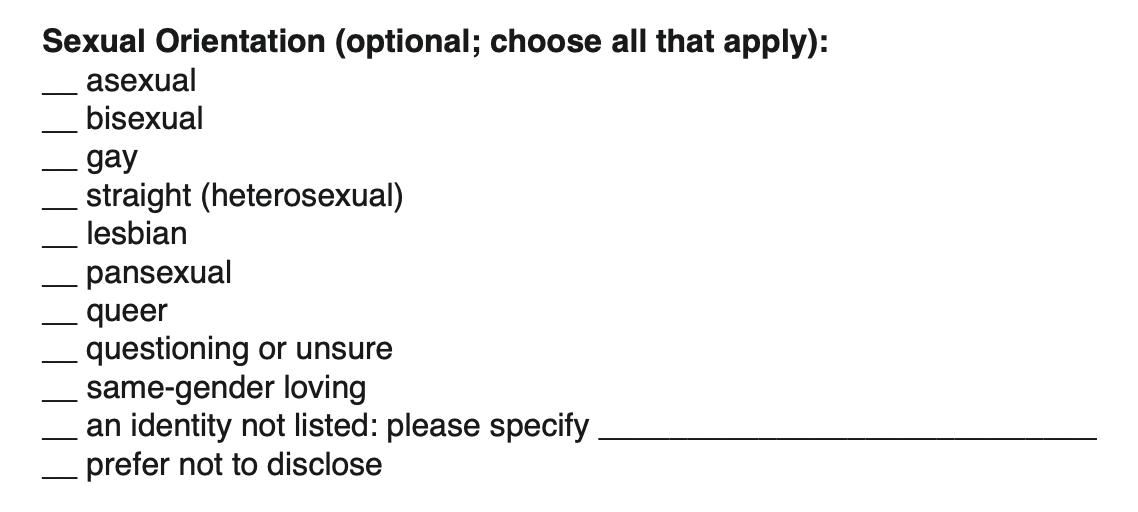 The Williams Institute School of Law has a comprehensive rundown of the terms you can include as available answers when asking about gender, sex, and sexual orientation. It's also an all-around great resource for best practices in sex and gender-related surveying.
2. Race and ethnicity questions
When thinking about how to measure diversity, you should know that race and ethnicity are also not interchangeable. According to LiveScience.com, "race is often perceived as something that's inherent in our biology, and therefore inherited across generations. Ethnicity, on the other hand, is typically understood as something we acquire, or self-ascribe, based on factors like where we live or the culture we share with others."
Even then, ethnicity itself can be a socially charged topic. Statistics Canada points to the ever-evolving properties of ethnicity due to immigration trends, intermarriage, and blending of origins. As a result, StatsCan recommends three new categories: origin or ancestry, race and identity. The concept of 'identity' is to give respondents a choice to choose the group they most identify with – for instance, whether one is Italian, Canadian, or Italian-Canadian.
The U.S. Census Bureau, on the other hand, considered removing "race" and "origin" from questions altogether, calling them ambiguous for many American respondents. Instead, they proposed simply asking people to select from categories that best described them (bearing in mind this was in 2015):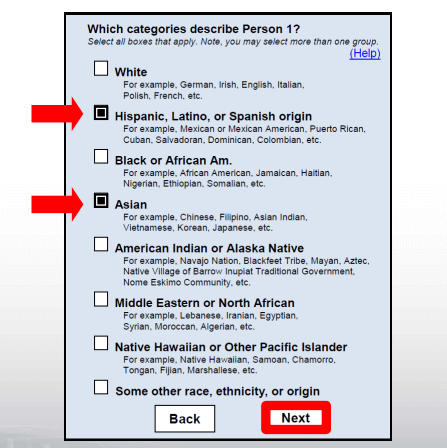 Note that these are just guidelines – not rules. You can, within reason, ask about race and ethnicity – provided you give the respondent comprehensive options to choose from.
Race
For race-related questions, consider this conversation on race options in the US Census, from research group Versta. Versta also proposed their own example: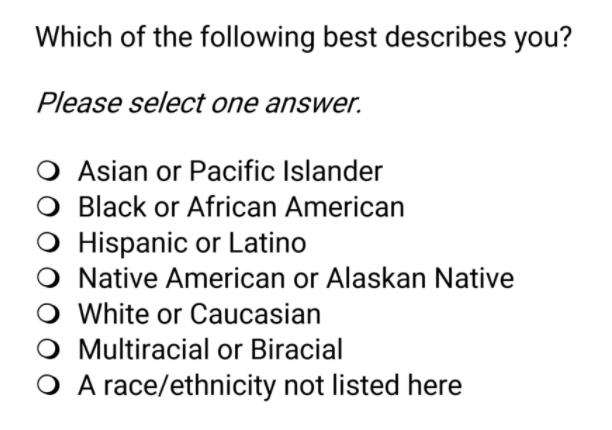 If you're interested in seeing what questions and answers were asked in the 2020 U.S. Census, they are outlined here.
Ethnicity
Despite the above discussion around ethnicity, it's still widely used in surveys around the world.
For ethnicity-based questions, consult this rundown of different ethnicities in the UK government's census style guide, which shows the different examples of survey options for different parts of the country.
The UK government also shares four examples of how respondents are asked about their ethnicity, including this sample that shows 18 different answer options across five main categories: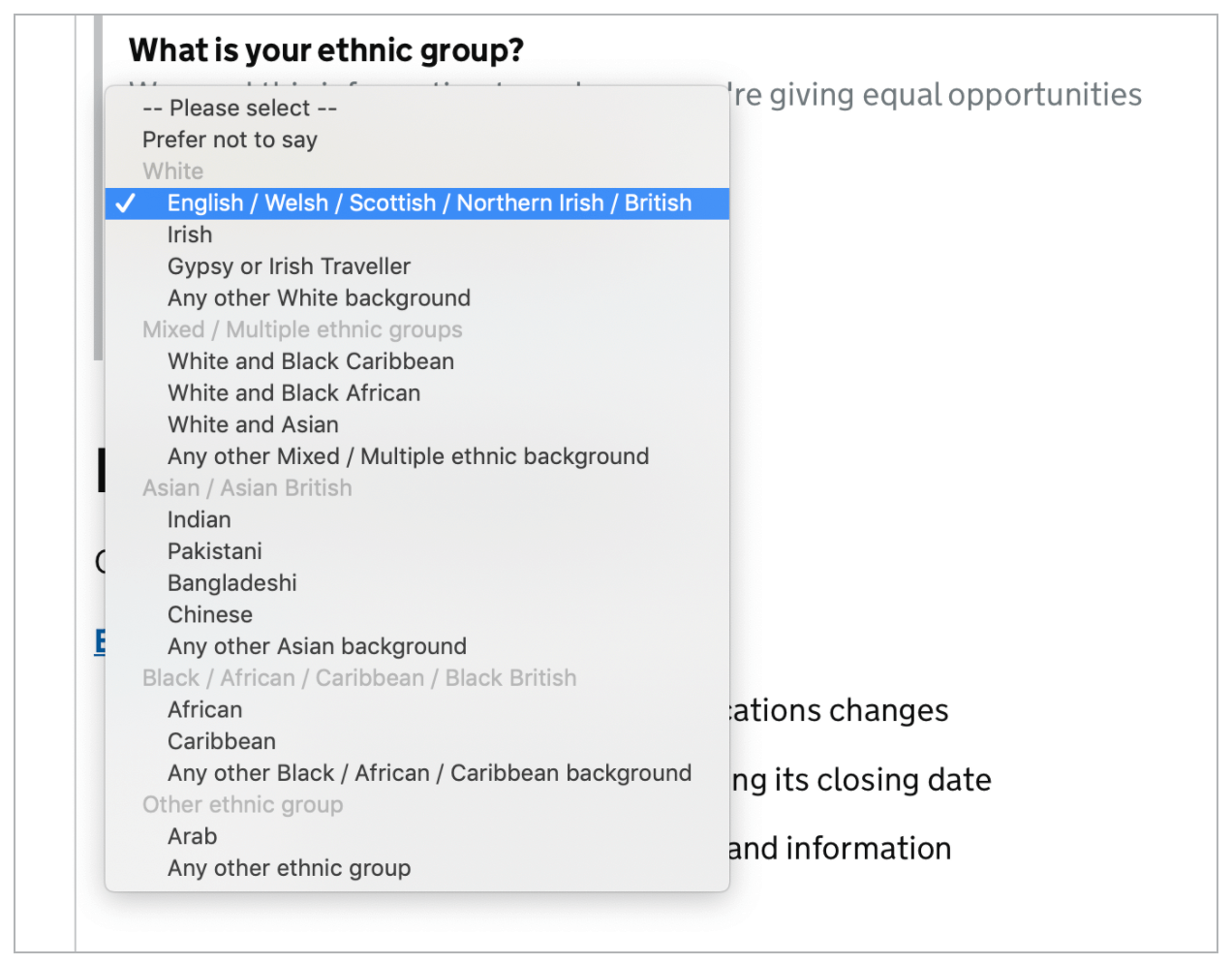 Diversity Australia's own list differs slightly: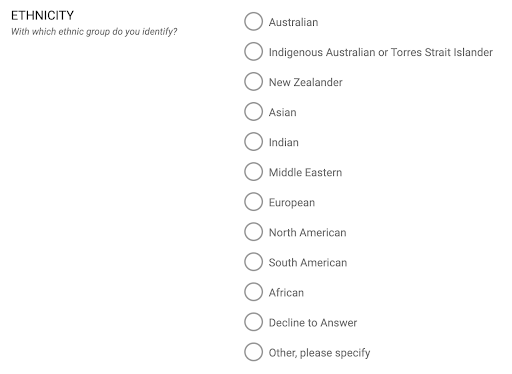 Table 1 in this report from the University of Wisconsin's Office of International Research also offers a good breakdown of the potential answers you can include in survey questions around race and ethnicity.
Sara Clayton wrote this in-depth article on the UX design behind the race and ethnicity question in surveys – it's worth the read to gain a better understanding of the thinking process behind how to measure diversity in a survey.
3. Religion questions
Since holidays are often linked with religious observances, knowing the faith representation of your workforce only assists diversity efforts, but also helps when planning the work holiday calendar for the upcoming year. This can ensure an equal and inclusive experience for all backgrounds in your workforce.
As with other questions, you need to take care when asking religion-related questions, according to a paper from the University of London:
"The term 'religion' may refer to a set of personal beliefs, an affiliation with an institution, a shared cultural identity, or participation in services or ceremonies. Survey questions about religion may tap into all of these dimensions, and if it is not clear what a particular question is asking, the interpretation of the responses becomes very difficult."
The Pew Research Group also shared wording on religion surveys from different areas around the world – which will give you an excellent launchpoint on how to measure diversity of faith among your candidates.
Baylor University in Texas shared the complete questionnaires from all five waves of their Baylor Religion Surveys – and this is likewise an incredibly comprehensive list. Take a look at the school's 2017 national study, which not only asks which religious family one most closely identifies with, but also:
the level of religiosity or spirituality the respondent considers themselves to be
the frequency in which the respondent attends services at a place of worship.
Finally, the Pew Research Group offers a comprehensive list of FAQs on its own research into religious representation in the United States, including details on:
identity versus belief
subgroups of religions
race and religion
religion and politics (i.e. "evangelical" becoming a political label as well as religious)
4. Disability and impairment questions
Allowing the respondent the option to share their impairment or disability can help you ensure the workplace is fully accessible and free of challenges, a crucial part of equality and inclusion in your DEI workplace strategy.
Again, as above, impairment and disability are not always considered to be overlapping. According to a report from the Learning and Skills Development Agency:
"Some disabled people prefer to be called 'people with disabilities' because they want to be regarded as people first. Others prefer the term 'disabled people', arguing that in the social model of disability, the experiences of impairment and disability are separate."
Plus, according to the report:
Impairment is the "physical, mental or sensory characteristic, feature or attribute that affects the function of an individual's mind or body."
Disability is "the loss or limitation of opportunities to take part in society on an equal level due to social, attitudinal and environmental barriers".
Disabilities and impairment can limit an applicant's capabilities in the following three ways, according to Disabled World:
Body structure and function (and impairment thereof)
Activity (and activity restrictions)
Participation (and participation restrictions)
Disabled World also notes the many different disability types that limit a person's:
Vision
Hearing
Thinking
Learning
Movement
Mental health
Remembering
Communicating
Social relationships
It also states that disabilities and impairments can be invisible – in other words, hidden.
The United States Census Bureau breaks down disabilities into the following six categories:
Hearing difficulty: deaf or having serious difficulty hearing
Vision difficulty: blind or having serious difficulty seeing, even when wearing glasses
Cognitive difficulty: Because of a physical, mental, or emotional problem, having difficulty remembering, concentrating, or making decisions
Ambulatory difficulty: Having serious difficulty walking or climbing stairs
Self-care difficulty: Having difficulty bathing or dressing
Independent living difficulty: Because of a physical, mental, or emotional problem, having difficulty doing errands alone such as visiting a doctor's office or shopping
The LSDA also shares a few examples in its report linked above on how to ask about disabilities, for instance:
If you need to talk with a candidate or new hire about what accommodations may be needed, Mobility International USA has great resources on how to have that conversation in a respectful and inclusive manner.
5. Socio-economic questions
Biases related to socio-economic status exist as well, even to the point where a degree from one school may not be as sufficient as that same degree from another school, even if both degrees offer the same qualifications. The only difference is that one degree is cheaper or 'less reputable' than the other.
There are also factors in one's upbringing that potentially affect their interactions with others even if they're fully qualified for a position. Home-borne accents, for example, which are often unfairly associated with intelligence or social status, can play a role in one's perceived suitability for a role.
Another limiting factor is that an applicant may not have the same access to professional and personal networks that can give them good references for a job or a referral to a position otherwise not accessible.
Yes, class bias exists widely. And you can take those biases out of the recruitment process. But rather than asking questions about someone's social or economic backgrounds as the UK's Civil Service has done in good faith, that information may already be readily available in an applicant's CV or resume.
The American Psychological Association offers a standard of measurements you can use to track the socio-economic status of your applicants as they move through the funnel. Three of them are relevant here: education, income, and occupation (in other words, professional background).
Siobhan at Multiverse pointed to guidance from the Sutton Trust in tracking socio-economic status. The Sutton Trust's employer's guide on social mobility in the workplace has good insights on socio-economic bias and how to overcome those.
You can use surveys to measure diversity
Finally, take a few minutes and read Sarai Rosenberg's excellent breakdown on candidate surveying best practices. From this, you'll gain good insights on how to measure diversity in your candidates, and moreover, how to go about it respectfully. Also, check out our candidate survey template for your own use.
This is a lot, we know. But in the end, consider the intention of carrying out candidate surveys. Surveying your candidates helps you track your progress in diversity, equity and inclusion, and helps you identify gaps in your process.
For instance, if you find that the percentage of a certain characteristic in your final hires in 2021 is significantly less than in your initial talent pool, or the representation of those advancing in your company does not reflect the representation within your total workforce, you now have starting points of where you can improve.
After all, if respondents in our DEI survey overwhelmingly selected "Demographics across entire company" when asked how they measure DEI progress (53.4% of all respondents), that necessitates a tool to track those demographics. Surveying your candidates is one way to get ahead and gain ground in your DEI strategy.