Creating career paths that put people first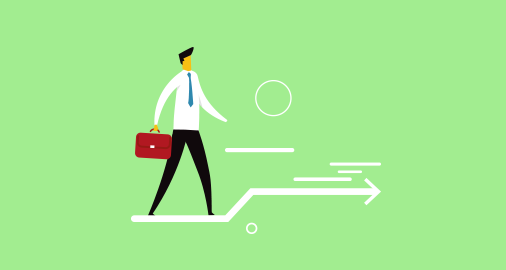 In the old world of work, climbing the corporate ladder was the most popular metaphor for getting ahead. In the new world of work, we recognize that there are multiple ways to advance. We get promoted but we also switch jobs, switch teams or stay in the same roles while developing our skills.
Just a quick scroll through the viral #firstsevenjobs hashtag shows that straightforward career progression isn't the norm for most people. The way we design our companies should reflect that.
#firstsevenjobs
Dish washer
Camp counselor
Fighter pilot
Astronaut
Commandant
Speaker
Author

Now Global Space Statesman!

— Buzz Aldrin (@TheRealBuzz) August 7, 2016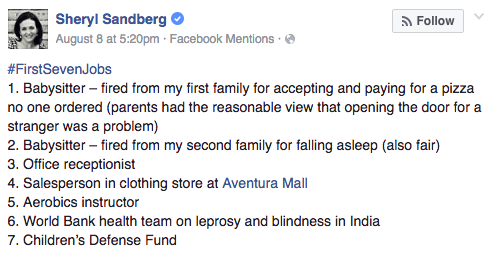 In a previous piece we published, we talked about how 'career pathing' is just another way to say 'training.' That still stands. But career paths are a massive chunk of employee training and development. Career pathing is a roadmap for how people can progress in an organization. It is a structured process that includes development opportunities like classes and mentorships. Career pathing also includes formal criteria and guidelines for advancing to the next stage of their careers, such as transferring to a new team or earning a promotion.
Here are three different types of career paths corresponding to three different types of employees.
Lateral / diagonal paths
For career switchers and generalists
In this scenario, employees move 'sideways' into career paths that are more aligned with their skills and ambitions. They add new skills, become more versatile and gain new perspectives—all of which are beneficial to their company. Depending on where they work, they can advance diagonally, by being promoted or getting a raise. This isn't always handled well, and sometimes employees who switch tracks feel like they're sidelined or re-starting from scratch. There can be a lot of anxiety and ambiguity in transferring to a new team or field of expertise. Keep employees motivated by working with them to map out specific goals or milestones that mark progress.
Companies like IBM, Bright Horizons, and Cisco have effective systems in place for supporting diagonal employees. IBM has created a suite of software tools for employees to map out their career progression. These tools also link employees with other people at IBM who can help them.
At Bright Horizons, all employees participate in a formal career advancement program involving career planning and regular feedback. The program is also a succession plan. Employees are motivated to excel because they know Bright Horizons prefers to promote from within.
At Cisco, lateral moves prepare executives to succeed in their roles. Anna Corrales, former Senior Vice President of Product Operations, worked in several teams, which equipped her with the broad perspective she needed to lead the company as their Vice President of Global Business Operations.
Vertical paths
For people wranglers
This career path corresponds to the traditional corporate ladder. It's the hardest path to get right because great employees don't always make great managers. Leaders with a real knack for coaching people and managing team dynamics improve employee engagement by as much as 70 percent. An ineffective manager can decrease engagement by the same amount.
Many companies provide in-house training for developing more capable leaders. At CVS, all employees participate in training programs specific to their roles. Those who wish to take on more responsibility have a wide range of development opportunities to choose from. Retail employees on career paths for a pharmacy manager or district manager role can participate in an 'Emerging Leaders' program, which includes coaching and mentoring sessions.
At Procter & Gamble, future team leaders are charged with running a small business, providing 'stretch assignments' and training beyond employees' current skill levels and comfort zones to help them grow.
Radiating paths
For individual contributors
Fact: Only 34 percent of employees want to be leaders and very few (7 percent) aspire to be C-level managers. The other 66 percent are individual contributors. Individual contributors include industrial designers at a toy company, petroleum engineers at an oil company and the animators at Disney. They usually stay in the same role while they gain experience and grow their influence.
The majority of employees are individual contributors and half of them feel stagnant in their current roles. If they don't see clear pathways for growth they will leave or consider the ill-fitting role of a manager. In the words of Rand Fishkin, co-founder of Moz:
"I worry today when an individual is great at their job and expresses their interest in people management… I worry that some significant portion of that expressed desire… exists because they want to level up their career and/or influence and believe this to be the only path."
Career milestones for individual contributors tend to be less defined. At Spotify, the technology leadership team noticed widespread misconceptions about how people in technical roles could rise up the ranks. According to Kevin Goldsmith, Chief Technology Officer at Spotify:
"There was a strong belief within the organization that the way to be 'promoted' was to become a Chapter Lead (line manager)… In fact, switching to these roles at Spotify is more akin to a career change (to management or product) than it is to developing as an individual contributor."
To support nonlinear career growth and define criteria for advancement, his team worked with HR to create a career framework called Steps. Steps is unique. One of their metrics for measuring progress is how many people employees work with and how much influence they have.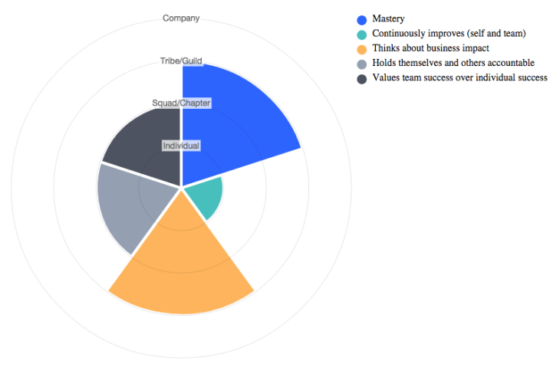 Image via Spotify
At Hootsuite and Help Scout, people who prefer to be individual contributors have support to stay within their roles but advance their knowledge and influence. Hootsuite's support team has a 'leader' track for people who are interested in managing and mentoring people. Alternately, they have a 'guru' track for those who want to stay in their current jobs but acquire deeper expertise. At Help Scout, individuals can stay in their roles while acquiring new responsibilities. These responsibilities range from training new employees to writing about recent product improvements. As employees acquire more responsibility, their compensation rises too.
Formal career paths show employees that employers are invested in their success. They also dispel confusion about how things are done and answer common employee questions like:
"How do I find out about open jobs at this company?"
"What specific achievements will help me get that promotion?"
"How can I get the skills and experience I need to do the work I want to do?"
And ultimately, "Should I stay at this company?"