Hiring teachers: find, attract, and pick the best educators for your school
Attracting teachers for hire involves a combination of strategies. Posting job ads on niche, education-specific job boards can help reach the right candidates. Engaging with recent graduates and offering internships or assistant positions can tap into their enthusiasm.
Hiring teachers can be a challenging task. Of course, that applies to all professions. But, for teachers, there's an extra burden: they're the ones who largely determine whether children will love or hate school, they're responsible for teaching them valuable skills, and they have a huge impact on your school's overall reputation.
A bad hire could cost you more than you can count at first glance. You wouldn't want to end up with a Ms. Trunchbull, would you?
Studies have shown that there are now fewer people who choose a degree in education than in the past. This is an alarming issue for schools: how can they deal with the teacher shortage while continuing to offer high-quality education to children?
Let's take this step-by-step together and answer all the questions you may have when it comes to hiring teachers:
How can I find a teacher?
Or, better, "How can I find a good teacher?" Here are some of the best practices for hiring teachers for your school or other educational organization:
1. Post job ads on niche, education-specific job boards
The most popular job boards and professional networks, such as Monster, Indeed and LinkedIn, are usually good candidate sources. But if you want to narrow down your audience and reach out to people who are specifically looking for teaching jobs, it's best to use niche teacher job boards.
You can promote your open role on sites like SchoolSpring and TeachingJobs or check out local websites and newspapers. When hiring teachers, you don't want to get hundreds of applications; you want to get your job ads in front of the right candidates with the desired skill set. To make your recruiting life easier, we've compiled a list of the best teacher job boards for you.
2. Reach out to recent graduates
People who are just starting their teaching career are usually eager to get into the classroom. You don't want to let that enthusiasm fade away. Connect with college career offices and alumni organizations to build strong networks with future and recent graduates.
In some countries and in some states in the US, those studying to become a teacher are required to complete a certain amount of credit hours to become qualified teachers. You can fill your own needs and help meet theirs by offering paid internships and part-time or full-time teacher assistant positions. This way, you get to see how future graduates behave in the classroom and stay connected until they get their degree and are ready to fill a permanent position.
3. Ask for referrals from current or former teachers
Teachers who've already worked at your school are familiar with the procedures that you follow and the values you prioritize. That's why they're most likely to recommend fellow teachers who will fit well in your culture.
However, don't limit yourself by only asking for referrals from those currently working at your school. Reach out to former colleagues, too, particularly those who left on good terms. Here's an email template you can use to ask for employee referrals from your external network.
4. Attend teacher job fairs
Meeting job seekers in person can be an effective candidate attraction tool, as you have the chance to answer all their questions on the spot while promoting your school. Check out any job fairs that take place in your area (usually at the start of summer and/or end of school year) and ask some of your teachers to join so they can start building relationships with potential future teachers.
Also, consider hosting an open day at your school. During this recruitment event, teachers looking for a new job can visit your school and learn more about your open positions, while you get the chance to meet with potential candidates and evaluate their qualifications.
How can I attract candidates for teaching jobs?
The demand for teachers is increasing; this means it's getting more and more difficult to attract and retain qualified teachers. Here are a few tricks to help you stand out from the competition:
Research benchmark data on teacher salaries
You'll more likely attract great teachers if you offer a salary that's above the industry average. And you want candidates to know that during their job search. In other words, include the salary range in your job descriptions, along with any additional benefits you provide (e.g. insurance plans).
If you're located in the UK, this overview of teachers' salary ranges will give you valuable benchmarks. If you're in the US, you can consult this site to learn how much teachers are paid in every state in the US.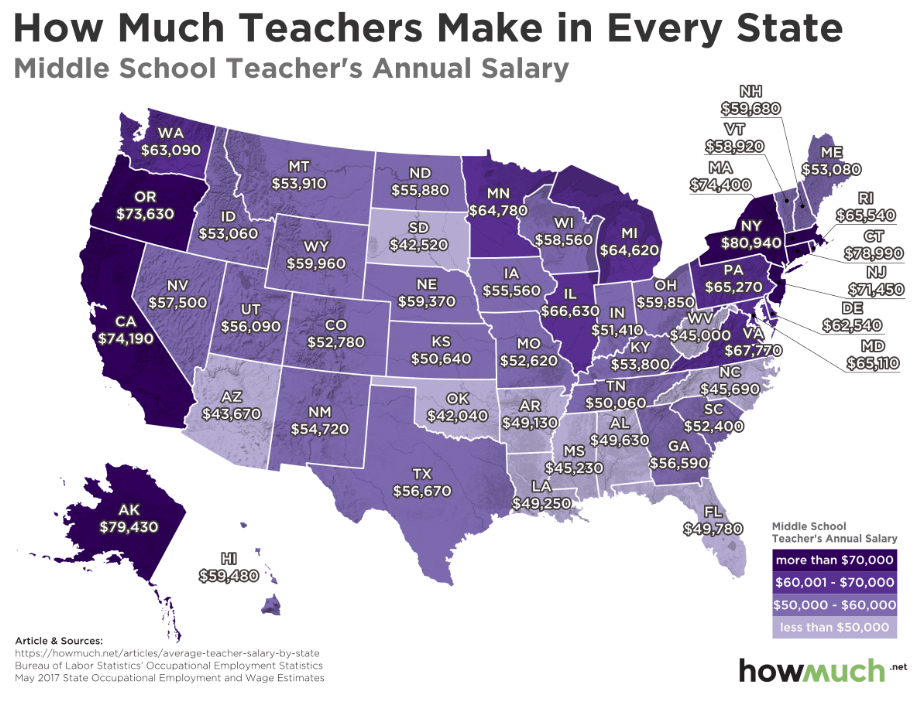 Design engaging benefit packages
Beyond salary, make sure to offer – and highlight – meaningful benefits. For example, due to the fixed schedules normally seen in educational institutions, it might be difficult to promise flexible working hours or give teachers additional paid time off. You could, though, help them progress their teaching career by:
Creating mentorship programs, where experienced teachers coach and advise their less experienced, junior colleagues.
Sponsoring additional certifications your teachers want to acquire.
Building individual career paths so that each teacher can grow in the area they're mostly interested in.
You can also survey your current employees to learn what it is they like most about your school. Some teachers prefer structure and rules, while others would rather have more freedom with their teaching techniques. Once you know what motivates teachers at your own school, you can "sell" that and attract candidates with the same mindset.
Build your digital image
Job seekers are increasingly going online to find job opportunities and learn about the organizations they're thinking about applying to. So, it's not just about making it easier for candidates to find your job ads online; it's also about providing information about your school and your work environment that'll help you stand out. This is a crucial element of recruitment marketing – effectively, marketing yourself as a desirable employer.
For instance, you can start by building a careers page for your school where you'll explain your teaching methods and share pictures, videos and testimonials that showcase your culture. Also, make sure to update the content often. If you're offering international teaching jobs, include details about the location(s) of your school and highlight the unique experiences that teachers will have by working abroad. There are candidates who are looking for exactly this kind of job opportunity, so the more information they can find, the easier it'll be to make the decision to apply.
What should I look for when hiring teachers?
First off, you need to review your local legislation to figure out the legal requirements for teachers in your area. Here are some things to consider:
What kind of degree and/or license should teachers have?
Are they required to complete credit hours? If so, how many?
What's the legislation for part-time vs. full-time working?
Are teachers required to undergo background checks and drug tests?
Requirements could differ based on each case. For example, music teachers may not be required to have a degree in education, while special education teachers might need to have additional certification to teach children with disabilities. Also, if you offer international teaching jobs, you should check what laws apply abroad and know how to handle teachers' work visas.
Important soft skills for teachers
When you're looking for teachers, go beyond the typical requirements. Having a degree in education is often a must-have, but it's not enough. Here are some qualities to look for when interviewing candidates for teaching jobs:
Communication abilities: Great teachers should be able to communicate well not only with children, but also with parents and colleagues.
Openness to feedback: Less-experienced and new teachers should be able to welcome feedback from principals and more experienced coworkers and adjust their teaching techniques.
Resourcefulness: No matter how well you've prepared your lesson plan, something unexpected can happen. That's why it's best to hire teachers who can keep their cool and find quick solutions.
Creativity: Working with children (no matter their age) means that you always need to come up with ways to keep them focused, intrigue them with challenging activities and inspire them with engaging and interactive projects.
Organizational skills: A teacher's job is not only what happens inside the classroom; good teachers also need to be well-organized and keep student records, curricula and educational materials updated and current.
Love of learning: This shouldn't be confused with passion and enthusiasm. Teachers, however, should be genuinely interested in continuous learning and regularly keeping tabs on modern teaching techniques and tools.
How can I evaluate candidates for teaching jobs?
When hiring teachers, you have to make a difficult decision: you're choosing people who'll interact with and mentor students on a regular basis. So, you need to be very confident when making your hiring decision that those teachers you hire will be the best for your students. Here are some ways that'll help evaluate their teaching skills:
Use teaching assignments. As an assessment, ask candidates to prepare a syllabus or a 15-minute lesson. This way, you can see how organized they are, how comfortable they are with creating presentations, and how creative they can get.
Simulate common work scenarios. You can describe challenging but realistic incidents and see how candidates would handle them. For example: "A parent is complaining about their child's bad grades. How would you handle the situation?"
Check references from previous schools. When you're close to hiring a teacher, reach out to principals of schools where they've worked in the past to learn about your candidate's performance and overall collaboration. Check out our reference check questions to get some ideas of what you can ask. References may come particularly handy for substitute teachers who may have worked in many different schools.
I hired the perfect teacher – now what?
Your role doesn't end when you find and hire a promising teacher. To help them truly shine in the classroom, it's important that you support them after hire, too. Check in regularly to ensure they have everything they need to perform their job successfully. Even when hiring teachers with many years of experience, you might still need to provide them with guidelines and coaching as every school environment is different and has its own unique challenges.
Overall, a carefully designed teacher hiring process, along with a healthy and productive school environment, will save you from recruiting an inadequate teacher. Instead, you'll be able to hire teachers who inspire and motivate their students, teachers who become role models, those that students remember long after they've graduated.
Frequently asked questions
What should I look for when recruiting a teacher?

When recruiting a teacher, it's crucial to look for a genuine interest in student success and a strong understanding of various instructional strategies to make learning engaging for all students. They should be able to adapt their teaching techniques based on the needs of the students.
How do you recruit for schools?

Recruiting for schools can be challenging, but leveraging technology can significantly enhance the success of a student recruitment campaign. Running informative social media campaigns to promote opportunities and hosting engaging recruitment events for teachers can be effective strategies.
How are the teachers recruited by schools in the USA?

In the USA, teachers are hired based on their subject background, specialty training, and/or grade-level expertise. Schools typically have a webpage that includes a list of all current vacancies. You can find vacancies in some of the world's top education hubs at schools and universities in states with large schools like New York and California.
What are the best practices for finding a good teacher?

Some best practices for finding a good teacher include posting job ads on niche, education-specific job boards, reaching out to recent graduates, asking for referrals from current or former teachers, and attending teacher job fairs. These strategies can help you reach the right candidates with the desired skill set.
How can schools attract candidates for teaching jobs?

Schools can attract candidates for teaching jobs by researching benchmark data on teacher salaries and offering a salary above the industry average. Designing engaging benefit packages, building a strong digital image, and providing information about the school and work environment can also help attract potential candidates.