Effective workplace communication: 6 tips for distributed teams
You've recently joined a remote-first company as Head of Talent and your new teammates operate in different areas across Europe. After two months aboard, you realize you find it hard to quickly train your team on new and complex tasks. You're afraid that your frequent check-ins will be interpreted as micromanaging and that those ongoing back-and-forths cost you in both energy and time.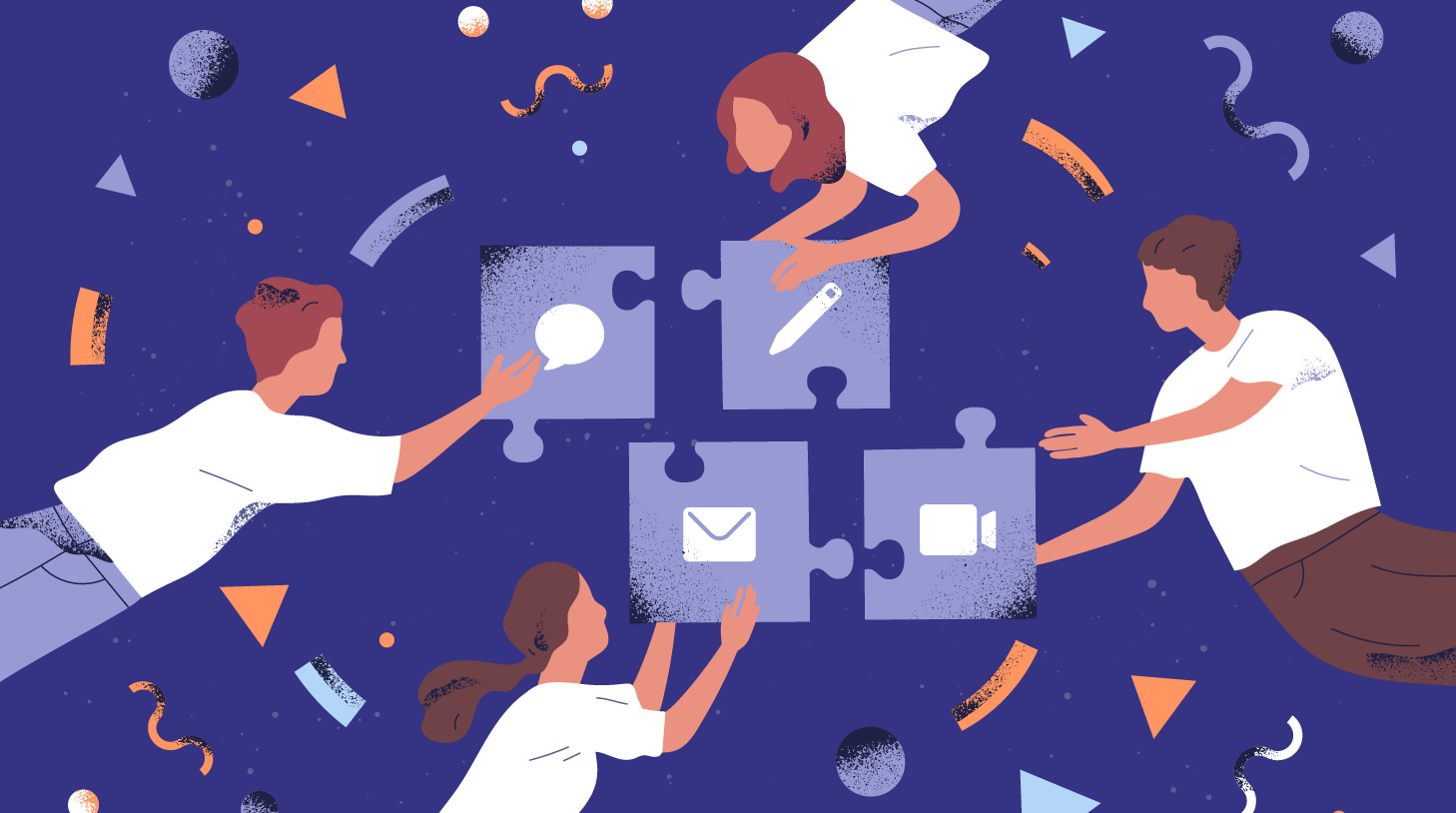 Workplace communication can become challenging when managing a distributed team – no matter what its exact format is. Some companies may operate fully virtually while others may have some of the workforce on location and others remote. All different setups may affect communication in the workplace in various ways, as this is new territory for many of us.
Common workplace communication barriers in remote teams
What makes it difficult to communicate efficiently when we work across different locations – especially when you're in different time zones? First of all, if you're operating in this fashion for the first time, the first challenge is in that transition itself. You need to find new ways to deliver clear messages across the company.
Tech plays a huge part in this change – we're trying to solve these new barriers with collaboration and communication tools. Those tools are starting to dominate our work lives. We use them to control our projects, and onboard and train employees more than we used to. But can tech fix all daily issues that we encounter in terms of communication when we're not in the same workplace? There are a few things missing in the distributed work world:
Absence of non-verbal cues
A huge part of human communication and interaction results from non-verbal signs between us. When you spend time with a person in the same physical space, you "read" them better. You also self-organize and coordinate with them through mirroring – the process of synchronizing with people we connect with organically – especially when you're driven by similar goals.
So, when meeting people solely online, most of these elements don't surface as naturally as they would in the workplace. You're not always aware or even perceptive of how a coworker feels or what they're up to, if they don't openly communicate their feelings and emotions. For example, someone could log into an e-meeting with their game face on for the entire time, and then resume in a totally different work mode after the meeting is over.
Tech constraints
Yes, tech is obviously a major asset to remote work – and some may say, the only way – but it can add complexity to our daily work lives. For example, when you use a tech tool for the first time, you need time and resources to be able to fully capitalize on its capacities and seamlessly incorporate it into your daily workflow.
Plus, when working remotely, your daily productivity depends on your own internet provider; if something gets messed up, for example, connection is lost for a while or you face more complex technical issues, not all troubleshooting guidelines will prove to be handy. Worse, that can happen in the middle of an important meeting with a prospect or when you're up against a deadline.
Time differences
Things can become even more complicated when your team functions across different time zones and have just a few hours where your respective work days overlap. In many cases, you can't just reach out to a teammate when an urgent problem occurs; you have to wait until they are back online in order to sync.
When dealing with crucial or time-sensitive projects, this whole setup can be tricky. Sometimes, to fix an issue as quickly as you can, you want to be able to sit down with your team in the meeting room and work together for a few hours to resolve it; for distributed teams this is not an option at your disposal.
So what are the risks?
When you don't have standard communication channels and protocols set up across your organization and teams, there can be negative consequences on your business. Here's why:
It affects clarity: When exchanging one-way messages with employees and teammates asynchronously, you can fail in setting the right expectations and proper goals – especially when crucial information gets lost in translation. Information can be conflicting and this can hurt team collaboration in the long run.
It reduces employee satisfaction: All these hiccups in everyday communication create a frustrating environment without clear boundaries and structure. If employees feel that they're not being heard or that the messages they receive are confusing, they might lose their trust in the employer and may even neglect opportunities to sync with their teammates. What does this mean? Lower team morale and, eventually, reduced collaboration.
It hurts company goals/results: All of the above contribute to reduced effort and eventually impact results. When teams fail to exchange appropriate information, set the right goals and resolve problems, all these will eventually affect your business's bottom line through cumbersome processes, delays in resolving issues, and misaligned goals.
So should you, the Head of Talent, give up trying? Definitely not. There's a lot team leaders can do to help communication for distributed teams get on the right track.
How to improve workplace communication in distributed teams
First off, to find the ideal communication styles that will suit your team best, you'll enter a trial-and-error phase. Fortunately, there are certain practices you can start with and prepare for success:
1. Get the right tools
To easily connect with employees in different places you need to provide them with easy-to-use tech tools that enable collaboration and communication. The good news is that most of us are already familiar at least with some of these platforms as we've been using them for years in the company office as well. For instance:
Before choosing the best tools for your team, analyze business and employee needs and consider how employees could exchange information with the least possible disruption. Whether that's through written notes or by jumping on a quick video call, offer them the chance to connect as they wish with a complete set of collaboration tools. An extra tip: Consider purchasing easy-to-use – and to learn – solutions that ideally integrate with other tech platforms.
This list is not extensive. You can find more solutions in this "Best tech tools for the virtual workplace" tutorial.
2. Set the tone
Having the right tools is not enough to achieve optimal communication in remote teams. It's important to share some good practices and get employees on the same page on what effective communication looks like in your business. For example, you could train them on how to use each tool appropriately, whether to send an email or a meeting invite for instance, and what information to keep in each platform.
These guidelines will be life-saving especially when onboarding new employees. According to a Workable survey, virtual onboarding and training are big pain points for employers and communication hiccups can make them even worse. With tech solutions such as learning software (e.g. TalentLMS) you can structure the essential training for the new hires and onboard them successfully.
Another example would be to create a checklist on how to provide effective written feedback on ongoing projects. If they follow the guidelines but there is still confusion, they can set up a video call to inspect the problem in-depth.
3. Practice asynchronous collaboration
If you have distributed teams across different time zones, an asynchronous communication style will be the best fit for you. In asynchronous collaboration environments, employees are not expected to reply directly to requests – except if they are considered urgent. They can examine requests and projects on their own time as long as they respect deadlines and serve business goals. Employees usually organize their tasks in a way that they can review them flexibly.
So how can you ensure top-notch communication in asynchronous terms? Most importantly, you make your availability clear to your colleagues. If everyone knows each others' official working hours it's easier to coordinate. Use tools that enable note-taking and editing.
Remote working employees should be as precise as possible when providing feedback, because their teammates won't always be able to reach out to them for clarification. The more detailed they are, the better the outcome.
4. Capitalize on synchronous meetings
Of course live chats and meetings will still be an important part of the game. Managers with employees should "fully synchronize" regularly to move ideas further or resolve complex problems. During these meetings, set a clear agenda. Don't forget to plan regular 1:1 meetings with your teammates, as well; that's when you really get to know them and you can identify potential blockers.
Plus, during 1:1 meetings, you have an opportunity to really check in with your teammate or direct report. Not only can you get synced on that individual's work processes, you can also get a stronger sense of how they're doing. This is their opportunity – and yours, too – to remove the "game face" and communicate at a deeper level.
5. Train your managers
The communication transformation needs to happen top-down: If line managers and C-suite leaders set the example, employees will follow. Encourage leaders to discuss with their teams how they prefer to exchange feedback and how to conduct tactical and non-intrusive check-ins. If they follow this process and show trust in their employees, they won't fall into the trap of micromanaging.
A manager should spend time with all teammates equally. You can set creative reminders to follow up with employees often, as Melissa Bruno from Stack Overflow recommends:
Adopting an inclusive leadership style also helps communication at work flourish. Inclusive leaders create psychologically safe environments where employees are not afraid to share every idea and concerns openly. This is a huge deal breaker for effective communication. It means that people don't have second thoughts and they're united in a culture of trust.
With frequent updates and check-ins, followed by structured team processes and a culture of trust you can maintain psychological safety in the virtual work world.
6. Remember to have fun
It's not all business; sometimes it's also fun and games. And for distributed teams where everyone is siloed and camaraderie is more difficult to develop behind a screen, it's important to come together and socialize. Work should not always be at the core of those gatherings – you can organize virtual quizzes or have casual chit-chats instead.
It's also worth organizing a company retreat every year – employees relax, teams bond outside "virtual borders", and their morale and engagement gets a boost. Ryan Malone from SmartBug Media explains why these annual get-togethers are valuable:
Those social meetings will help understand how employees behave in a "live set-up" and you'll be able to decode their reactions faster and connect better with them going forward.
We get it – effective communication has always been a persistent priority for many businesses; more so in remote workplaces. These days, with teams functioning from places all around the world and our pure dependence on technology, it becomes even more complicated and it's OK to feel lost at times. But if you follow those tips and tricks, you're open to feedback, and you continue to refine the process, you'll make it work.