Writing job descriptions for hiring millennials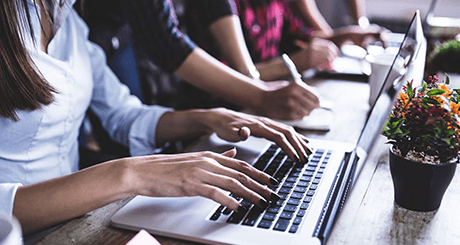 Millennials are now the largest generation in the workforce. More than 35m millennials and Generation-Y employees (those born after 1980) are starting their careers and looking for jobs with companies who can meet their aspirations. How can your company attract the best employees when hiring millennials? Start with your job titles and descriptions.
As companies compete to hire the strongest and most qualified workers in the 18-35 age bracket, it's crucial to make sure that your job descriptions appeal to their wants and needs. This is about more than just salary and benefits: according to the Human Resources Management Center, millennials are looking for purpose. They are attracted to businesses focused on solving problems in society, who develop professionals, and offer the prospect of flexibility, well-being and growth.
According to The 2016 Deloitte Millennial Survey, "millennials are less impressed by the sheer scale of a business, its age, or the general buzz that surrounds it. Based on a stereotypical view of millennials, the profile or 'positive energy' around a business might be thought of as being highly important to them."
This doesn't mean that millennials aren't interested in the future of your company or the necessities of their job: most millennials in the workplace are aligned with long-term goals of their companies and organizations. However, these differentiators can make all the difference when looking to attract the most ambitious and productive young talent.
Job Titles: Clear and Optimized
As millennials are looking for ways to develop their professional life at each juncture of their career, they are looking for clarity in their job titles and job responsibilities. Even though titles like "ninja," "rockstar" and "guru" are popular choices to attract younger talent, they are on the decline as companies tend toward being more explicit with their titles when hiring millennials. Millennials are perceptive to companies' tendencies to use this type of exaggerated language when describing job roles. More importantly, as millennials tend to use search engines and social media to find jobs, accuracy and clarity are of the utmost importance to ensure that your job postings are in front of the right people.
It's important to remember that job-seeking millennials are searching through hundreds of job titles every day. Using clear, concise job titles that are optimized for quick searches and social media will ensure that your job catches the eye of the savvy searcher on job boards and beyond.
Job Descriptions: Relevant and Appealing
Millennials are looking for evidence of cultural fit and purposeful work. When writing job descriptions tailored to hiring millennials, highlight anything that's special within the position and your company, and how it can contribute to overall career goals. Be sure to describe how someone in this position would make a difference in the future of the company, and in the company's overall mission. Name your opportunities for professional development within the company – both hard and soft skills.
Once you've earned that initial click, how can you entice millennials to keep reading and, ultimately, apply for your job? In addition to our tips for writing job descriptions, try these tactics to particularly engage the millennial generation.
Keep job postings short
Millennials are reading job descriptions in high volume and will filter unnecessary verbiage. Keep your job description to a few paragraphs, at maximum.
Focus on competence, not years of experience
Most millennials have been in the workforce for less than 10 years, and many skillsets are learned on the job. Though 5-7 years of experience with a certain technology may be standard for a senior hire, it may deter those with fewer years logged, even if they are more technologically-savvy.
Avoid buzzwords
Millennials are aware when they are being pandered to with "fun" job descriptions. Buzzwords like "black belt" or "unicorn" don't do much to describe actual job functions, and are insulting to both your job-seeker and your work. Even words like "creative," "organizational," "effective," and "extensive experience" top the list of LinkedIn's overused buzzwords. Forgo the creative job ads, use specific word choice that actually describe the personality traits and qualifications that you are looking to bring into your company.
Examples of millennial-focused job descriptionsBuzzfeed highlights the purposeful nature of their work by giving examples of their past meaningful reporting.


Wistia clearly lays out the job requirements, but also spends ample time highlighting soft skills that are important to millennials, like communication and collaboration.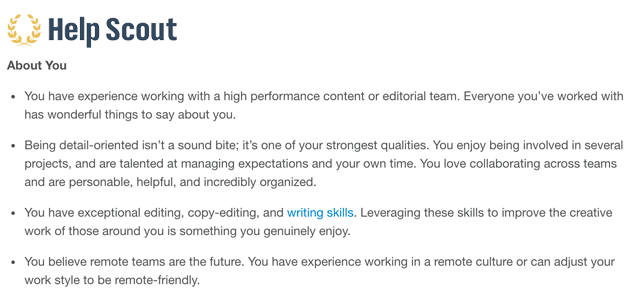 Help Scout does more than just list job requirements. Their conversational tone expresses a desire to connect to the applicant. They've also avoided buzzwords and are clear about what kind of person succeeds in this role.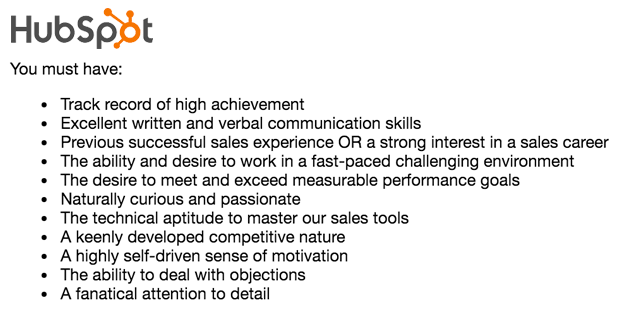 Hubspot uses clear language with descriptive adjectives like "fanatical" and "self-driven" to attract the most passionate candidates.
Job Application Process: Quick and Meaningful
Beyond job descriptions, the process for applying for jobs should be efficient, concise and engaging. Engaging candidates in meaningful, quick and clear application and recruitment process reflects that your company also values these traits in their processes. A third of all job applicants choose not to apply to a company because it was too difficult to find information. Nearly half of all job candidates didn't apply to a company because they found the hiring process frustrating. Be sure that your candidate experience, including job applications, intends to fully meet the needs of all candidates.