Questions to ask about your key recruitment metrics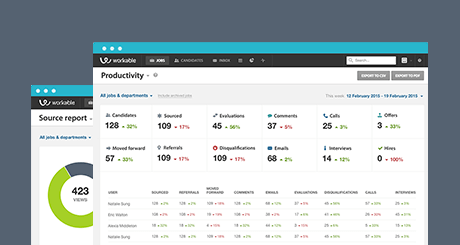 Hiring metrics, reports and recruitment KPIs are only as useful as the questions they answer about your business. So, before we talk about the myriad of hiring metrics we can measure and plot in recruiting, let's take a moment to think about what we're trying to learn and why. Successful hiring comes down to answering two main questions. The first is what exactly are we feeding into the hiring process? And the second is what that hiring process really involves.
The first of these hiring questions is the hardest. You need to know how good you are at finding and attracting qualified people, also known as recruitment metrics analysis. Then there's the hiring process itself. You need to know exactly what it takes to select the best person for the job. In both cases the objective is to get accurate answers that can inform realistic recruitment planning. You cannot improve or optimize what you cannot understand or see.
What does it take to make a successful hire?
Fill in the blanks in the following sentence: "To hire someone for the _________ department we typically start with ___ qualified candidates. On average, we'll make ___ calls and ___ on-site interviews. It will be ___ days from opening the job until an offer is made and accepted."
You need to know these recruitment analytics in order to plan your time, your effort and your sourcing realistically. Most of the problems in hiring stem from not knowing these numbers, which would inform an effective recruitment metrics analysis.
Underestimate the time-to-hire and you'll start your process too late. Source fewer candidates than you need to find the right one and now you're behind in the process with two people on the second interview and none of them are completely right. This means making a compromise, or starting over from sourcing, and delaying by several weeks. At the same time, your ambitious growth plan assumed a dozen hires this month, and now you realize that this target would require your team to drop everything they're doing and devote themselves full-time to interviewing.
If this sounds familiar, it's because it's far too common. Thankfully, it's also avoidable.
Understanding your hiring pipeline
If you're using an Applicant Tracking System (ATS) or similar method to track your hiring pipeline, put together an analysis that shows the number of people entering the pipeline and the rate at which they advance from each stage — from screening call all the way to offer acceptance.
Working backwards, this will tell you: "With an offer acceptance rate of 75% we need at least two great candidates per job. We reject half of the people in the final interview, so we'll need to see four candidates at this stage. To get these four, we will need to do a first interview with six people and we only interview a third of the people we had a screening call with, so we need about 18 qualified candidates on average to make a successful hire."
Aside for giving you a benchmark for how many people you need to source, hiring pipeline metrics will also hint at how much work you do per hire and a good ATS will track more actions that quantify the average effort you put in, including calls and emails sent, and the number of interviews each team member conducted.
This will reveal characteristics of your recruitment process that you might want to re-evaluate. Are you being too selective, or not picky enough? Is every step in the hiring process useful for selection? If a stage only filters one in five of the candidates that come in and it involves a dozen calls or interviews, is it productive? Is the effort and raw number of qualified candidates sustainable when you want to scale up your hiring? Pipeline metrics will give you a lot to think about.
More: FAQs about time-to-fill and time-to-hire
What is hiring velocity?
Again, your recruiting software can tell you how much time it takes you to fill a job, and other key recruiting metrics. This can help you create a realistic plan and commence hiring on time, but it's also something you'll want to improve.
To do this, you'll need to dig deeper into your recruiting analytics and examine your hiring velocity, which is a fancy way of saying "how quickly a candidate moves from stage A to stage B". The time it takes for a candidate to move from sourced to offer is the speed limit on how quickly you can fill a job. Even if you had the perfect hire in your talent pipeline the day you opened the job, it would still take at least this long.
Improving the speed with which you move with a great prospect is the most impactful improvement you can make to your key recruiting metrics. If you've got the right person in front of you, you should be able to figure it out swiftly — or your competitor will. It's also one of the best ways to improve the candidate experience. Job seekers don't like a protracted hiring process.
Are we doing a good job of finding qualified people?
We already know how many people we need to engage to get the right hire. How does this compare to the qualified candidates we get for each job? By "qualified candidates" I mean people we didn't reject in our initial screening.
Most importantly, you'll want to know where the good candidates are coming from. Your ATS can track the original source of each candidate and you'll want to group similar sources (e.g. job boards, sourced candidates, employee referrals, external recruiters) together to understand which methods actually work for you.
The question to ask here is "where did the people we actually hired come from?" This will help you plan and recruitment budget for the future, but also look at things that should work but aren't going as well as expected. If half of your hires came from sourcing passive candidates, you may need to hire an extra in-house recruiter to scale up. If too few hires are coming from referrals, you probably need to do more to engage your team to help you find talent.
When it comes to recruitment methods that come with a cost (e.g. posting on premium job sites) you'll want to know how many qualified candidates each of source brought and what the cost per hire was.
To better understand passive candidates, you may want to combine key recruitment metrics with time to hire and velocity to find out how early you need to engage them before they can come into your pipeline.
Sifting our reports at Workable, I've discovered that many of our best hires were people we had identified and started talking to at least one year before the right opening came up. When there was an opening, the time to fill was invariably short, because the right candidate was there and moved through the process swiftly. It's this kind of information that can help you plan strategically and set yourself up for success.
Reminder: Don't just track these key recruitment metrics, keep asking questions
This kind of insight into where our best hires came from takes us back to where we started. Being analytical and metrics-driven in your hiring isn't just about compiling charts and reports. It's about measuring things that help you ask and answer interesting questions to discover how the process really works. Recruiting is a complex activity that's hard to reduce to a few KPIs. This is the spirit in which we designed Workable's new hiring analytics suite, available today to all our customers.