5 New Year's resolutions for recruiters
As we enter the holiday season, naturally our minds wander to vacation plans, tree decorations, cookies and our favorite movie. It's also the time to reflect on the year that's about to end, thinking about our biggest hits – and maybe a couple of misses. But, enough with the reminiscences. The new year also marks a fresh start; it means setting new goals and stepping into the next year with a positive attitude.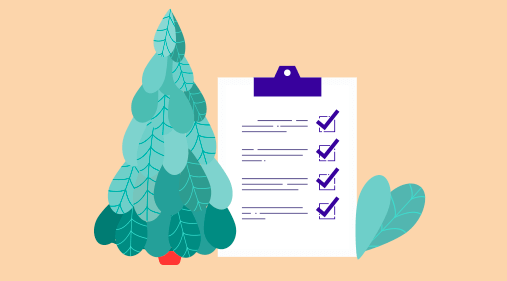 This includes our professional lives as well. For those of you who want to become better recruiters in 2023, now it's the time to start writing down your goals. We know, though, that new year's resolutions can be intimidating, or unrealistic at times: "Quit bad habits." "Travel the world." "Lose those extra 10 pounds." That's why we're starting you off with these five New Year's resolutions for recruiters, along with smaller, tangible ideas, that will help you reach your professional goals:
New Year's Resolutions for recruiters
1. Learn a new skill or hobby
Whether you want to cover a skills gap or simply expand your knowledge, learning something new can make the difference in your job. It doesn't have to be a formal training or a totally new field of study. Pick something that you've always wanted to learn, ask a coworker to share some bits of expertise with you, or enroll in an online course.
Here are some ideas:
2. Save some money
Spreadsheets full of numbers, complex calculations and cost forecasting reviews are never fun. But expense reports are an integral part of HR. For example, if you want to buy a new ATS that'll make your life easier, you have to first build a case to get your manager's approval. Or, if you want to hire a junior recruiter to assist with administrative tasks, you need to calculate their salary range based on the value they'll bring to the team.
Here are some ideas to reduce some of the pain associated with costs and will help you allocate budgets to your benefit:
3. Be healthier
Bad recruiting habits tackle your career, without you even realizing it. These habits could be outdated methods to evaluate candidates (see personality tests) or long application forms and drawn-out hiring stages that make candidates lose interest. On the other hand, a positive candidate experience will make your company more attractive for job seekers and you, the recruiter, a more trustworthy professional.
Here are a few things you could try:
4. Nurture strong relationships
Toxic relationships don't refer only to our personal lives; they can be work-related, as well. This year, try to build healthy relationships with everyone you interact with, from colleagues and candidates to hiring managers and other HR professionals. Relationships, though, require you to invest time; it's not a one-time thing you can cross off your list.
Here are some ideas you can implement throughout the year:
5. Exercise more
A mindset of continuous improvement is what separates a good recruiter from a great recruiter. Measure your successes and failures, experiment with different techniques and find your most effective ways of working. Starting this year, track the metrics that matter to you (e.g. email response rates, quality of hires and yield ratios.) These measurements will serve as your guide to determine which methods are working for you and where there's more room for improvement.
Set tangible sub-goals like:
Bonus goal: Enjoy your life to the fullest
And your job. You'll have better results if you put your passion into your work. Take a moment to reflect on why you chose this field, in the first place. Stay positive and look for the best – in yourself and in others. Happy recruiting in 2023!
What's your resolution for the new year? Share with us on LinkedIn, Facebook or Twitter.
The holiday season and New Year go hand-in-hand for many people. If that's the case for you, too, then check out our list of 5 holiday gifts for recruiters.