8 creative recruitment strategies to attract and evaluate candidates
From experimenting with social media and gamifying the hiring process, to organizing open house events and using virtual reality, creative recruitment strategies can significantly enhance the recruitment process.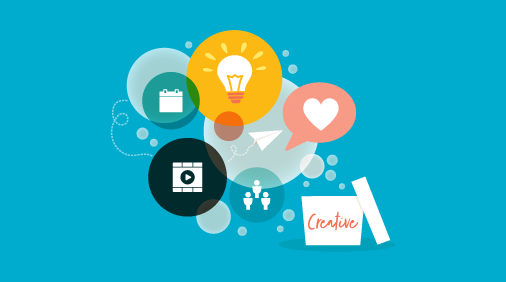 Creative recruitment strategies help you get past traditional hiring methods and stand out from the competition. From experimenting with social media, to gamifying the hiring process, here are 8 ways you can get creative to attract and engage potential candidates:
Creative recruitment strategies to attract candidates
1. Experiment with social media
If you're already active on the most popular social media (LinkedIn, Facebook and Twitter), one of the most innovative recruitment methods is to try recruiting in niche channels. Here are some examples of companies doing just that:
In addition to advertising your job openings, mainstream social networks can help you build a strong employer brand and reach a broad audience.
2. Organize open house events
Consider hosting a recruitment event at your office(s) and invite people who might be interested in joining your company. You'll be able to evaluate potential candidates en masse. This creative recruiting strategy gives them the chance to see what your work life looks like firsthand, in a less formal setting. Here are some examples:
CarGurus, a car research and shopping website, organizes in-house and external events to meet with potential candidates, including inviting them to attend sports games.
Workable hosted a Career Day to attract potential applicants to our Sales team. Here's a portion of the invitation we published to advertise the event:

3. Turn your job ads into hidden messages
Playing "hide and seek" with potential candidates could be a fun way to create a buzz around your job openings, if it suits your brand. Grab candidates' attention with job ads that require some sort of interaction, like solving a riddle. Or, use the element of surprise to entice potential hires. Here are some examples:
Cool. If you find this hidden Apple page, you're offered a job! pic.twitter.com/IgEpReKUS3

— Zack Whittaker (@zackwhittaker) 18 August 2017
IKEA placed career-assembling instructions in its products to attract candidates from its customer base.
4. Consider virtual reality
Show candidates what it's like to work at your company with virtual reality. This kind of technology is not accessible to everyone, though, so make sure to provide all necessary tools. You could set up a virtual reality booth in a job fair and let candidates "walk" around your offices using VR headsets. (You can get the full virtual reality experience if you view the following videos using a VR headset.)
Prospective college students can explore Trinity University campus through virtual reality tours.
And here's a 360° video that General Mills uses to give potential hires an office tour.
Creative recruitment strategies to evaluate candidates
5. Test candidates' skills on social media
Use social media to source potential candidates and review work samples and portfolios. Behance and Github are good places to screen designers and developers before inviting them to an interview.
If you're hiring for creative roles (e.g. photographers), ask candidates to share their work. Netflix ran an Instagram-based contest to solicit candidates for one of its role.
McDonald's candidates send a 10-second Snapchat video (Snaplication) briefly describing themselves to start the application process.
6. Incorporate online interviews
Video interviews (e.g. via Skype, Hangouts, SparkHire or HireVue) speed up the hiring process, as recruiters can interview candidates from any location. They can also be helpful if you're assessing the communication skills of salespeople.
7. Schedule group activities
Try out effective recruitment strategies and practices such as group activities and assessment centers to evaluate potential hires. Candidates will get the chance to understand whether they're a good fit for both your position and team, as they interact with potential coworkers. And, you can use group activities to simulate job tasks and learn how candidates face challenges related to your positions.
Airlines usually organize assessment days to select candidates. British Airways, for example, uses a mix of role-playing and presentation activities in its hiring process.
Companies can benefit from assessment centers when hiring junior employees, who might lack work experience or struggle with providing professional examples of how they use their skills.
Vodafone hosts Discovery Days for its Graduate Programme and evaluates candidates' abilities through group activities.
Make sure to inform candidates beforehand about the interview's estimated duration, as these types of activities last longer than traditional interviews.
8. Apply gamification tactics
Gamification in recruitment helps companies see past resumes and focus on skills. Mimic games' design and rules (e.g. clearing levels and earning badges) to illustrate job tasks and evaluate candidates' performance in an interactive way. As part of your out of the box recruiting strategies, you can use software from companies like Knack to build a gamified recruiting process.
Unilever has incorporated 20-minute games early on in its hiring process to screen recent graduates faster and more fairly.
Taylor Wessing is a law firm that assesses candidates' skills (including innovation and problem-solving) through Cosmic Cadet, a five-level game.
For more insight on creative recruitment strategies, see our article on retraining talented job seekers from other industries and mastering 10 aspects of the recruitment process.
Frequently asked questions
What are 5 recruitment strategies?

Recruiters can use many strategies to recruit great candidates, like launching an employee referral program to encourage current employees to reach out to their network. Recruiters can also leverage social media to reach a wider audience about a new opportunity at your company.
How do you attract new employees?

Employers can do several things to recruit new candidates, like developing an employer brand that reflects your business and defining your company culture to attract high-quality candidates. Your company should also treat your employees with respect since you don't want to gain a bad reputation in the job market that will turn away new candidates.
What is a recruitment playbook?

A Recruitment Marketing Content Playbook is a document you build that contains both your content strategy and your content plan. It's a resource for you and your team with all of the elements needed to drive recruiting content to create and guide your execution.