Benefits of specialized recruitment software vs HRIS
"Why buy software that is recruitment-focused, when we could spend our money on software that tackles every HR task in our organization?"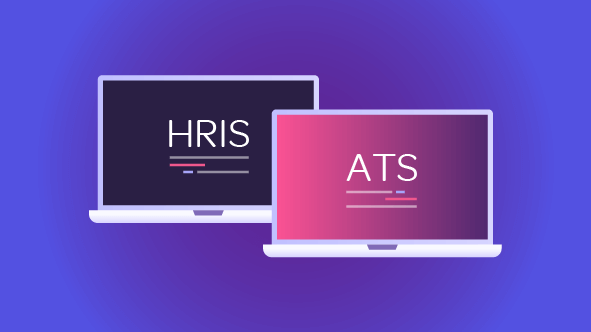 We get this a lot. Why? Workable is a dedicated recruitment system. And some organizations waver between dedicated software and all-in-one platforms that let them manage both recruitment and other HR processes.
At first glance, an all-in-one Human Resources Information System (HRIS) seems to be a convenient choice. But, for organizations that want to take recruitment to the next level, Workable's specialist approach is exactly the right fit.
Why is all-in-one HR software appealing?
One software, one bill. It's simple and efficient. Plus, most HRIS are usually cheaper than dedicated recruiting solutions.
So, when you can buy one software for every function in your company at a good price, it seems like you've got a pretty good deal. And sometimes, this may indeed be the best choice for your company, depending on size, hiring volume and budget. But often, there are disadvantages that shouldn't be overlooked.
What are the disadvantages of all-in-one HR software?
HRIS are designed as multi-purpose tools. They're the Swiss Army Knife of HR software. But it's the generalist approach that makes them pale in comparison to specialist recruiting tools. Here's why:
HRIS recruitment solutions are usually under featured
This is mostly a matter of resource availability. A company that builds an HRIS has to allocate development resources to a wide variety of add-on features. This means that this HRIS may be really good at one thing (their main product), but not so good at the rest. As our Account Executive Brooke Weimar explains:
When you're building an HRIS, features for recruiting will get a fraction of the available resources. Conversely, Workable's entire development team is focused on improving our recruitment platform – this is what we do, it's our bread and butter. That's why our system not only streamlines candidate management, but also has advanced sourcing features and more robust integrations than a typical HRIS.
Are there exceptions to the rule? Of course. Systems like iCIMS and UltiPro do have dedicated solutions with useful features. But those solutions aren't add-ons to a main product nor are they integrated with each other by default. They're standalone products sold separately by the same provider. Integrating them would take time and effort, probably as much as it would take to integrate them with an external system. In that sense, those solutions aren't much different from Workable or other ATS which build integrations from scratch. And because these all-in-one systems are dedicated solutions in disguise, they're usually very expensive.
HRIS recruitment solutions aren't optimized for mobile
In today's digital world, both job seekers and hiring teams need to use their mobile devices for job hunting and hiring respectively. For example, twenty-eight percent of Americans use their smartphone in their job search, and half of them have used their smartphone to fill out a job application. This highlights the importance of having a mobile-optimized app for hiring as well as a mobile-optimized careers page and application form. And that's something that most HRIS can't provide. It takes specialist skills and time to create a mobile app for both Android and iOS platforms. When your HRIS covers so many tasks, it's just not cost-effective to make them all work for mobile too.
The lack of mobile-optimization can result in losing good candidates who may find the application process a hassle. Most job seekers already abandon application forms that are complicated or too long, and this effect will be even more pronounced on mobile where the screen is smaller and people are in a hurry.
And of course, there's the effect on hiring teams. Our SVP of Sales & Marketing Rachel Bates hired more than twenty new employees for her team using Workable's mobile app. Had she been using a system that wasn't designed and optimized for mobile, the process would have been a lot more difficult and frustrating.
Maybe all-in-one systems aren't perfect, but why should I choose dedicated recruitment software instead?
Dedicated solutions take recruitment to the next level
A dedicated recruitment platform can add structure to your hiring process. This means, your hiring teams won't have to invent strategies and hiring stages, but they'll have a rubric to go by from the moment they publish their first job ad.
That's a huge benefit when it comes to ensuring that hiring managers and team members are engaged throughout the hiring process:
HRIS provide a way for you to manage your recruiting process, but that's as far as it gets, says Brooke Weimar. If your hiring teams aren't engaged, an HRIS recruitment solution doesn't have the power to change that. You're better off with a dedicated system that understands this, and gives direction in an easy way. Something that's easy to use (not clunky), that supports your hiring teams and lets them do their recruiting effectively and on the go.
For example, many of the features Workable has developed for these purposes aren't found in most all-in-one solutions. Examples of those features are:
Finding and attracting candidates:
Referral programs
Social Recruitment
Career page hosting
Assessing candidates:
Pre-screening questions & application forms
Interview scheduling & management
Candidate scorecards and evaluations
Hiring candidates:
Offer letters with a built-in approval process & e-signatures
Candidate background checks
Managing the recruiting process:
Customized hiring pipelines
Access rights and user permissions
Candidate source tracking
EEOC Compliance
All these features are usually developed in a dedicated recruitment system, and as companies see their hiring needs rising, they will need to use some or all of these at some point.
Dedicated solutions keep expanding their functionality, fast
Recruitment software companies have the dedicated resources to implement lots of new product features throughout the year. The same goes for integrations; for example, Workable's integrations include video interviewing platforms, background check providers and assessment software, and the list is growing all the time. And of course, we also integrate with more than one HRIS.
So the final choice isn't 'either ATS or HRIS' because a good ATS works hand-in-hand with other software. Use specialist tools to get the job done more effectively. We do this ourselves as a company— use our own product for recruiting and an external HRIS for our HR needs. Brooke often mentions this to the people she's talking to:
Workable as a company is our inside example of how an all-in-one system can coexist with recruiting software. Our HRIS is an excellent solution and we love it. We use our own robust ATS for recruiting, and the two systems integrate seamlessly. We get the best of both worlds.
Why Workable?
So, a dedicated recruiting solution should play well with a dedicated HR system. But what differentiates Workable from other recruitment software? Rachel Bates has a very straightforward answer:
Our platform's ease of use and built-in sourcing capability is why people choose Workable. That, and of course, our stellar global support team. They're available 24-7, no matter where you are in the world.
It's impossible to reach your business goals without the right people in your organization. We know ourselves how important recruiting is. Our software—our entire team—are focused on making sure you hire effectively.