How to reduce recruiting costs when hiring new employees
Your goal is to find the best talent at the lowest possible cost – especially when you're hiring with lean teams and budgets. Here are four ways to reduce the cost of hiring new employees without sacrificing quality of hire.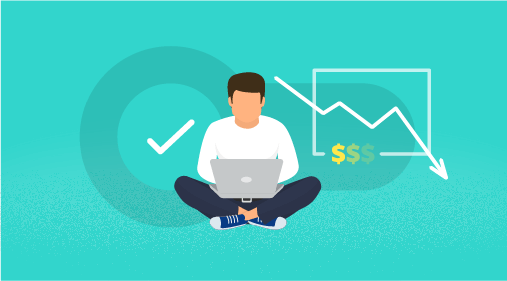 The ultimate challenge in recruiting is hiring stellar employees with the lowest possible recruiting costs. Quality of hire rightfully takes precedence, so you may be willing to accept higher costs that translate in more qualified candidates.
But, in pursuit of the right balance, you could find ways to spend your recruiting budget more efficiently without compromising your focus on quality of hire. Here are four ways to reduce the cost of hiring new employees:
Consider options before you post a job
Posting jobs on popular job boards is useful. But, how do you know which ones will attract the most qualified candidates for a particular role? For some positions, niche job boards are the better choice. To ensure your investment is worthwhile, you need to know which job posting sites will work best for each new hire.
To determine this, establish a process to track the effectiveness of your recruitment sources. The source of hire and candidate source metrics are very useful for this purpose. By tracking these metrics, you may discover patterns. For example, you may find that most of your qualified sales candidates come from Careerbuilder, while most developers come from Indeed. Then, you will know where to invest more for each role.
Start a free 15-day trial with Workable to post an open job on all of the top job boards. Easily manage the hiring process, evaluate candidates and hire the best people.
Build an effective referral program
Referrals are among the top sources of hire. One of their advantages is that they cost less than other recruiting methods because they don't incur job posting or agency fees, and your team won't spend time on sourcing.
To get as many employee referrals as possible, create an effective referral process that will motivate employees to recommend others. Here's how:
Avoid asking employees to provide too much information on their referred candidates – a name and email address should suffice.
Provide employees with an effective job description, so they know who to look for without having to search your careers page or ask you for details.
Use a referral platform or other software that supports referrals so you are able to invite employees to upload resumes onto the system easily.
Introduce employee referral rewards to give employees extra motivation to refer someone. Communicate the possible bonuses and awards frequently.
Create talent pipelines
The longer a position goes unfilled, the more costs it incurs. This means that finding ways to reduce your time to hire can help you cut down on your recruiting spend. One good way to hire faster is to build talent pipelines.
Talent pipelines are groups of passive candidates you've engaged who can fill future roles in your company. This means that when a position opens you can immediately contact some of these people without having to wait for your job ads or sourcing activities to generate good candidates. Here are a few tips on how to create effective talent pipelines:
Use effective tools to source candidates quickly. People Search is a Chrome extension that scours millions of public online profiles to create one complete candidate profile. This will help your referrals too, since employees can look for the candidate they want to refer by name and People Search will populate their resumes and public social media profiles.
To source EU candidates, please refer to guidance on using social media for recruiting and collecting candidate information as per the General Data Protection Regulation, or GDPR.
Write engaging emails to attract passive candidates. Customize email templates to save time. Use an inviting message to begin building relationships with your best candidates.
Implement efficient recruiting software to reduce cost per hire
Some of the greatest recruiting costs are a result of the time your hiring teams spend on recruiting tasks. So if your team is using email and spreadsheets for hiring, the time and effort required to keep track of your hiring process translates to unduly high costs to hire new employees.
Implementing recruiting software will shorten the time you spend on administrative tasks and result in faster and better hiring. For example, Workable can help your team:
Screen resumes and profiles more quickly via organized candidate profiles.
Schedule phone screens and interviews with only a few clicks via calendar integrations.
Exchange comments and evaluations and keep them organized in one place instead of email chains, which are tough to keep track of.
Communicate with candidates quickly and efficiently by using email templates and bulk emailing functions.
Study detailed recruiting reports to analyze hiring efforts (e.g. candidate sources, productivity.)
Send emails asking for referrals.
These are examples of how automating your recruiting process can lower costs for hiring new employees while making your team more efficient. And, you will be able to strengthen your employer brand by ensuring positive candidate experiences (e.g. sending good rejection emails and feedback).
This way, your recruiting software will be a great ally in both reducing unnecessary costs and increasing your quality of hire.